Style A Three Tiered Tray For A Vintage Farmhouse Summer
How do you style a three tiered tray for a vintage farmhouse Summer? With sunny pops of yellow, vintage flash cards, old buttons, toys and milk glass.
This pink tiered tray has been decorated for every theme and season in between. For spring and Easter, for Christmas and Halloween. With pigs, blueberries and swans. I think a tiered tray is a perfect way to create small vignettes and decorate a small space in your home easily!
Ideas to Decorate A Tiered Tray For Summer
Themes for A Summer Tray
beach/coastal/lake – use seashells, small wooden boats, and fun signs
summer fruit – lemons, watermelon, strawberries, peaches, or blueberries
patriotic – Memorial Day, 4th of July, Labor Day
bees/butterflies/lady bugs
gardening – terra cotta pots are a great DIY for this, vintage inspired garden flashcards and seed packets would be perfect
sunflowers or another summer flower that you love
What To Put On A Summer Tray
Flowers – faux summer florals (tulips, daffodils, lilies, sunflowers)
Summer fruit – faux fruit in wood, plastic or ceramics
Books – whether these are real or a faux book stack they create height on your tray
Wooden Bead Garland – make your own with this creative upcycle
Vintage Flash Cards – These or this set from Twigs & Fluff are perfect for summer but they come in every theme
Animals – This filler is a favorite of mine. I've created an entire pig themed tiered tray and this Valentine's tier tray with entire menagerie of farm animals.
Bottles, jars and small pitchers – these can hold flowers picks or just sit empty
Cupcake Stands – great for lifting items and creating different heights in your tray
Wooden Summer Signs – create your own with this patriotic dollar tree repurpose
Thrifted and vintage pieces – the sky is the limit on this! If it will fit on a tray and goes with your theme go for it.
These vintage inspired flash cards are a great addition to your tiered tray or any vignette! Use them –
How I Created A Vintage Farmhouse Summer Three Tiered Tray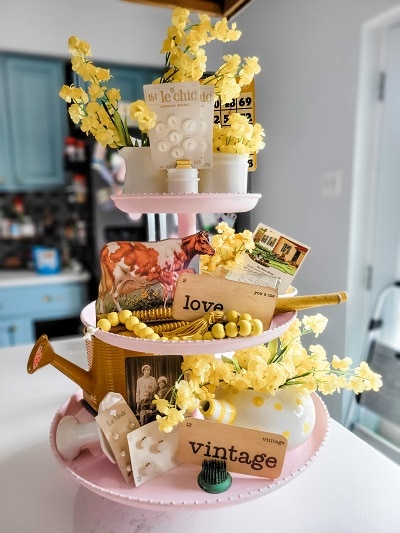 To make the three tiered tray I used the same colors and items throughout, white and yellow, faux floral, and vintage pieces, to make my tray cohesive.
A Closer Look at The Vintage Farmhouse Summer
Three Tiered Tray
Bottom Tier of Tiered Tray
Since this is usually your largest tray I anchor the the tiered tray with my largest pieces here.
A whimsical teapot with floral stems
A flashcard from the Antique Goodness set
A flower frog to hold the flashcard
Vintage button cards and photo
Small cupcake stand
A watering can, in yellow of course, sitting on a book
Middle Tier of Tiered Tray
Top Tray of Your Tiered Tray
Place tall items on this tray to create height and interest!
More vintage button cards
Floral in small pitchers and milk glass medicine pots
And a super fun and old bingo card in bright cheery yellow
See All Of My Favorites To Fill Tiered Trays & More
Before You Fly Away To Create Your Own Vintage Farmhouse Summer Three Tiered Tray
Pin any of the images to Pinterest so you can create a tiered tray for a bright and sunny summer – hover over any picture to save the pin to your Pinterest account. So easy!