Ideas To Create The Perfect Tiered Tray For Spring
I can't wait to share these ideas to create the perfect tiered tray for Spring with you! I have ideas on cute ways to display eggs, using vintage pieces and an easy way to add some "garden" to your Spring tiered tray with some Easter touches!
The Perfect Tiered Tray
I have shared some of my favorite styles of tiered trays on the Feather Your Nest page. I love a tiered tray for decorating, functionality and the ability to display the holidays in small vignettes throughout your home. For my tiered tray I chose to perk up an old one and use my favorite color pink!
Ideas For A Perfect Spring Tiered Tray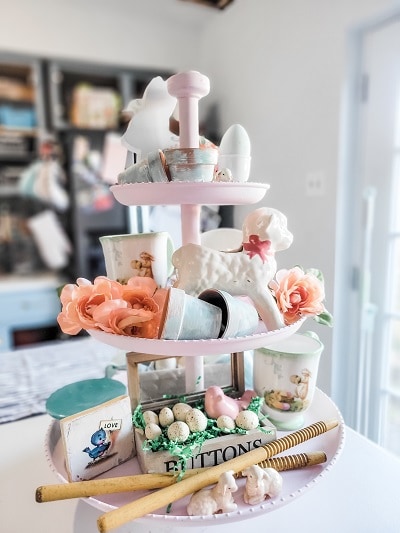 For perfect Spring touches I added –
Ceramic Lambs – I love these small little lambs to remind us what the reason for the season is.
Small Signs – Shelf sitters or smallish signs like this vintage inspired block sign are the perfect size to tuck into the different levels on your tiered tray.
Holiday theme mugs or tea cups – these can be found in thrift stores in abundance! I chose two Peter Rabbit mugs for my display
Eggs – I used egg cups and a button box with shredded paper to create a nest for these pastel eggs.
A touch of Spring – I added flowers and these sweet and petite aged terra cotta pots to my tiered tray. You can find the simple DIY for the terra cotta pots here.
Vintage Pieces – I used an antique lamb planter and the old pick up stick toys for their bright color.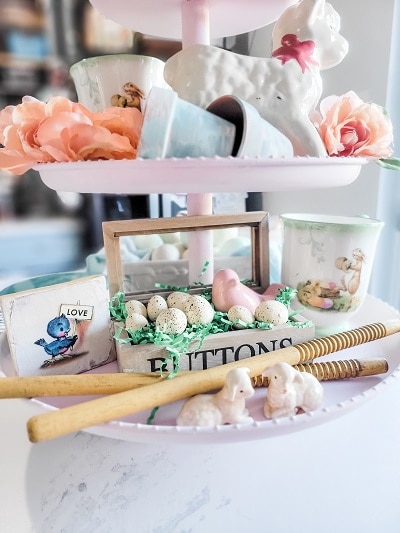 Another Tiered Tray Perfect For Spring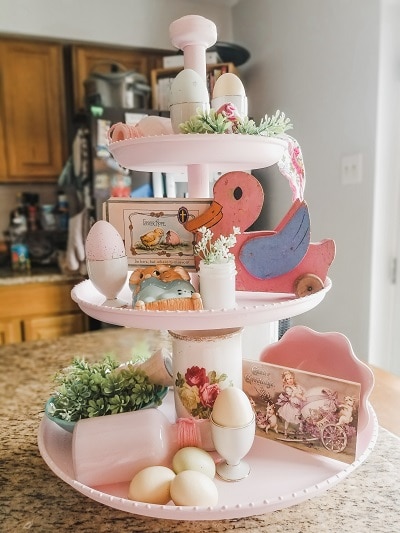 Easter has this tray decorated with an antique pull along toy Amory and I found on our trip to Oklahoma, vintage Easter greeting cards, one of my grandmother's Pendelfin bunnies and egg cups with pastel eggs.
Pendelfins were first produced in 1953 in a garden shed in Burnley, England. They were made by freelance artists Jean Walmsley Heap and Jeanie Todd. The name Pendelfins was used because the shed where they made the first creatures was overlooked by Pendle Hill.
The original Pendelfins were witches, pixies and elves – the pixie bods. They are no longer in production and are very collectable.
More Tiered Trays To Love
Perfect Ways To Display Easter Eggs
Bonus time! I generally have eggs of some sort in containers throughout the year in my home. I want to share a few ideas to display these, whether they are decorated ones for Easter, in a vignette year round, or in your tiered trays and centerpieces for spring.
In Tea Cups & bowls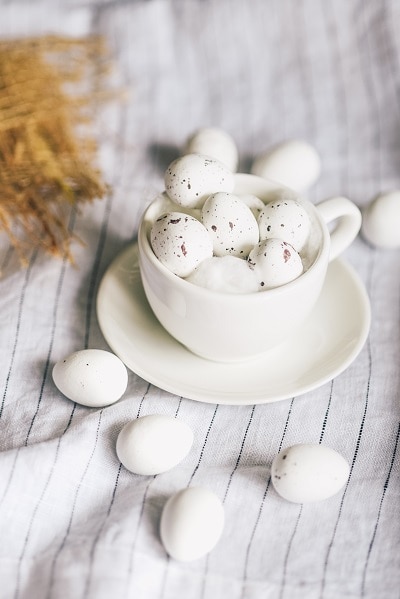 In Compotes And Serving Pieces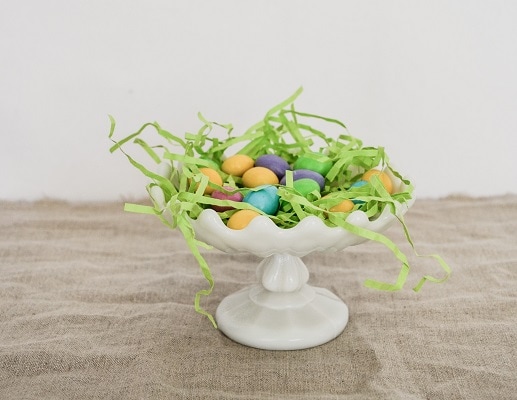 In Boxes and drawers
In Vases And Apothecary Jars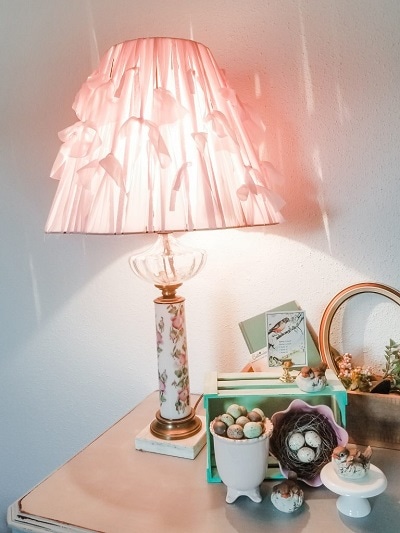 In Baskets Of Course!
Before You Fly Away To Create The Perfect Tiered Tray For Spring
Pin any of the images to Pinterest so you can use these ideas to make the perfect tiered tray for Spring – hover over any picture to save the pin to your Pinterest account. So easy!