Refresh A Tired Tiered Tray with New Color
At the Fifth Sparrow No More we aim to fifth sparrow no more all the things. So these things are not discarded, seen as less than or put out on the curb. When this tired beat up tiered tray came to me I knew it needed a refresh. A bright new color and some love to make it a beloved piece again!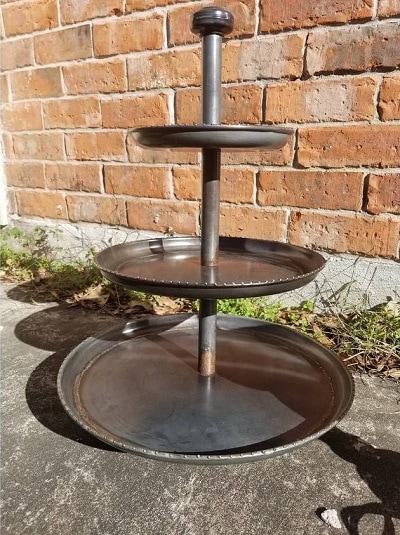 The Steps to Refresh A Tired Tiered Tray!
I tightened all the screws on the tiered tray because it was quite wobbly!
Cleaned it really well with Heirloom Traditions Deglosser. I used a green scrubby pad to knock back some of the rusty areas.
Used a soft pink spray paint to brighten up the dark metallic finish.
Time To Decorate Your Refreshed Tiered Tray!
Farmhouse Pig Themed Tiered Tray
Happier than a pig in …. well you get the idea! I decorated the tray for everyday with some of my piggy collection, the fabric daisies I got from Daisy Maye's on our trip to Vintage Market Days of San Antonio, and cute vintage flashcards.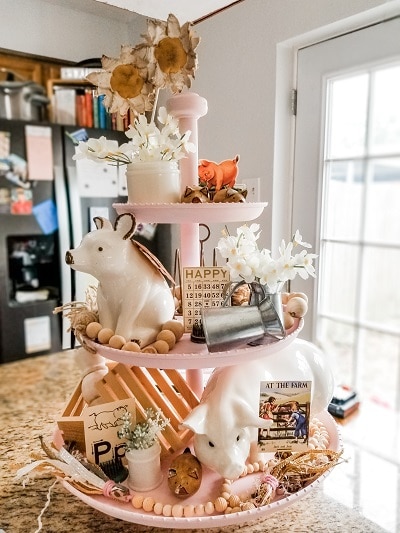 Easter Themed Tiered Tray
Easter has this tray decorated with an antique pull along toy Amory and I found on our trip to Oklahoma, vintage Easter cards, one of my grandmother's Pendelfin bunnies and egg cups with hand painted eggs.
Pendelfins were first produced in 1953 in a garden shed in Burnley, England. They were made by freelance artists Jean Walmsley Heap and Jeanie Todd. The name Pendelfins was used because the shed where they made the first creatures was overlooked by Pendle Hill.
The original Pendelfins were witches, pixies and elves – the pixie bods. They are no longer in production and are very collectable.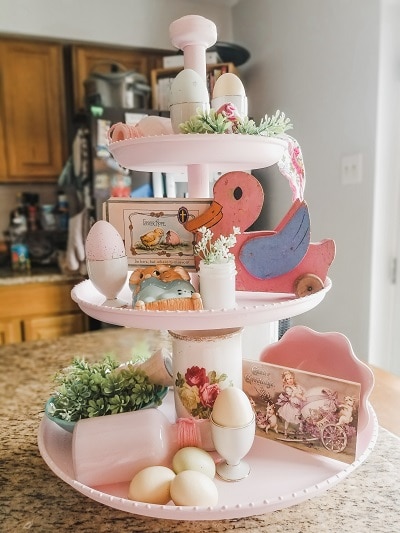 Fourth of July Tiered Tray
Fourth of July's tiered tray has us celebrating a super fruit, the blueberry! It was decorated with DIY blueberry garland, signs and flashcards from Twigs & Fluff . This one is a red, white, and blueberry creation we were able to get crafty with!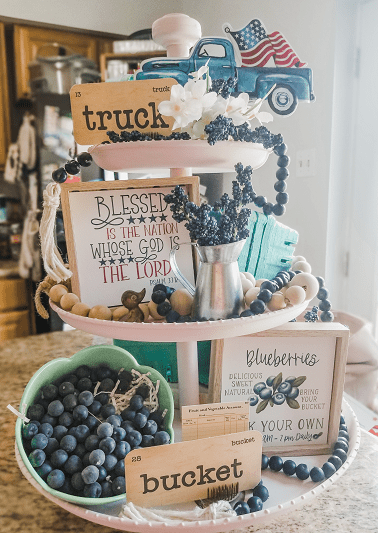 Cute Monsters and Vintage Mix on this Halloween Tiered Tray
A Halloween tiered tray that repurposes and uses vintage items, yes please! This tiered tray has you crafting again, this time with Christmas ornaments! Add in the Hocus Pocus flashcards and the Summer at the Shore flashcards and you have an adorable tiered tray ready for Halloween or a monster themed party!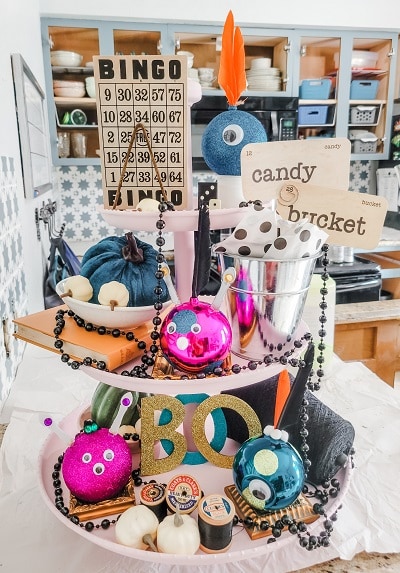 Before you decide something isn't your style – look again! Can you paint it, restyle it, or take it apart to use the pieces? A refresh to a tired tiered tray with new color gave this piece a new life!