Hogs and Kisses For Farmhouse Valentine's Decor
What do you need for your farmhouse Valentine's Day decor? A Hogs and Kisses sign! I repurposed a spoon holder and used paint and transfers from Dixie Belle Paint to create the sign for my farmhouse Valentine's decor which includes a fun tiered tray!
Hogs and Kisses Sign Starts With A Spoon Holder
As the base of my sign I repurposed a spoon holder – yes one of those spoon holders you hang all the tiny souvenir spoons from! I see these in the thrift store constantly begging to be made fifth sparrows no more! For this one I needed to get the actual spoon holders off – notice the hammer.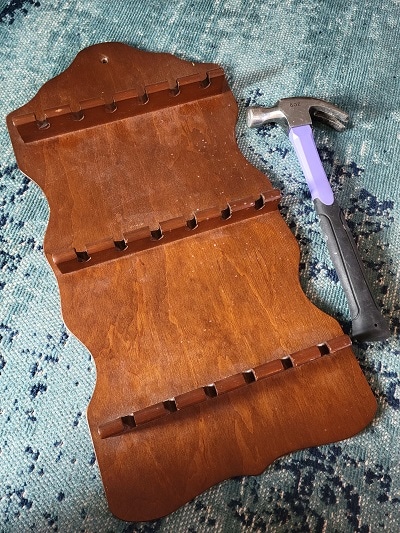 Watch below how I used that hammer and a pair of pliers to prep my spoon holder for its next purpose – a Hogs and Kisses Sign.
Supplies Needed For Your Hogs and Kisses For Farmhouse Valentine's Decor
The Steps to Creating Your The Hogs and Kisses Sign
The 1st Step To Farmhouse Valentine Decor!
Well this is technically the second, after hammering off the spoon hangers and pulling the staples out! You will need to sand and clean your piece really well. After removing the spoon hangers I started to sand the piece with one of Dixie Belle's Rad Pads. Then veneer just peeled right off – I removed all of it with a metal putty knife.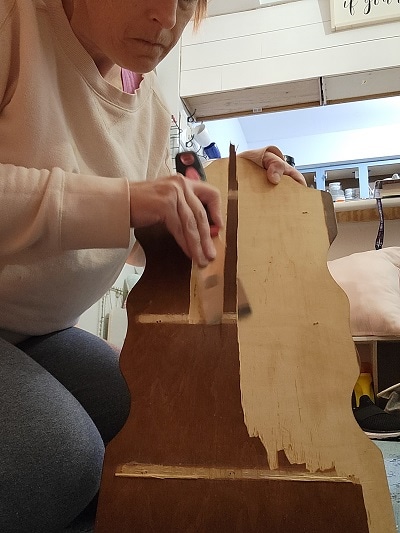 I then used Pristine Clean to clean the spoon holder of all the dust from sanding and from sitting in a thrift store. To do this I mixed 2 heaping tablespoons of the Pristine Clean granules in 1 gallon of hot water and mixed it until dissolved. Apply with a rag and then wipe off with a clean slightly damp rag. I use the mister bottle to slightly dampen my clean rag to wipe off the Pristine Clean – it works great! Don't let any water puddle or sit!
2nd Step – Paint Your Hogs and Kisses Sign
I chose the color Fiery Sky from Dixie Belle's Silk All-In-One Mineral Paint Line. It is part of their Desert Collection which has nine more fabulous colors you will want to try!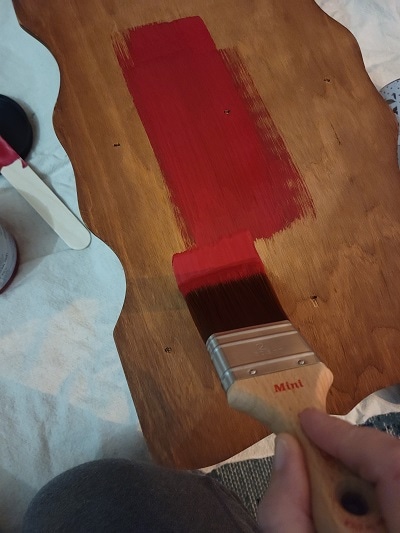 3rd Step – Add The Farmhouse Charm With Transfers
For this step I used a transfer I created myself and the On The Farm Transfer from Dixie Belle Paint. I used this same 'create your own transfer method' on these boxes and in this gingerbread tiered tray. The wording and fonts I used are in a free printable at the end of the post!
Print the Hogs & Kisses printable at the end of this post. This is what you'll use to transfer the words to your sign.
Place the transfer paper on your project black side down/gray side up. Place your printable on top of that. Using the tool that came with your transfer paper or the end of a small paintbrush trace your letters.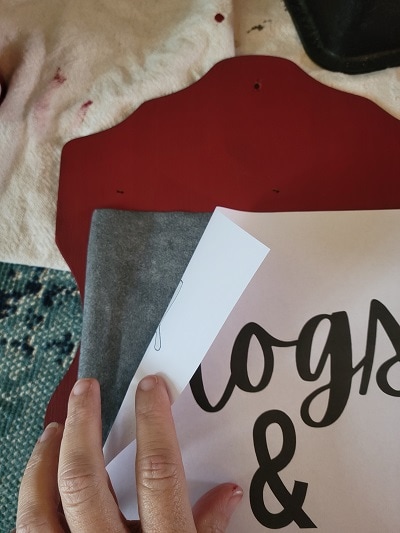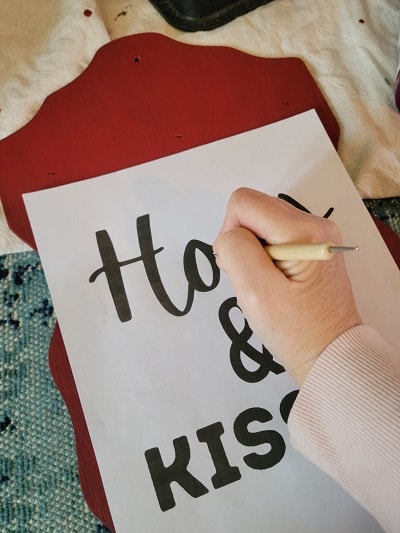 When done tracing your letters remove the transfer paper and printable and fill in with with Dixie Belle's paint in Anchor and Dixie Belle's artist brushes or a small paintbrush.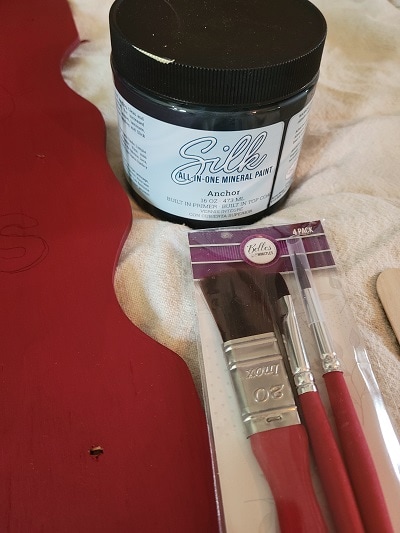 Cut out the pig from the On The Farm Transfer, being careful around his feet – leaving the backing paper on. Also cut around the American Farm transfer as well, I put this at the top of my sign. The transfer is sticky so you'll leave the backing on until you've placed it on your project.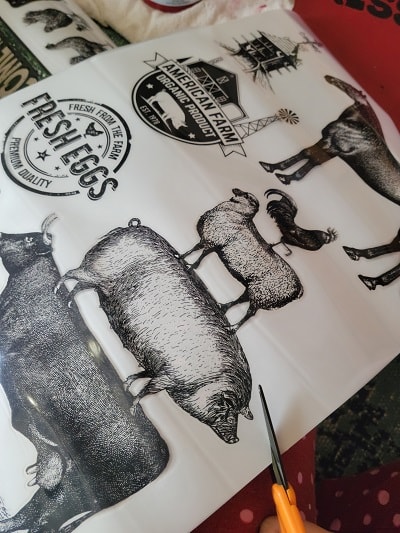 Position on your project to your liking. When you like the position of it on the project remove the paper backing and smooth down on your project. You can use painter's tape to hold it in place as well. Use the tool that is included to rub gently but firmly until the pattern releases onto your project.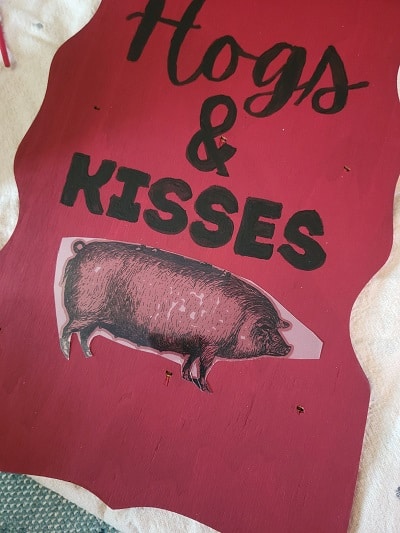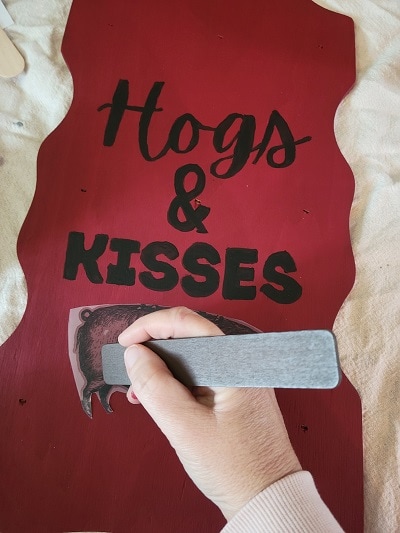 Repeat steps to adhere your American farm transfer to the top of your project.
Apply a coat of satin clear coat on your piece after 24 hours to let everything dry properly.
Create A Tiered Tray For Your Hogs and Kisses Farmhouse Valentine's Decor
I used my Hogs and Kisses sign in our stair landing where Amory has all her boots lined up, goat pictures (oh yeah and some family pictures too), and all of her show ribbons. Because when it all comes down to it, it's about the goats.
Since we have a farm thing going already it seemed appropriate to make a farmhouse themed Valentine's tiered tray for how much we love all the animals! I used one my vintage inspired Valentine flash cards to call out those lovebirds on top – they are antique wooden chicken toys in nests made from vintage Jello cups. A goat bookend that was in the centerpiece of my goat themed table adds to the menagerie. A farm truck, a berry basket, coffee cup, bead garland, a book, a milk glass medicine jar and another flash card help to carry the colors and theme throughout.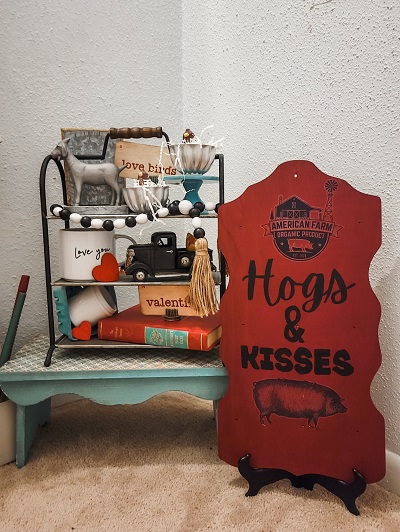 Before You Fly Away To Make Hogs and Kisses For Farmhouse Valentine's Decor
Pin any of the images to Pinterest so you can decorate for a farmhouse Valentine's Day – hover over any picture to save the pin to your Pinterest account. So easy!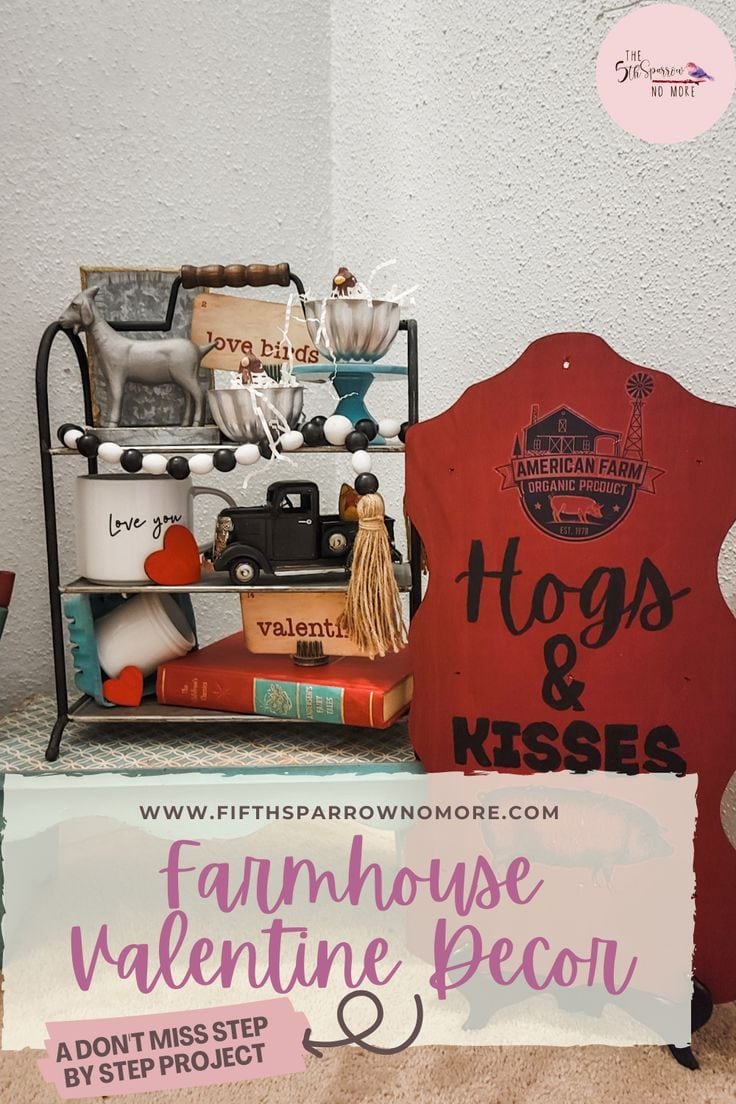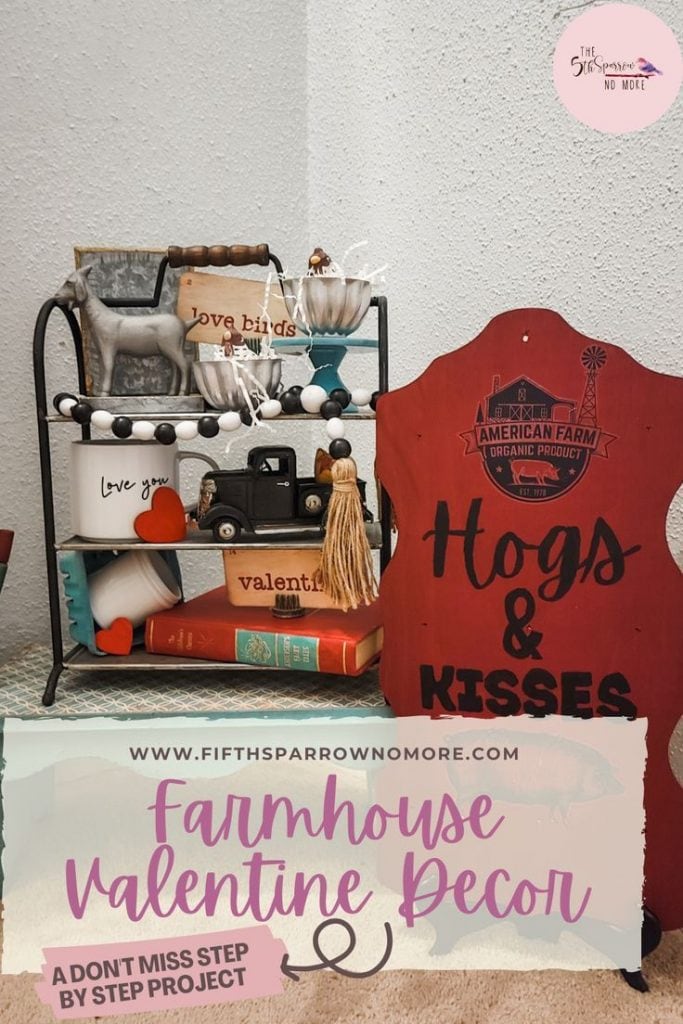 Get Your Hogs and Kisses Printable