Easy Decorating Ideas For A Vintage St. Patrick's Day
Lucky you! I want to share these easy decorating ideas for a vintage St. Patrick's Day. You can use these décor ideas on your tiered trays, tablescapes and mantels or anywhere in your home!
Ideas For Vintage Farmhouse St. Patrick's Day Decor
Clover Dishes or any antique green pattern plate
Green bottles – like small vintage ink pots or Cloverdale soda bottles
Clover Cookie Cutters – the antique metal ones are awesome finds
Antique green books – I love to use books in all my decorating, they are so versatile!
Vintage green bingo cards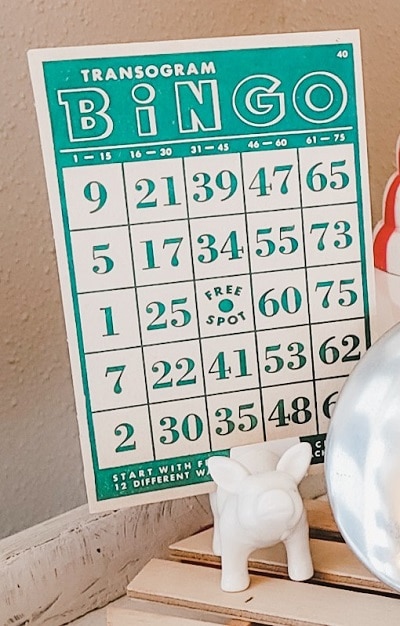 Antique and vintage postcards and greeting cards
Green flower frogs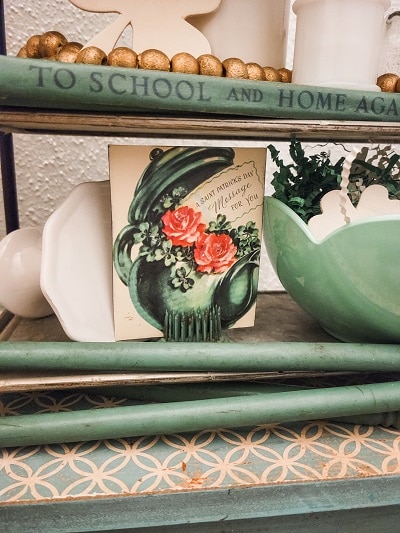 The Thrift Store Shopping Guide
In the Thrift Store Shopping Guide you'll find a list of more than fifty items you want to look for in thrift stores, a shopping list for tiered trays, a holiday on a budget tips and tricks section, and pages of decorating ideas for your thrifty finds!
A Vintage Farmhouse Tiered Tray For St. Patrick's Day
On the landing of our stairway we have a small area for my daughter's shoes since it's the most convenient spot and I love to decorate the small tiered tray for all the holidays. This one for Valentine's Day, this one for Christmas and a farmhouse tiered tray for everyday.
This tiered tray I created for St. Patrick's Day definitely has vintage farmhouse touches and nostalgic pieces like these two Holly Hobbie pieces that I found thrifting. These take me all the way back to childhood – who else had the Holly Hobbie room, lunchbox, bike, etc?!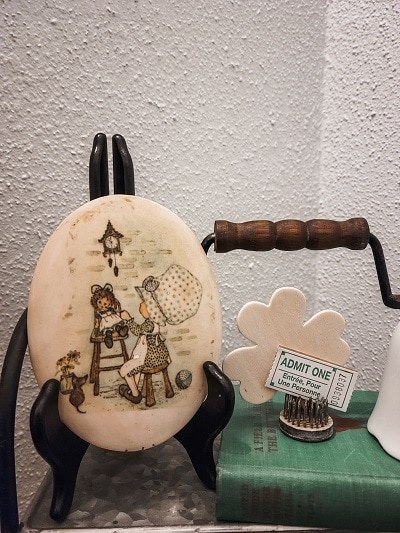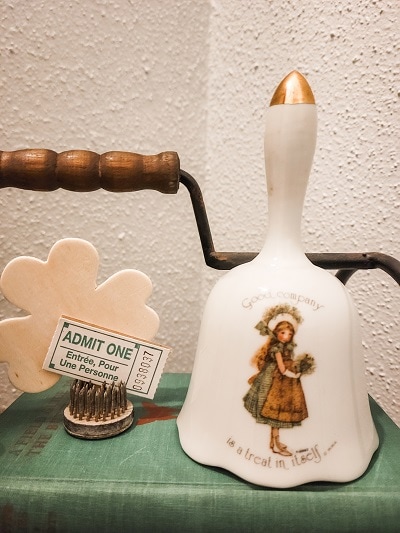 The rest of the tiered tray is filled with vintage pieces like antique green books, flower frogs, milk glass, and vintage St. Patrick's Day greeting card. I added wooden shamrocks and a wood bead garland in gold.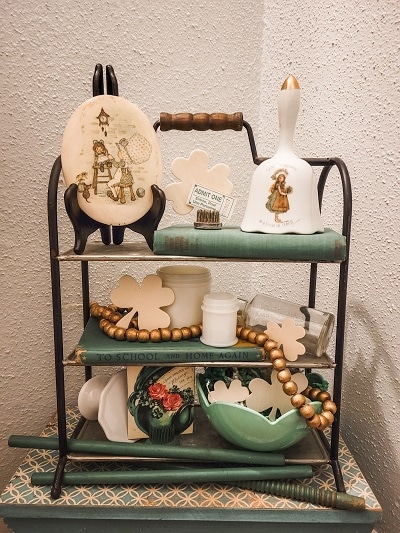 A St. Patrick's Day Tablescape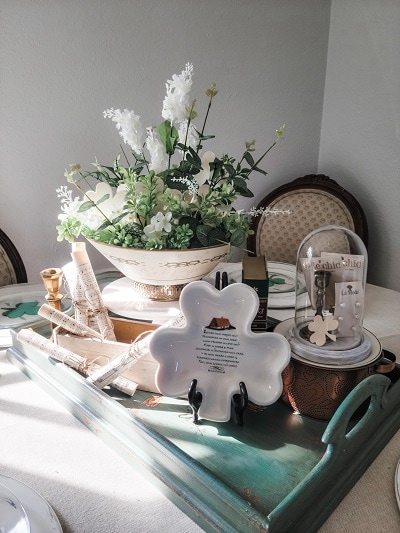 I used the 1-2-3 Formulas to a Beautiful Table guide to create this table. The parts of the centerpiece are gathered on a green toile tray. An old light fixture's shade becomes the perfect piece to hold a St. Patrick's Day centerpiece. Vintage hymnal music is scrolled in a chippy rustic sewing drawer. A shamrock plate with an Irish blessing, a vintage book and more wooden shamrocks are part of this centerpiece. A cloche filled an aged gold candlestick (because what is St. Patrick's Day without a little gold?) another shamrock and antique button cards fill a cloche. More ideas to fill a cloche are can be found here.
A vintage farmhouse St. Patrick's Day place setting was creating with a few easy pieces. I used a white wooden charger, shamrocks I cut from cardstock and glass plates. A white napkin and a copper napkin ring completes the place setting.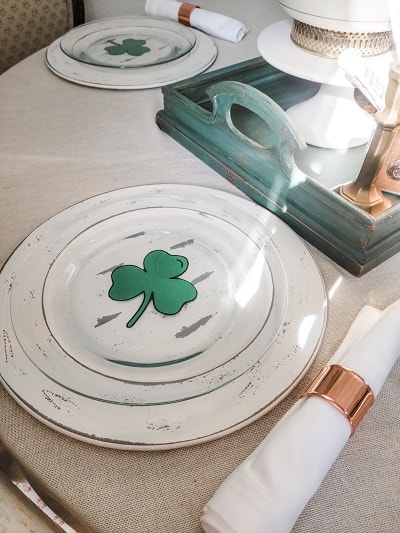 A Vintage Farmhouse St. Patrick's Day Mantel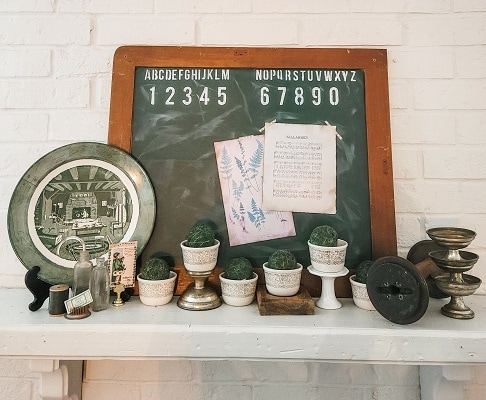 The focal point of this mantel is that vintage inspired chalkboard I created for my back to school decorating. I taped a botanical print of ferns from Graphics Fairy and a sheet of music to the chalkboard.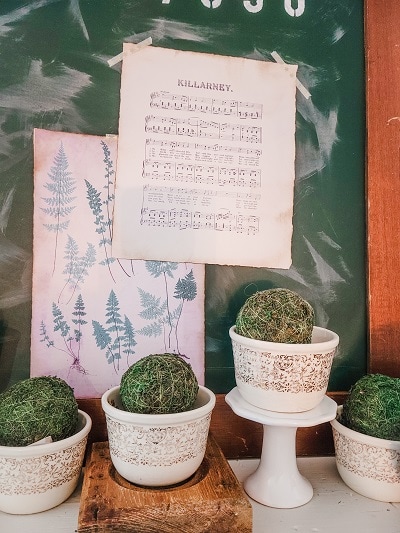 A collection of vintage pieces complete the mantel – a spool of thread, a flower frog with a ticket, bottles and a vintage St. Patrick's Day greeting. A patterned green plate finishes off this vignette.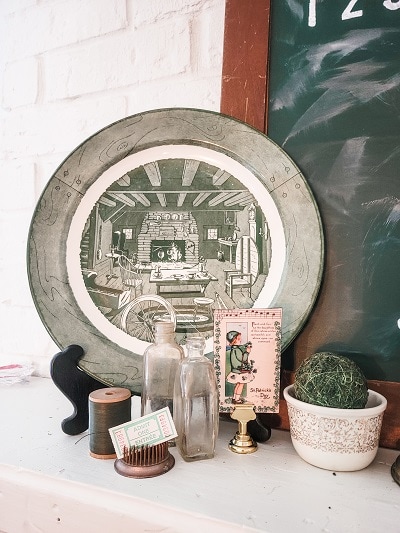 Before You Fly Away To Use These Vintage Farmhouse St. Patrick's Day Ideas
Pin any of the images to Pinterest so you can decorate your home with vintage farmhouse St. Patrick's Day décor on your tiered trays, tablescapes and mantels– hover over any picture to save the pin to your Pinterest account. So easy!