How To Create A Blueberry Themed Table For Summer
I created the sweetest blueberry table and I want to show you how to create a blueberry themed table for Summer using DIY blueberry projects, blue and white transferware or blue willow plates, and cobalt blue glassware.
Blueberry Themed Centerpiece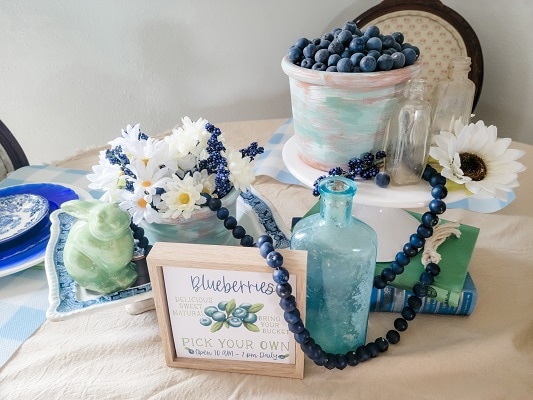 In the center of the table I used a variety of bottles, blueberry themed pieces, books, and terra cotta pots.
The blueberry garland is an easy project, using just sting and a needle and thread!
Adding height and different levels to your centerpiece adds interest. This is done with a white cake stand, my favorite cake stands are listed here, books and terra cotta pots. I use books in all of my decorating, I just love how the colors of these play so nicely with this blue and white blueberry themed table. The terra cotta pots are aged using this simple method.
Vintage bottles are a favorite thing of mine to collect! I added a few to this centerpiece – this large blue one is such a gorgeous color! I wonder what it held when it was "new".
The blueberry sign is a free printable in our exclusive freebie library available to our subscribers!
Join our Newsletter to receive our free eBook
Subscribe to have posts delivered straight to your inbox!! PLUS get our FREE eBook!
Blueberry Themed Place Settings
At each setting shades of blue, green and white creates an inviting feeling for each guest. It also compliments the centerpiece colors -green bunny, green and blue books, white cake stand. This makes everything appealing to the eye. The food you serve can't be the only pretty thing on the table, right?!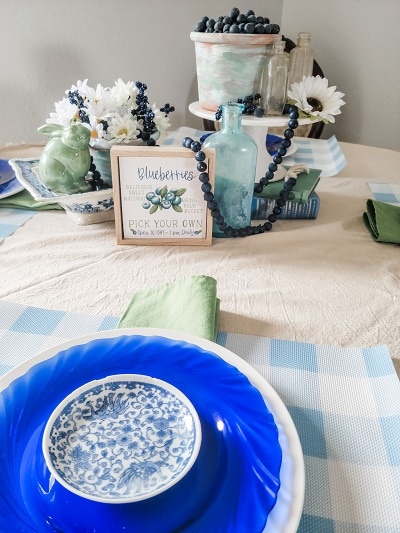 Blue PLates For A Blueberry Themed Table For Summer
Blue and White Transferware
Transferware is the term given to pottery that has had a pattern applied by transferring the print from a copper plate to a specially sized paper and finally to the pottery body. At first, the transfer patterns were copied from the blue and white Chinese designs. After this they began to incorporate European features into these designs. After this dishes with patterns with important buildings, landscapes and war heroes lauding the new American nation to the American market were introduced.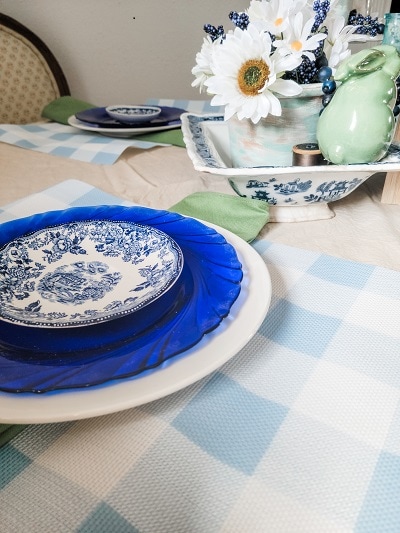 Blue Willow China
The Blue Willow pattern has a Chinese look and story, it was actually created in England in 1780 by engraver Thomas Minton. 
To be a true Blue Willow pattern it must include:
willow trees
Chinese pine trees (commonly confused as apple or orange trees)
a bridge with three men on it
a fence
a boat
a teahouse (or pagoda) and
two birds in flight
Cobalt Blue Glassware
Cobalt blue glass is normally a deep rich blue like the vase on the left. It is made by incorporating cobalt oxide in the molten glass mixture.
Most blue glass is given its color either from cobalt oxide or from copper oxide added to the molten glass. Copper is a more delicate colorant than cobalt. It only requires a small amount of cobalt oxide to produce a deep rich blue.
You can vintage pieces in thrift stores, resale shops and antique stores. Newer reproductions pieces are widely available too.
How To Create A Blueberry Themed Place Setting For Summer
In the Easy 1-2-3 Formulas to A Beautiful Table I used the table setting formula – elevate the plate, mate and create.
Elevate the Plate
A blue and white gingham placemat and a white charger to elevate the plate.
Mate
I added my mate to the place setting – a green napkin folded under the charger.
Create
I added blue and white transferware and cobalt blue plates to dress up the place setting and continue the blueberry theme.
Before You Run Off To Create A Blueberry Themed Table For Summer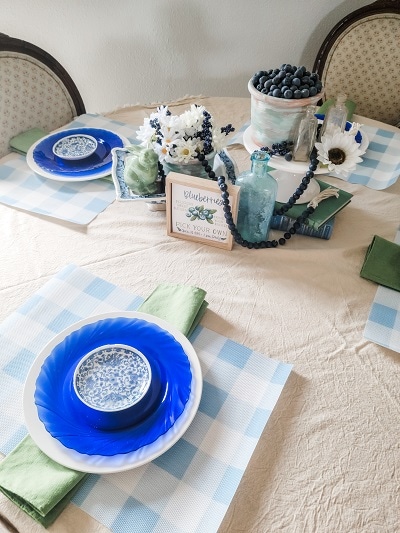 Pin this post to Pinterest to help you remember all of the ideas – hover over any picture or the image below to save it to your account. So easy! And to make it super easy to find all of these things while thrift shopping I created the Thrift Store Shopping Guide. It has lists of items to look for, more ideas how to use them, and printable lists to fill in and keep you organized and on track!