One Room Challenge – Desk Makeover For Office Nook
For the one room challenge this week I'm doing a desk makeover for the office nook of my primary bedroom. We'll repurpose an old vanity and make repairs to it so it will be beautiful again. Speaking of beautiful, wait till you see what vinegar and a green scrub pad does to tarnished old handles!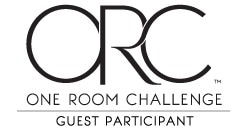 The "Desk" For The Makeover
This gorgeous (use your own imagination) piece of furniture is in all actuality a vanity. And it is a true "fifth sparrow no more" – I got this for free off the side of the road!
I originally intended to use my pink desk but it has new a purpose now. It is now in the booth where I help shoppers find the beautiful for their home by selling "fifth sparrow no more"-s that I repurpose, upcycle or find at thrift and vintage shops and garage sales.
This vanity turned desk needed some love! I made repairs and painted it pink, of course!
Repairing The Desk Where The Vanity Mirror Sat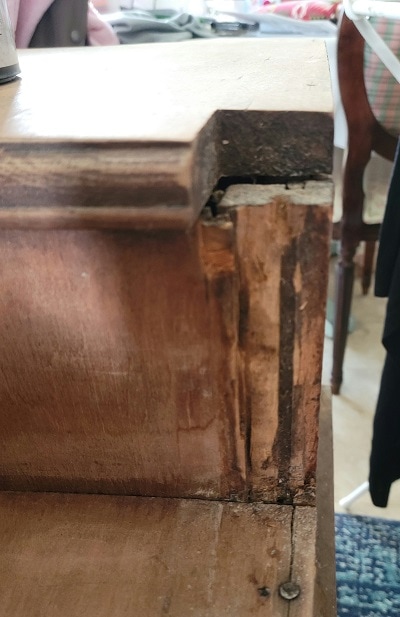 The areas where the mirror was attached was very rough. Because of this I chose to cover these in wood instead of trying to fill in with Dixie Mud, like I did on the side of the vanity turned desk.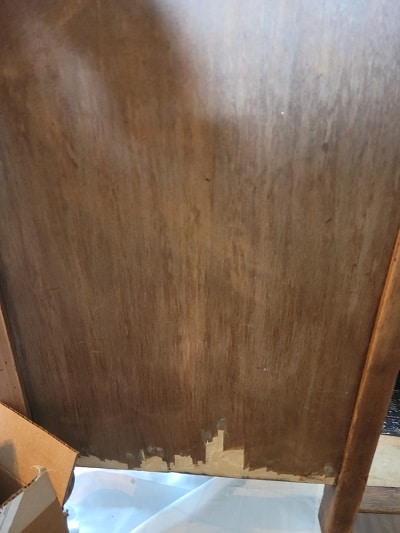 Repairs For The Desk For The Office Nook
The Spots Needing Repairs
Where vanity mirror was attached
Very rough and uneven
Not feasible to cover in Dixie Mud to repair
Chose to cover in wood
Wood Used To Cover Damaged Spots
Thin basswood sheets
1/8 inch thick
Measured and cut to shape
Spots Repaired
Attached the pieces with wood glue and small brad nails.
Sanded rough edges and where pieces met
Filled gaps with Dixie Mud
Painting The Desk For the Office Nook
I used Dixie Belle's Soft Pink to cover the desk and the color Kudzu to distress the surface.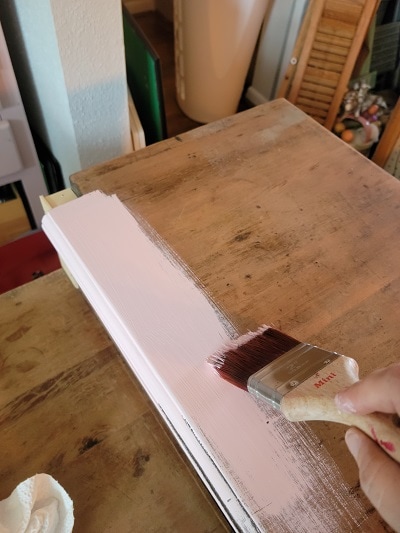 Desk Makeover – Adding Handles To The Drawers
The handles are another "fifth sparrow no more" project. A sewing machine table that was also found on the side of the road provided the handles. The handles were gross, tarnished and needed a good clean.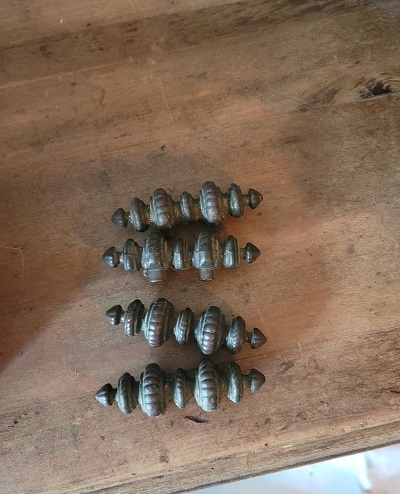 Cleaning Handles For The Desk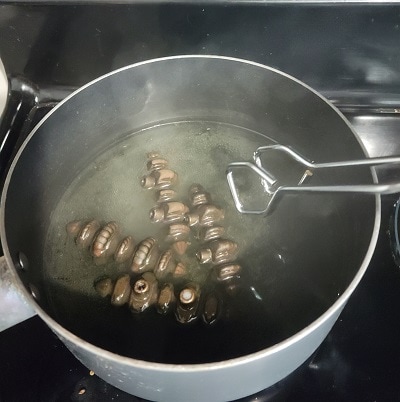 First Step – Boil In Vinegar
Place handles in a pot you will not use again and cover with white vinegar. Bring to a boil and boil approximately five minutes.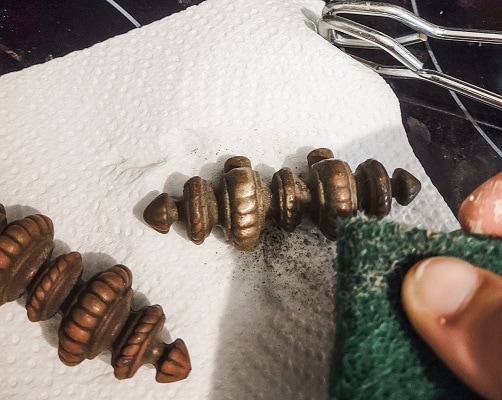 Second Step – Scrub
Remove the handles from vinegar with tongs (they will be very hot!) and let cool enough to handle. Use a green scrub pad to wipe away the dirt. It comes off easily!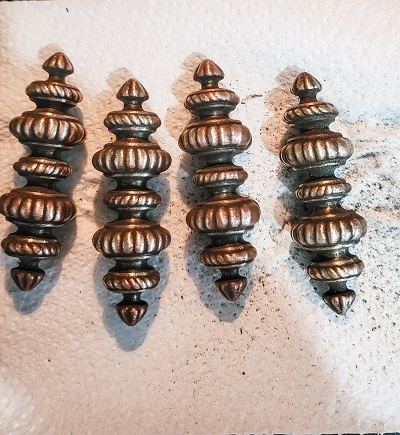 Third Step – Wipe Down
Wipe away any residue with a soft cloth and admire the shine you created by "fifth sparrow no more" – ing old handles!
One Room Challenge – Desk Makeover For Office Nook Complete
I cannot wait to show you the final product! But I'm going to make you wait … week 5 is going to be all about office organization and I want to show you how it all looks together! I'm so mean!
There is so much inspiration from all the participants of the One Room Challenge – make sure and check out what they have done in Week Four. Pin this post to Pinterest to help you makeover a desk by repurposing an antique vanity or cleaning drawer handles – hover over any picture to save it to your account. So easy!
Want to See More Projects For This Bedroom/Office Makeover?
Eight Weeks of project ideas for bedroom, home office, and organization