A Monstrous Craft To Repurpose Ornaments
The Fifth Sparrow No More is a participant in the Amazon Services LLC Associates Program, an affiliate advertising program designed to provide a means for sites to earn advertising fees by advertising and linking to Amazon.com.
Create cute monsters using Christmas ornaments and craft supplies to decorate for Halloween or use them for a monster themed party or classroom!
Monstrous Craft Supplies
I gathered the craft supplies I had on hand but you can use anything that you have or that you'd like to decorate your monsters with. I used
google eyes (I feel these are a must!)
feathers
pom poms
jewels
trim
I used the bottom of a dollar store fan for their antenna – see what else I created with those dollar store fans here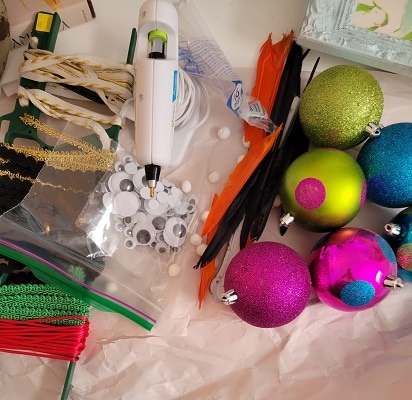 I purchased ornaments in fun colors of magenta, teal and lime green for 50% off at Goodwill. I will fifth sparrow no more those for 49 cents, thank you!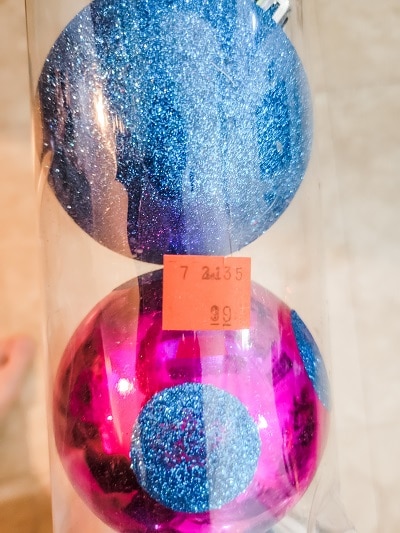 Crafting The Monsters From Ornaments
Now this is where the fun begins! Decide how you want each monster to look and what pieces will end up where on each monster, For the feathers I was able to pull the cap off the ornaments and stick the feathers down into the ornaments. For the other things – eyes, pompoms, jewels, trim and antenna I used hot glue to attach them to the ornament.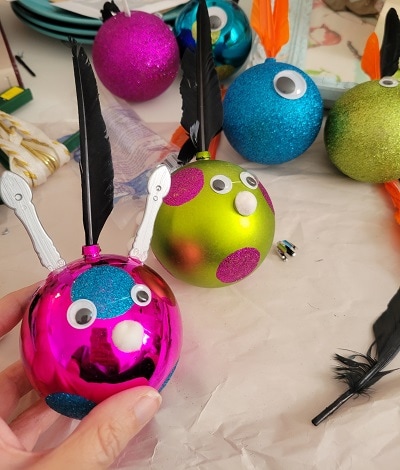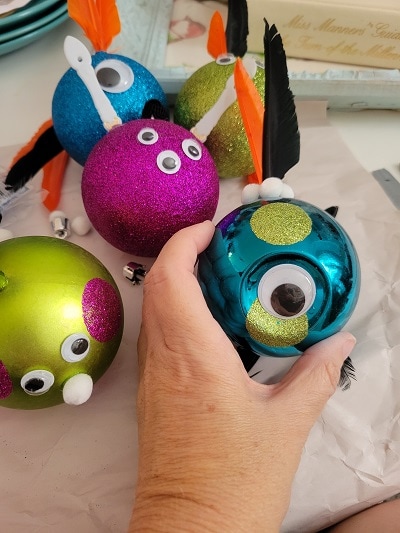 How do I display my ornament monsters?
I'm glad you asked! These silly monsters were used in a tiered tray combined with vintage pieces for a fun Halloween display. Watch this video to see exactly how I decorated the tiered tray and the pieces I used.
I used empty 3 X 3 frames and small jars to sit the ornaments in so they wouldn't roll away. I continued the colors teal, black and white through the tray to keep everything happy and cohesive. Fun additions to the tiered tray include –
My favorite addition to the tiered tray is the candy bucket using the flashcards from Twigs & Fluff. I used the Hocus Pocus set and the Summer at the Shore set.
Bead garland created from dollar store necklaces
A vintage book in orange, found for free on my library's discard shelf
Vintage yarn and thread spools in black
And clearance wood letters – one of which started as a Q!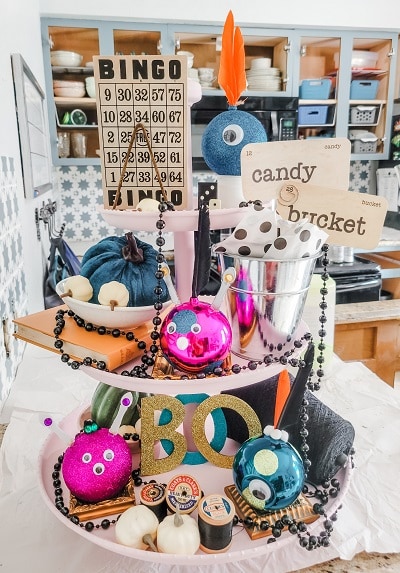 MAKE SURE TO