A Gingerbread Tiered Tray With Easy Graphic Transfer Projects
For the Christmas decoration in my kitchen / dining room, which is all one room, I am doing a gingerbread and baking theme. I decided something needs to be baking in there because it is not me! I am creating a gingerbread tiered tray with easy graphic transfer projects. I am using my pink tiered tray and using the transfer projects to make a wooden book stack and some mini rolling pins that will be used in the tiered tray.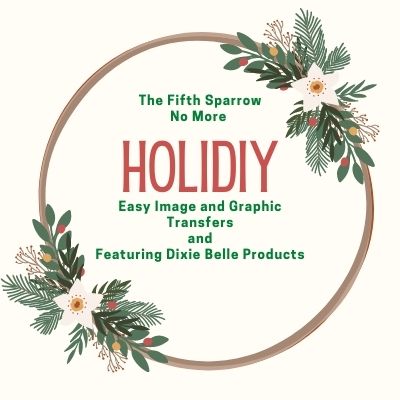 Welcome to HoliDIY! Projects to inspire you to DIY Christmas decor for your home easily and inexpensively all while having fun! We will use two methods of image transfer and Dixie Belle paint and products to "fifth sparrow no more" thrift store finds and make craft store finds our very own. You can see the Christmas Tree Boxes we made for our other HoliDIY project here.
Mini Book Stack with Mod Podge Image Transfer
I purchased this book stack on my recent trip to San Antonio for Vintage Market Days. On our second day in town we went to Castroville to the city wide garage sale. It was ah-mazing! You can see another project I completed with more of my finds here.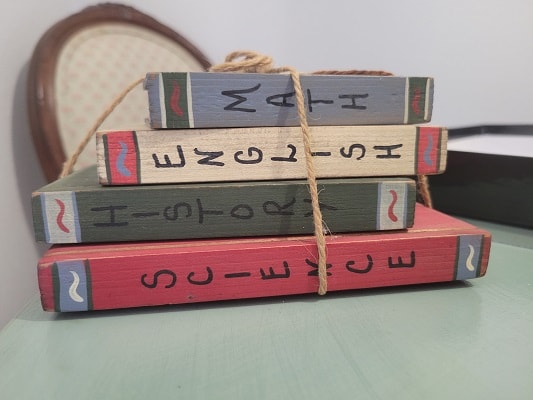 If you aren't lucky enough to find a mini book stack at a garage sale for (you're going to hate me, be jealous, or both) 50 cents try the dollar store! They have rectangle wood plaques that you can stack to get a faux book stack look inexpensively.
Supplies Needed For The Two Easy Transfer Projects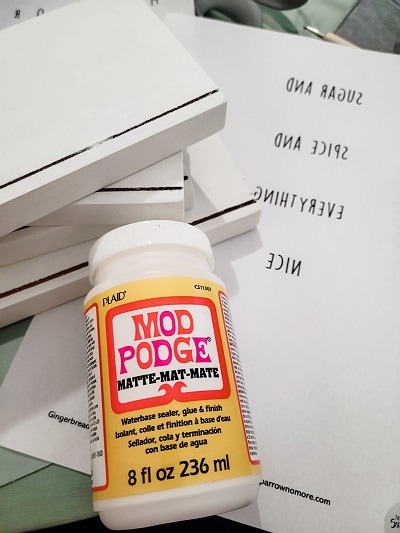 Step One – Painting The Book Stack For The Gingerbread Tiered Tray
Paint your book stack. I painted only the spine, edges of the book and the covers. I left the sides or pages brown as they were originally. I used Dixie Bell's Silk All In One Mineral Paint in White Cap.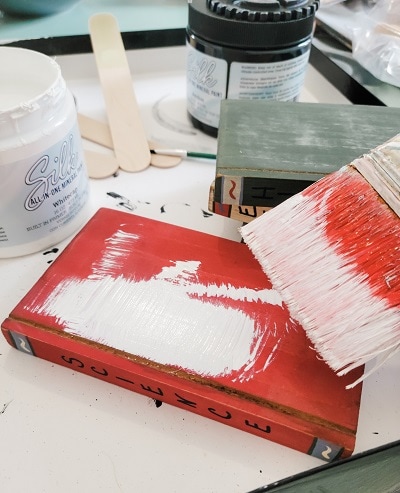 Step Two – The Mod Podge Transfer Method For The Gingerbread Tiered Tray Book Stack
Next we need to put words on the spines of our books. We are going to use the mod podge transfer method for this. This method is best to use on white or very light paint colors. This is why I used Dixie Bell's Silk All In One Mineral Paint in White Cap. Print out the HoliDIY Graphic Transfer printable in Twigs & Fluff and use the words in mirror image. In the printable I have included what I used, Sugar and Spice and Everything Nice, but I have also included a mirror image of the font so you can create your own sayings!
Gingerbread Book Stack Saying Ideas
Baking Spirits Bright
Happiness Is Homemade
Gingerbread Cookie Co.
Buttons And Sprinkles Oh My!
Cut out the words or letters you will use on your book stack.
Apply a thin layer of mod podge to the paper over the words or letters.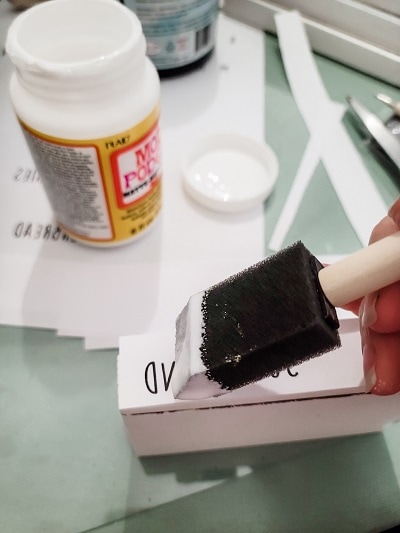 Turn the paper over and smooth on to your project.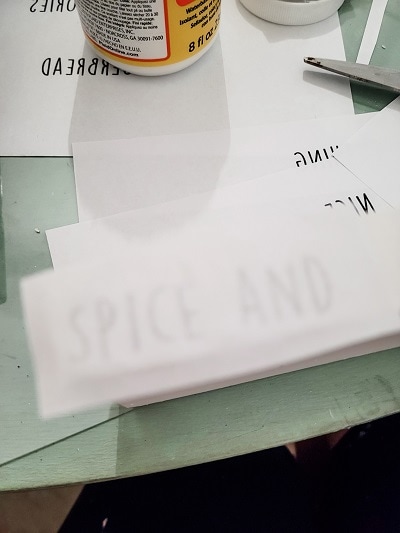 The hardest part – let it sit for twenty four hours!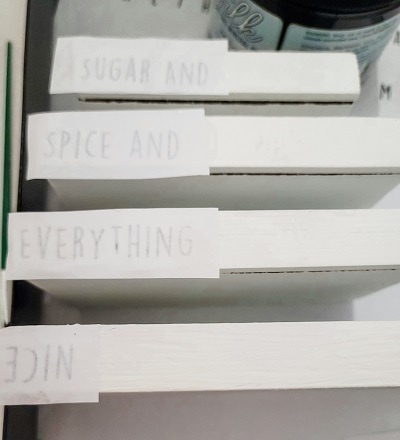 Take a small cloth and dampen it slightly and rub away the paper on your mod podge transfers. Do not use too much water or rub too hard or your words will come off too!
Don't miss out on these products to help you finish this gingerbread tiered tray with easy graphic transfer projects.
Mini Rolling Pins – An Easy Transfer Method For Your Gingerbread Tiered Tray
For the mini rolling pins we will be doing the transfer paper method like we used on the Christmas Tree Boxes.
First paint your mini rolling pins gingerbread brown and let them dry.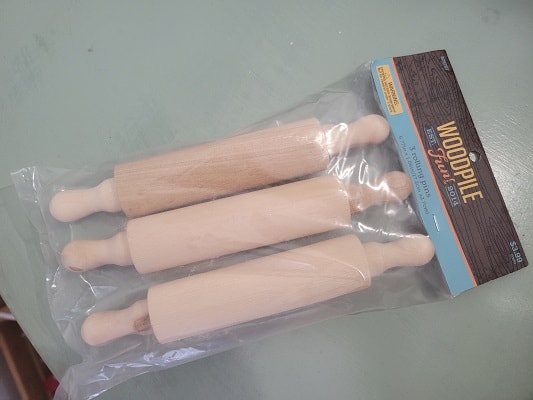 Handy Tip: Don't Have Gingerbread Brown Paint?
Place blobs (that's a term I can use, right?) of brown, white and orange craft paint on a plate. Drag colors into your mix with your paintbrush until you get the perfect shade!
Cut out the words or letters you want to use from the HoliDIY Graphic Transfer Printable and strips of transfer paper. Place transfer paper on rolling pin black side down and then your word or letters (just tape them together to make your word!) from the printable.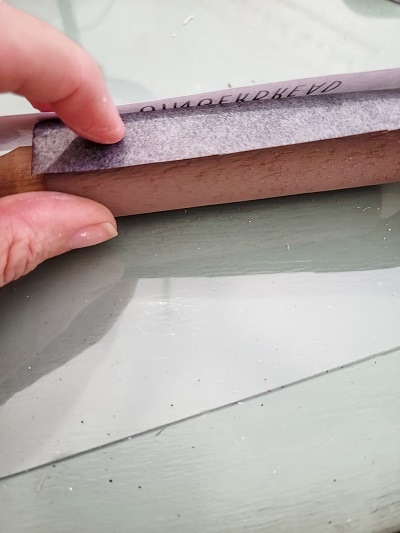 Trace your letters using the enclosed tool or the end of a skinny paintbrush.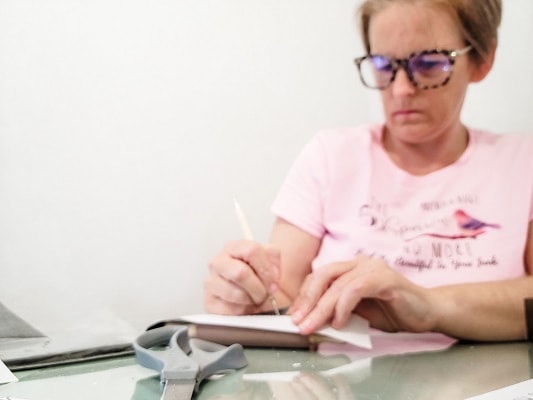 Lift away printable and transfer paper and get ready to paint on your words.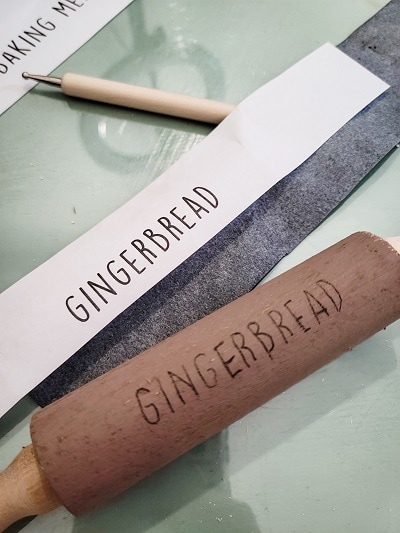 Using the fine tip paint marker or Dixie Belle's paint in Whitecap and a fine paintbrush trace the letters you transferred.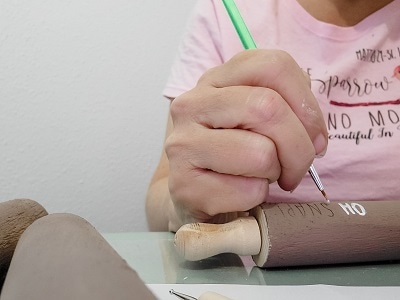 Creating A Gingerbread Tiered Tray With Your HoliDIY Projects!
Gather your tiered tray decor –
I found cute Christmas cards shaped like gingerbread houses at Goodwill but a fun idea would be to craft these fun reversible houses with your family.
Mixing bowls – small bowls in bright colors
A tin recipe box
A vintage gingerbread flash card found here at Twigs & Fluff
Small bottles or spice jars
A bottlebrush tree
Small pitchers
What will you add to your gingerbread tiered tray? More baking supplies or more sweet treats?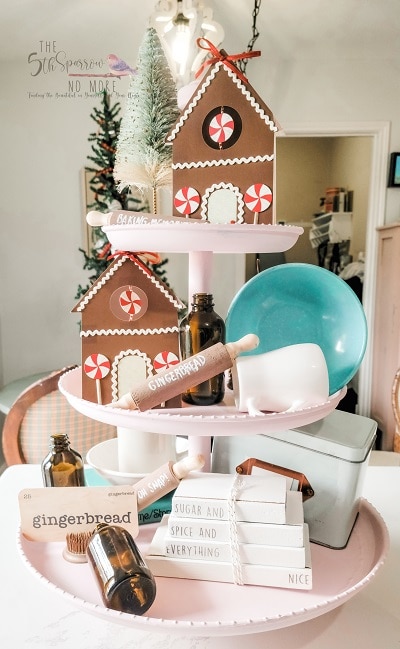 Before You Fly Away To Create A Gingerbread Tiered Tray With Easy Graphic Transfer Projects
Pin any of the images to Pinterest so you can make your box for Christmas trees or gifts for your Christmas décor – hover over any picture to save the pin to your Pinterest account. So easy!