Aged Terracotta Pots For Spring
For my Spring decorating I wanted to include aged terracotta pots. I wanted them to look whitewashed, weathered and loved. I accomplished this with new terracotta pots and paint.
What You'll Need To Age Terracotta Pots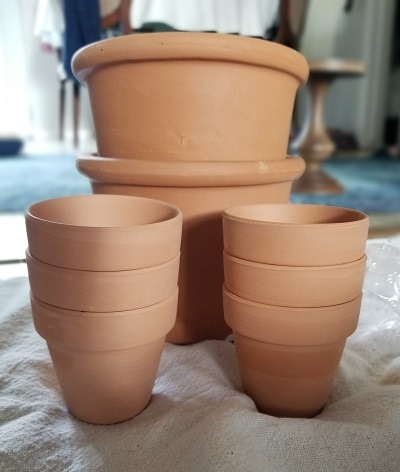 Paint – I used my go to colors of paint. Two were chalk paints and one was a craft paint.

Martha Stewart's Chalk Paint in Eucalyptus

Martha Stewart's Acrylic Craft Paint in Kiddie Pool
Folk Art Chalk Paint in White Adirondack
Click on the pictures below to see more details of these and purchase!
Let's Age Some Terra Cotta Pots
I started with the white paint and dry brushed that on first. Dry brushing is getting paint on your brush then wiping most of it off with your paper towel or rags before painting it on the pot. After the white paint I used the Eucalyptus paint and then the Kiddie Pool paint in the same dry brushing technique a little more sparingly! Sorry there are no pictures I got into a groove, an artistic trance if you will and totally forgot to take progress pictures!
Use Aged Terracotta Pots In Your Spring Decorating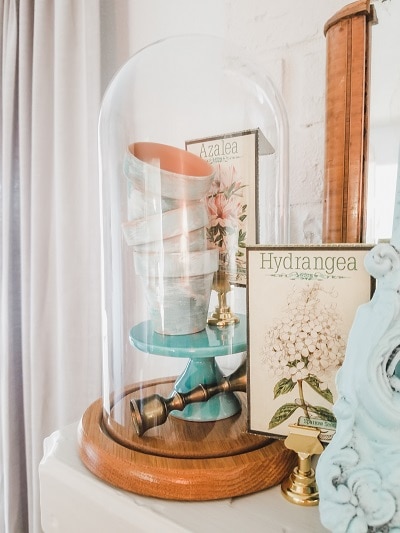 I stacked the small pots inside this cloche and included these printable seed packets that are available in Twigs and Fluff – The Fifth Sparrow No More's Shop! Go here to get yours!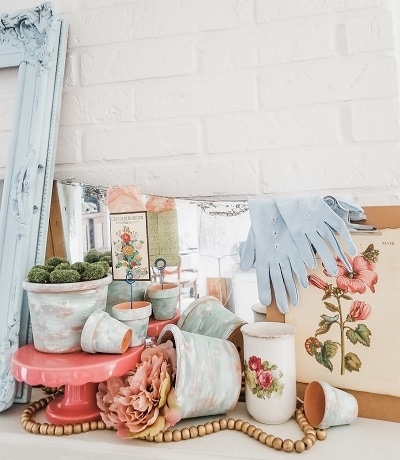 On my mantel that I have decorated for spring the aged terracotta pots hold a variety of things while some lay on their sides for a different angle. One pot contains moss rocks and a smaller one holds a printable seed packet on a photo clip with a hankie tucked inside. A botanical print printed from home and distressed by tearing the edges of the paper and rubbing with an ink pad finishes off the grouping. See how that is done here!
Try your hand at aging terracotta pots, it's an easy way to add a vintage look to your Spring decorating!
Don't Forget To Pin For Later!