Try These Shabby Chic Ideas For Your Spring Table
Try these shabby chic ideas for your spring table and your guests will be oohing, aahing and swooning! This table uses the formulas from the free printable, Easy 1-2-3 Formulas To A Beautiful Table Every Time, to set an easy and pretty Spring table with vintage pieces, florals and pastels.
What Is Shabby Chic?
Shabby chic captures elegance and comfortable in one setting. Antique or vintage furnishings pair with soft fabrics or linens in pastel shades in shabby chic decor.
Worn Furniture
Comfortable lived in fabrics
Soft hues are used like pale blue, lavender, and pink. White and beige are also very common.
Accessories that are vintage, antique or those that look like it are used. Chandeliers, aged gold accessories like candlesticks, china, and silverplate are quite popular in shabby décor.
Estate sales, antique shows, and flea markets are great places to find the "old". But there is plenty of new shabby chic décor that will look quite loved and lived in in your home!
Shabby Chic Ideas For Your Table
To set this table I used the simple formulas from the free printable, Easy 1-2-3 Formulas To A Beautiful Table Every Time.
Place Setting Formula – Elevate The Plate, Mate and Create!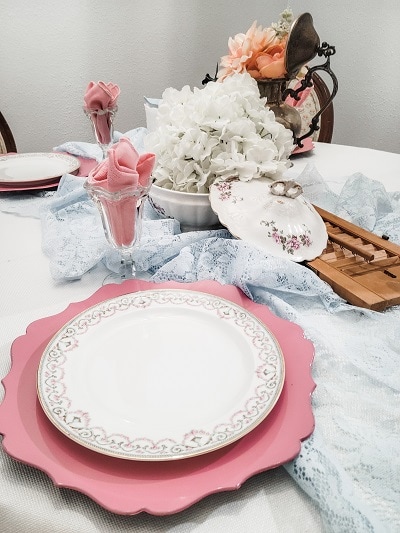 Elevate The Plate
Use a charger or placemat to take your plate to the next level. On this shabby chic table for Spring I used the soft hues of the shabby chic décor and used a pink scalloped charger. On this table, also dressed for Spring, I painted the chargers and used glass plates. In the guide I share even more outside the box (or placemat) ideas to use to elevate the plate.
MATE
Place your mates to the plate – this would include your silverware, glassware, napkins, and bread or dessert plates. I used a sundae glass for its frilly feminine shape, in keeping with the theme and placed a pink napkin inside. Other ways to get creative with your napkins are to use drawer handles as a napkin ring like I did here.
Create
Dress up each place setting with a vintage flash card, a seed packet with a name tucked inside or a napkin folded beautifully. On this table a sweet and petite silver plated urn of ornaments greets each place setting. On this Spring shabby chic table I let my Grandmother's china shine since it was all the beautiful hues of pink, sage green and light blue.
Centerpiece Formula – Entertain, Contain and Train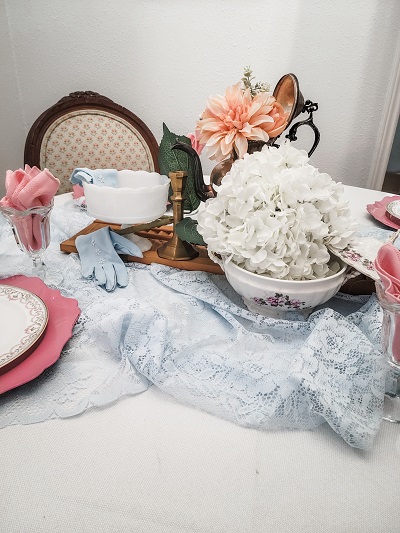 Entertain And Contain
Your focal piece – the big wow! Can be one piece or a grouping and what they are displayed in. I chose several shabby chic elements to use. I placed a large bunch of hydrangeas in a china soup tureen, used a silver plated pitcher with more floral and milk glass with a pair of light blue vintage ladies gloves.
Train
This could be a runner and/or a few pieces to "train" out of your focal piece! On this thrifty and thankful table our entertain and contain is simple candles and aged gold candlesticks but the train of garland and velvet pumpkins takes the table up a fancy notch.
On this shabby chic table for Spring I used two pieces that would work for any season! I used an old shutter on top of a lace runner that is bunched (that is a technical term) underneath. This runner is actually a curtain valance hat I thrifted. I used that lace runner under this fall centerpiece, roving it can be used for any season!
Use 1-2-3 Formulas and Shabby Chic Ideas To Create A Spring Table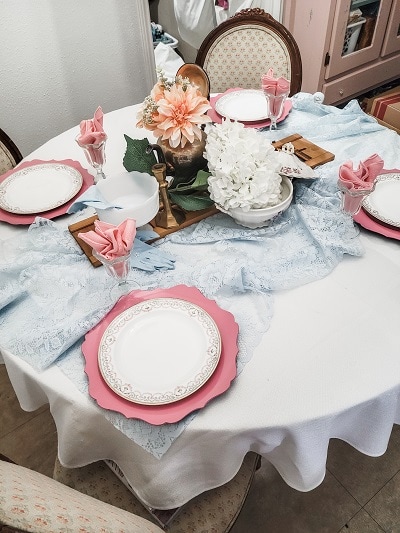 Make sure to get your copy of 1-2-3 Easy Formulas To A Beautiful Table Every Time for even more ideas on centerpieces and place settings!
Before You Fly Away To Use These Shabby Chic Ideas For Your Spring Table
Pin any of the images to Pinterest so you can set a beautiful shabby chic table easily with 1-2-3 formulas – hover over any picture to save the pin to your Pinterest account. So easy!