Upcycle A Bead Toy To Make A Bead Garland
You will hunt down bead toys in the thrift stores after seeing this project to upcycle a bead toy to make a bead garland!
This simple ten minute upcycle a bead toy to make a bead garland project is genius if I do say so myself! To create colored bead garlands you either have to purchase multiple packages of wooden beads (expensive) or dye natural beads yourself (messy). So I cut out those processes by purchasing a bead toy (or abacus) at my local thrift store.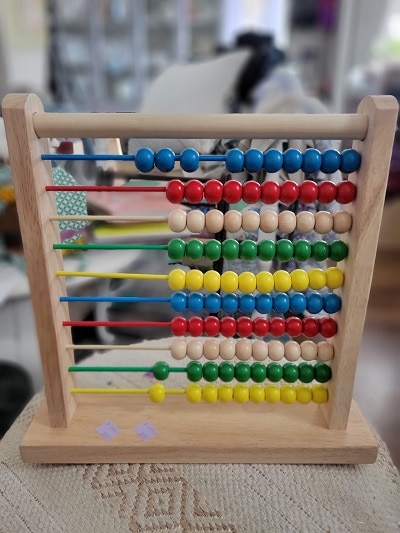 A Few Supplies To Make Your Bead Garland
What You Need To Upcycle A Bead Toy Into A Bead Garland
Removing The Beads
Each toy will be different but I was able to unscrew my toy in four spots to get to the beads.
Remove Screw On Either Side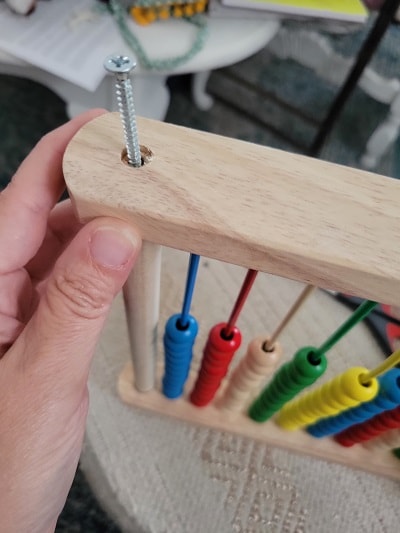 Remove Two screws on the base
Beads Are ready to make bead garland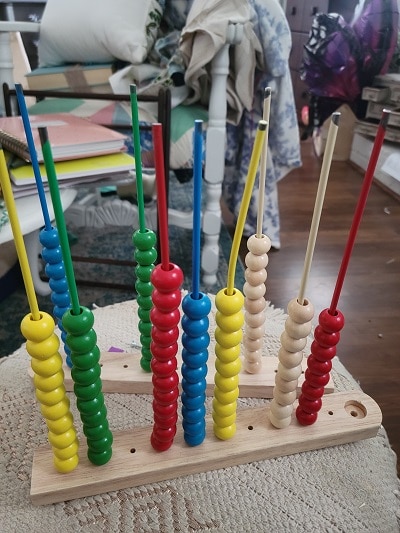 Stringing Beads And Making A Tassel
Stringing Beads
Decide how long you want your string.

Length will depend on where you will display it. Make it shorter or much longer to be used to drape around a vignette, tray, or along a mantel.
Length will also depend on the number of beads on your bead toy.

With my bead toy I made a solid yellow bead garland, a solid green bead garland and this patriotic bead garland.
Wrap a small piece of tape around the end of your twine. This will prevent your twine from fraying as you push it through the bead.
Leave 4" on either end of the string to attach your tassel on one end and tie it off on the other.
The Tassel For The Bead Garland
Wrap twine around four fingers 20- 25 times.
Before removing from your hand slip the bead garland tail under one side and knot this tightly.
Slip off hand
Finish Bead Garland With Tassel
Wrap another piece of twine ten times around one end of the loops about 1/2" from the end. Tie a secure knot in the end and trim off the excess.
Cut all the loops on the opposite end to make a tassel.
Your bead garland with tassel is finished!
Where To Use Your Upcycled Bead Toy Turned Bead Garland
Bead garland is beautiful in a vignette or mantel, draped around a tiered tray, or in a cloche. Don't be afraid to get creative!
This Bead Garland On A Patriotic Mantel
I used this bead garland on my patriotic mantel …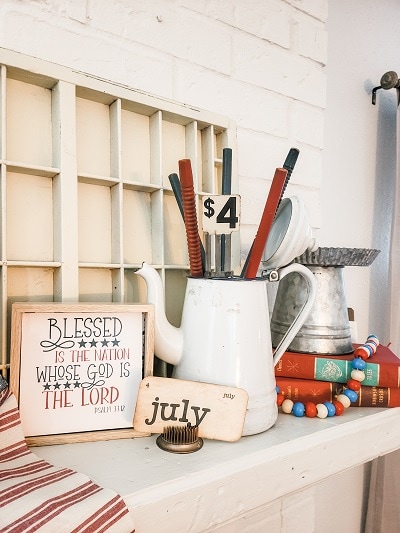 The Yellow Bead Garland In A tiered Tray
I used the bead garland on a summer farmhouse tray …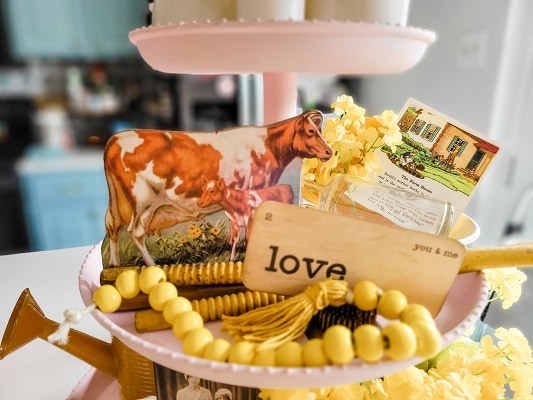 ---
You'll Love These Ideas For Bead Garland!
Before You Fly Away To The Thrift Stores and Upcycle A Bead Toy To Make A Bead Garland
Pin this post to Pinterest to help you create a bead garland from a bead toy plus all of the ideas to use it – hover over any picture to save it to your account. So easy!