Red, White and Blueberry Tiered Tray
I've been told that the blueberry, though tiny, is a super food. I feel like I might turn into Violet Beauregarde sometimes when I am sprinkling them on all the things! So I decided to take this cute little berry, combine it with red and white and make a super cute red, white and BLUEberry tiered tray!
I found that blueberry decor was lacking in the stores that I visit (they must have feared turning into Violet Beauregarde too!) so I opted to make my own with these easy DIY projects.
Blueberry Garland for Your Tiered Tray
Thread a large needle with crochet thread. Since the berries were so small it seemed to be the strongest and easiest thread for making the blueberry garland.

I purchased my blueberries at Michaels, you get a lot of blueberries! Purchase them here

When you have thread enough, made it long enough or your show ends that you're watching while stringing make a tassel for each end from the twine.

Using a small piece of cardboard (I used my glue dots box) wrap your twine around ten times.
Snip the end and slide off of the box. Tie a small piece of twine a short distance from the top loop.
Tie the end of your blueberry garland to this top loop.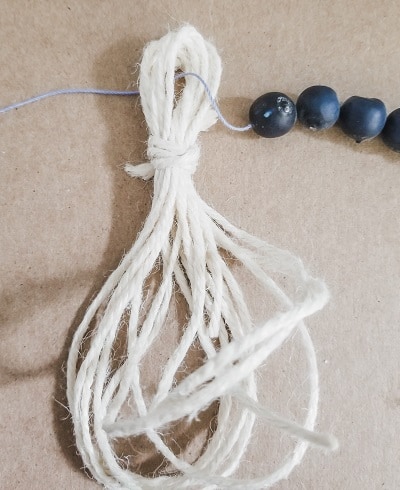 Snip the bottom loops open and even all the way across. And now it is ready to add to your red, white and blueberry tiered tray.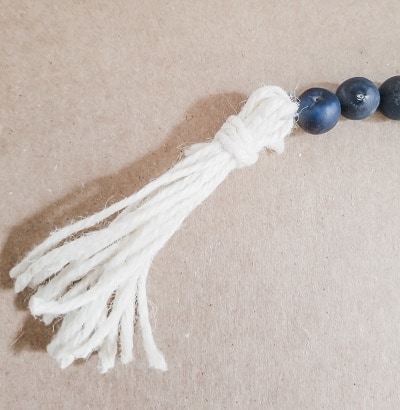 Signs for Your Tiered Tray
Using these shelf sitters from the Dollar Tree I created two signs for the red, white and blueberry tiered tray. You can get your very own copy of these signs right here when you sign up for The Flock, our email newsletter that arrives each week with a printable and you'll be in the know about thrifty DIY projects, decorating with vintage pieces and fresh new ideas for everything from tables to mantels.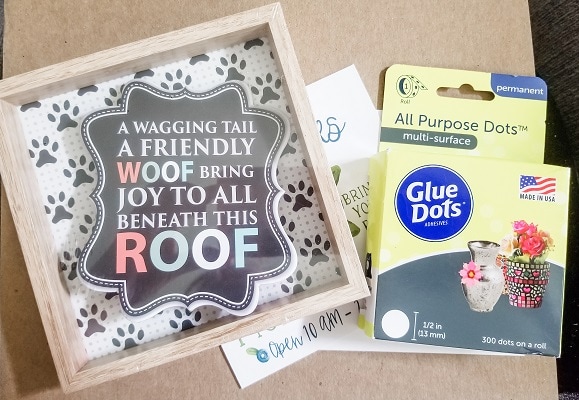 First, I removed the black part in the middle. Depending on which 5 X 5 sign you pick up from Dollar Tree you might just be able to cover the existing sign but this one had a 3D element.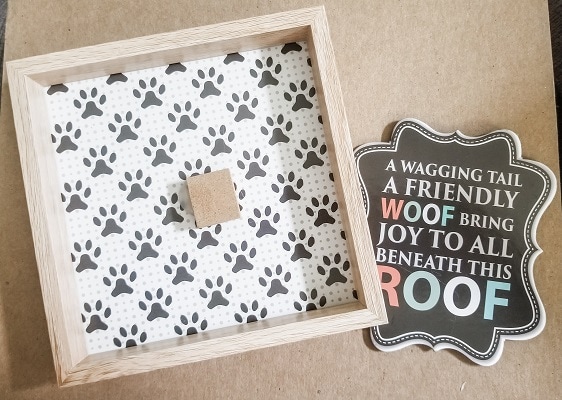 Using a glue dot I stuck my signs to that block in the middle and created one blueberry sign and one patriotic sign for my red, white and blueberry tiered tray.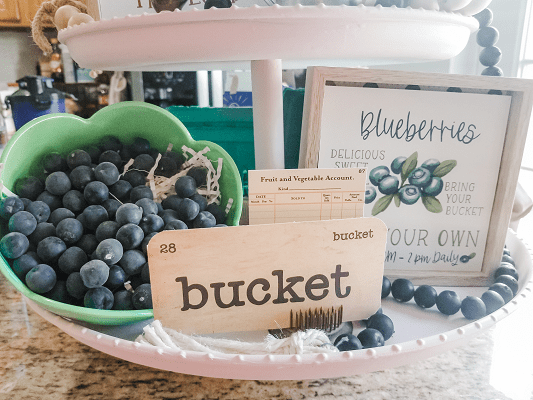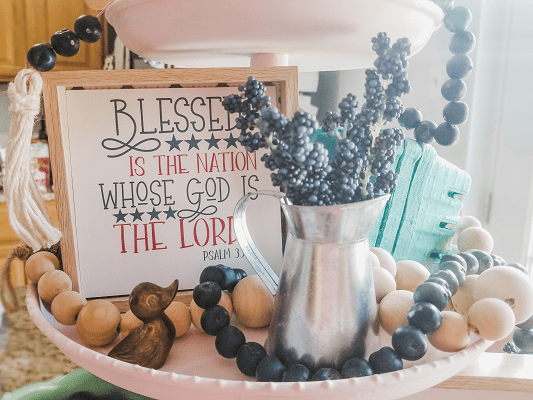 The cute bucket flashcard is part of the Summer at The Shore Digital Vintage Flashcards available in my shop here.
The Red White and Blueberry Tiered Tray – All The Details!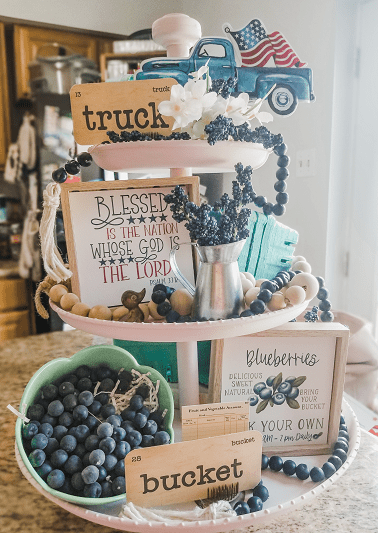 The Top Tray
For the top level of my tiered tray I started winding my blueberry garland through the truck décor. I picked up a patriotic pick up garden stake at my local Dollar Tree and was able to twist the metal stake off with my hand. I stuck it in a place card holder along with a truck flashcard available in the Farmhouse Love Digital Vintage Flashcards in my shop here.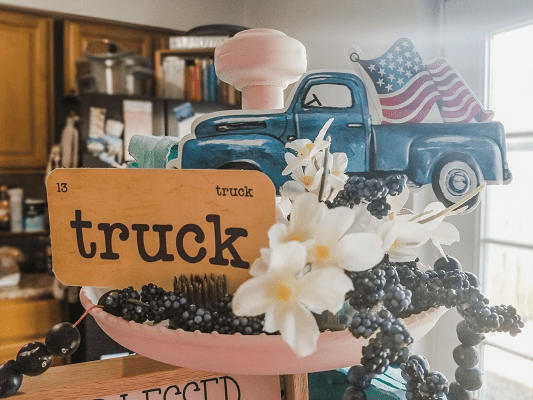 The Second Tray
The blueberry garland drapes down to this tier which features a tiny milk pitcher of berry bushes, berry baskets and the printable patriotic sign created from the Dollar Tree shelf sitter. I repeated colors, the galvanized metal, and the use of the berry bushes on this layer to keep everything cohesive and to keep the eye moving. You can read more about how I style tiered trays on my Facebook page.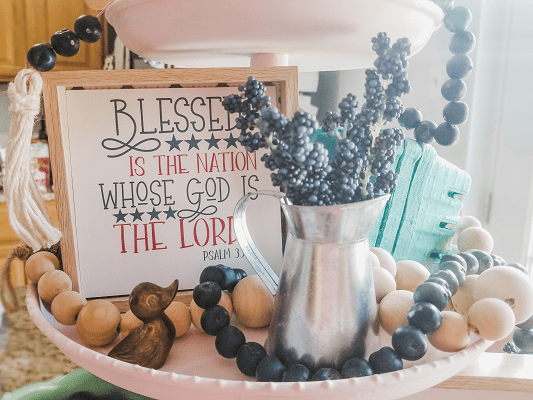 The Bottom Tray
On the bottom tray I placed a bowl of blueberries (I told you there was a lot in that package!), some more berry baskets, the printable sign and the bucket flashcard from the shop. Tucked behind the sign is a milk glass jar of berry bushes to hide the back of the sign! The blueberry garland winds through this level and finishes this red, white and blueberry tray off to perfection.