I am Kristin, CEO aka Creative & Energetic Owner of The Fifth Sparrow No More. A God loving, people serving, fun finding, road trip seeking mama of two beautiful (inside and out) girls and one fur baby. Thrifty projects to decorate my home is my favorite past time and things that make my heart go pitter pat are –
Thrift stores
Resale shops
Antique stores
Flea markets
Chippy wood
Aged gold
The colors jadeite, blush & bashful, and bonnie blue from Fire-King
Coffee – but I don't like Starbucks. Don't shoot me. But I do like finding small coffee shops that are independent, proud of what they do and it tastes like it. I drink it with coconut sugar and a splash of @ripplefoods half & half.
Iced Tea the rest of the day – half sweet, half unsweet please!
Small Towns with shops lined up on Main Street (or its equivalent), but a town square makes me equally as giddy
Laughter, there wasn't enough of it for the longest time. And now a good belly laugh will make my heart flop over.
Thinking of my people and my animals, they'll certainly make my heart swell!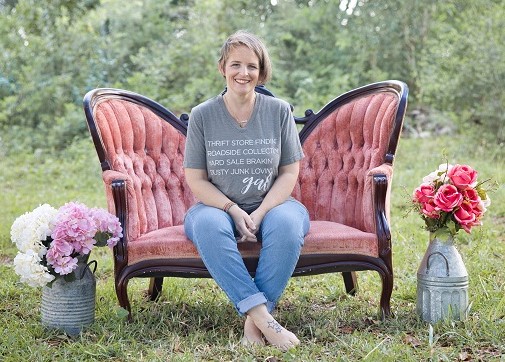 Even the sparrow has found a home,
    and the swallow a nest for herself,
    where she may have her young—
a place near your altar,
    Lord Almighty, my King and my God. Psalm 84:3 NIV
This place is intended to inspire you to find the beautiful in your home and yourself. After leaving an emotionally abusive marriage I am celebrating small (and big) victories where I find my courage and discover my worth. My daughter and I are starting over in our little cottage in the city. In this process I am updating and decorating our home on a small budget. My hope is that you can use these thrifty decorating ideas in your own home. I can't wait to share shopping adventures, remodeling updates, thrifty decorating tips, and DIY projects with you.
On the blog I'll help you find thrifty ways to make the furniture and décor pieces in your home the fifth sparrow no more. So these pieces won't be discarded, worthless, seen as less then and certainly not put out on the curb! We will repurpose thrift store items, tackle DIY projects and use vintage pieces to find the beautiful in your home.
Inspirational posts will assure you of your worth, of His love for you and let you know that you're the fifth sparrow no more. Throughout God's word He speaks of His love for us and I hope to instill that in you.