New Year's Resolutions For Your Home
Let's set new year's resolutions for your home because let's be honest. Who said they were going to eat better and exercise for the new year but they would start on Monday?
I'll be honest my new year resolutions for myself was very simple – when Amory (my daughter) is with her dad I tend to either not eat or eat vegan junk food – so my resolution was to feed myself good food even if I was the only one eating!
My parents were here visiting for Christmas and my Dad is very willing when it comes to the grocery store, you want that, get it! And the counter in the kitchen filled with junk food. I was determined to throw away what was left when everyone went home/ to their dad's on Thursday. But I hate to throw food away so I had potato chips and oreos for dinner on Thursday … not proud.
So we are sticking to new year's resolutions for our homes because those are easy to keep with a plan!! And I have made a free printable for the whole year to help you stick to the resolutions.
Resolution #1 Lose The Weight – Clear the Clutter in your Home
Yes, one of our resolutions will still be to lose the weight but this will be the overwhelming weight of stuff. I encourage you to clean one area or room at a time to do a thorough job. Spread this out throughout the year if you need to in order to not get overwhelmed. On the printable, see below, you have a column for lose the weight. Use this area for notes for what you're thinking of keeping, who you're donating to, or a repurpose project.
When losing the weight in the room or are area you've chosen make a box (or boxes) for –
Toss – Is it beyond repair? Out of date to be safely used? An instruction manual that can be viewed online?
Donate – It might be out of style for you but some teenager is going to be so happy they found your high waisted jeans at the thrift store! That velvet chair you bought because you were going to learn how to recover furniture? Let someone else have that big dream if it has sat there for more than a year or two!
Keep – Furniture, frames and decorative pieces that you can paint or alter in some way and use in your home, memories (do these need to be given to a family member or put in a keepsake album or chest?), seasonal items you use on a regular basis
Repurpose – Can the frame be made into a tray for the coffee table, can a standing mirror be made into this, or those old spindles into these, or an old popcorn bucket into a beautiful centerpiece?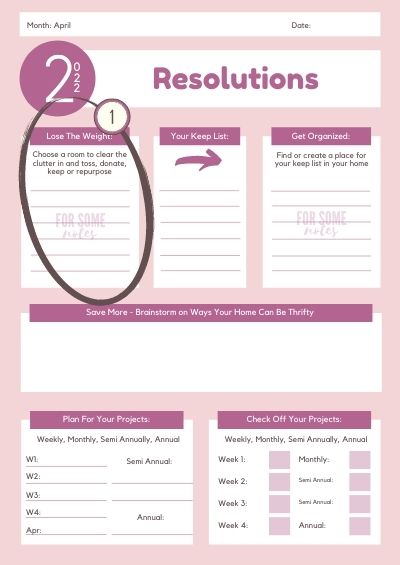 After Losing The Weight – Keeping The Good Stuff
Transfer your keep list to this second column. In order to organize the area or room you are losing weight (or stuff) in you will need to know what is coming back in or staying. This will help you with planning your space! Use this to measure for storage boxes if needed. Or to rearrange furniture if a piece is coming in that you have repurposed or redid.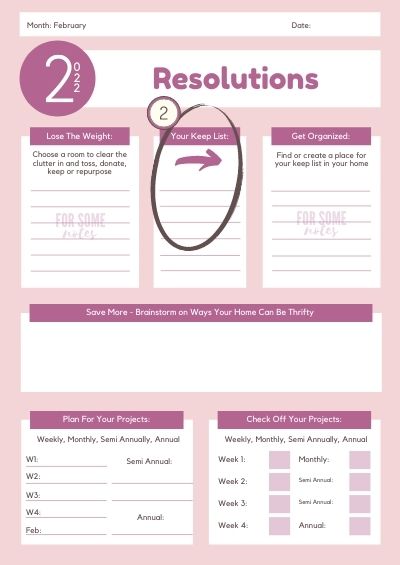 Resolution #2 – Get Organized – Find Or Create A Place For Everything In Your Home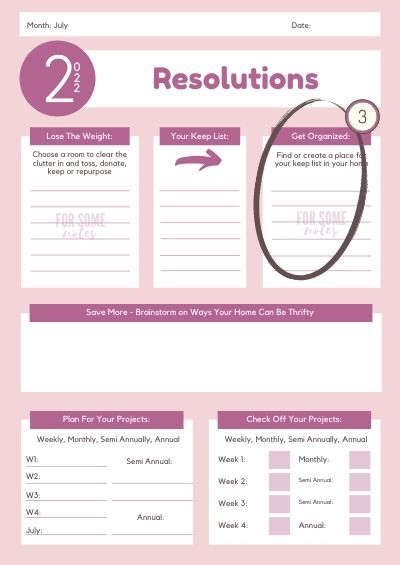 When making new year's resolutions for your home being organized and staying organized just makes sense.
It helps your home to function better -everything in its place and in a sparkly world full of cupcakes everyone knows where it is
It creates less stress – who can relax in the middle of piles?!
Able to gather people in your home at the drop of a hat (but don't drop it there – go put it where it belongs) because your house can be tidied quickly!
Now it's time to take your keep and repurpose piles and find a place for it. On the printable in the organized column use this notes column to make notes of where everything will go.
Resolution #3 – Save More – Find Ways For Your Home To Be More Budget Friendly
Make it a new year's resolution each month to find ways to be budget friendly, In the middle of the printable is a section to brainstorm and list the ways you and your family find to be budget friendly. Shopping year round for the holidays helps make decorating budget friendly for example.
Resolution #4 – Plan For Projects – Plan for weekly, monthly, semi annual and annual projects.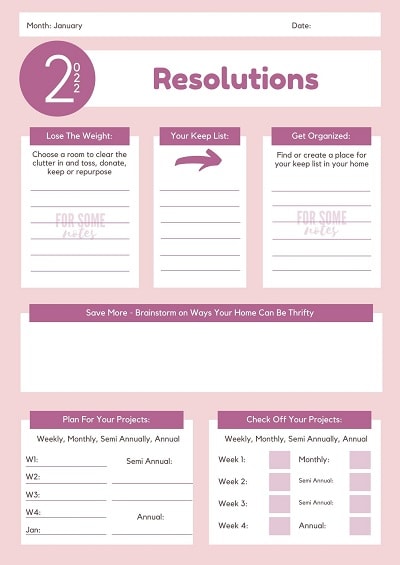 At the bottom of your printable is a place to plan for projects for each month. On the left side write in a small weekly project, a monthly project and if it is happening that month a semi annual and annual project. On the right side check of these projects as they are done! Here is a list of ideas – not a complete list for sure!
January Ideas for Projects – Deep cleaning or Christmas purge and storage refresh
February Ideas for Projects – Deep clean garage & laundry room and prepare for spring projects
March Ideas for Projects – Clean outdoor areas & change air filters and smoke detector batteries
April Ideas for Projects – Freshen outdoor furniture & spring planting
May Ideas for Projects – Clean gutters, pull weeds, clean dryer vent of build up, spring planting
June Ideas for Projects – Change air filters, check smoke detector, pull weeds
July Ideas for Projects – Deep clean inside
August Ideas for Projects – Replace mulch as needed, pressure wash outdoor areas
September Ideas for Projects – Prep for fall entertaining – check tablecloths and serving dishes
October Ideas for Projects – Clean gutters, rake leaves, decorate for fall and Halloween
November Ideas for Projects – Prepare for Thanksgiving – are chairs and tables accounted for, freshen up outdoor spaces
December Ideas for Projects – Decorate for Christmas, deep clean before guests arrive
Are You Ready To Set Your New Year's Resolutions For Your Home?
Download your Home Resolution Guide today and lose the weight and clear clutter, get organized , be thrifty, and schedule projects.
Get Your free Resolutions guide
When you join the Flock – our insider group to receive emails!