Repurpose For The Best Christmas Countdown Calendar
We are heading into the holiday season and as December 1st approaches we turn our thoughts to Christmas. And the countdown to the days of Christmas begins! In this blog post I want to share an easy project to use a cabinet door to repurpose for the best Christmas countdown calendar. As far as DIY advent calendars go, this beautiful sign is the perfect way for the whole family to count down to the big day. Display anywhere in your own home to enjoy this Christmas season like in the living room next to the Christmas tree or it's the perfect size to hang in the dining room.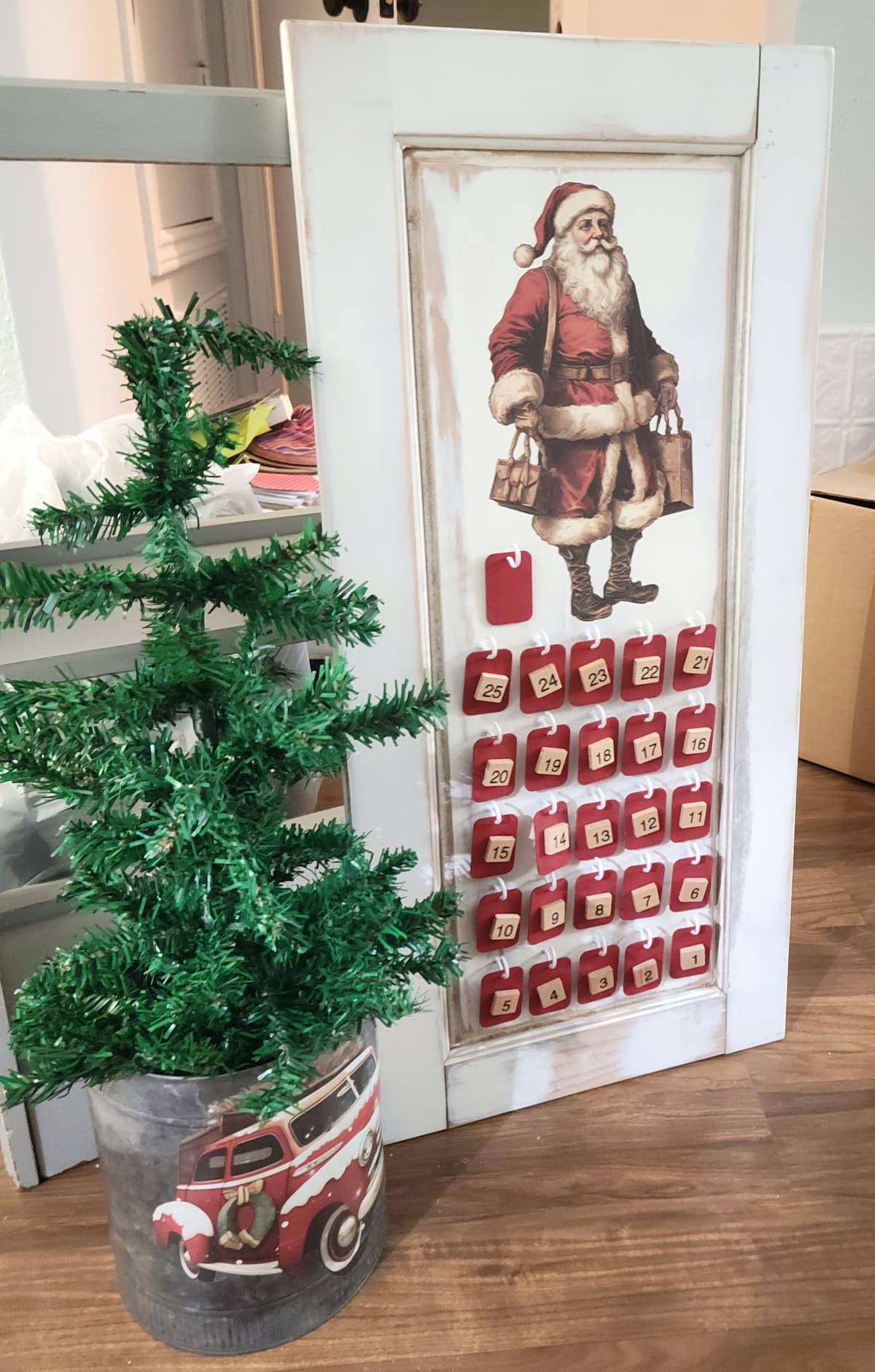 A Fun Way To Celebrate Is With A Christmas Countdown Calendar
A Christmas advent calendar or a Christmas countdown calendar have always been a special family tradition for my girls and I. Every single year I gathered creative ideas for a small treat for each day for the girls . These included coupons for a special holiday activity, gift cards to a craft store like Hobby Lobby or the Dollar Store, small toys and more.
Use the following list of little treats as inspiration for your own DIY Christmas countdown calendar. An easy way to package these for gifting is in small paper bags or small envelopes. A great project for these envelopes is in this post.
Ideas For Little Kids and Bigger Kids too!
The below links are affiliate links. This means I make a small commission when you purchase.
Stickers
Hair Clips or Elastics
Socks
Chapstick in A Fun Flavor
Temporary Tattoos
Chocolate Coins
Bath Bombs
Hot Chocolate Packs
Playdoh
Small Figurines
Hot Wheels
Finger Puppets
Nail Polish or Manicure or Pedicure Set
Small Sized Lotion or Sugar Scrub, Hand Sanitizer with Holder
Earrings, Necklace, Bracelets, Ring
Scarf, Mittens, Gloves, Stocking Cap
Croc Charms
Novelty Pens
Trail Mix or Snack Mix
A Crazy Flavored Soda
Paper Clips In Fun Shapes
Themed Bookmark
Card Games
Funny Band-Aids
A Keychain
A Magazine for Their Interests
A Book of Brain Teaser Puzzles or Mad Libs
Post It Notes
Favorite Photo In A Small Frame
Mini Candy Canes or Candy Cane Pop Rocks
Bubbles
No Tie Shoelaces
Mini Squirt Gun
Movie Theater, Craft Store or Dollar Tree Gift Card
Travel Games
Washi Tape, Crayons, or Small Coloring Books
Sprinkles To Bake Cookies Together
Picnic in Front of The Christmas Tree
Great Ideas For A Merry Christmas From My Blogging Friends
As a special treat today, I am joining together with a group of my friends to share an abundance of holiday ideas! From great crafts to recipes to decorating ideas and more, I am sure you will find ideas and inspiration for your holiday celebration! Once you are finished visiting everyone, you will have a sleigh full of holiday ideas!
Follow along on the Amazing Creators Holiday Blog Hop. All the links to my creative friends' posts are at the end of the post.
Countdown Calendar Printable
An Easy Way To Count Down
The Countdown to Christmas Calendar Printable includes twenty four not so tiny cards, each with a fun graphic and number to countdown to Christmas day. Images include Santa Claus, elves, snowmen and ladies, animals, Christmas trees, snow globes, gingerbread houses, sweet treats and candy, Christmas lights, and mini ornaments.
Steps To Repurpose For The Best Christmas Countdown Calendar
I rescued a bunch of cabinet doors and have plans for "fifth sparrow-ing no more" all of them. I have made a pegboard, a chalkboard and now a fun Christmas countdown sign.
Supplies For The Best Christmas Countdown Calendar
The below links are affiliate links. This means I make a small commission when you purchase.
Repurpose A Cabinet Door For The Best Christmas Countdown Calendar
First Step
Paint your cabinet door white. Allow to dry and use a sander to distress the paint.
Use a 180 grit sandpaper and run your sander over your project to show the wood grain underneath.
Create your countdown numbers. Paint your small wooden tags red, let them dry.
Glue a number scrabble tile to each red tag.
Second Step
Peel off white backing of the transfer and position the transfer on the cabinet door.
Rub the image onto the cabinet door using the enclosed stick.
Peel the transfer sheet back slowly. Lay back down and rub again if you find that some of the image didn't transfer.
Third Step
Measure and mark for where your cup hooks will be placed. Using a level and straight edge draw a dot for each cup hook.
This is what your tags will hang from so measure enough room around them to be able to remove the tag and turn over.
A super easy way to measure for these holes would be with a piece of pegboard. Use it as a stencil for your cup hook placement.
Fourth Step
Drill pilot holes for your cup hooks.
Screw in your cup hooks into these holes. And hang your finished tags.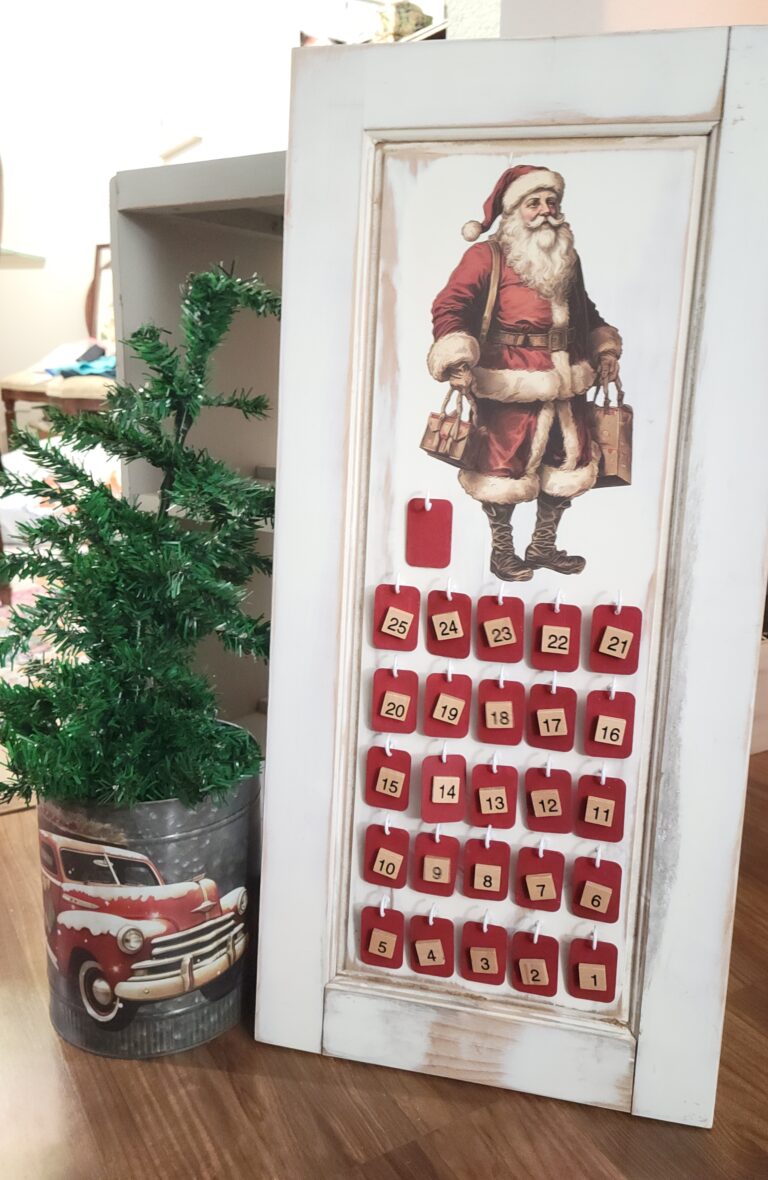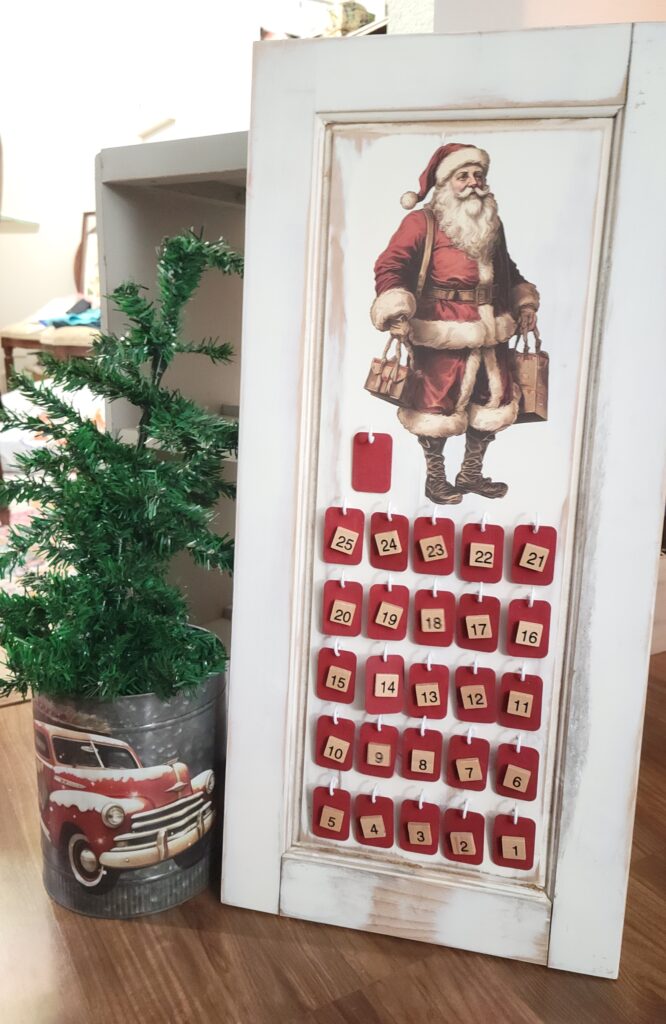 An extra wooden tag was added. This is for a just in case or to write a name on either side to designate the calendar countdown number flipper for each day.
Countdown To Christmas With R.A.C.K.
Sprinkle Kindness Like Confetti
Counting down to Christmas by doing Random Acts of Christmas Kindness is a great option for the whole family. The R.A.C.K Calendar has twenty-five kindness activities, detailed instructions and a shopping list. Included are printable tags for the activities plus a candy cane story tag! Sprinkle kindness everywhere. Be the ones to create joy, bring smiles, help and surprise someone with this printable.
Your Questions Answered About Christmas Countdown Calendars and Advent Calendars
What Is the History Behind the Tradition?
The idea of an advent calendar dates back to the 19th century, when German families would use chalk to mark their doors or walls with a tally mark to countdown to Christmas.
A German printer named Gerhard Lang designed cardboard Advent calendars around the turn of the century and later in the 1920s, came up with the idea of cutting out little doors to open each day. Behind each door, one would find a devotional picture or Bible verse.
In the United States, advent calendars didn't become popular until 1954 when Newsweek published a photo of President Eisenhower's grandchildren holding one.
British chocolatier Cadbury created the chocolate advent calendar in 1958. Behind its little doors a small piece of chocolate was found.
What Is A Christmas Countdown Calendar and How Does It Work?
Modern creative Christmas countdowns are treat-filled ways of marking off the days leading up to Christmas and Santa's arrival.
They typically start on December 1st and countdown to December 25th. There are alternatives available such as the twelve days of Christmas countdown calendars.
What Is An Advent Calendar and How Does It Work?
Advent comes from the Latin word adventus, meaning "arrival" or "coming." Advent season is a four-week period intended as a time to remember the true reason for the season. It serves as a time of spiritual reflection and preparation of the arrival of Jesus Christ.
It begins on the fourth Sunday before Christmas, which is anywhere from November 27 to December 3. Since December 25th falls on a different day of the week every year, the dates of advent shift.
Printable Advent Calendar
The Reason For The Season
The Christmas Story Advent Calendar Printable is a great way to share the Christmas story with your family. This simple advent calendar includes cards with beautiful watercolor images of Jesus' birth and scriptures. As you read the scriptures use them as an activity to set up their own nativity, use the cards as ornaments or as decoration on a mini wreath. Your family's understanding of Jesus' birth will grow a little bit each year as you use this reusable advent calendar.
Amazing Creators Holiday Blog Hop
Visit my blogging friends for an abundance of holiday inspiration! From great crafts to recipes to decorating ideas and more, you will have a sleigh full of holiday ideas!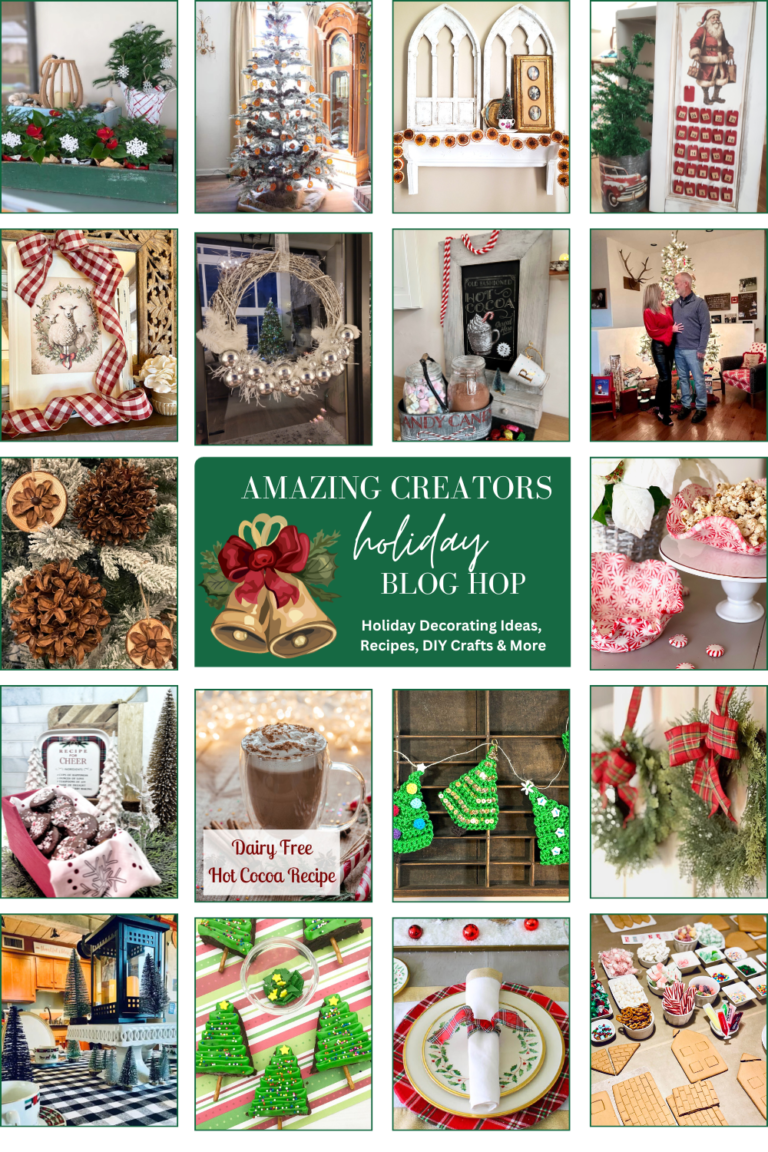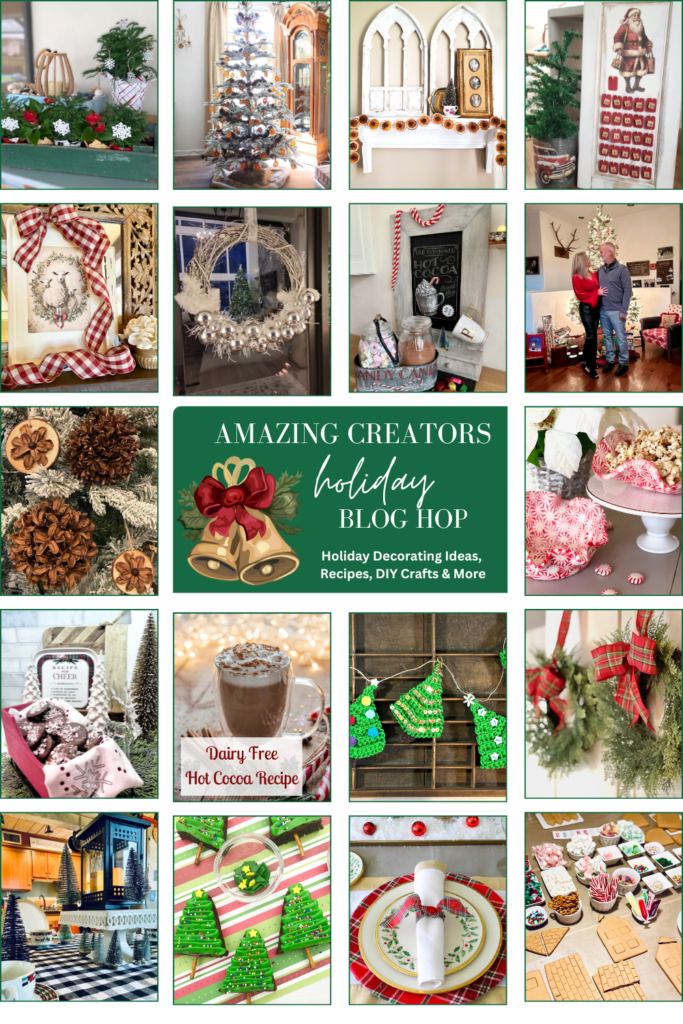 Before You Fly Away To Repurpose For The Best Christmas Countdown Calendar
Pin any of the images to Pinterest so you can repurpose a cabinet door for the best Christmas countdown calendar – hover over any picture to save the pin to your Pinterest account. So easy!