A New Purpose For a Standing Mirror
While we were attending Vintage Market Days in San Antonio at the beginning of November Amory and I had the chance to meet our cousins in Castroville. Castroville, Known as "The Little Alsace of Texas" is a small town with a rich cultural heritage just 20 miles west of San Antonio. On the day we went it was city wide garage sale day! When we drove into town and saw the sign angels were singing and there was some dancing in the driver's seat. The sale is held the first Saturday of June & November from 8 am to 4 pm.
And at that city wide garage sale I got a standing mirror … no mirror … for two dollars. Among other things! 🙂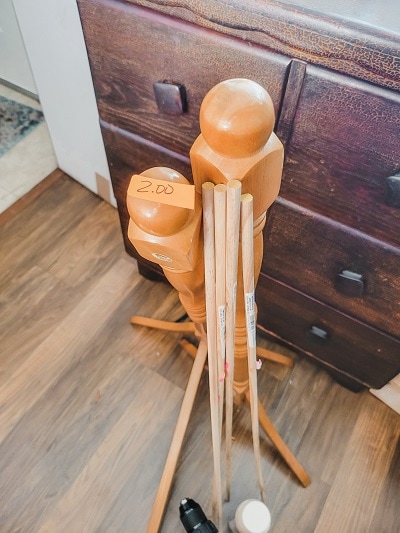 Everyone was wondering what I'd do with it and I said I'm going to give new purpose to this standing mirror. I'm going to "fifth sparrow no more" it! And the idea for something similar to a quilt rack came to mind!
Assembling Your Project and Give That Standing Mirror A New Purpose!
Step by Step – Give New Purpose To A Standing Mirror
1. Assemble discarded mirror stand if not assembled.
2. Measure dowel rods to length. I cut mine to fit just short of the end of each of the spindles.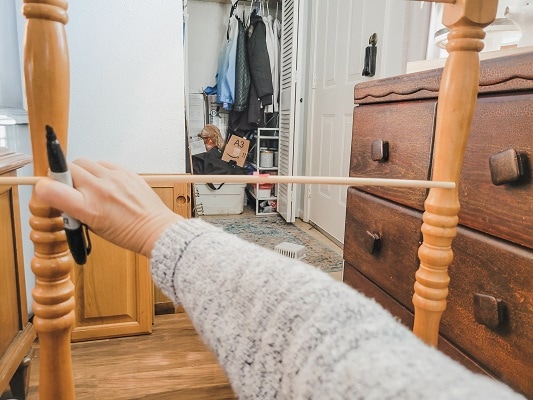 3. Using an Xacto knife, make a cut around the dowel at your measurement. Once the cut goes all the way around you should be able to snap it to break it.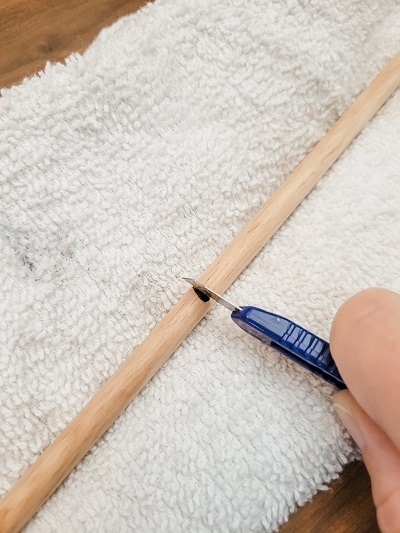 4. I placed my crossbars 8 ½ inches apart and made small marks on one spindle at the measurement. This would allow for two more crossbars besides the hole that was there already that held the mirror.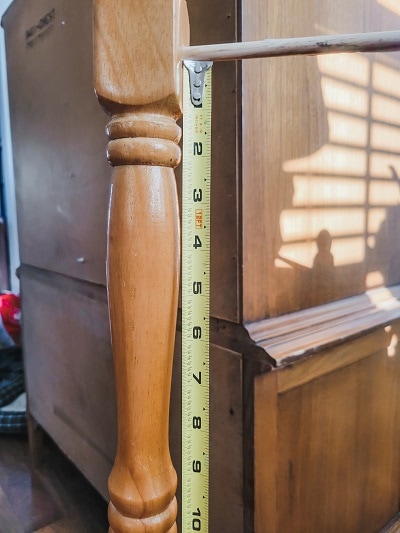 5. Using a straight edge (I used the leftover dowel rod) and your level make a mark on the other spindle straight across from each other.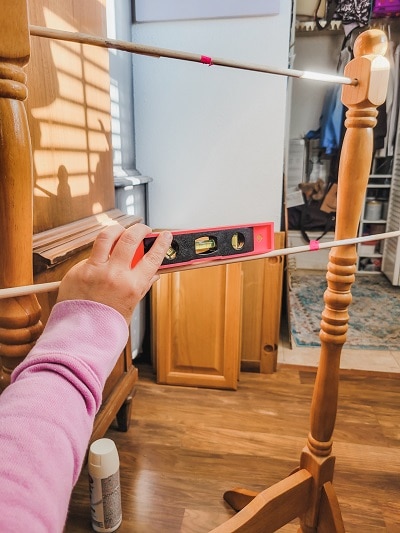 6. Determine what size drill bit you need by inserting it into the premade hole from the mirror. If it fits snuggly that is the one you want to use. Drill holes in your four spots that you marked in steps 4 & 5.
7. Sand down any rough edges and chipped wood from your drill holes.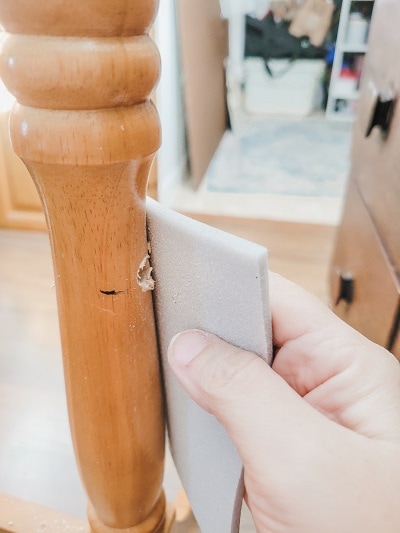 8. Clean the mirror stand. I used Pristine Clean by Dixie Belle Paint which is a powder you mix into hot water. After wiping down the piece with cleaner, use a damp clean rag to wipe away all the cleaner. I sprayed my rag with water from the spray bottle so it wouldn't be too wet.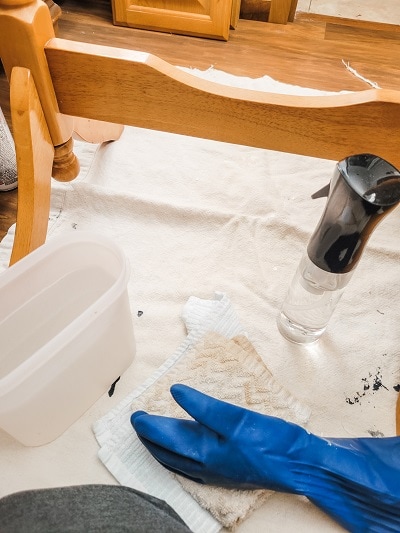 9. Using a dab of wood glue in each hole insert your dowel rods for your crossbars. Wipe away any excess glue.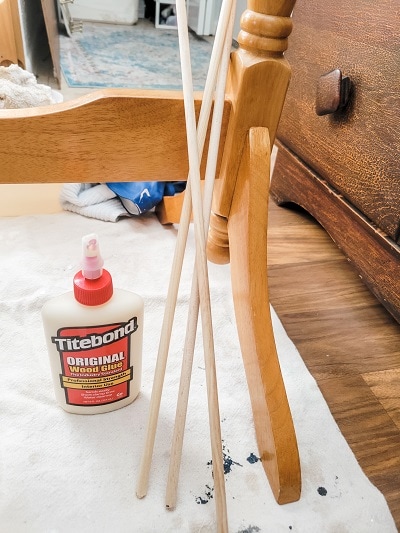 10. Go have a cup of coffee, a glass of tea, a nap to wait for the wood glue to dry. Fill the holes up to the end of your dowel rods with wood filler. Sand this down and wipe any mess away with your damp rag.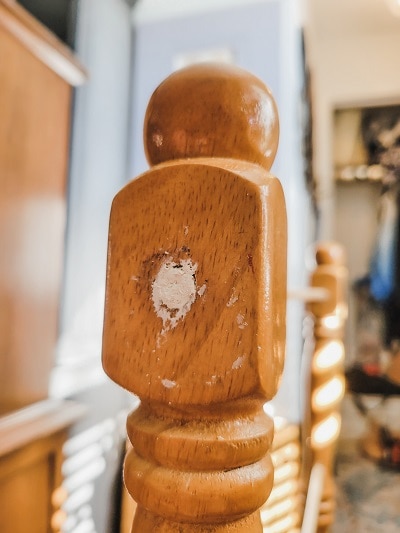 11. Spray paint (or paint by hand, your choice!) the advent calendar, stocking, ornament hanger you just created. Ummm … on a side note I really need to empty my drippy hose bucket.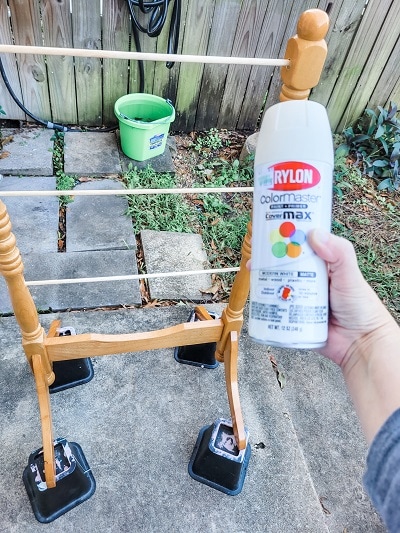 A New Purpose, But What Purpose?
A Fifth Sparrow No More
Ways To Use Your Standing Mirror Turned Hanger
I'm using mine right now as a meaningful way to count down to Christmas with the Christmas Story Advent Calendar. Each card has a scripture and a beautiful watercolor image from the nativity.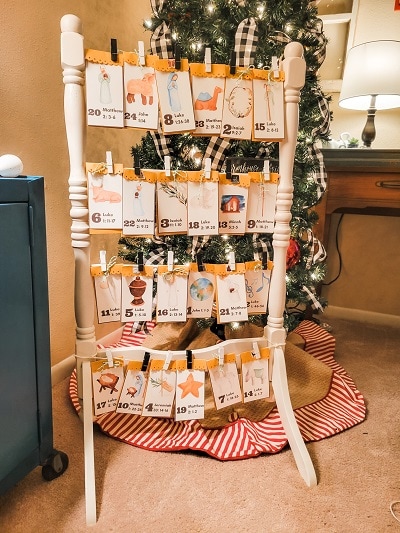 Save This To Give New Purpose to An Old Standing Mirror!
You never know when you'll come across a standing mirror. It could be a city wide garage sale, a thrift store or resale shop. If yours still has the mirror, mount the mirror to a door or wall to have a pretty full length mirror instead of the ho hum ones they usually sell for the back of doors!
SHOP THIS PROJECT IN TWIGS & FLUFF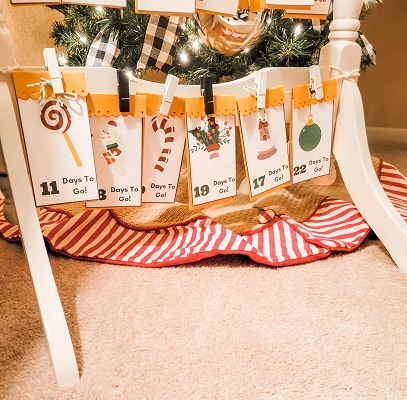 I can't send you away without sharing where to get your own advent calendar and more to decorate for Christmas!