Decorating For A Vintage Farmhouse Christmas
Decorating for a vintage farmhouse Christmas look in your home is a fun and colorful way to bring country and antique pieces into your Christmas theme. I chose to do this in my guest room with bright colors. The traditional red and green of course, but I brought in yellow and a buffalo plaid in black and white as well. Come along as we take a tour of the guest room and take a peek at all of the vintagey goodness and the tree of course!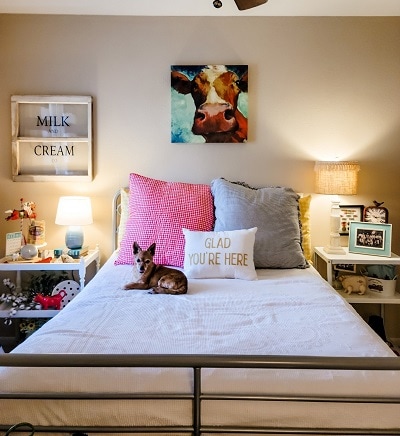 The Happiest Christmas Tree
Have your heard the song The Happiest Christmas Tree by Nat King Cole? It is one of my favorite Christmas songs, here is a just a little piece of it.
I'm the happiest Christmas tree
Ho ho ho, hee hee hee
Someone came and they found me
And took me home with them
Oh, I'm the happiest Christmas tree
Ho ho ho, hee hee hee
Look how pretty they dressed me
Oh, lucky, lucky me
I got shiny bells that jingle
And tiny lights that tingle
Whenever anyone passes by
I blink my lights and I wink my eye
I cannot help but sing that as I decorate my tree! Most of the ornaments, signs, and ribbons that decorate the tree while thrifting because I shop year round for all the holidays.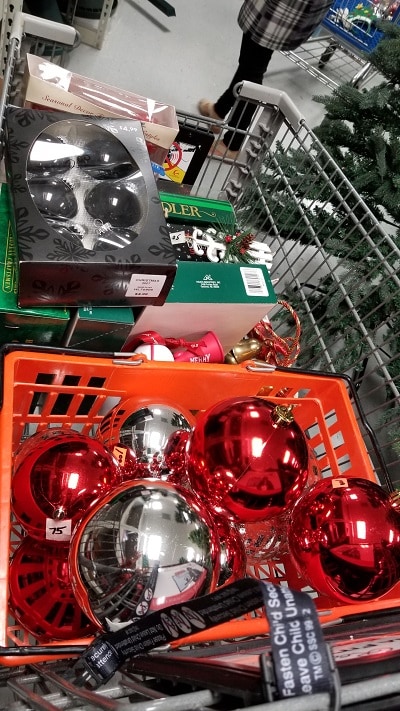 See all of that thrifted goodness – it is the fifth sparrow no more! It is now hanging on my country farmhouse tree!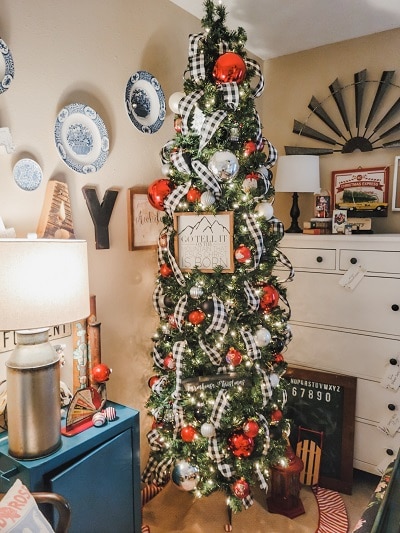 Christmas Vignettes When Decorating For A Vintage Farmhouse Christmas
A vignette (in terms of interior design) is a tiny, curated style statement, made up of a group of objects that are displayed on a shelf, a table, or elsewhere in the home. You may be creating vignettes in your home and not even realize it!
In the guest room I started to see a common theme, and I did it without realizing it! See if you can spot it as you look through the rest of this post!
Christmas Has Its Ups And Downs
Anyone else riding in to Christmas on a carousel horse? Nice and slow, with a few ups and downs? Christmas is a hard holiday for me emotionally and I felt the overwhelm hitting me and I took a step back. Remembered my favorite verse in the Christmas Story, Luke 2:19 – "Mary treasured up all these things and pondered them in her heart". I treasured what was good and dwelled and pondered on those. Then I was ready to try again, nice and slow despite the ups and downs.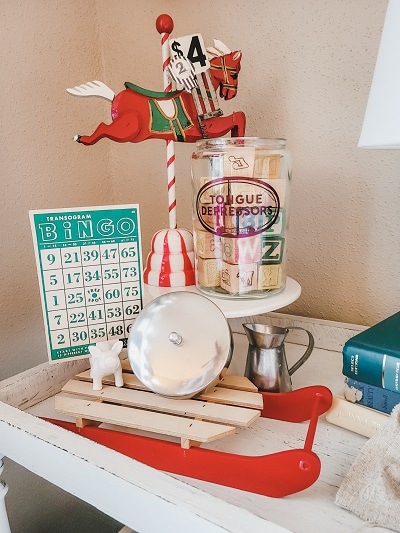 Don't Put All The Ornaments In One Saddle …
During the Christmas season don't risk all the things on the success or failure of one thing! For example if my family has the perfect picture for the Christmas card, sees the Christmas lights and does the scavenger hunt and sees Santa with no tears it will be the best Christmas ever. But what if all those things don't happen? Will it still be the best Christmas ever? YES! Because you're not risking all the things on the success or failure of one thing.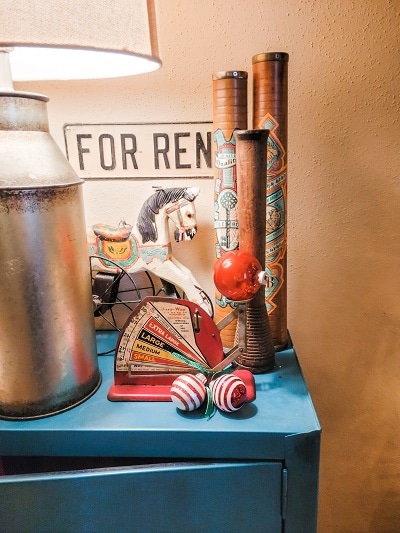 Keep It From Being Taxi-ing
Take time in the busyness, rush, and go-go-go of the Christmas season to rest. Sit with your feet up and drink hot chocolate, apple cider, coffee, or tea. Take a nap. Snuggle with your littles. Watch a silly Hallmark movie although we all know the plot. Just choose to stop.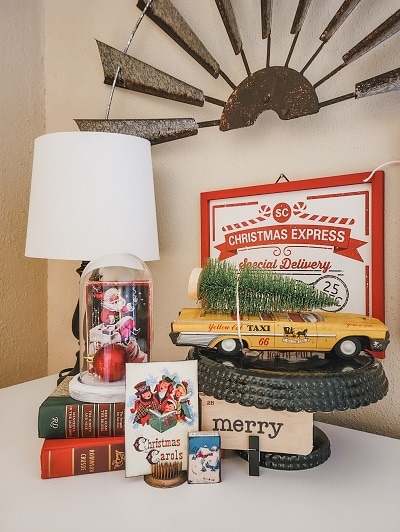 Let Me Spin You A Yarn
While we are together at Christmas encourage stories to be told. Generations past have fascinating stories, if we listen! Write them down if you can. Tomorrow is never guaranteed and it is so special to have the stories of years past.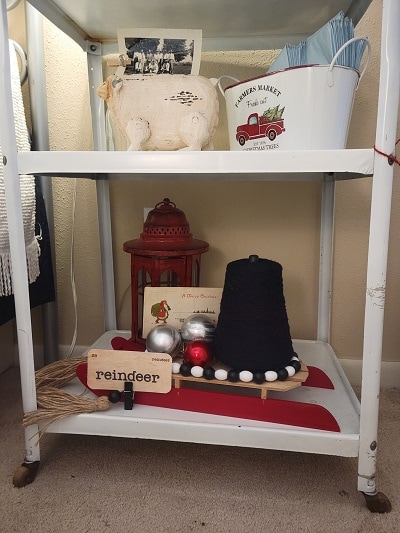 Did you see the commonality? If you said sled and horses you were right! I hope the vintage vignettes above gave you ideas for decorating for a vintage farmhouse Christmas!
Even More
Ideas To Decorate For Christmas
Before You Fly Away To Decorate For A Vintage Farmhouse Christmas
Pin any of the images to Pinterest so you can decorate your home with these ideas for a vintage farmhouse Christmas – hover over any picture to save the pin to your Pinterest account. So easy!