Easily Decorate A Beautiful Easter Mantel For Spring Time
It's that time of year to celebrate a new season and add spring color, Easter decorations, and give new life to the living room with fresh new spring mantel décor. I'm excited to show you how to easily decorate a beautiful Easter mantel for Spring time with simple ideas you can use for all different styles of home décor. Easter eggs, spring flowers and bunny figurines make this a spring mantel that you can enjoy for the Easter holidays. The best part is that the spring décor ideas can last the whole season, not just for Easter.
On this simple easter mantel I used pastel colors. This pastel color scheme of cheerful spring colors included robin's egg blue, spring green, pink and yellow for all the décor.
Choose A Focal Point For Your Mantel
In the center of the mantel I left our vintage photo of Lila Bernaise (no I don't know if that is her actual name, we purchased this photo at an estate sale and that's who she has become!) hanging and added a blue wood frame on top. This is an easy way to add a pop of color to an existing piece and layering pieces is a great way to add a new whole look to existing artwork.
I placed three white vases in front of the focal point. These milk glass vases filled a spot I felt was empty looking.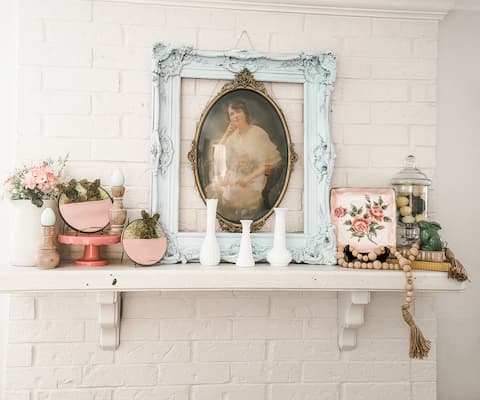 More Focal Point Ideas To Add To The Top Of The Mantel
Add one of these focal points (or more – layering is so much fun and adds interest) to your Easter fireplace mantel:
A large sign with a spring message
A colorful Easter egg wreath
An Easter wreath with colorful decorations like carrots, Easter bunnies, and colorful eggs
Use a spring wreath with natural elements like lots of greenery, flowers in pastels or bright colors, and spring themed items like small aged terracotta pots, seed packets or small watering cans.
Easter Mantel Décor Ideas – DIY Moss Bunnies In Embroidery Hoop Pockets
DIY Moss Bunny
Supplies
Bunny Shapes – I used an Easter banner of bunnies
Mod Podge
Foam Brush or Small Chip Brush
Moss

Reindeer Moss – this is what I used, I liked how it made "fluffy" moss bunnies
Sheet Moss – this has adhesive and you will need scissors to cut around your bunny shapes
diy moss bunny steps
Remove the bunnies from the Easter garland.
Take off the tails (sorry bunnies), they will fit in embroidery hoop pockets better.
Cover the cute bunny shapes with mod podge.
Press the moss into the glue.
Let them dry while you create the perfect place for the bunnies to sit in.
I used two vintage metal embroidery hoops and two napkins I found while thrifting.
Embroidery Hoop Pockets Step One
Trace the hoop on your napkin.
Cut this out with a small border (you will trim this later).
Embroidery Hoop Pockets Step Two
Leaving the second napkin folded lay on top of the first napkin and cut out the shape of the hoop.
Place these two pieces in your embroidery hoop.
Trim off excess fabric.
Create Vignettes To Easily Decorate A Beautiful Easter Mantel For Spring Time
I used these embroidery hoop pockets in a vignette on my decorated mantel. In this grouping a white pitcher filled with artificial flowers (or use fresh flowers!), candle holders, a cake stand, and the hoops with moss bunnies.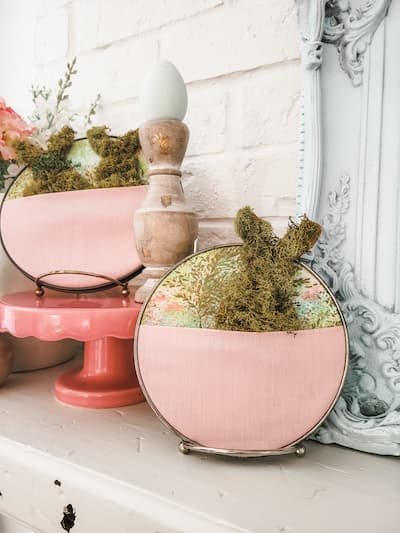 On the candleholders I placed one egg each in the robin's egg blue of the frame. These are more ideas to put in a candle holder besides a candle:
Small nests with mini eggs
A small bunny figurine
Dessert plate or butter pat and create a small cake stand
Flowers or a flower ball
The embroidery hoops are placed in easels, one on a cake stand and one on the mantel. The moss bunnies tucked inside is a simple and pretty way to display these.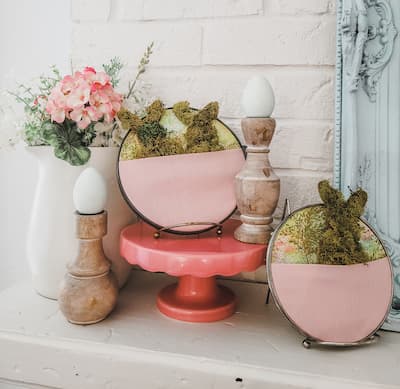 Easter Decorating Ideas For A Mantel Vignette
In this vignette I added pieces that are new items to me. This beautiful plate was a gift from my friend and the small green bunny was found at The Rusty Chandelier in Laurel, Mississippi when my dad and I drove down from Tennessee.
I included an apothecary jar filled with moss balls and eggs. You can fill apothecary jars with many different materials and vase fillers. Here are a few creative ideas to fill a cloche or an apothecary jar:
A stack of terra cotta pots, cups, or bowls
Vintage wooden spools or buttons
Faux fruit, grapevine balls, seashells or other natural elements
Ornaments, bottle brush trees, and music scrolls
I stacked two books for my apothecary jar and green bunny to sit on. Books are a wonderful way to add height and interest to your displays. I use books in all my decorating!
I wove a bead garland throughout the vignette. Find out my favorite inexpensive simple way to make your own wood bead garlands by using these from the thrift store!
When Decorating Your Mantel, Don't Forget The Hearth
Spring is here and with the warmer weather we can keep the fires unlit and the hearths decorated. I use an old window frame as a fireplace screen.
On one side of the hearth the vignette is full of flowers, eggs, and spring colors. Hobby Lobby has had these white bunnies for the past couple years for Easter and I love mine. I set her on a tin cake stand with a pink vintage butter pat, small distressed terra cotta pots, and pink and white flowers.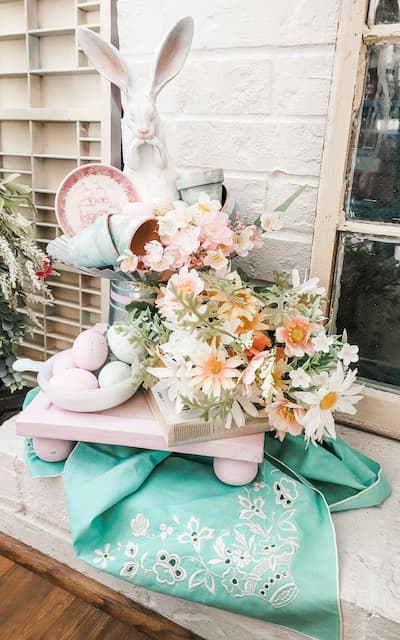 That cake stand sits on a riser (see how I "fifth sparrow-d no more" that here) that sits on a small square antique fabric table topper. More pink and white flowers are tucked in along with a Fire King soup bowl with eggs piled up inside. Anything can be an egg basket, right?
On the other corner of the hearth a display is set up on another riser, find out how I repurposed a thrift store find to make it. This vignette includes a wooden bunny, fabric carrots, a ceramic easter basket and wooden compote of eggs.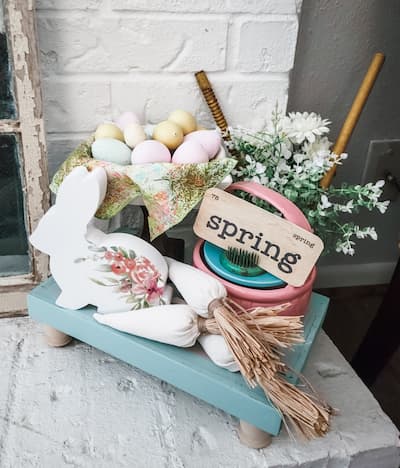 For my finishing touches I created a vase of flowers with yellow wooden sound toys tucked in and included a vintage Spring flash card.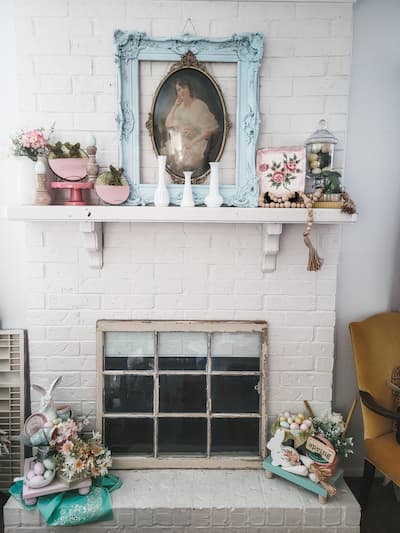 Our Favorite
Spring Decorating From Last Year
You will love these posts about how I decorated the living space in my home for spring last year:
Before You Fly Away To Easily Decorate A Beautiful Easter Mantel For Spring Time
Pin any of the images to Pinterest so you can easily decorate a beautiful mantel for Easter this spring – hover over any picture to save the pin to your Pinterest account. So easy!