Frame Makeover and Repurpose
Do not, I repeat, do not pass a beautiful frame because it is the wrong color, filthy or you do not have a picture for it! Because we're going to take those frames and makeover and repurpose them to use in your home in different ways.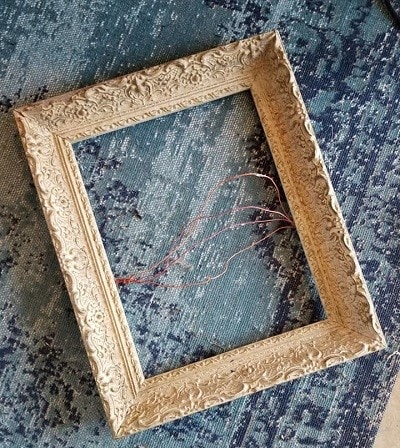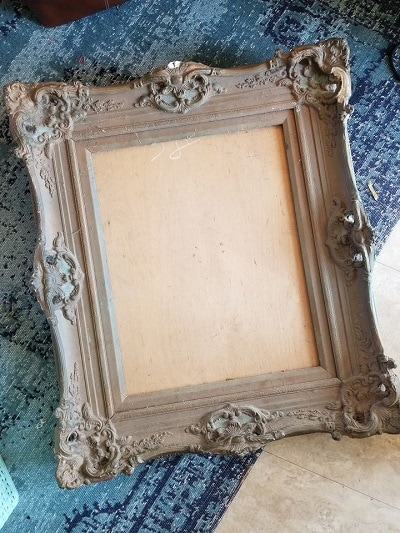 I was gifted two very gross frames from a friend. In true Sparrow fashion I never turn away junk, ever. I want to fifth sparrow no more all the things and the frames sat in this pile for a bit until I got the desire to clean them. See what else I made from this pile here and here.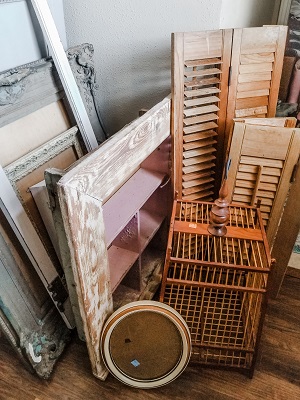 Cleaning An Old Picture Frame
Materials and Tools to Clean
Steps To Clean
Wipe any dust and dirt off of your frame using a clean, soft cloth and the chip brush.
Next, softly scrub the entire frame with a dry toothbrush, removing more dirt from crevices and again, wipe with cloth and chip brush.
Mix up water and a few drops of mild dish soap in a bowl.
Be sure to test a small area on the side of the frame before using water and soap. If your frame reacts well, dunk the toothbrush in the solution and tap on the side of the bowl to release the excess water.

older frames are made of plaster and water can do more damage than good some times. If it doesn't react well to the water and turns mushy then continue cleaning with only dry products.

Working in small sections, gently scrub the frames surface, making sure to get in those crevices. Bring out the Q-tips if a toothbrush isn't producing the results you'd like.
Continue around the frame until you've covered the entire area.
Frame Makeover and Repurpose Ideas
After spraying my picture frames with my favorite spray paint color – Spring Shower in Matte I turned the smaller frame into a tray for my coffee table and the larger one into a display piece for my mantel.
Picture Frame Idea – Coffee Table Tray
Measure the opening of your frame and cut a piece of foam board to fit in the frame. Cover this foam board with paper or wrap in fabric. Insert this board into your frame and secure with picture frame clips or duct tape works too!
I use my tray on my coffee table and change out the decorations for every season or whim!
For Christmas –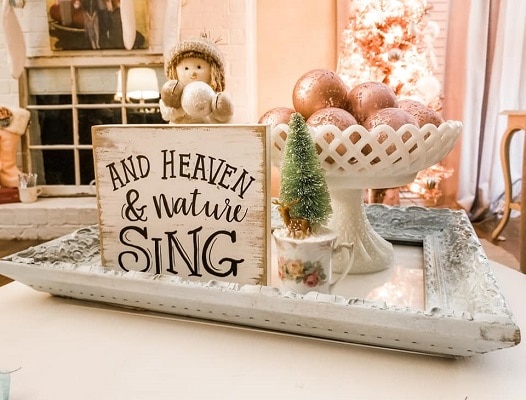 And for the Spring –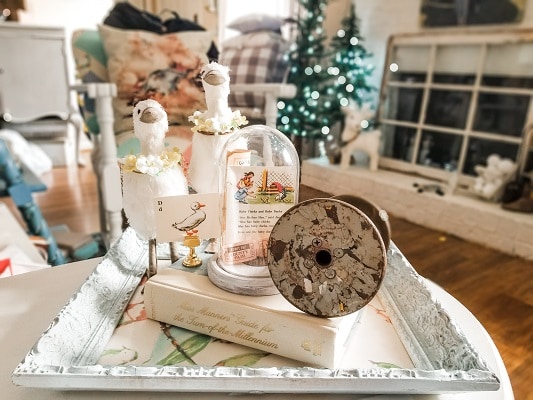 Frame Makeover and Repurposed For The Mantel
The larger frame has become a focal point on my mantel for every season!
On my Christmas mantel I used it to draw attention to the assortment of vintage bells and framed sheet music.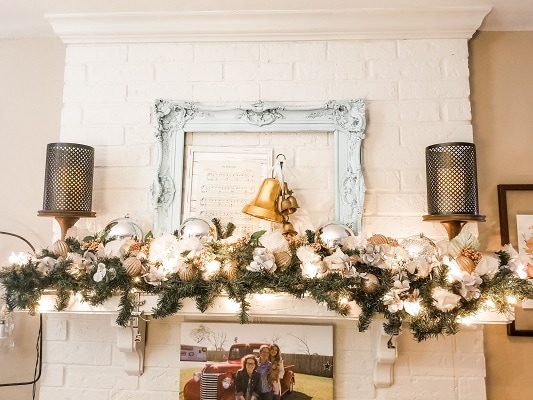 It's very difficult for me to let go of the magic of Christmas – the sparkle, the twinkle lights and the beauty of a wintry scene. Which we need to make for ourselves since I live in Texas so I created a winter mantel. Recognize the round frame stacked on the shelf with the repurposed frame and printer's tray? That was in the pile of junk to fifth sparrow too! Find out more about how this was created on a budget here!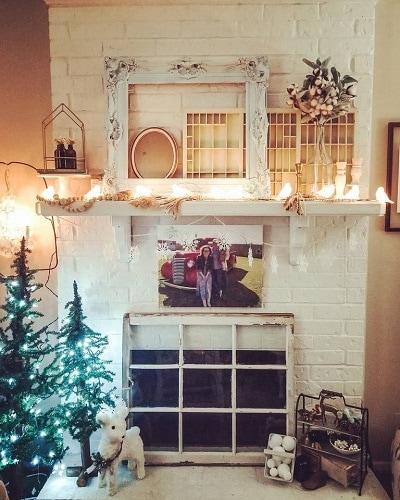 I was able to transition that same frame into a spring mantel. It is a mix of fancy and natural elements…I like to call it "The ladies gardening club…afterwards." The printable seed packets on the mantel can be found at Twigs & Fluff! You can see more details about the mantel, like how to age terracotta pots, here and here!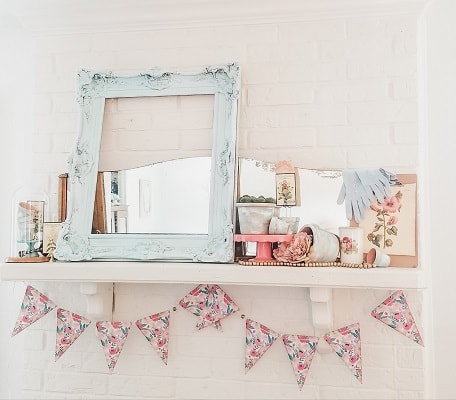 What frame will you makeover and repurpose?
What will you create with the frame that you find in a friend's garage, an estate sale, a thrift store or the trash? Don't be afraid to clean it up and repurpose the frame to something new and beautiful for your home! Make sure to pin for later!