A Merry and Vintage Pastel Christmas
I created a merry and vintage pastel Christmas in my living room because the colors that make my heart go pitter pat are aged gold, jadeite, blush & bashful, and bonnie blue from Fire-King. These colors already are in all of my home décor so it makes sense to add in Christmas decorations that coordinate!
O' Pastel Christmas Tree
When Amory and I left for our new life the one thing we dreamed of was a pink Christmas tree. The price of the beautiful rose gold Christmas trees we envisioned put that dream on the back burner. Heck, not even the back burner, more like still in the pantry! And then a trip to Goodwill made that dream come true – for $20! We absolutely adore our rose gold tinsel tree, even though both my parents saw it and in unison said "REALLY, PINK!?" Ha-Ha-Ha!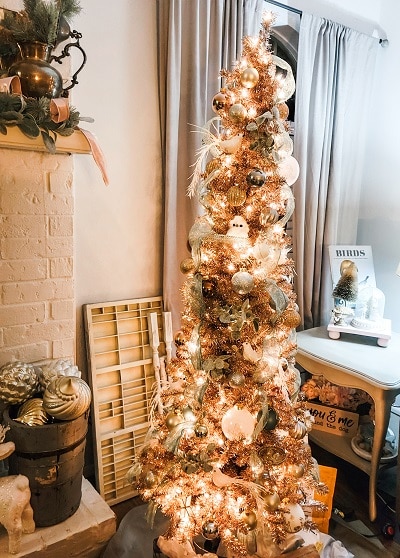 A Merry and Pastel Christmas Mantel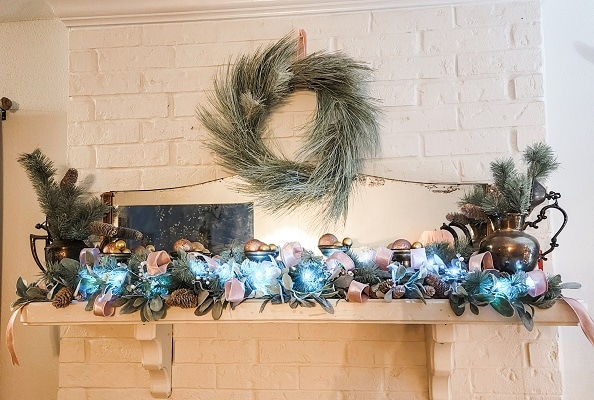 I chose to use lamb's ear garland from the wedding section of Hobby Lobby because it was the perfect shade of sage green and I love to decorate on a budget! I tucked in a few pine boughs, fairy lights and pink velvet ribbon loops. The tarnished tea pots and footed bowls came directly from the citywide garage sale in Castroville, Texas.
On the hearth is our nativity set in an upcycled jewelry box that I bought from Vintage Market Days. The handmade Christmas star is a simple and beautiful craft that's fun and easy to do while talking about the Christmas story and the star that told of our Savior's birth.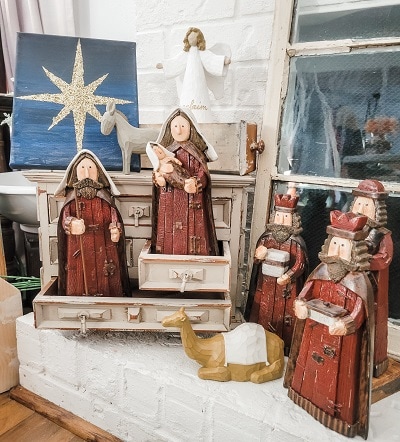 On the other corner of the hearth is one of my most favorite Vintage Market Day finds – my vintage ice cream bucket! I filled this with large Christmas ornaments. I actually had bought these ornaments in the summer because I shop year round for Christmas decorations!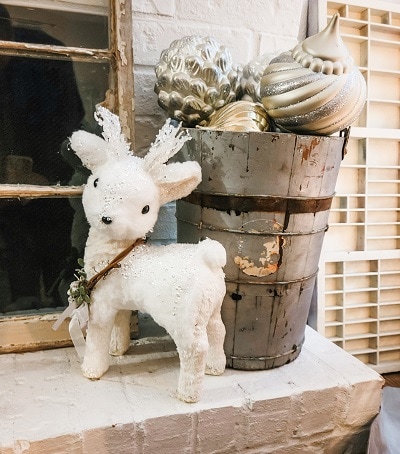 Pastel and Merry on The Side
On this sideboard a vintage looking snowman that I thrifted sits in a forest of bottle brush trees and ornaments, both old and new! The frame sitting on the sideboard behind Mr. Pink Snowman has been in many spots around my house since I cleaned it up and "fifth sparrow no more-d" it!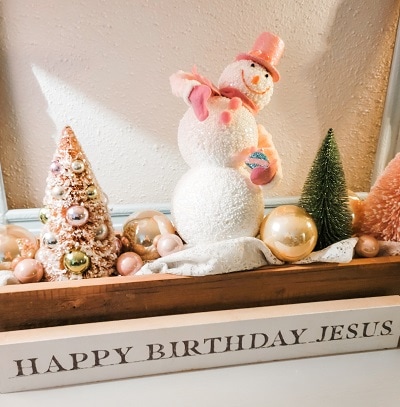 A green crate of JOY sits close by with vintage wooden toys and cute thrifted doll inside! Remember to mix in your everyday pieces to your holiday decorating to let your home's personality shine!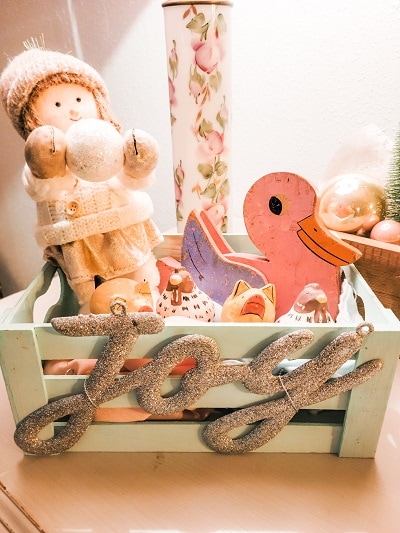 It Really Is A Wonderful Life
My collection of bells sits on our entryway table with a sign from HisWorkmanshipDesign, a really cute store on Etsy. Small bells, big bells I made myself, and a reminder of when Clarence says "Strange, isn't it? Each man's life touches so many other lives. And when he isn't around he leaves an awful hole, doesn't he?". A reminder to be present in a season when its easy to think it's just about the presents, a reminder that if you're not there you'll leave a huge hole.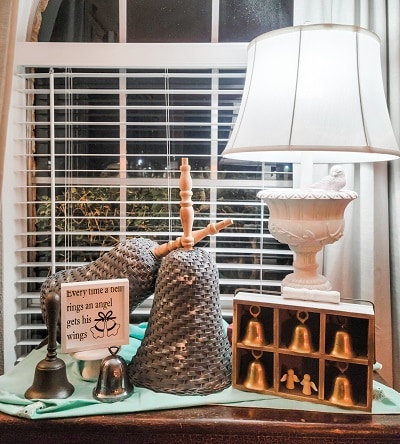 Before You Fly Away To Create A Merry and Vintage Pastel Christmas In Your Home
Pin any of the images to Pinterest so you can think outside the traditional Christmas colors and make your Christmas the colors that bring joy to your home – hover over any picture to save the pin to your Pinterest account. So easy!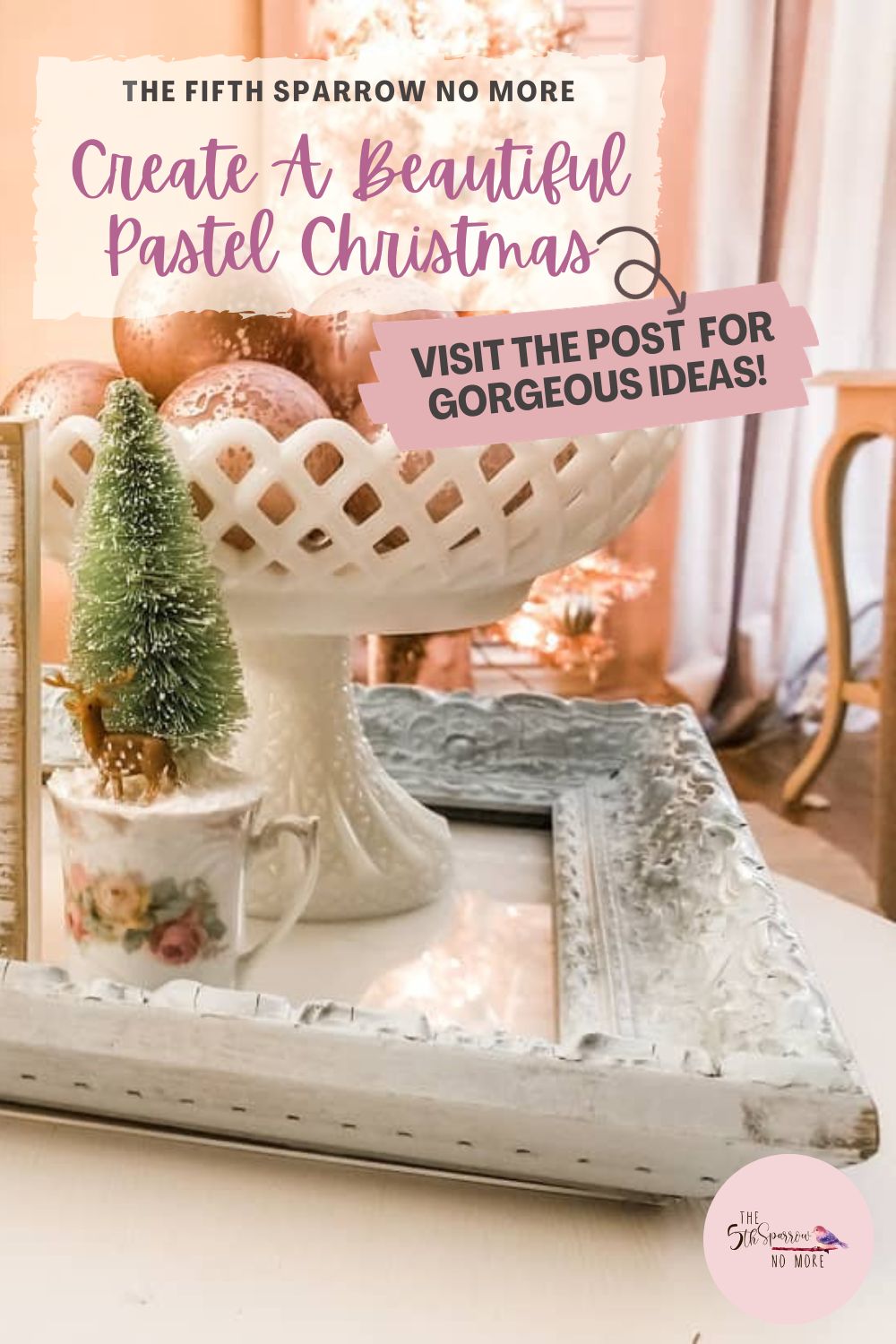 Visit Twigs & Fluff For Printable Planners and Guides, Wall Art, Flash Cards and More