A Bike Wheel Rim Gets New Life As A Web On This Halloween Mantel
When I created these spiders they needed a home. A place to call their very own. And that's how a bike wheel rim gets a new life as a web on this Halloween mantel. I actually began with a large embroidery hoop from my craft closet but could not get the middle strings to stay tight or to keep their classic web shape. So in comes my rusty crusty bicycle wheel that I bough for $5!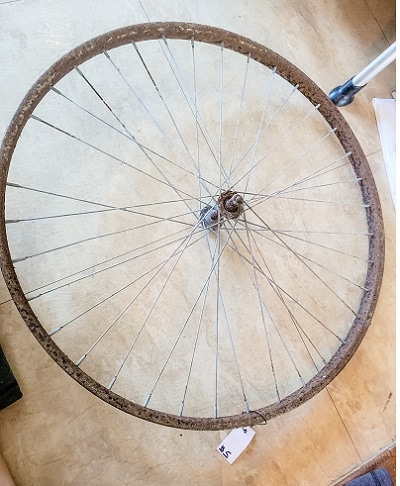 Creating Your Web On The Bike Wheel Rim
This is truly the simplest project – just a series of knots and under, over with your twine! Speaking of twine I used this one. It's thick and sturdy, made of cotton and doesn't fray.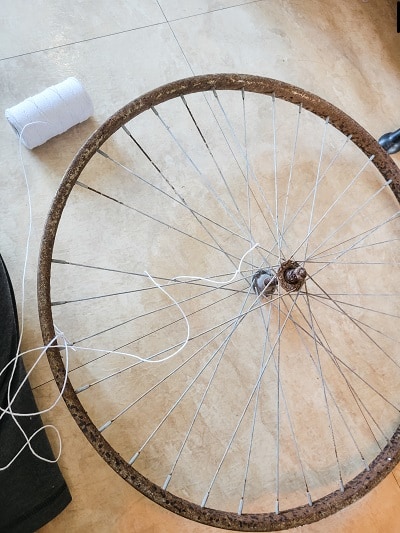 Step One
Tie your twine to your bike rim on a spoke where you are starting the ring on the web.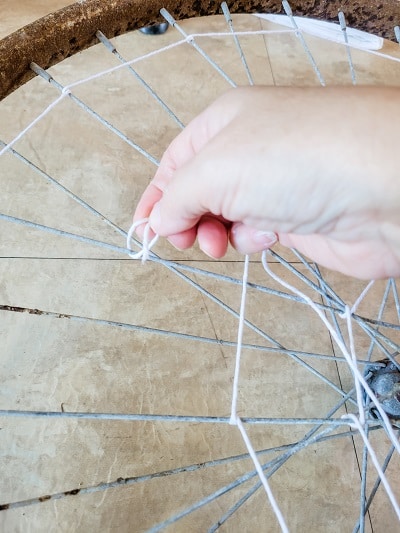 Step Two
Run your twine to the next spoke keeping your line straight. Go under this spoke.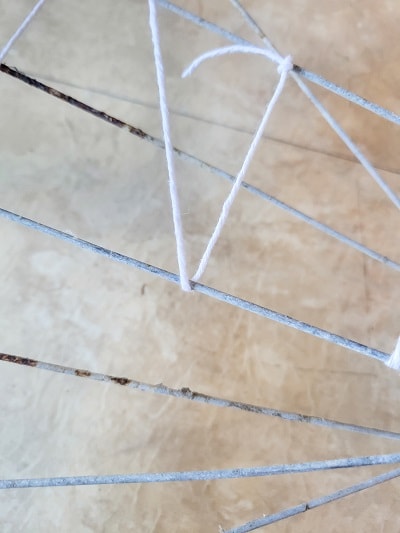 Step 3
And then wrap your twin around your spoke – this will keep the twine tight and won't let it slip! Tie a knot at the end of your ring so it will stay secure.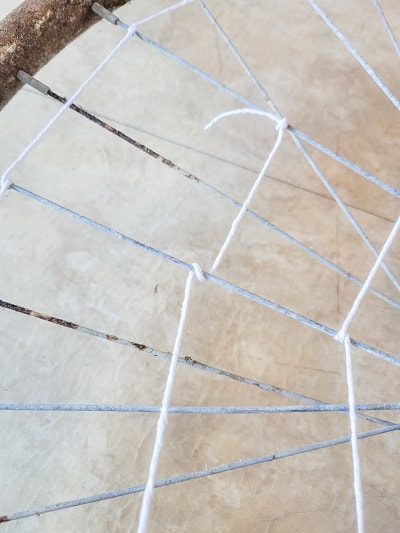 Step 4
Repeat steps 1 – 3 going completely around the bike rim for each ring you'd like on your spider web. This is the pattern you're trying to duplicate.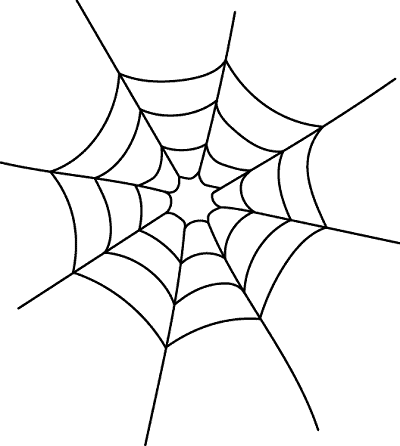 Step 5
Tie a piece of twine to the spoke running vertically and stretch it all the way to the bike rim and tie again to the spoke. Make sue to keep it in front and on top of all your other strings. Repeat for all vertical spokes.
Your Finished Bike Wheel Turned Web Ready For The Halloween Mantel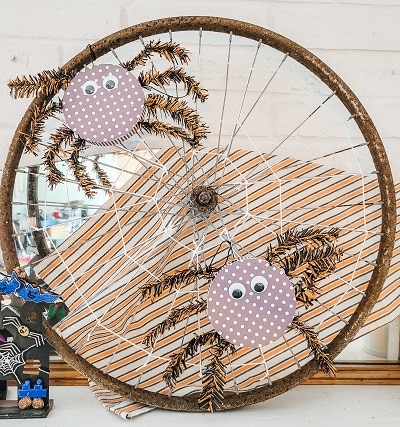 Antique or vintage flash cards are hard to find and especially hard to find when you need a particular word, theme, or a good price! These vintage inspired flash cards take care of that problem by offering an affordable and easy alternative!
Halloween Mantel – Not Just A Spider Web!
I went totally wild (for me) and used a classic black, white and orange color scheme with a few pops of bright colors on my Halloween mantel.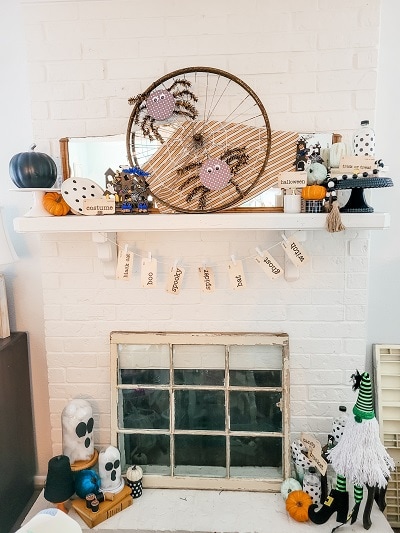 A Gnome and His Candy Bucket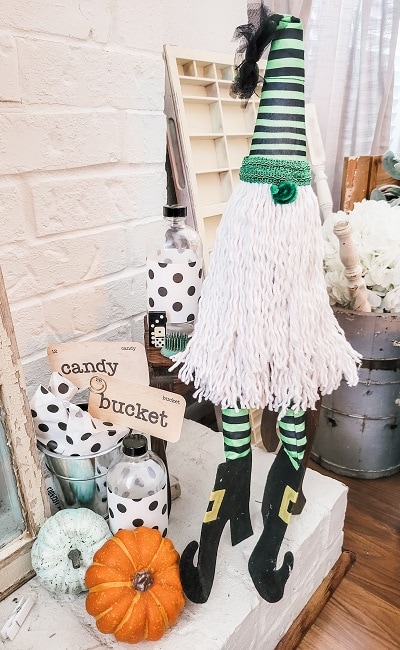 This easy DIY gnome is ready for trick or treating with his candy bucket on stand by! The candy bucket uses the flashcards from Twigs & Fluff. I combined the Hocus Pocus set and the Summer at the Shore set on a picture holder that I set down in the bucket and covered with black and white tissue paper. More of that tissue paper wraps plain bottles from the thrift store to take the cute factor up a notch!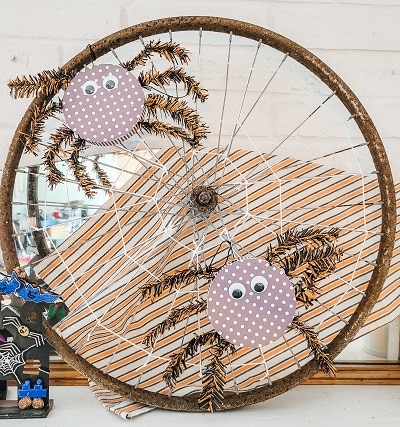 Halloween Projects On The Mantel
Ghost In A Cloche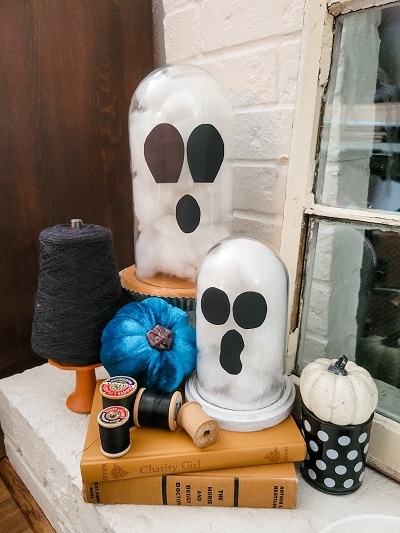 These ghost cloches are the easiest and cutest project – can you imagine the personality you can give them? You'll need
Cut out two eye shapes and mouth shape for each ghost from black cardstock. I free hand cut oval shapes and a squiggly shape for my ghosts. Attach these to your cloche with scotch tape. Fill your cloche with fiberfill.
Add personality to your ghost cloche – what about fake eyelashes, a bow, or a bowtie? Let your imagination go wild!
Pumpkins, Books, and Cake Stands Oh My!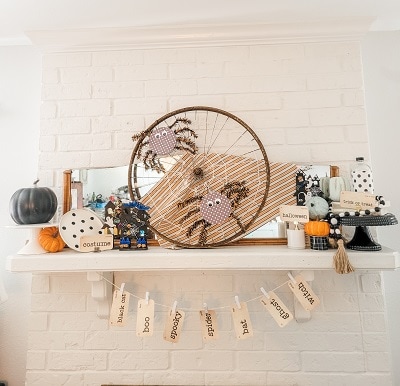 The bike rim turned spider web couldn't be the only star of the show up there on the mantel, right? I used a kitchen towel draped behind the web to help it stand out. Underneath I hung a banner of the Hocus Pocus flashcards with more of my favorite twine and small white clothespins.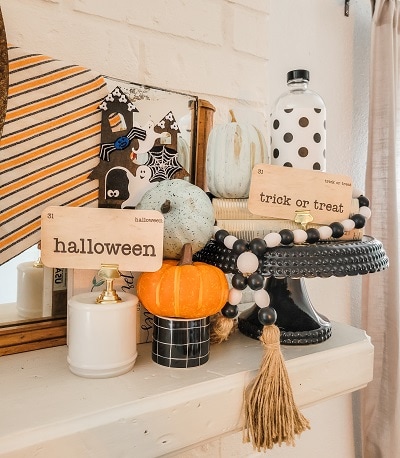 In this grouping I set one of my reversible spooky houses, vintage flashcards from the Hocus Pocus set, a beaded garland and created different heights with cake stands and jars. You can find some of my favorite cake stands on Feather Your Nest, where I list my favorite things for the home!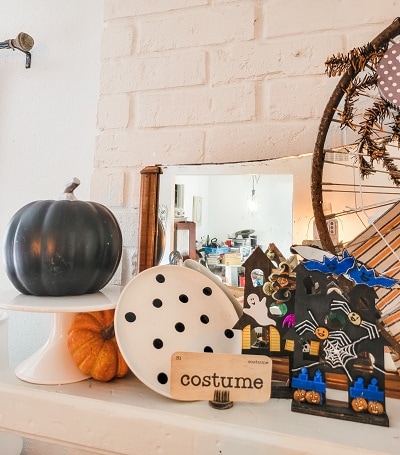 In this display more reversible spooky houses, Hocus Pocus flashcards and cake stands play nicely with pumpkins. Since this cake stand had polka dots everywhere I laid it in its side so it could be enjoyed at all angles.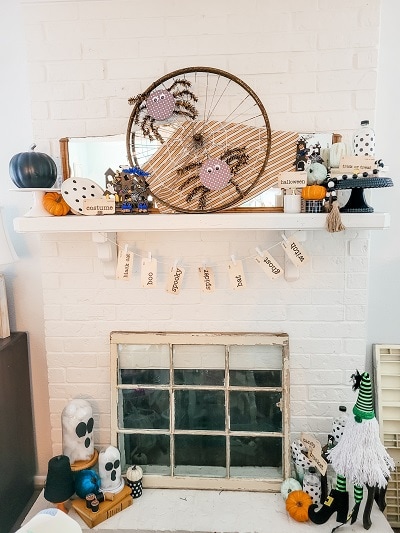 Before You Fly Away To Make A Bike Wheel Rim Gets New Life As A Web On This Halloween Mantel
Pin any of the images to Pinterest so you can create your own spider web easily – hover over any picture to save the pin to your Pinterest account. So easy!