This fall mantel takes a pastel spin on the fall season with colors in shades of aqua, tan, green and pink. A fall mantel in pastels is perfect for me because I don't usually use the traditional colors of orange, brown, red and yellow!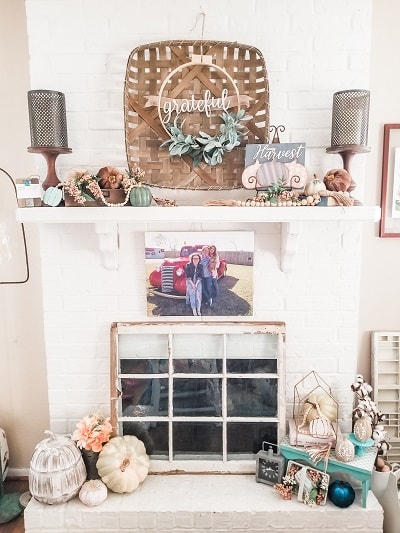 And I want all the pumpkins – velvet ones, pink ones, whitewashed pumpkins and gold stemmed pumpkins to make my pastel fall décor come together!
The Pumpkins You'll Want For Your Pastel Fall Mantel
The above links are affiliate links. When you click on and purchase the products I receive a commission at no cost to you.
A Pastel Fall Mantel Made Simple
For this vignette on the fireplace hearth I used a stool to create some height. The gold house is actually a planter from Big Lots that was purchased on summer clearance. In this house turned cloche initial pumpkins from the Dollar Tree, another pumpkin plus a bead garland I created with a pumpkin tag.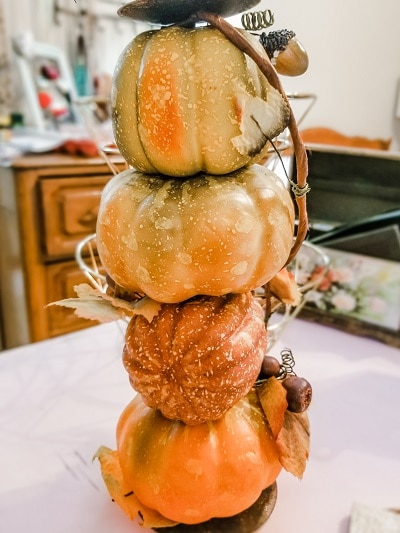 Under the stool I tucked in a ceramic thrifted basket where I placed a turquoise pumpkin that was from this candlestick that I thrifted, took apart and painted. Berries that were another end of season clearance find at Michael's were placed in the basket with the pumpkins. I shop for holidays all year long – check out this post for some more holiday on a budget decorating tips. Next to the basket a velvet pumpkin (this time in gorgeous teal) snuggles in to the vignette.
A Pastel Fall Mantel Made With DIY Projects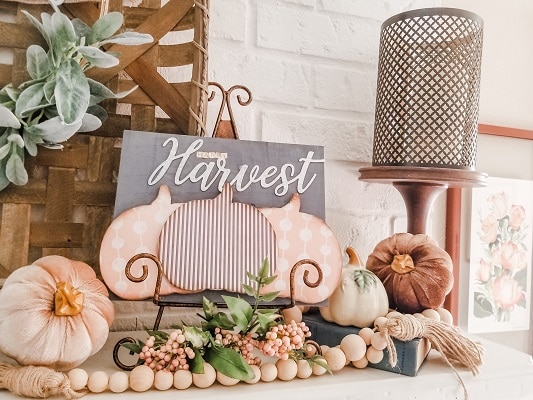 In this vignette more I placed more velvet pumpkins but with a little gold added to their stem. You can check out that project here. The ceramic pumpkin is from Dollar Tree. The Harvest sign is made from items in my craft closet and the Dollar Tree!
Harvest Sign For Your Fall Mantel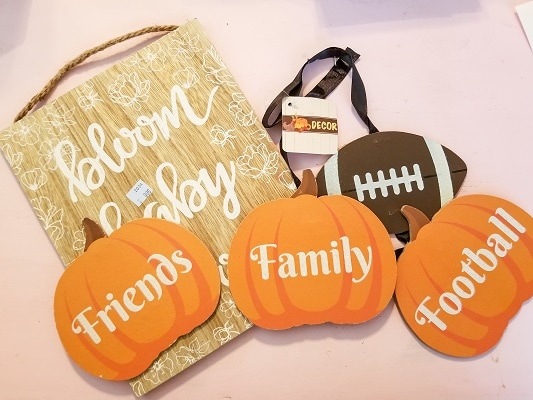 Supplies not pictured and used in making the Harvest sign were
DIY Your Own Harvest Sign
I purchased an off season wooden sign at the Goodwill. You can get these at thrift stores, craft stores or repurpose one in your home! Paint your wooden sign the color of your choice. Let dry while you complete other steps.
Remove pumpkins from your Dollar Tree pumpkin hanger.

Trace the three pumpkins on the back of your scrapbook paper and cut out.
Mod Podge your paper onto each of your pumpkins.
When dry, sand the edges of the pumpkins to get a smooth edge and run an ink pad along the edges for shadow and and the perfect amount of distressing.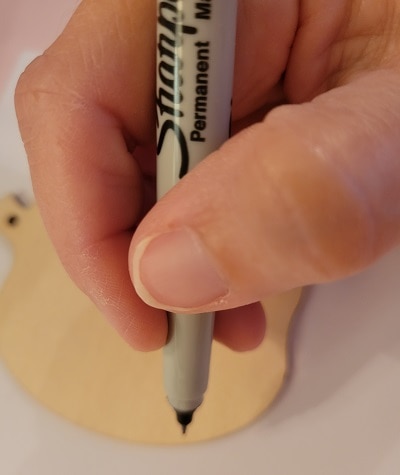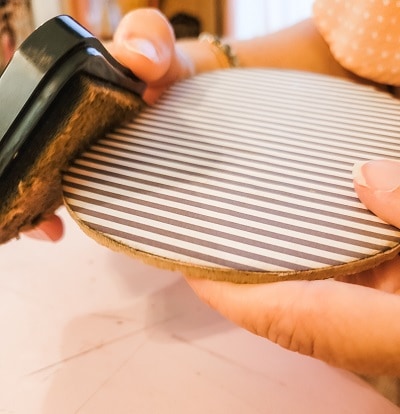 Attach two pumpkins on the outside edges of your sign and one on top in the middle with your glue gun. (I absolutely love my Ryobi cordless glue gun!)
Above the pumpkins place your harvest metal word with your glue gun and letter stickers spelling happy.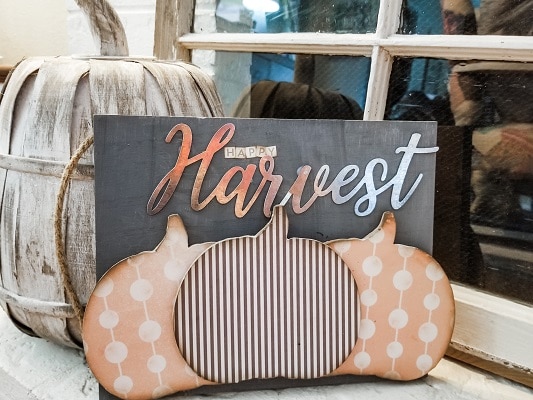 This twenty page Countdown To Christmas With R.A.C.K. will make doing Random Acts of Christmas Kindness super easy! The R.A.C.K Calendar has twenty-five kindness activities, detailed instruction, a shopping list and printable tags.
More Close Ups of This Pastel Fall Mantel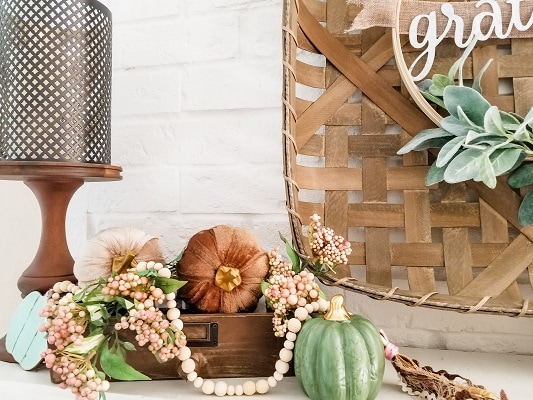 Once again florals, pumpkins, repurposed pumpkins (from the candlestick above), thrifty finds and crafty DIY projects to make our mantel and hearth pretty as a pink pumpkin!
For more fall decorations add vintage flashcards to your displays, tablescapes, and tiered trays. Get your Fall and Autumn Fun Flashcards in Twig and Fluff, the Fifth Sparrow No More's online store!
From Our Shop – Twigs and Fluff
Antique or vintage flash cards are hard to find and especially hard to find when you need a particular word, theme, or a good price! These vintage inspired flash cards take care of that problem by offering an affordable and easy alternative by printing yourself or having them handmade just for you!
Before You Fly Away To Create Your Pastel Fall Mantel
Pin this post to Pinterest to help you remember all of the great ideas for your pastel fall mantel for your home – hover over any picture or the image below to save it to your account. So easy!