Repurpose For A Patriotic Farmhouse Look
A farmhouse look, to me, says time worn, comfortable and lived in. Add in the aged and vintage feel of America in patriotic reds, blues and whites or creams well that is a farmhouse look made in heaven! Combine that with vintage goodies you repurpose for a patriotic farmhouse look, well I think you've achieved farmhouse greatness!
It goes together like coffee and warm banana bread …
Or like my Mama Dot's homemade pimento cheese and white sunbeam bread …
Or fresh sheets and a shower then dropping into bed after a long day at the beach …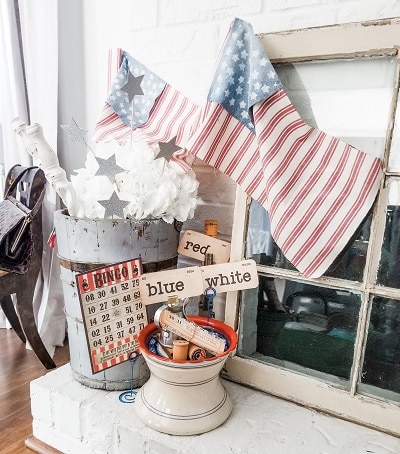 Spindles Repurposed Into Patriotic Flags
In one of my favorite local vintage shops, Texas Charm Trade Days, the owner has a corner with spindles, chippy wood, and metal pieces. On every trip I probably pick through it twice, just in case I missed something on my first go around. I picked up these spindles and didn't have a clue what I'd do and then I had too many ideas!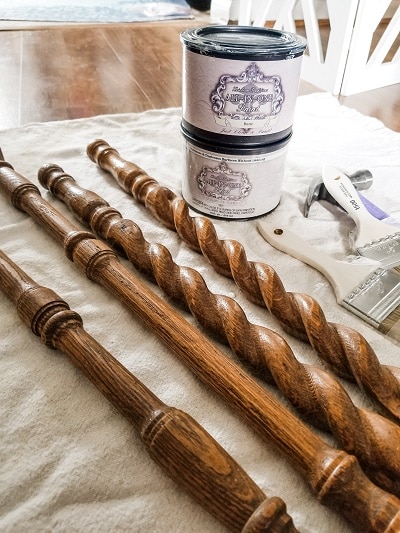 The barley twist had to come home with me, because who doesn't love a classic barley twist. The other two needed to have straight ends for their next project after this one.
Repurpose the Spindles by Painting and Distressing

The first step to this repurpose project is to paint and distress. I used Heirloom Traditions Paint in bone, a nice creamy white and then sanded and aged with brown wax.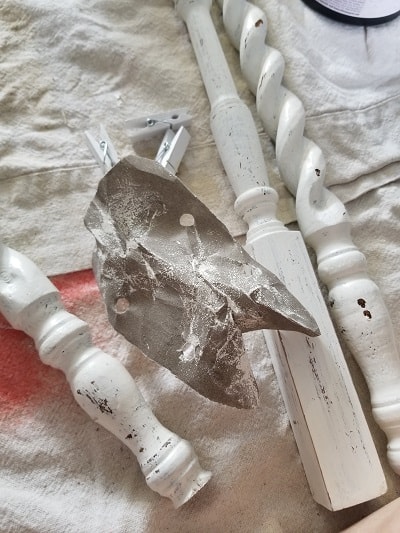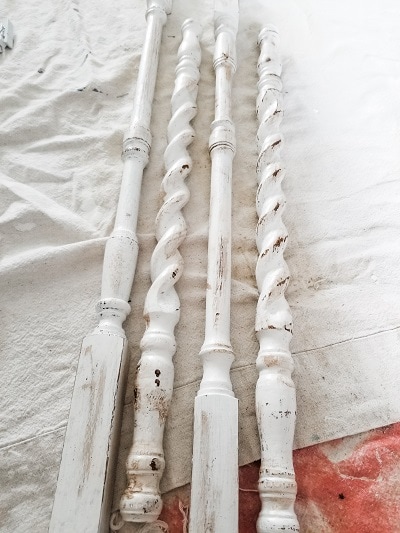 Set A Gorgeous Table with Easy
1-2-3 Formulas to a Beautiful Table EveryTime
Click below and fill out the form to receive your free guide and gain access to the Freebie Library!
Measure and Cut Fabric for the Patriotic Farmhouse Flag
I measured my ticking fabric by holding it up to the spindle and seeing what size looked good. Then I did the same with my daughter's old denim shorts and cut squares that looked the right size. Truly winging it! Your fabric measurements will vary depending on the size of your spindles.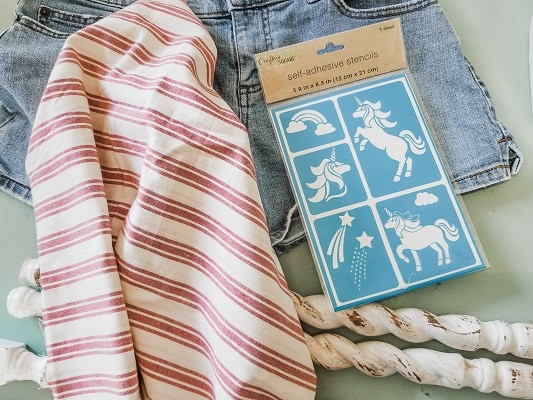 Our Favorite
Ideas To Decorate Patriotic Displays
Spangle Your Banner with Stars
After cutting my fabric into the sizes I needed it was time to paint stars on my denim squares. I found this stencil at The Dollar Tree and cut around the stars. I used a small paint brush and white craft paint to apply the stars.
After stenciling on stars I attached the denim square to the ticking fabric flag with a cross stitch or an X in each corner.
As you will notice my stripes are going the wrong way … I did not have enough fabric to complete two flags with the fabric going the correct direction so I had to take some creative license. Not saying that I didn't A) Beat myself up over the decision B) Contemplate heading to the store and hoping I could find ticking fabric that looked like this and C) Sit and stare at it for 20 minutes wondering if I should scrap the whole thing. Obviously I kept on trucking.
Attach Your Patriotic Flag To Your Repurposed Spindle
Attach your ticking fabric flag to your spindle with a staple gun. I gave myself enough fabric to wrap around the spindle once and I stapled the fabric to the back side of the spindle.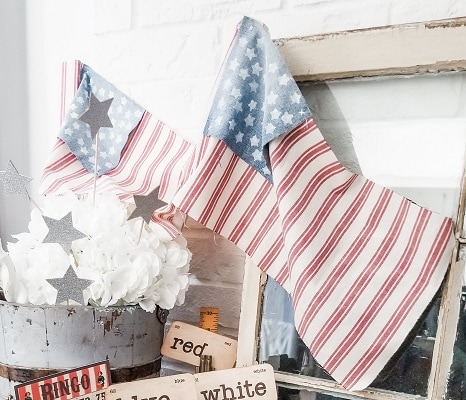 Repurpose Vintage Finds Into Your Farmhouse Look
A piece of cast off pottery, probably given away because it no longer has its mate and can't be seen as having a purpose. This is when we make Fifth Sparrows No More of these unwanted things!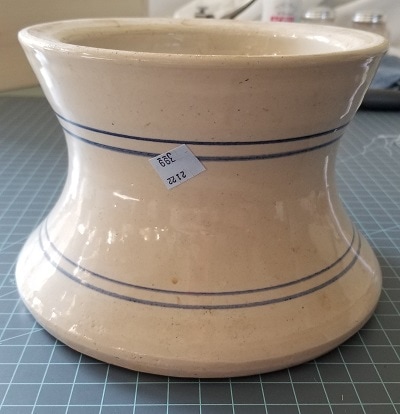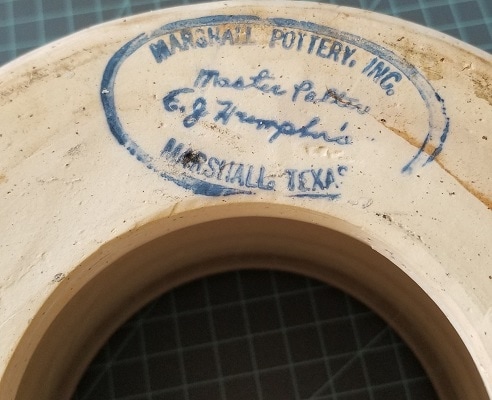 This was the bottom, or stand of a drink dispenser. The drink dispenser being gone it had served its purpose but now I was going to repurpose it into the bottom part of a cake stand!
All I did was add a red and blue transferware style plate and the perfect patriotic tiered tray is created. Old spools, a calendar page and printable flashcards on the tiered tray made for a good mix of old and new. The Freedom Rings bingo card is available in the Fifth Sparrow No More store – Twigs and Fluff! You can get your copy here.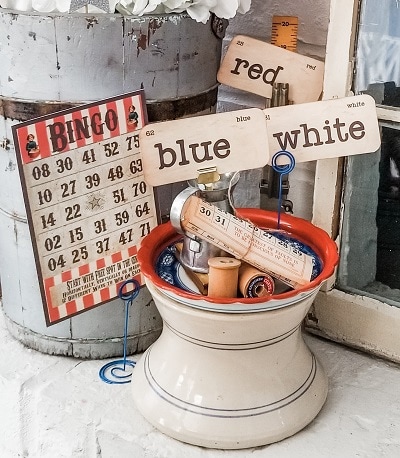 Repurpose For A Patriotic Farmhouse Look With These Items From Twigs & Fluff – The Fifth Sparrow No More Shop
Before You Fly Away To Repurpose For A Patriotic Farmhouse Look
What will you repurpose into your farmhouse look? What vintage finds will you repurpose into patriotic décor for your vignettes? Pin this post to Pinterest to save these ideas for patriotic inspiration in your farmhouse this summer. Hover over any picture to save it to your account. So easy!