Christmas Decorations On A Budget
Do you look at magazines, pictures from Pinterest or simply social media and drool over their homes decorated for Christmas? I have a few tips and tricks to help you achieve those drool worthy Christmas decorations on a budget.
After losing a lot (read most) of our Christmas decorations in the Harvey flood in 2017 I needed to find Christmas decorations on a budget for our old home. I needed to shop on a tight budget again when Amory and I moved into our little cottage in the city and found a pink tinsel tree. The red, white and black color scheme from our previous budget shopping trip did not work so I had to find new holiday decorations in pastel colors.
I want to share my top tips on a budget-friendly way to shop for Christmas decor, cheap Christmas decoration ideas, DIY projects and creative ways to use the unexpected in your own home to decorate with.
Make A Plan To Purchase Your Decorations For An Affordable Christmas
Make a list and check it twice!
Are you staying with the same color scheme this year? Did you notice anywhere you were lacking decorations in that color last year? For instance, if your color scheme is red, turquoise and white but you noticed you were lacking in turquoise ball ornaments and white glitter picks on your tree. Write that down (trust me you won't remember) so you can be on the hunt!
Are you changing color schemes entirely this holiday season? Write down your new colors, theme and what you'd like to look for in an affordable way. As you find it, mark it off your list.
Write down your themes – are you doing gingerbread in the kitchen and farmhouse in the living room, for example? Write down what you could use to complete your theme.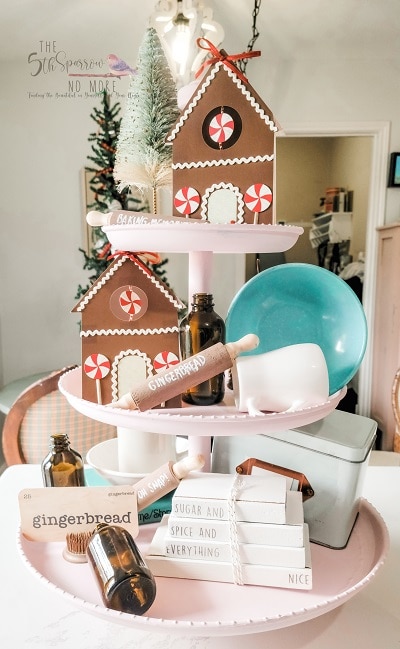 My Favorite Places To Find Christmas Decorations On A Budget
Find them in a thrift store for not a lot of money of course! Find great tips on planning your thrift store shopping trip here. We found this entire basket of red, white and black Christmas ornaments at a favorite thrift store for thirty dollars! I also picked up three lighted small pine trees (you can see those next to the basket). Definitely a great way to get Christmas decorations on a budget year round!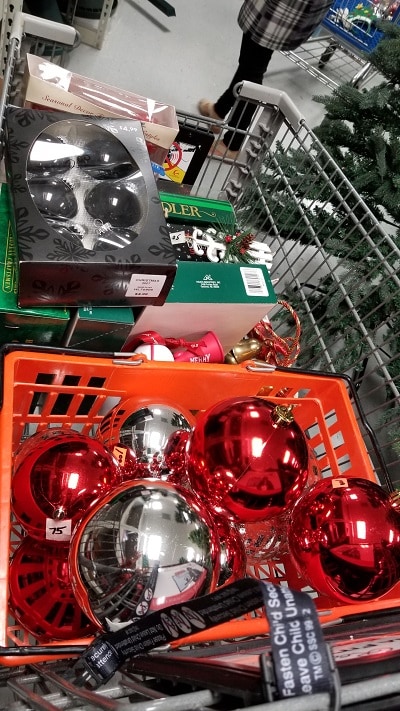 Look how beautiful these Christmas tree ornaments look on our farmhouse theme Christmas tree in our guest room! Totally droolworthy on a budget!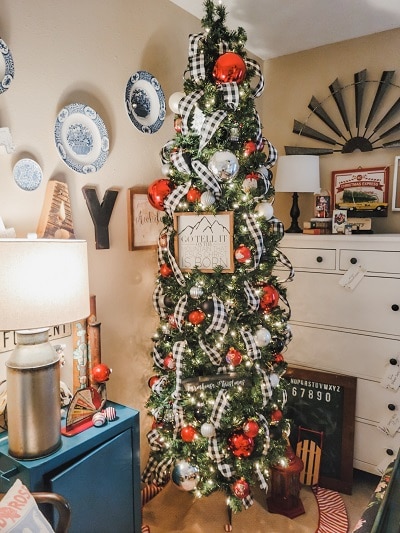 Are you changing your Christmas decor and a friend is too? Well what if a bunch of friends wanted to swap out their color and themed Christmas ornaments? Then it would be a perfect time to plan an easy holiday Christmas decoration swap shop! Invite friends over and swap mini ornaments, colorful ornaments (in all new colors), your own wreaths for theirs, a tree topper and even your small tree. Cannot get more budget friendly than that!
Put the deals found at the Dollar Store to good use. Ornaments, pieces to repurpose and add your personal touch to, and the craft aisle are great sources for cheap Christmas decor ideas.

At Halloween find solid black, purple and orange ornaments. Orange is perfect for a Christmas tree with a rustic look. The black ornaments look great with buffalo plaid and red and white Christmas ornaments.
In spring and at Easter purchase bunnies, garden decor like mushrooms, and fairy lights for a woodland tree.
During the summer buy all things beachy for a coastal themed Christmas.
When fall hits the shelves purchase pine cones, fall berry sprigs and wooden animal shapes to create your own ornaments with scrap paper.

Another great place for budget Christmas decorations is from your local Buy Nothing group. A Buy Nothing group is a Facebook group local to your town (or if you live in a big city, your neighborhood), where locals can post items they want to give away or are in need of — for free. The founders of the Buy Nothing Project call their Facebook groups a "gift economy." The perfect place for a person to "fifth sparrow no more" their possessions. Hanging out in your Buy Nothing Facebook group is like being in a thrift store where everything is free! Christmas decorations are hit or miss but you can always do an ask in your specific color or theme!
Speaking of Facebook, the good news is that Facebook Marketplace is one of the best ways to find Christmas decorations any time of year.
And lastly Varagesale, an online garage sale that is local to your community. It is organized in categories so it is easy to find a little bit of everything for a festive touch. There are so many more budget friendly resale online selling spots I didn't mention, just do your research!
When to Grab Your Christmas Decorations on A Budget
The answer is all year! After Christmas sales are great if you wait until it's deeply discounted (I'm looking at you Hobby Lobby). But throughout the year at the above mentioned places are going to be the best way to find budget friendly decorations and create a beautifully decorated Christmas season.
Visit Twigs & Fluff to purchase budget friendly guides to help you plan for a thrift shopping trip and get a head start on your Christmas!
The Christmas Decorations On A Budget I Found Off Season
A dainty tea cup was found in an antiques store on a trip to Waco during the summer but I knew it would be perfect with my pastel Christmas theme. The tea cup, with a bit of fake snow, a tiny tree and an even tinier reindeer is perfect in this vignette on a repurposed old frame turned coffee table tray.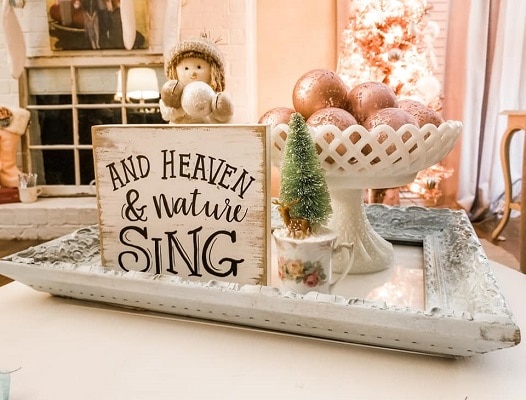 These tiny bird string lights were an after Christmas purchase in an antique store in Tennessee. They were so pretty and inexpensive I wish there had been more boxes!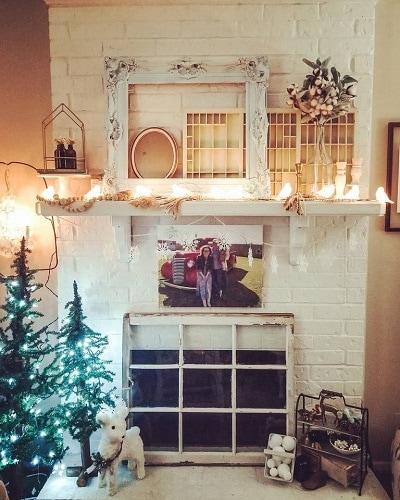 An ironstone bowl, found in a local Goodwill, is filled with rusty jingle bells and bottle brush trees. This would be a great addition for a centerpiece on your dining room table.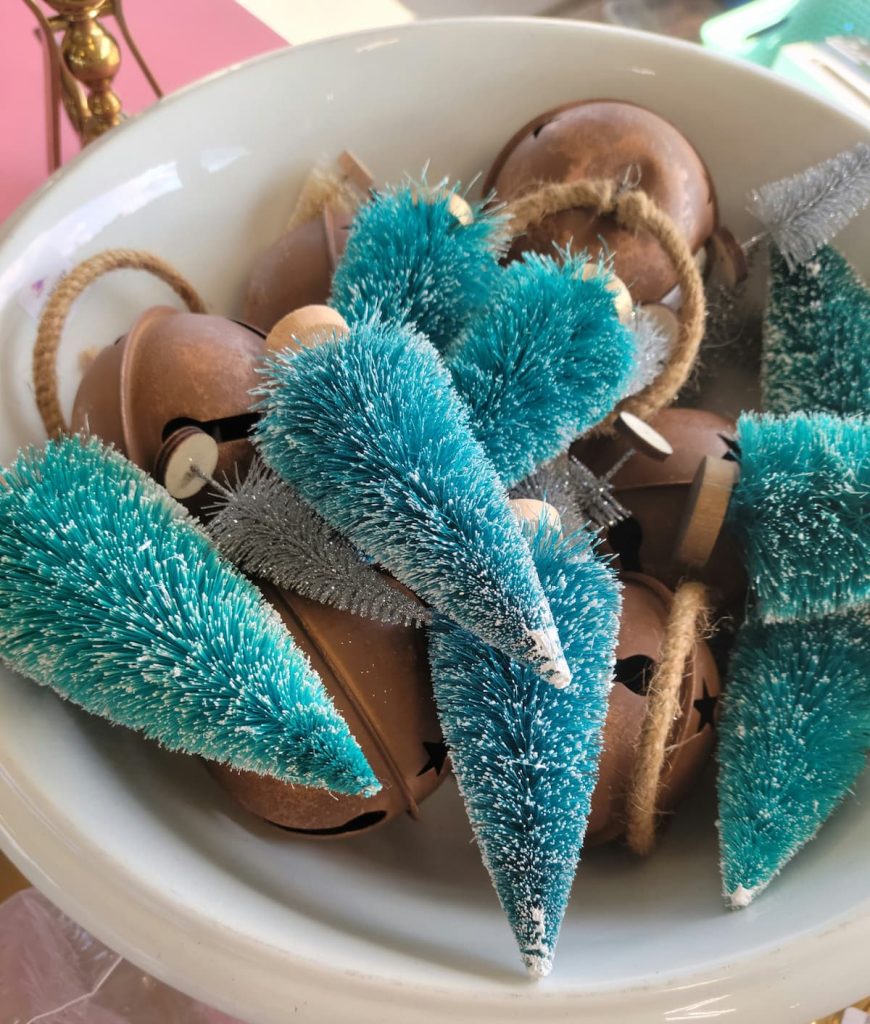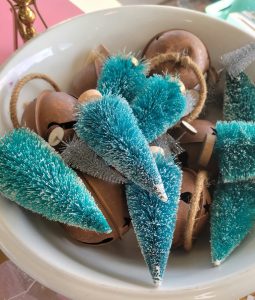 Want More Inspiring Budget-Friendly Decor Ideas?
My blogging friend, Cindy, on Reinvented Delaware has even more ideas for Christmas Decorations on a budget in this post. You will love all of her vintage inspired ideas she shares!
Think Outside The Box for Budget Friendly Creative Ideas
Raid your craft closet, your dress up closet and your china cabinet! The "snowballs" are just Styrofoam balls piled into a basket, the snowman hat is an old hat from my daughter's costume box and I pulled a teacup from the china cabinet to make a Christmas scene with mini trees. Now that's very budget friendly when you shop from home!
Tiered trays are another easy way to get in the holiday spirit in a small space. For this Santa's tiered tray I gathered office supplies, created a Santa's list (it's available for you in the free printables library), and made an inkwell from small mason jars.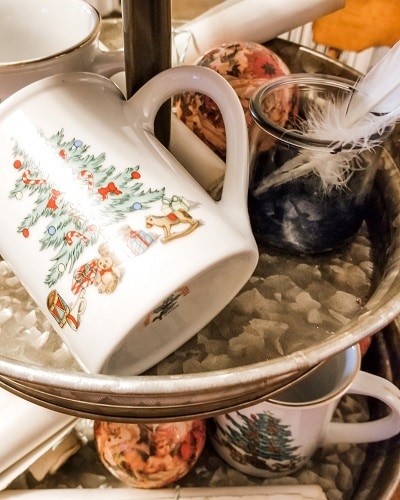 Another budget friendly idea is to create your own garland from cast off necklaces. These can be snipped apart and by using hot glue connect end to end for an easy DIY garland. I did this with inexpensive pearl necklaces I gathered in thrift stores everywhere! Try this with Mardi Gras beads, pearls, beads or wooden necklaces. Pick up a wooden bead toy from the thrift store and DIY your own garland with this technique.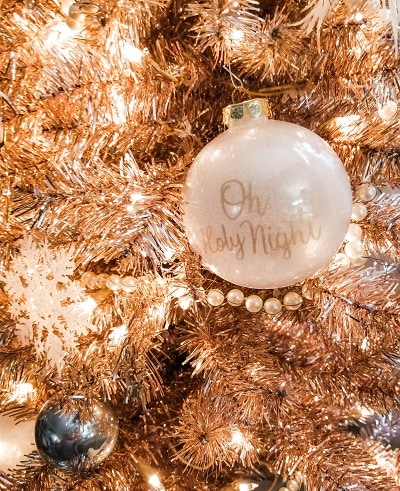 I used an old gas can for this focal point on my china cabinet. A tag was created labeling this gas can not just any regular fuel, it's magic fuel! Santa's magic fuel to be exact. Make hand-made tags from wood like I did in this DIY or a similar look can be achieved with a paper tag.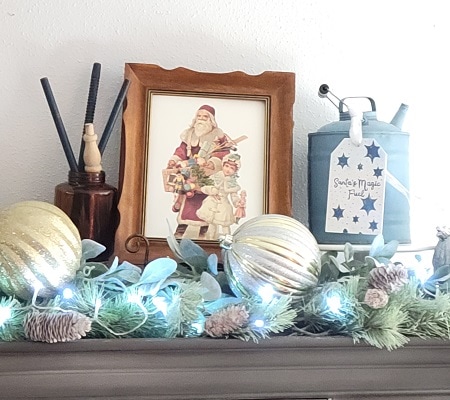 Some family-friendly Christmas decor ideas are to use children's books because they are bright, colorful and can spark happy memories of Christmas past. For this look I raided the bookcase and used a book that my girls and I always read together on Christmas Eve.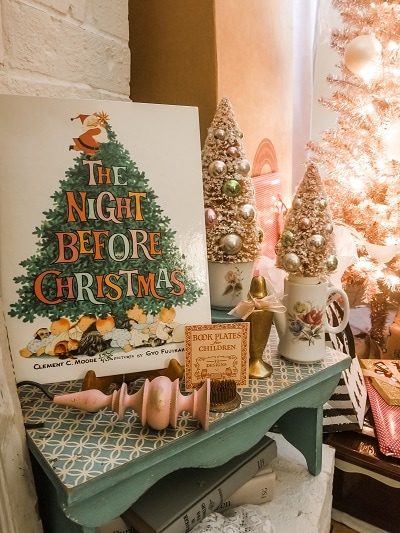 Speaking of children's things – using a toy pickup to haul small Christmas trees is just plain cute! In this cloche I used more craft closet supplies – quilt batting for "snow" under the trees!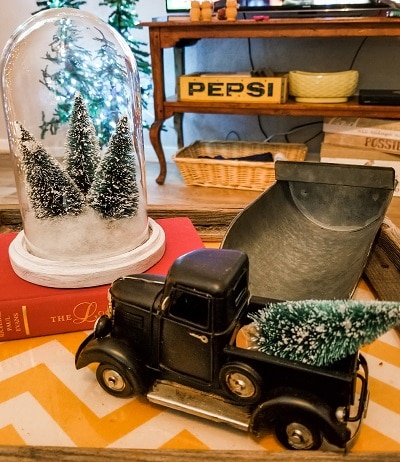 Another toy car hauls the Christmas tree home, this time it's a bright yellow taxi. Favorite Christmas cards complete this vignette, one in a cloche and one in a flower frog. A vintage flash card finishes off this bright and colorful Christmas display.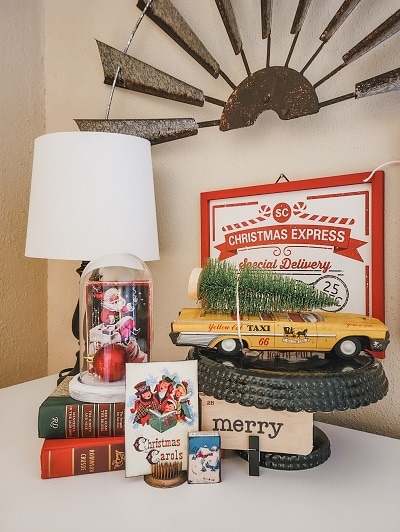 Before You Fly Away To Find Christmas Decorations On A Budget
Pin any of the images to Pinterest so you can have a budget friendly Merry Christmas and use the tips and tricks all year round – hover over any picture to save the pin to your Pinterest account. So easy!