Christmas Presents For Outdoor Displays
Brown paper packages are truly a favorite of mine. A beautifully wrapped present is a feast for your eyes, almost like a dessert before dinner! When I wanted to create Christmas presents for my outdoor display I wanted them to be wrapped as if they were in fun paper. But fun paper and winter weather doesn't mix! Here is the simple way to create fun Christmas presents for your outdoor displays whether it's for a porch, front stoop or yard.
Raindrops on roses and whiskers on kittens
Bright copper kettles & warm woolen mittens
Brown paper packages tied up with strings
These are a few of my favorite things
– My Favorite Things by Oscar Hammerstein II and Richard Rodgers
The Presents for the Outdoor Display
I gathered plastic storage containers from the Dollar Tree. Choose containers that have a lid but choose all different sizes. Because Santa's gifts are never all the same for everyone – how boring would that be for the elves to make?!?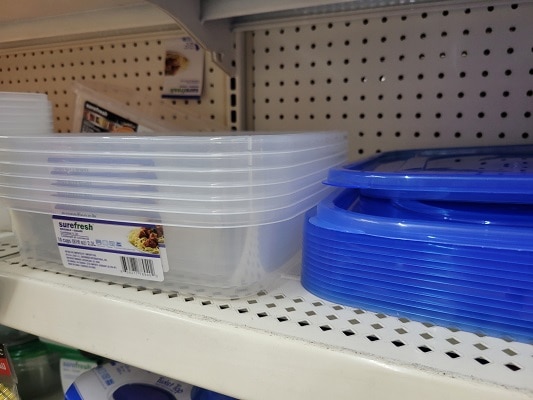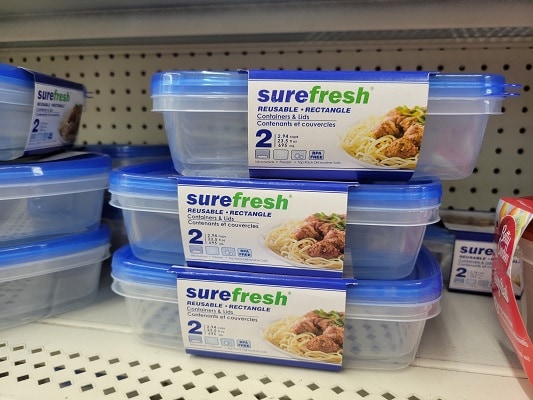 While at the Dollar Tree pick up a bag of these rocks for every three boxes. You will split one bag into the inside of three containers to weigh them down.
Wrap Your Presents for the Outdoors
In order for our Christmas presents to stay outdoors in rain, sleet, hail, wind and whatever else the winter season throws at us the wrapping needs to be durable. But it also needs to be pretty! To wrap your Christmas presents for outdoor displays purchase vinyl tablecloths – the ones that have the flannel backing is the most durable. As I mentioned in this post I shop year round for Christmas decorations and end of summer sales are a great way to get these outdoor tablecloths inexpensively!
Wrap your storage containers just as you would regular presents. I used Gorilla Glue's clear duct tape just to make sure the wrapping would stay in place.
Here are some of the vinyl tablecloths I found at Walmart.
The red and white checked would be adorable with a silver or green bow for a traditional Christmas outdoor display.
The turquoise would be super cute with a white, hot pink or silver bow for a candy themed Christmas outdoor display.
The yellow and white gingham would be absolutely perfect for a farmhouse themed Christmas outdoor display. Dress it up with big red, white or green bow for the perfect country touch!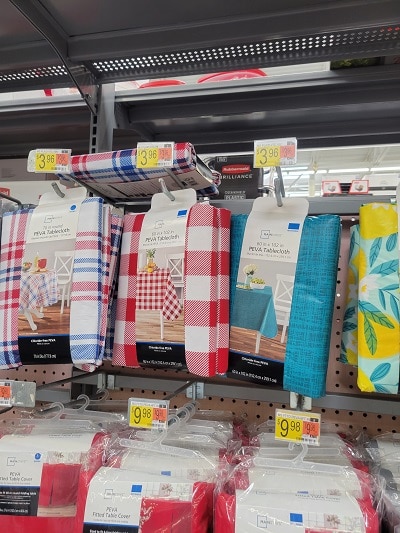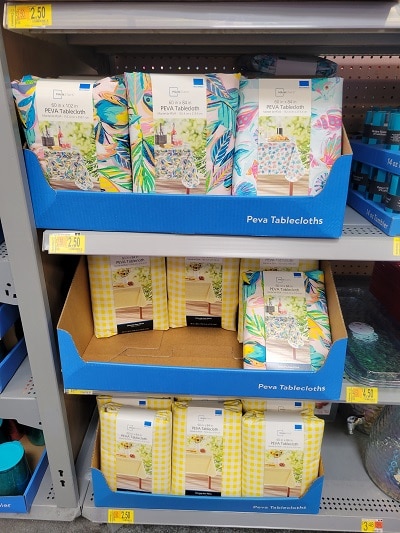 And A Bow On Top of Your Christmas Presents
Choose a polyester wired ribbon to dress up your presents. The polyester ribbon holds up to weather the best and a wired ribbon holds it shape. Amazon has a good selection of waterproof, outdoor ribbons – I've done the searching for you! Visit here to see the selection of ribbon.
My Outdoor Display of Christmas Presents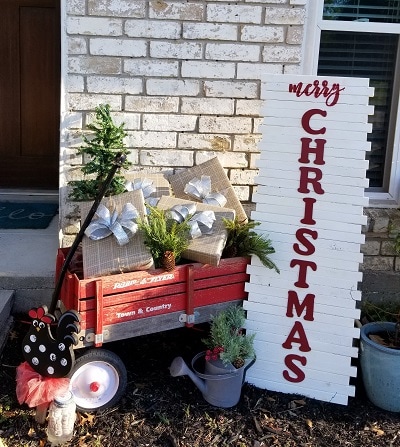 I chose to do brown "paper" packages tied up with sparkly "strings" in my outdoor Christmas display. These presents made with the large rectangle storage containers and tucked into a wagon with a miniature Christmas tree and greenery is a perfect addition of Christmas cheer next to my front door.
I can't wait to see all of your simply made, creative presents for your outdoor displays!
Before You Fly Away To Create Christmas Presents For Outdoor Displays
Pin any of the images to Pinterest so you can make the prettiest presents for Christmas on your porch, your stoop, or in your yard – hover over any picture to save the pin to your Pinterest account. So easy!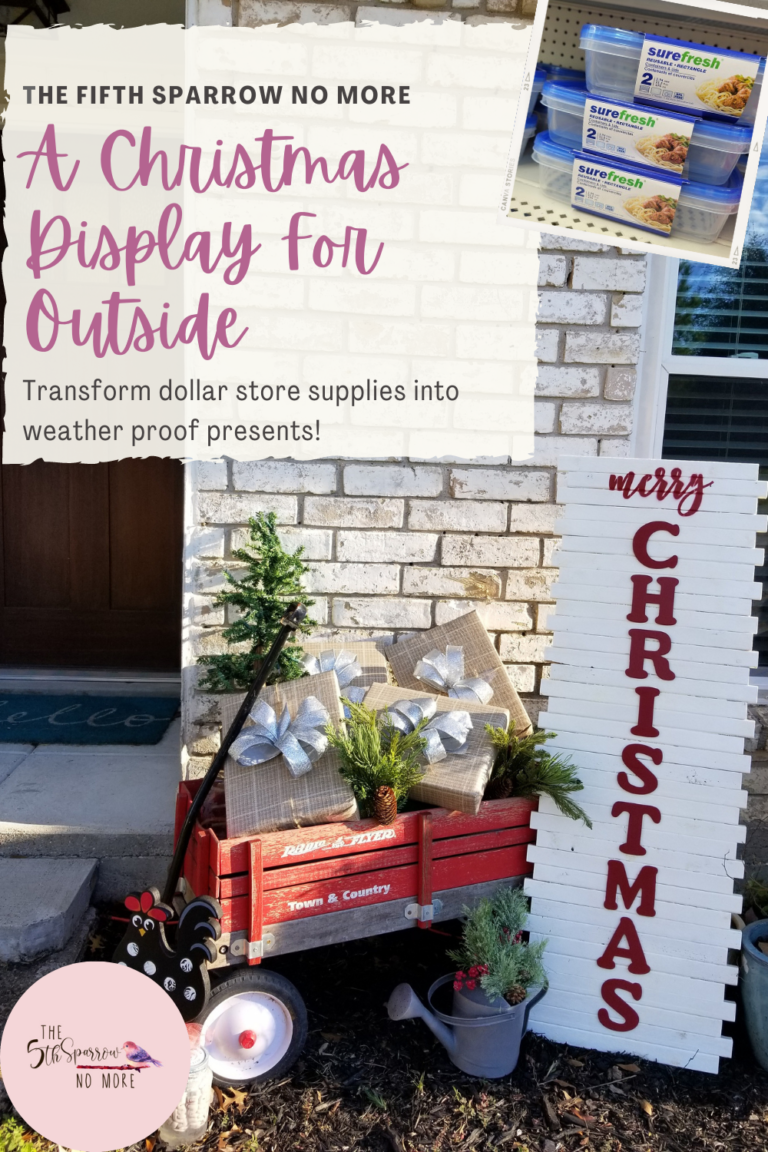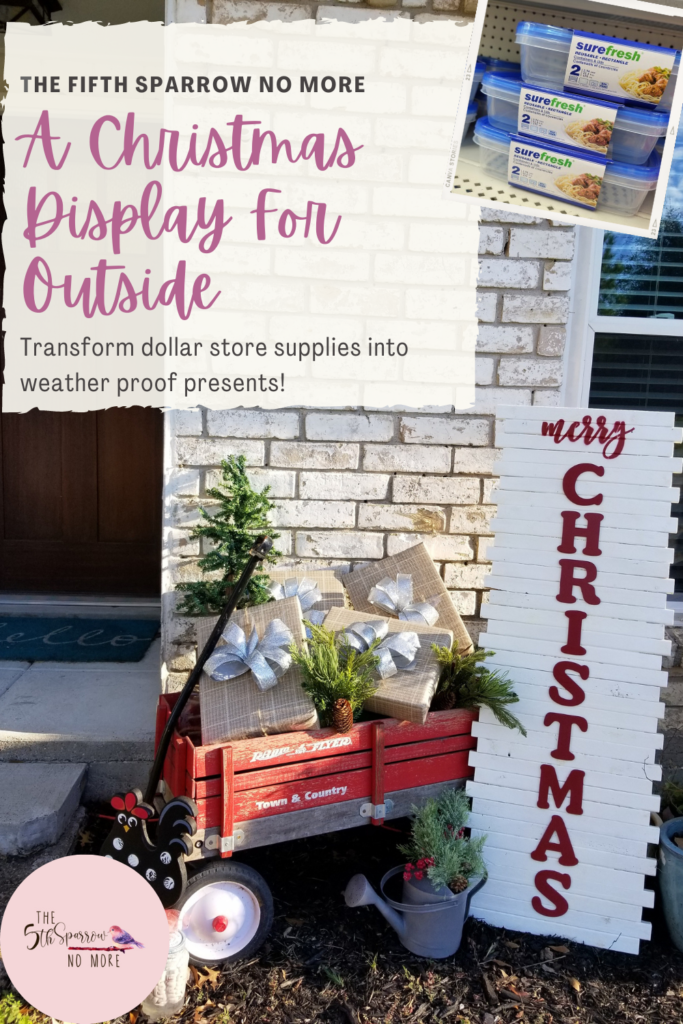 Visit Twigs & Fluff For Printable Planners and Guides, Wall Art, Flash Cards and More