A Firkin Fall Centerpiece – Part of the Pumpkin Patch Blog Hop
A garage sale find becomes a firkin and I make a firkin fall centerpiece!
I saw a beauty from across the dirt packed pavilion on a recent trip to Vintage Market Days, I was looking for an ice cream bucket on that particular trip but it was not an ice cream bucket …
Although I did find an ice cream bucket and I love her. You can see her here and here.
The vendor referred to it as a firkin, not a bucket. But these primitive wooden vessels – some painted, some with iron banding, a few with handles and in all different shapes and sizes were gorgeous. Think of the possibilities!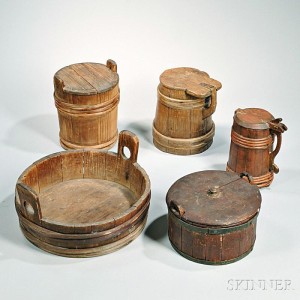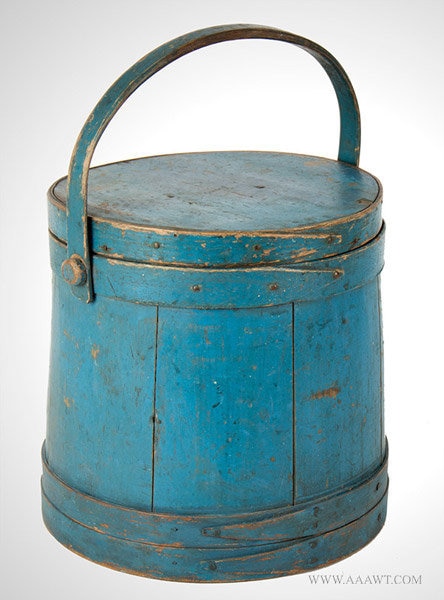 And then she told me the price …
ARE YOU FIRKIN KIDDING ME?
I love a play on words and a 12 year old sense of humor but I digress. I walked away from the firkins that obviously had the secrets to anti aging, eating bread and still fitting in real pants and other life secrets because why else would they be so expensive?
Then all glory days I found this popcorn bucket at a garage sale for $1!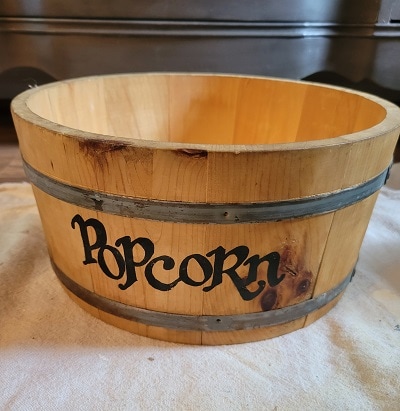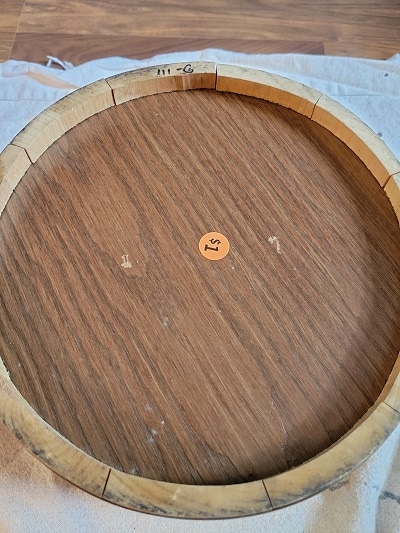 A Firkin Disguised As A Popcorn Bowl
That popcorn bowl was getting a makeover and being recreated as a firkin – a firkin fall centerpiece that is!
First Steps –
I cleaned the firkin with Heirloom Traditions Paint Deglosser. This cleans, etches and prepare your surface for painting. NO deactivation (water rinse) required after.
I taped off the metal bands with painter's tape.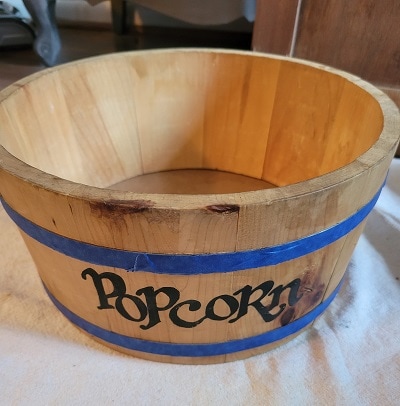 Creating a Centerpiece – A Few Ways To Save Money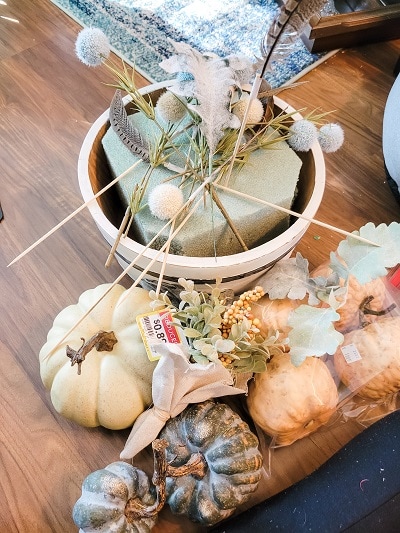 Create your own picks

Gather skewers and toothpicks
Wooden skewers can be inserted into the bottom of larger items, like these pumpkins
Purchasing a bag of Fall Mini Pumpkins and using toothpicks in the bottoms create instant fillers for small spaces in your centerpiece

Don't buy expensive feathers in the floral department!

Purchase feathers made for crafting and attach to a wooden skewer

Look in the Dollar Tree for floral supplies like styrofoam, flowers and more. I got my favorite part of the firkin fall centerpiece at the Dollar Tree!
Look in the clearance bins year round! I shop for the holidays all year long.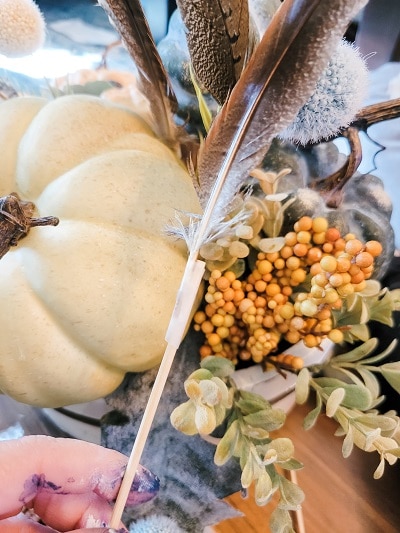 Styrofoam can be cut down with a steak knife from your kitchen, no need for fancy tools!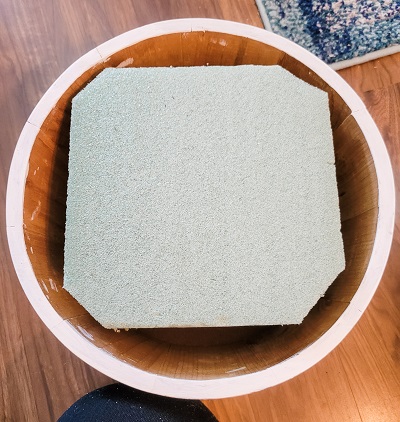 A Firkin Fall Centerpiece
I used feathers, pumpkins and what I am calling Truffula Tree (who are my Dr. Seuss fans?) floral picks. I picked these up at Dollar Tree and they just make me happy – they are bit like the clovers in Horton Hears a Who too!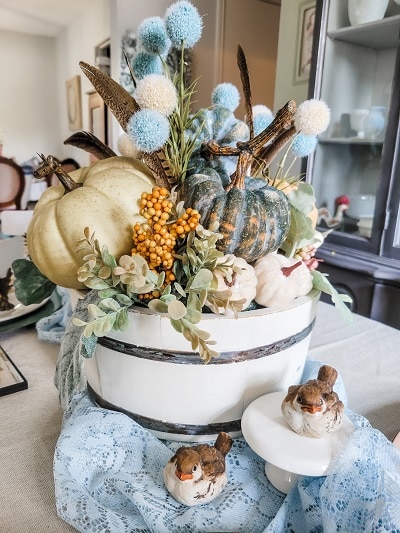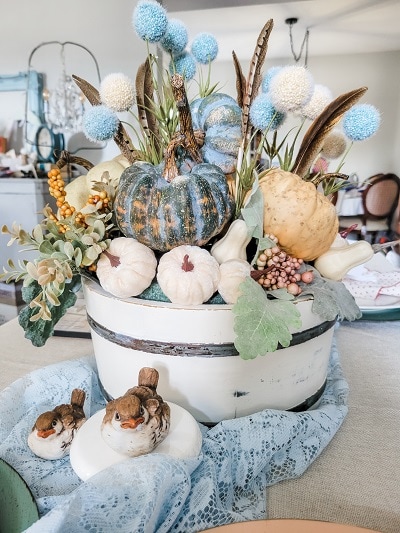 What fabulous garage sale find will you firkin fall in love with, repurpose and fill with your own version of Truffula Trees aka happiness?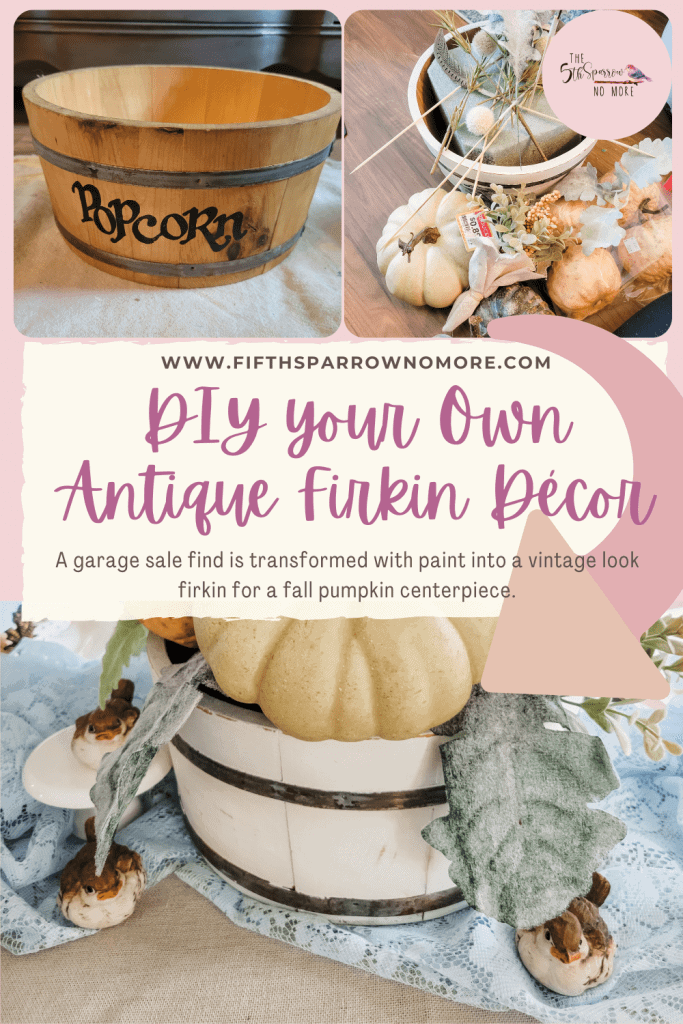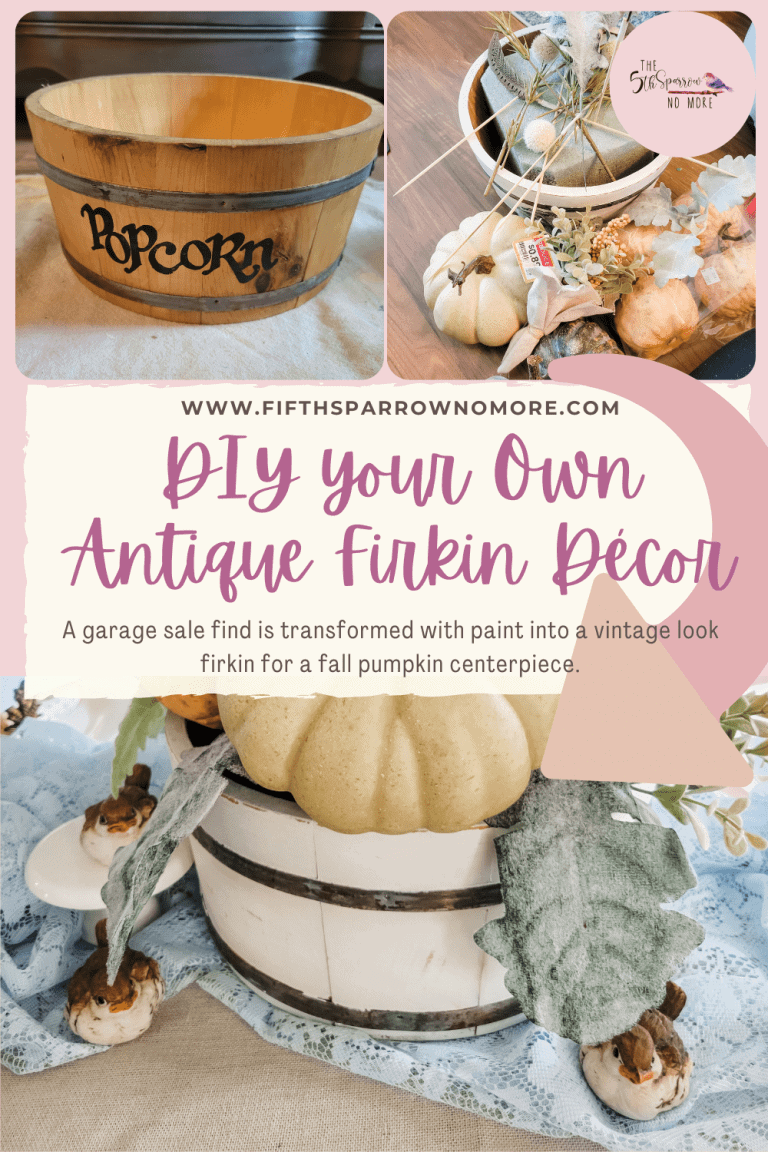 Visit My Friends on the Pumpkin Patch Blog Hop
Carol from Blue Sky at Home is sharing her DIY for this festive pumpkin wreath
Sue from Shop at Blue is sharing a festive Dollar Store Pumpkin Wreath
Nicole from Adorn the Table is sharing her adorable pumpkin place card holders
You'll never guess how Diane from South House Designs made these metallic pumpkins
Stephanie from Gathered in the Kitchen is sharing the DIY for these adorable farmhouse fabric pumpkins
Nicolle from Our Tiny Nest shows you how to make these cute pumpkins with a secret tip
Juliet from A Loverly Life is sharing her Moondance inspired decoupage pumpkin
Anne at Ikorn Crafts is sharing her DIY for this fun DIY Mesh Pumpkin Wreath
The Fifth Sparrow No More is a participant in the Amazon Services LLC Associates Program, an affiliate advertising program designed to provide a means for sites to earn advertising fees by advertising and linking to Amazon.com. Clicking on a link is no charge to you and helps The Fifth Sparrow No More to keep writing posts to help you find the beautiful in your home and yourself!