The Fall Mantel You Want In Copper and Blush
I'm doing my part to spread the word that pink is for pumpkins and copper is for fall! I absolutely adore doing a non traditional fall palette – this time it's copper and blush (and bashful!). This is the Fall mantel you want in copper and blush, better yet in thrifted copper finds, blush pumpkins, amber bottles and vintage pieces. The most important thing to remember is to choose a color palette that you love, reflects your style, and makes you happy!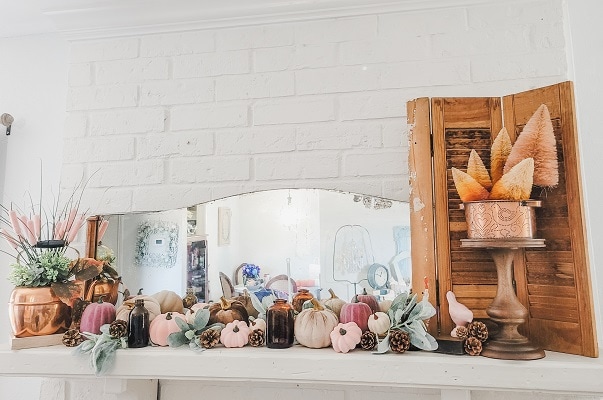 Where To Find and How to Clean Copper Pieces
The thrift store is your best friend! I found all of my copper at incredible prices and in incredible shape at various thrift stores and resale shops. I shop year round for the holidays and use the thrift store shopping guide to help me look for things I wouldn't have thought of. However if your copper isn't as shiny as you'd like and needs to be cleaned you can do this with simple ingredients in your kitchen –
Cleaning Copper with Vinegar
Mix 1/4 cup salt, 1/4 cup flour and enough vinegar to make a thick paste.
Rub the paste on the surface of the copper with a soft cloth.
Buff the copper item until it shines.
Rinse with warm water and dry thoroughly.
Cleaning Copper Pots With Ketchup
Yep! Ketchup! Ketchup's acidic base does the same thing as the vinegar cleaner and eats away at the grime. Rub a thin layer of ketchup over your pieces with a soft cloth (or your hand) and rinse with warm water. Dry thoroughly.
Bottle Brush Trees On The Fall Mantel You Want In Copper and Blush
Bottle brush trees are not just for Christmas! These fall colored and dusty pink trees are beautiful on this fall mantel! I placed them in this round punched tin copper casserole carrier. Placing this on a candlestick in front of a shutter was all it needed to create a pretty vignette at this corner of the fall mantel.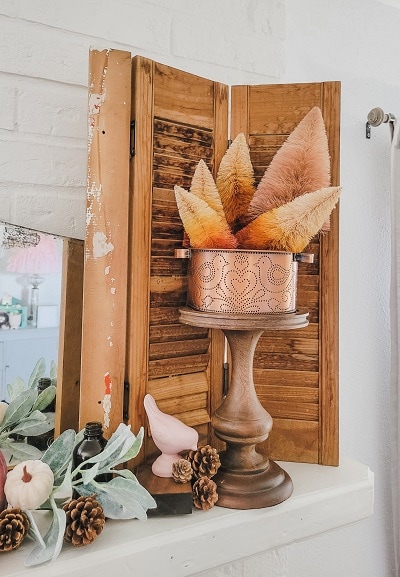 Bottle Brush Trees You'll Need For The Fall
The above links are affiliate links. I make a commission at no cost to you when you click and purchase the links above.
Bright Copper Kettles and Blush and Bashful Are A Few Of My Favorite Things
This copper kettle was a steal because it was missing its lid. Which was no problem for this fall mantel since I was putting a simple floral arrangement in it. I used pink cat tails, greenery and fall leaves to create this arrangement. As a total aside does anyone else call cat tails "swamp corndogs"? Just me … okay, but now you'll never look at them the same! Creating fall arrangements at a steal is simple with inexpensive containers, dollar store greenery and fillers.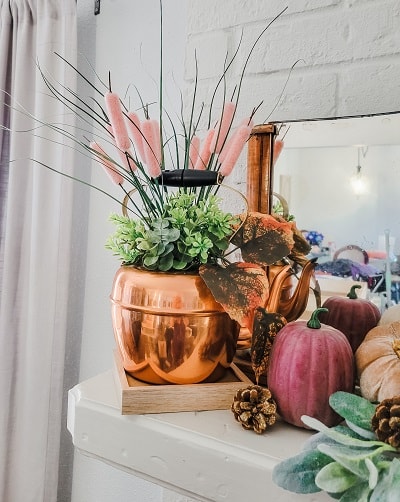 Pumpkins and Amber Bottles
Across the mantel velvet pumpkins in shades of brown, pumpkins in shades of pink, amber glass bottles, and glittered pinecones are nestled in soft lamb's ear.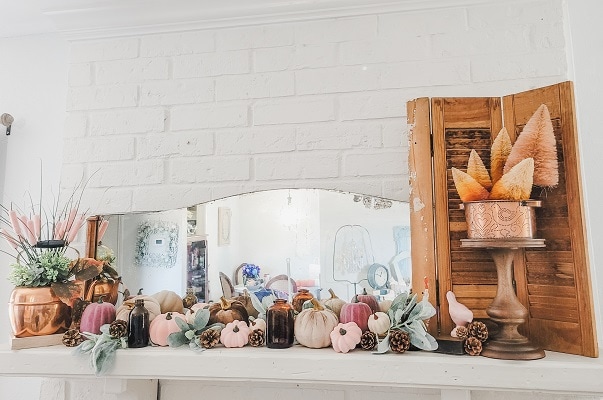 A Fall Mantel In Copper and Blush Isn't Complete Without It's Hearth!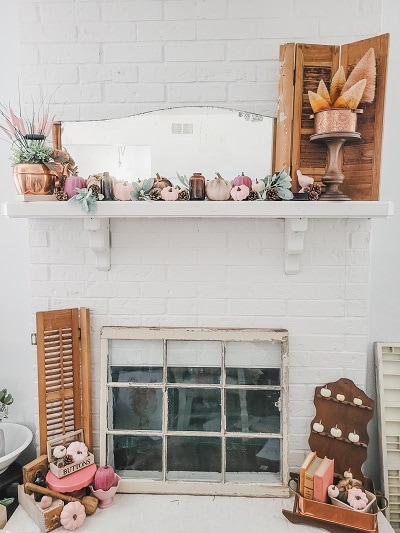 Let the Beauty of Fall Carrier Through
In this vignette on the hearth I used a copper casserole carrier (this time in a rectangle shape) filled with pumpkins and vintage books. I love to use vintage books in my decorating – they come in such beautiful colors and textures. I used a tourist spoon rack as a riser (find these at thrift stores or online here). Behind the copper casserole carrier is another spoon display rack that is now displaying mini pumpkins on its slotted shelves.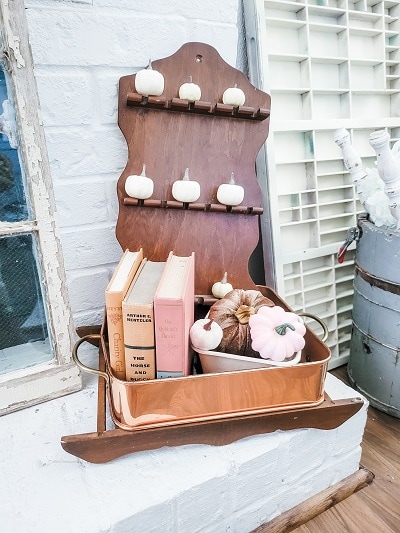 I Shutter To Think of a Fall Without Copper and Blush
In this last vignette on the hearth I used another shutter as a backdrop for more pink pumpkins, wooden vintage items, an amber bottle and cake stands.
A vintage wooden kitchen masher, an antique sewing table drawer and an architectural wooden piece called a plinth block adds interest to this vignette of pink and brown tones.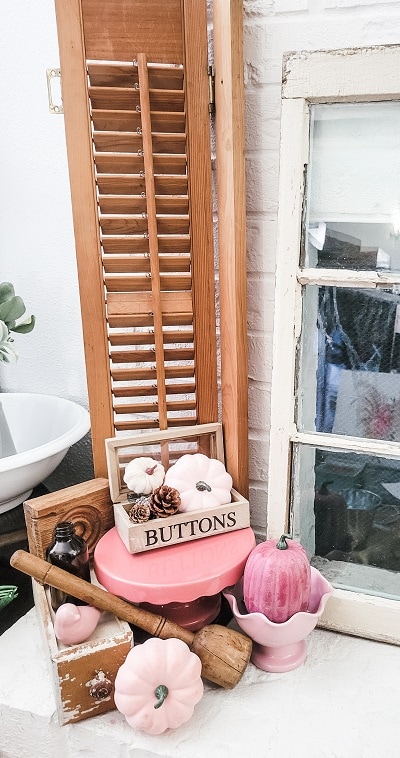 Save this for later inspiration. Use these ideas to create the mantel you've always wanted to create for fall or anytime!