A Sweet Apple Themed Tiered Tray Made With Vintage Finds
I want to share some great ideas to build a sweet apple themed tiered tray made with vintage finds, thrifty pieces and DIYs.
Along with pumpkins, the leaves changing colors, chrysanthemums, and fall festivals apples are another fall staple. The fruit we turn to to make so many desserts for Halloween (hello caramel apples – I am looking at you) and for Thanksgiving dinner I am now going to pay tribute to with a sweet tiered tray.
A Sweet Apple Themed Tray – So Many Ideas!
For your apple tiered tray you can be specific or do an "all the things" apple theme! Here are some ideas for specific themes –
Apples in The Kitchen – think baking with apples
Caramel Apples
Apple Pie
Picking Apples / Apple Orchard
School Theme with Apples
What Do I Put On A Sweet Apple Themed Tiered Tray?
I chose to use an "all the things" apple themed tiered tray created with vintage and thrifted finds. I started by gathering everything I thought went with theme plus some other things in the colors I was using on the tray.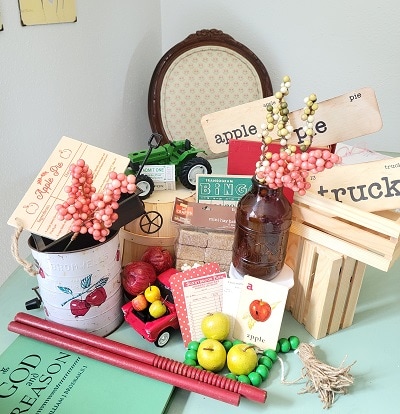 Here are the pieces I used on my apple themed tiered tray
I used a Bromwell's Apple Flour Sifter on my tray.
A small bushel basket was used for this tray, but a pail would be fun too!
An apple cart or wagon (Don't upset the apple cart!)
A tractor – find these in the toy section of your favorite thrift store
An old metal truck
Vintage flash cards – Use this fall and autumn set, this schoolhouse set, and this farmhouse set.
Apples of course!
A recipe card
From our Shop
Vintage flash cards are perfect to add to any vignette on holidays and everyday! Get these vintage inspired ones in Twigs & Fluff, The Fifth Sparrow No More's storefront.
These would be perfect for any everyday tiered tray in the colors your tiered tray is
Wood Bead Garland
Books – these are perfect to add height. I use books all the time in all my decorating!
Flower Frogs to hold vintage flash cards and ephemera
Mini cupcake stands and small crates for height and to hold things.
Bottles, small jars or pitchers to hold the floral pieces and more
Florals -flowers, berries, and greenery.
Visit the Feather Your Nest page to see all of my favorite things for tiered trays.
Round Tiered Trays I Love!
The Fifth Sparrow No More is a participant in the Amazon Services LLC Associates Program, an affiliate advertising program designed to provide a means for sites to earn advertising fees by advertising and linking to Amazon.com.
The Bottom Tier Of This Sweet Apple Tiered Tray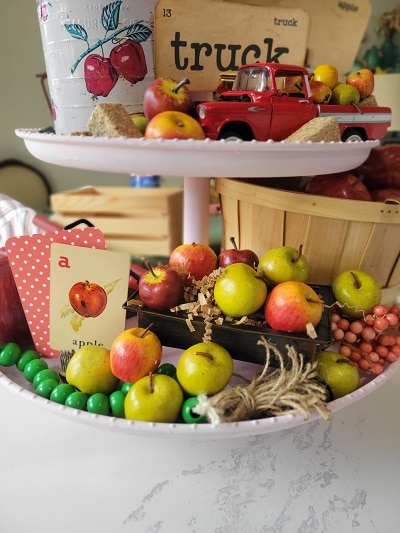 On the biggest bottom tray I used this bead garland I created from a child's toy. See how I made the garland here. I used vintage flash cards in a flower frog and lots of apples. The bushel basket is tucked in the back filled with larger apples.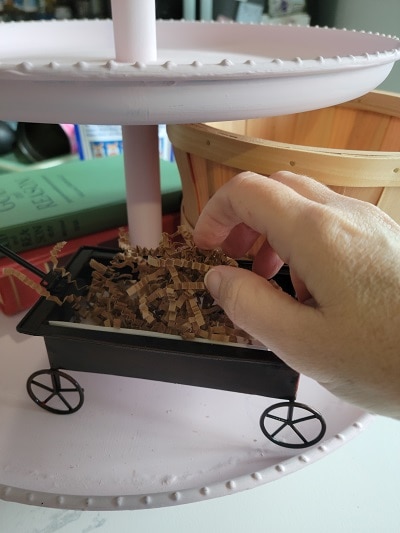 I filled a cart with brown paper shreds and more apples. Paper shreds are great fillers, not as messy as straw or moss, and available in every color.
More Tiered Trays To Love
Do you love decorating with tiered trays as much as I do? Check out these fabulous posts with a million great ideas on how to create a themed tiered tray for every season and every day!
Sweet Apple Themed Vintage Middle Tray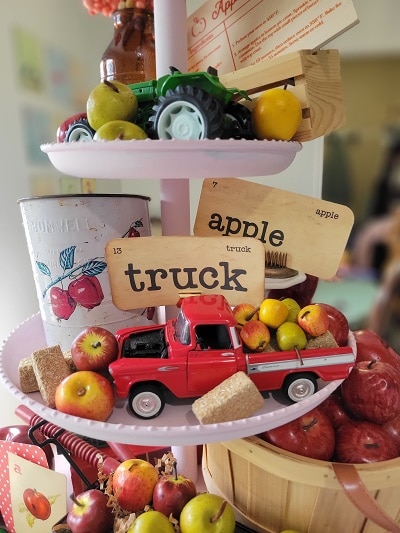 I used the schoolhouse set of flash cards and the farmhouse set to create the wording "apple truck". I placed the apple card in a flower frog on a cupcake stand and the truck flash card in a table card holder. The Bromwell's sifter sits on this shelf as well.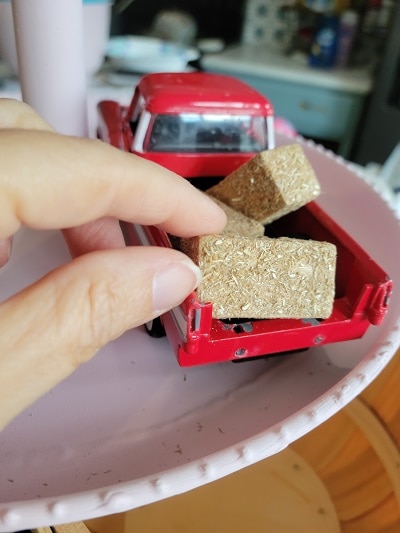 I used the tiny hay bales and small apples in the back of the truck – I found these in the fall section of Hobby Lobby. Another great section for toy truck fillers is the dollhouse section of Hobby Lobby.
The Top Tray of the Vintage Apple Tiered Tray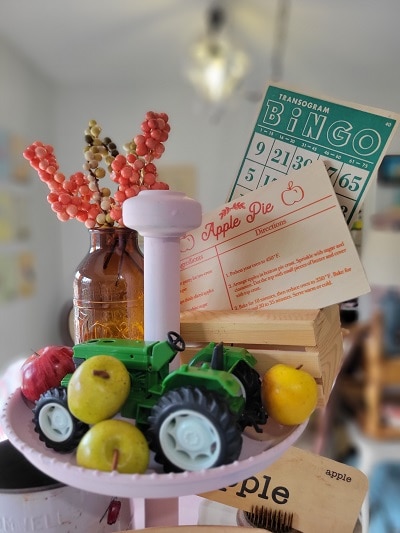 On this tray I used the toy tractor, more apples of course and an amber bottle filled with fall berries. I turned a small crate upside down and used the spaces between the slats to hold a wooden recipe card and a green bingo card.
A Finished Sweet Apple Themed Tiered Tray Made With Vintage And Thrifted Finds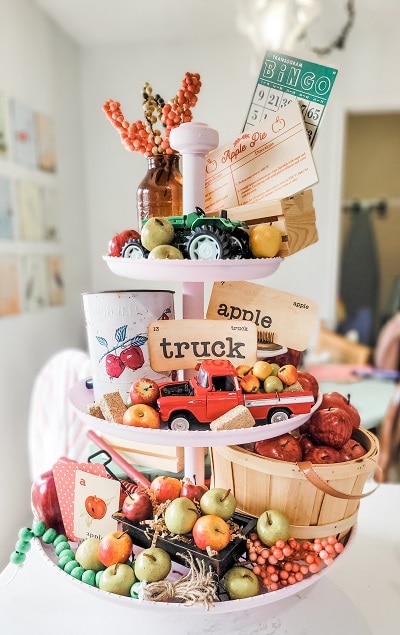 Before You Fly Away To Create Your Own Apple Tiered Tray
Pin this post to Pinterest to help you remember all of the ideas for creating your own apple themed tiered tray – hover over any picture or the image below to save it to your account. So easy!