I want to share that a new linky party has come to town! It is called Whimsy Home Wednesday and on every Wednesday this party will bring ideas from other bloggers to you!
A link party, otherwise called a linky or linkup, is a group of bloggers who creates posts that encourages other bloggers to link up their latest and greatest blog posts. Our party will be using a tool called InLinkz where bloggers submit their link and a photo from the blog post. InLinkz turns this into a thumbnail which allows viewers and blog readers to visit this linky party and get ideas, leave comments and share the love! It's not a party without mingling right?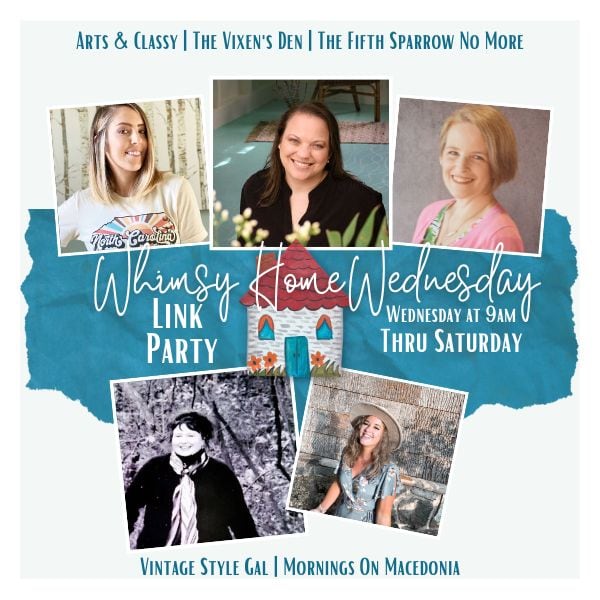 I Want To Introduce You To The Hosts of The New Linky Party!
Meredith Schneider created her blog back in 2012 with the hopes of being able to decorate her apartment with a small budget since she lived in Los Angeles. She found that at the time there weren't a lot of resources or sites that catered to helping renters decorate their spaces without hurting their deposit. Since the blog was born, Meredith began working on many projects. She specializes in furniture flips, upcycling projects, and Dollar Tree DIYs. Meredith is a Hometalk TV host and has been featured on PopSugar's Facebook show "Crafty AF", and a series called Design Dare on YouTube. Meredith has a passion for all things design on a dime and is excited to continue sharing creative ideas with the world. Follow along and see budget-friendly flips, projects, crafts, and more!
Charity with Mornings on Macedonia
Hey everyone, my name is Charity and I started this little blog to share my love of home decor, DIY projects, antique hunting and so much more! I am so happy that you stopped by and I can't wait to share my projects and ideas with you. I started a little Instagram account several years ago just for fun when we moved into our new home. But I wanted a space that was actually my own and where I could share even more. Hence, my blog! Follow along with me and you'll see all my projects, crafts, and more!
Do you love all things vintage, and like to incorporate those wonderful finds into your home decor? Oh good, me too! I become giddy like a schoolgirl when I find that perfect piece that I must have for our cozy cottage.
I am Cara with Vintage Style Gal, and I am so happy to meet you and share our ideas, projects, crafts, recipes, and of course we could not leave out our pup Bentley. He's an ornery kiddo who sometimes steals the show and always brings a smile to those who meet him, so come on over we can't wait to meet you!
Hi I'm Becky, DIY creative and maker of all the misadventures at The Vixen's Den! In this space you will find a variety of Furniture and Decor Makeovers with a few basic DIYs thrown in. My favorite projects are the ones that other people toss to the curb!
The goal of The Vixens Den is to inspire confidence and creativity by tackling challenges head-on and giving grace as we learn along the way. Join me on my DIY misadventures as I help you reimagine your hand-me-downs, garage sale finds, or just tired and outdated pieces.
And Me – Kristin With The Fifth Sparrow No More
I introduce myself over here on this page!
Now it's not going to be the best new linky party if you don't mingle, right?!? Head over and visit all my friends on the new linky party – Whimsy Home Wednesday!
Whimsy Home Wednesday Hosts
A New Linky Party Called Whimsy Home Wednesday
I am so happy to have introduced all my sweet friends and hosts of the new linky party! Please bookmark The Fifth Sparrow No More and come back next week at 9 AM to get inspiration from other bloggers and/or link up your blog posts.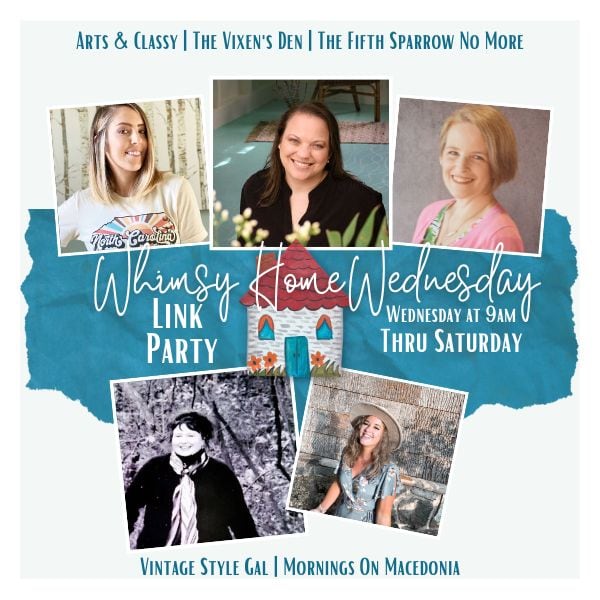 Now head to my friend Cara's blog where she shares more inspiration from these ladies!