A Pioneers Road Trip To Oklahoma, Bartlesville
Our pioneers road trip through Oklahoma continues (see Ponca City here and Pawhuska here) with visits to the places that Frank Phillips stayed and played in Bartlesville.
Bartlesville
Frank Phillips was the founder of Phillips 66 and referred to as "Uncle Frank" by employees and children in the city. He and his wife Jane were kindhearted and loved children, the land of Oklahoma and its people.
We toured the Frank Phillips home in downtown Bartlesville and learned quite a bit through the small museum on property, the tour guide, and our house tour. Our favorite part was that Phillips loved his community and made free circus tickets available to all the local school children. He and his wife Jane also gave each student a silver dollar and bag of fruit and candy during the Christmas season. Kindness seemed to pour out of these two big hearted people.
So much so as a tribute to his fair dealings and interest in their welfare, the Osage Indians adopted Frank Phillips into the tribe and made him a chief. He was given the Indian name, "Wah-Shah-She (Osage) Hluah-Ke-He-Kah (Eagle Chief)" — "Uncle Frank" was the first white man ever to attain this high honor.
This kindness extended to his escape from the city at Woolarac, named for the woods, rock and lakes that surrounded his compound. When we visited Woolarec we drove through a wildlife preserve to a world class museum, his hunting lodge, and an animal barn. A mountain man camp is held seasonally which shows how trappers lived in the 1800s.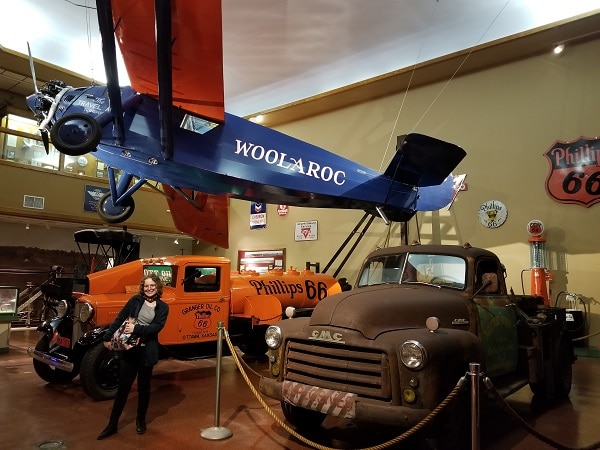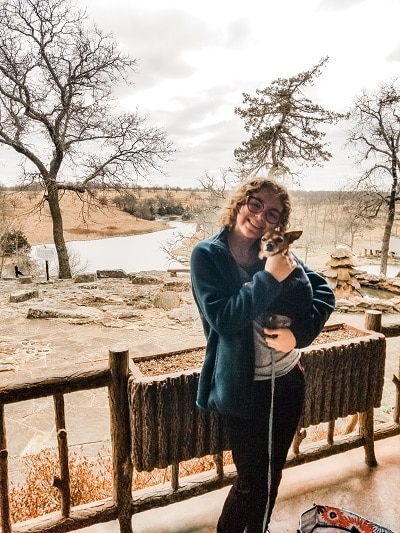 Frank Phillips founded Woolarac in 1925 and starting in 1927, he hosted an annual party for hard core regulars (genuine cowboys and tough guys from the area) and he called these annual blowouts the "Cow Thieves & Outlaws Reunion. The Reunion was a colorful affair attended by a variety of locals – old trail riders, horse traders, US Marshalls and a sprinkling of Frank's personal guests, including Phillips Petroleum directors and other businessmen whom he was trying to impress. Frank's ground rules for the party were quite simple. Any wanted outlaws would be granted a day of grace for the reunion. If there was an outstanding warrant, the law officers in attendance would have to wait for another time and place to serve their papers. Second and last rule: all guns and grudges had to be left at the main gate.
Dewey
After our sightseeing and touring we went antiquing in the small town of Dewey. We visited three stores –
The Linger Longer Antique Store and Soda Fountain – antiques with a milkshake in your hand, yes please!
The Vintage Loft Junk Boutique – with words like vintage, junk and boutique in its name how could it be anything but wonderful?
Mimi's Antique Market – great mix of antiques, collectibles, décor, shabby-chic, re-purposed items, and furniture.
Get your travel guide for a pioneers road trip to Oklahoma with all the sites we visited in Ponca City, Pawhuska, Bartlesville and Dewey here. You will find everything you need – links, addresses and phone numbers – to make your own visit to Oklahoma so easy to plan!