Travel With Us To The City Of Bartlesville, Oklahoma
Travel with us to the city of Bartlesville, Oklahoma located in northeast Oklahoma, about 50 miles north of Tulsa. It's known for its natural beauty, architectural wonders, and the local history.
The History and Development of Bartlesville
Jacob Bartles, son-in-law of Delaware chief Charles Journeycake, moved from Kansas, to Indian Territory in 1873. He settled first south of the present city of Bartlesville. In 1874, he opened a trading post and post office on Turkey Creek, in what is now East Bartlesville. Bartles first built a grist mill to produce flour. He then built a two-story general store and residence. Later on he added a rooming house, a blacksmith shop and a livery stable. Other settlers soon moved into the immediate area, which was then called Bartles Town. Bartles then provided the community with electricity, a telephone system and a water distribution system.
The present city's development began after William Johnstone and George B. Keeler opened a general store on the south side of the Caney River in 1884.
Congress passed an act in 1834 and created what became known as Indian Territory which included modern-day Oklahoma. Bartlesville was incorporated into Indian Territory in January of 1897. By the early 20th century, Indian Territory had been abolished and Oklahoma gained statehood in 1907.
The Frank Phillips Home In Bartlesville
Frank Phillips was the founder of Phillips 66. He was referred to as "Uncle Frank" by employees and children in the city. He and his wife Jane were kindhearted and loved children, the land of Oklahoma and its people.
We toured the Frank Phillips home in downtown Bartlesville. We learned quite a bit through the small museum on property, the tour guide, and our house tour. Entering the home is like stepping back in time to the early 1900s and gives you a chance to experience life of Frank Phillips and his family in their home, tastes, fashions, and values.
The 26 room Neo-Classical home was built in 1909 for Frank Phillips and his family. The tour led by a docent takes you through the three floors of the home.
After the tour (or while you wait for the tour to start) walk through the Interpretive Center, a museum and gift shop located in the original garage behind the home. In the center are interactive displays on the humble beginnings of the family, family life, Phillips Petroleum Company, and the many philanthropic endeavors with which the Frank Phillips family performed throughout their lives.
One of those philanthropic endeavors was that Phillips made free circus tickets available to all the local school children. He and his wife Jane also gave each student a silver dollar and bag of fruit and candy during the Christmas season. Kindness seemed to pour out of these two big hearted people.
So much so as a tribute to his fair dealings and interest in their welfare, the Osage Indians adopted Frank Phillips into the tribe and made him a chief. He was given the Indian name, "Wah-Shah-She (Osage) Hluah-Ke-He-Kah (Eagle Chief)". "Uncle Frank" was the first white man ever to attain this high honor.
Woolaroc Museum & Wildlife Preserve
This kindness extended to the ranch retreat of oilman Frank Phillips, hidden away in the rugged Osage Hills of northeastern Oklahoma. The retreat was named Woolaroc Ranch, a word derived from combining the woods, rock and lakes that surrounded his compound. He entertained locals as well as dignitaries from all over the world.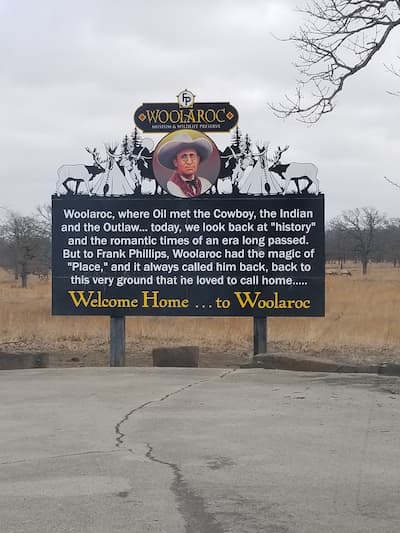 Frank Phillips founded Woolarac in 1925 and starting in 1927, he hosted an annual party for hard core regulars (genuine cowboys and tough guys from the area) and he called these annual blowouts the "Cow Thieves & Outlaws Reunion. The Reunion was a colorful affair attended by a variety of locals – old trail riders, horse traders, US Marshals and a sprinkling of Frank's personal guests, including Phillips Petroleum directors and other businessmen whom he was trying to impress. Frank's ground rules for the party were quite simple. Any wanted outlaws would be granted a day of grace for the reunion. If there was an outstanding warrant, the law officers in attendance would have to wait for another time and place to serve their papers. Second and last rule: all guns and grudges had to be left at the main gate.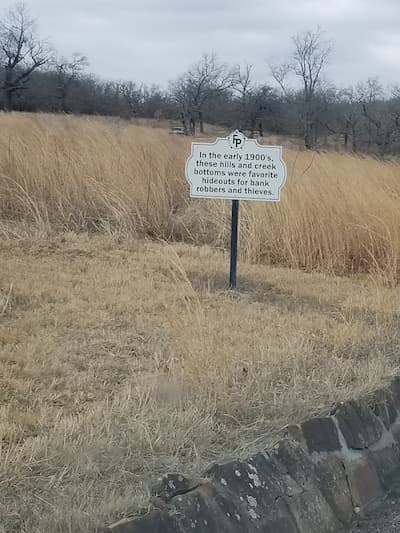 When we visited Woolaroc we drove two miles through a 3700 acre wildlife preserve of exotic animals and animals native to Oklahoma. This led to a world class museum, his hunting lodge, and the animal barn.
Woolaroc Museum
The museum has exhibits of Native American art including pottery, baskets, beads, blankets, and cultural art. Beautiful art exhibits at the Woolaroc include a paintings and sculptures by many of the "Old Masters" of western art as well as contemporary Western artists and various landscape artists. Woolaroc Museum displays several other collections including a Western exhibit that displays saddles, the gear of cowboys, several carts and wagons and a large display of 101 Ranch memorabilia. This western collection also has the finest collections of Colt firearms in the world.
The company's history is displayed at the museum as well. In this area is an aviation display to recount the story of the 1927 Pacific Air Race from California to the Territory of Hawaii. The airplane the Woolaroc was the winner.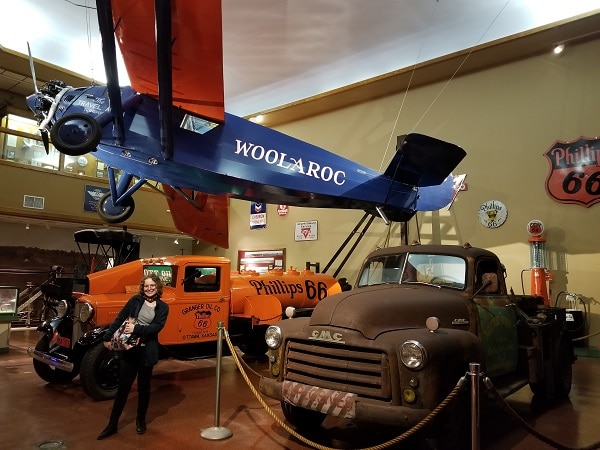 Oil helped define this part of the country between 1850 and 1950. In this room you can explore a lease house that oil workers and their families called home, horse pulled oil wagons, vintage gasoline trucks, an 1895 rope tool rig, and a working pump jack that shows how the oil man got the black crude out of the ground. A replica of an original Phillips 66 station is also located in this room, complete with a gas pump.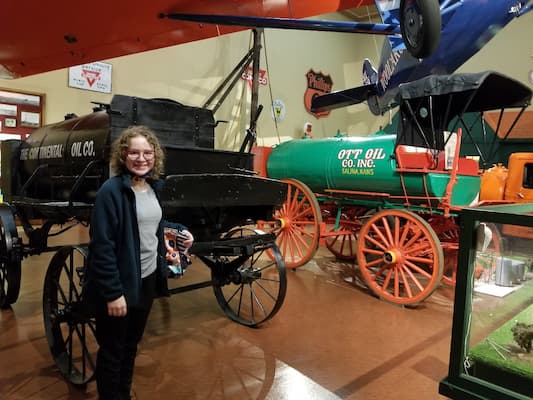 Woolaroc Lodge
The lodge began as a small cabin that overlooked Clyde Lake. It was completed in early 1927 with eight bedrooms — six guest rooms and two separate, connecting rooms for Uncle Frank and Aunt Jane, each with its own bathroom. The walls of the Great Room are covered with mounted heads from the ranch animal collection. As these animals died from natural causes, the mounted heads and horns were used as decorations. There are 97 heads and 107 sets of horns on the walls.
Frank Phillips entertained all types of people at his lodge. From locals to business associates everyone was welcome.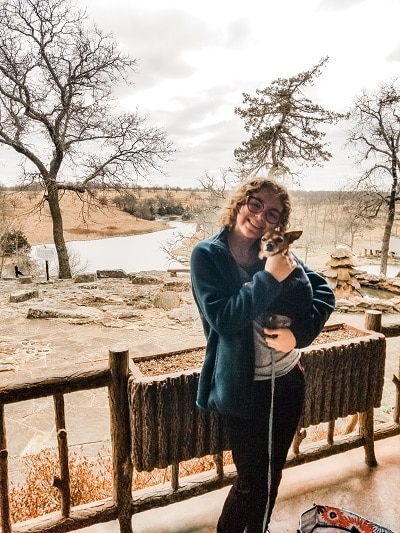 Woolaroc Animal Barn
One of the best things at Woolaroc is the animal barn. The building was originally the dairy barn of Frank Phillips. The barn is home to many different animals, including rabbits, chickens, goats, and donkeys. Petting the babies and mamas was especially delightful for Amory who was missing her goat back home!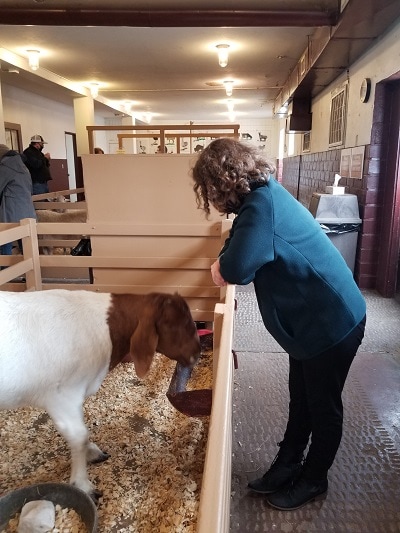 Woolaroc Museum & Wildlife was a wonderful place to visit! I encourage you to take the short drive out to visit this national historic landmark.
Travel With Us To The City Of Bartlesville, Oklahoma For Nature, History and Fun
After Bartlesville We Visited the Nearby City of Dewey, Oklahoma
After our sightseeing and touring we went antiquing in the small town of Dewey. This was one of the best places we visited in Oklahoma for antiques. You know I love a small town with shops lined up on its Main Street to wander through and we had a great time visiting their downtown area.
The Linger Longer Antique Store and Soda Fountain – antiques with a milkshake in your hand, yes please!
The Vintage Loft Junk Boutique – with words like vintage, junk and boutique in its name how could it be anything but wonderful?
Mimi's Antique Market – great mix of antiques, collectibles, décor, shabby-chic, re-purposed items, and furniture.
Get your travel guide for a pioneers road trip to Oklahoma with all the sites we visited in Ponca City, Pawhuska, Bartlesville and Dewey here. You will find everything you need – links, addresses and phone numbers – to make your own visit to Oklahoma so easy to plan!
Before You Fly Away To Travel To The City Of Bartlesville, Oklahoma
Pin any of the images to Pinterest so you plan your own trip to the city of Bartlesville, Oklahoma – hover over any picture to save the pin to your Pinterest account. So easy!