Fill a Cloche With Fall's New Trend – Mushrooms!
I want to share how to fill a cloche with fall's new trend – mushrooms! Use these ideas to create bell jars for all of your autumn vignettes!
Mushrooms are sprouting up everywhere (see what I did there!). In ornaments, candles, pillows, and in cloches. So as I often do I see something I love but consider it weigh too pricey and set off to DIY something with mushrooms, fall's new trend.
The Mushroom Cloche That Was My Inspiration
This small cloche from Arhaus comes in a set of four and I think it is the perfect touch to a fall vignette. These are ornaments and would be perfect for a woodlands themed tree!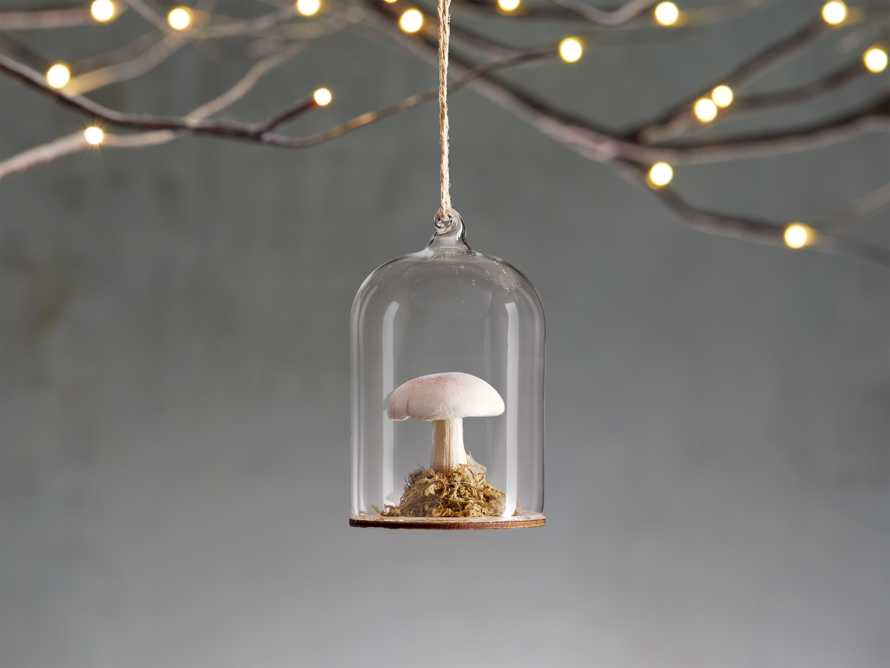 Ideas To Fill A Cloche With Fall's New Trend – Mushrooms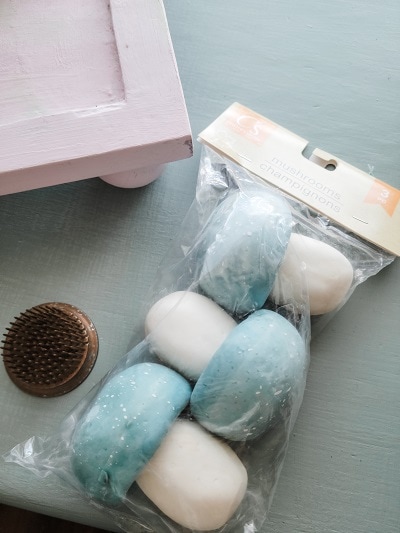 Mushrooms of course! They are so many varieties to choose from and I linked a few below.
Moss – you can use sheets of moss, loose moss or moss rocks. Does anyone else think of Frozen's Rock Trolls when they see moss rocks? No, just me? Okay 😉
Speaking of Rock Trolls, a gnome or troll in your cloche would be super fun.
Small botanical prints or vintage ephemera of mushrooms. I love using Graphics Fairy for this, my premium membership is so worth it!
Butterflies – set one on top of your mushroom
Small Twigs
Rocks
Dried floral like eucalyptus or berries
Creating A Cloche With Fall's New Trend – Mushrooms
Step By Step
Mushrooms
Use a flower frog to stick your mushroom on, the foam goes right into the spikes on the frog
Use a skewer through the bottom and insert into floral foam on the bottom of your cloche. Cover the floral foam with moss.
Moss
Add moss of choice to the bottom of your cloche
Nestle your mushroom into the moss.
Or if using a skewered mushroom insert into floral foam under your moss.
Extras
Add your extras to your cloche
I printed a small botanical print of mushrooms
I backed it with the packaging from the mushrooms (fifth sparrow no more all the things!) and taped it to a popsicle stick
I inserted the popsicle stick into my flower frog behind my mushroom.
Using Your Mushroom Cloche in A Fall Vignette
I used a woodlands theme to create a vignette on my new to me apothecary cabinet! I placed everything on this riser I fifth sparrow-d no more.
Since I am loving the look of amber bottles in all my fall décor these bottles with their unique shape had to come home with me from the thrift store!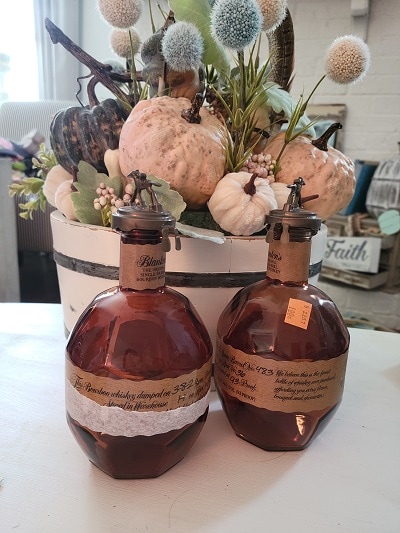 I added a word vintage flash card, animal vintage flashcards, dried fall foliage, pinecones and a brass deer to my vignette with the mushroom cloche I created.
Fall's New Trend – Mushrooms!
Before You Fly Away To Create With Mushrooms – This Fall's New Trend
Pin this any of the images to Pinterest to create your own mushroom cloche for your fall decorating in your home – hover over any picture to save it to your account. So easy!