Easy DIY Lampshade Makeover
This lampshade is the fifth sparrow no more after getting rescued from the trash. Let's make it over and create a beautiful shabby chic lampshade with a quick and simple DIY no sew fabric project. Dirty fabric was removed and it was upcycled and used as a cloche.
Lampshade Cloche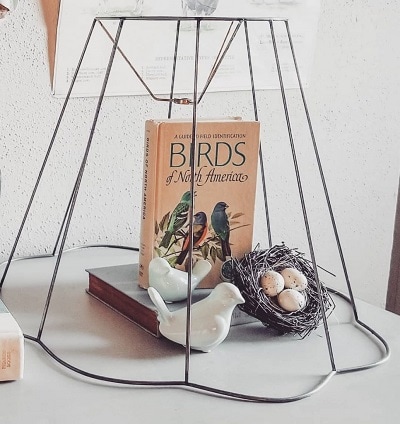 This lampshade is now returning to its original purpose with this easy DIY project of knotting strips of chiffon and chenille bias tape around the lampshade frame. It will be the perfect feminine touch to this 1940's hand painted ceramic lamp, I think! You can also makeover a thrift store lamp for your new to you lampshade!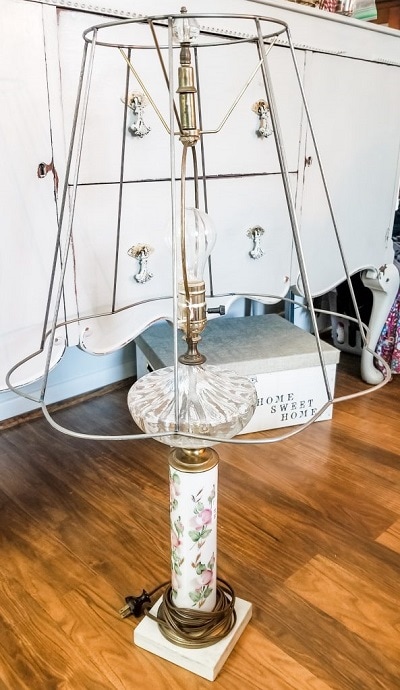 Lampshade DIY Project – The Steps To Makeover Yours
Gather your supplies
Chiffon – I used 2 1/4 yards for this lampshade.
Quilting Ruler or Yardstick
Chenille Bias Tape – I used about 30 yards
Your Lampshade, stripped of it's original fabric
Cute helper is optional but always a good idea. My Taquito helps a lot!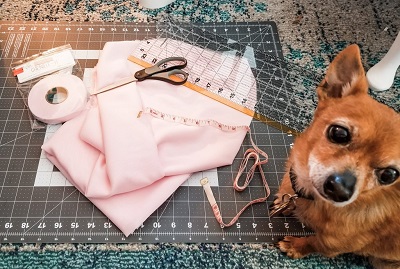 Measure and Cut Your Strips of Material and Bias Tape
Using the measuring tape measure the height of your lampshade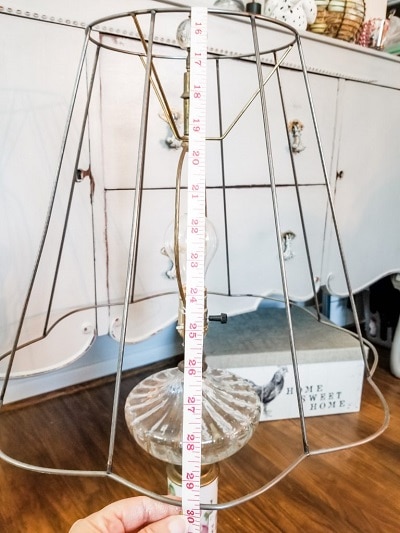 Add seven inches to this measurement to allow you room to tie your knot.
Cut your strips into your height of lampshade plus seven inches and 3 inches wide.
Cut chenille bias tape to the height of your lampshade plus seven inches.
Tie your strips around your lampshade frame. I found it easier to tie the strips to the lampshade while on the lamp! I tied all of my chiffon strips onto my lampshade and went back in with my chenille bias tape and filled in. My knots were all over the place (story of my life!).
More Ideas for a Shabby Chic Lampshade Makeover
Tie all your knots at the bottom of the frame to create a ruffle or fringe.
Alternate your knots top and bottom so that you have ruffle or fringe on the top and bottom.
Tie the knots and move them to the inside so you have a smooth chiffon lampshade cover.
The Finished Lampshade Makeover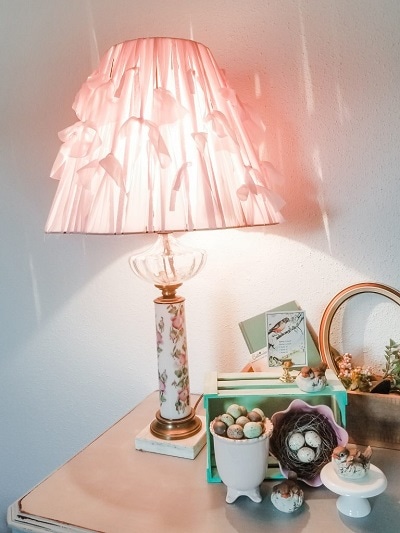 The fifth sparrow no more, this lampshade is now a beautiful, frilly and shabby chic addition to this hand painted ceramic lamp.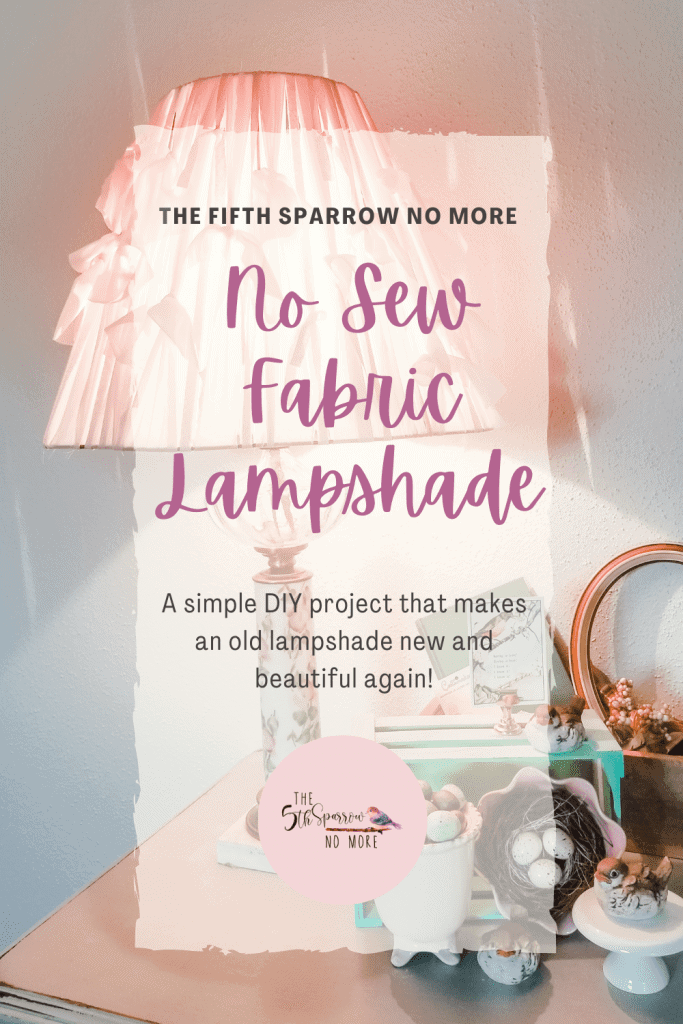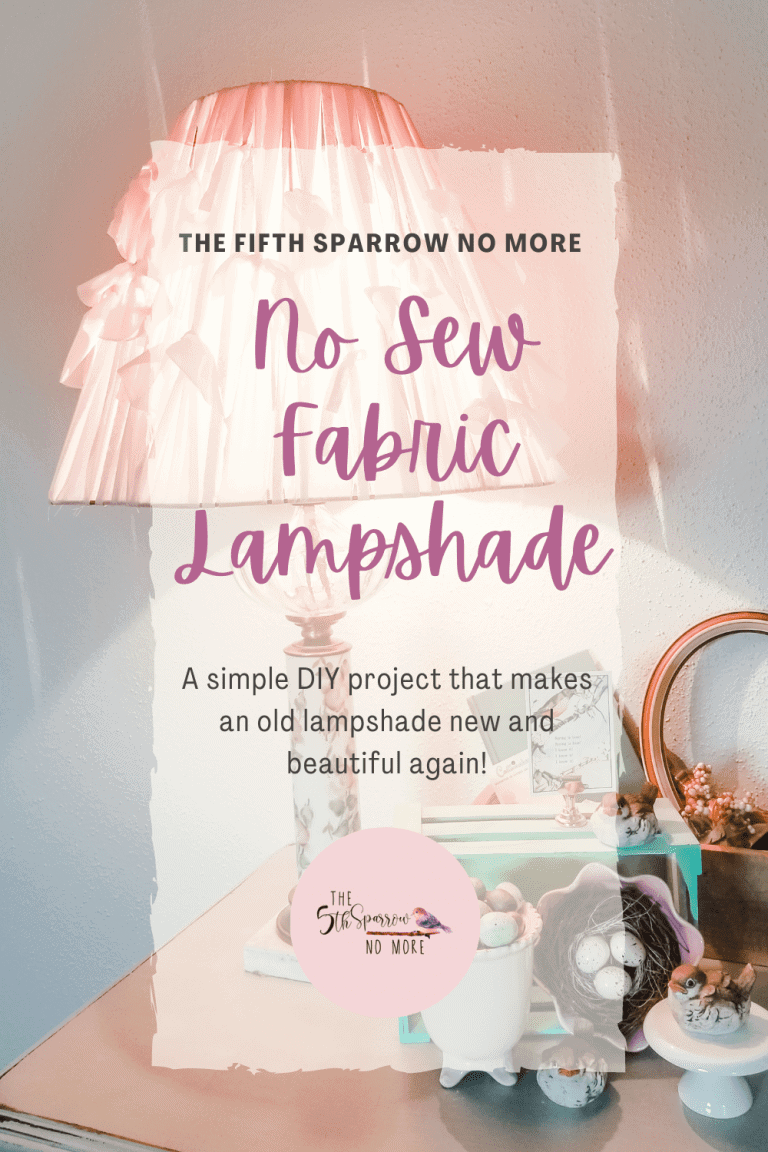 The Fifth Sparrow No More is a participant in the Amazon Services LLC Associates Program, an affiliate advertising program designed to provide a means for sites to earn advertising fees by advertising and linking to Amazon.com. Clicking on a link is no charge to you and helps The Fifth Sparrow No More to keep writing posts to help you find the beautiful in your home and yourself!