Ten Ideas For Your Patriotic Décor
These patriotic décor ideas will have you creating gorgeous red, white and blue vignettes for the Fourth, Memorial Day and Flag Day! Using patriotic decorations from the Dollar Tree and commonly found items at thrift stores, antique shops, and estate sales is the perfect way to jump start your decorating to celebrate America and show your patriotic spirit!
The perfect place for the best red, white and blue decor is everywhere in your home, inside and out! Give the star-spangled treatment to the dining table and its centerpiece and each table setting. Show your American pride in the living room on the coffee table and mantel. Use Fourth of July decorations in your outdoor space on front porches and on the front door. Celebrate any of the patriotic holidays like a July 4th bash, a Flag Day festivity or a Memorial Day picnic with July flair by adding your own red, white, and blue decorations.
Ideas For Your Patriotic Décor – Number One
Garland
Use garland in patriotic colors to loop through tiered trays, vignettes and centerpieces. Wood bead garlands are easy to find in home décor stores, online or by making your own. A great way to make your own is by using this from a thrift store!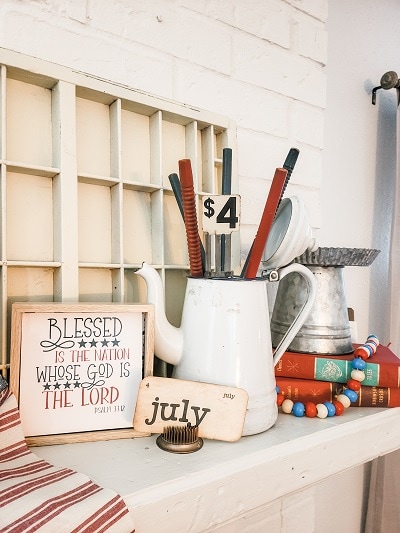 An easy way to customize a wood bead garland for Independence Day decorations is to evenly space out and tie patriotic fabric on the bead garland.
DIY projects like this blueberry garland and that cute sign made with free printables dress up a patriotic tiered tray for your July home decor.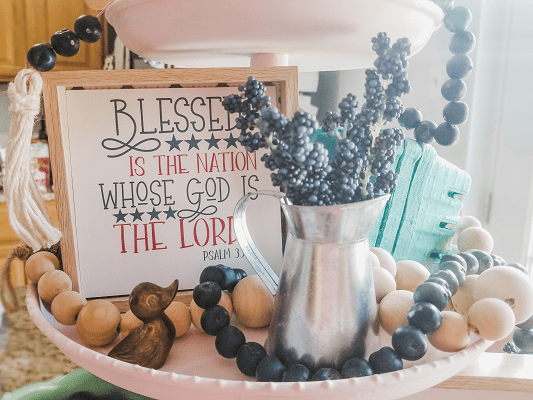 Ideas For Your Patriotic Décor – Number Two
Flash cards, Signs & Printables
Vintage flash cards are at the top of my favorite vintage ideas for patriotic décor! You can combine flashcards for fun word combinations. They are a perfect addition to all of your displays along with your July 4th decorations in vignettes to help with your theme!
Fun Combos –
In this vignette on my mantel I created an apple pie theme – nothing is more American than apple pie, right? Using a flash card combo, a printed recipe sign and a beaded garland I am all set for summer decorating!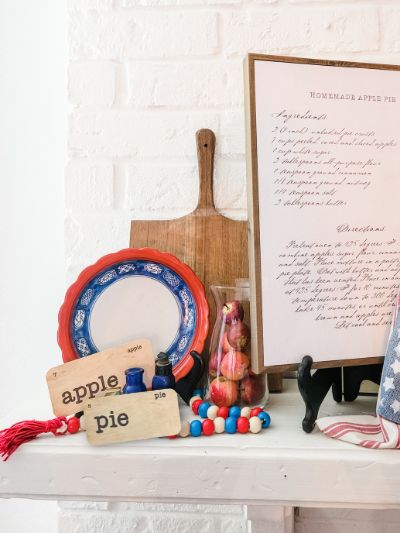 I put a thrifted drink dispenser to good use and "fifth sparrow-d no more" it to create a cake stand for a small space to display patriotic decorations. I used the red, white and blue flash cards, a bingo card printable, along with vintage pieces like an old calendar scroll and thread spools to create a farmhouse patriotic display.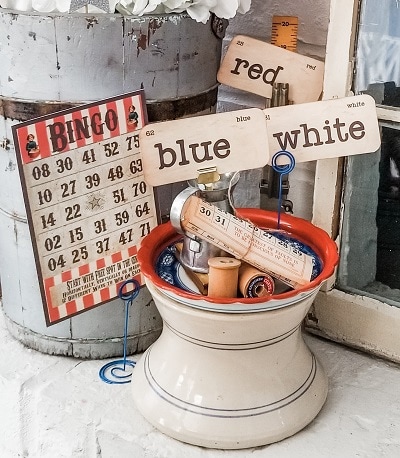 Ideas For Your Patriotic Décor – Number Three
Cash Register Flags
A fun way to add vintage charm to your displays is to place cash register flags in floral arrangements, centerpieces and more. The number four is perfect to pair with the July flash card. Can't find any cash register flags and want to make them inexpensively? Make your own with this DIY project using the handles of Dollar Tree paper fans.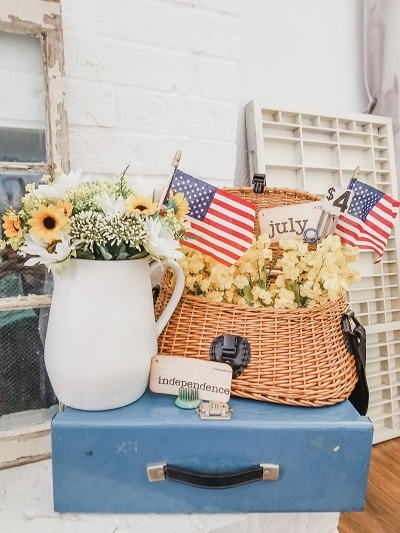 Ideas For Your Patriotic Décor – Number Four
Tins
Tin cans and buckets are easy to find in antique malls, thrift stores and resale shops. There are lard buckets, coffee cans, potato chip tins and more. Look for ones in color schemes of red, white and blue colors or have a star shape in their logo. Fill them with floral stems, small American flags and star picks.
Use tin cans and buckets for outdoor 4th of July decorations too-
Use the tins for outdoor decorations for a Fourth of July celebration and place an arrangement of red white and blue balloons inside (use rocks as an inexpensive weight).
Summer is a good time for plants in the colors of the flag. Tins or buckets make unique planters for flowers like red or white petunias, white vinca or blue lobelias.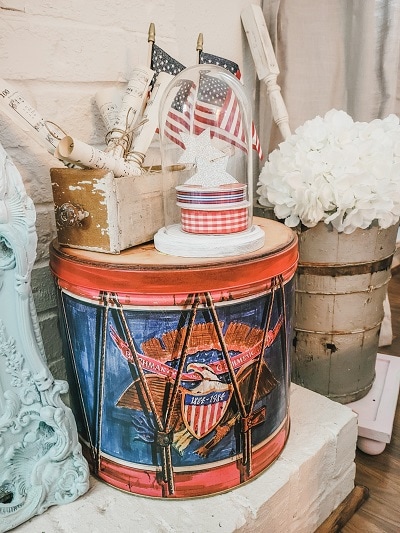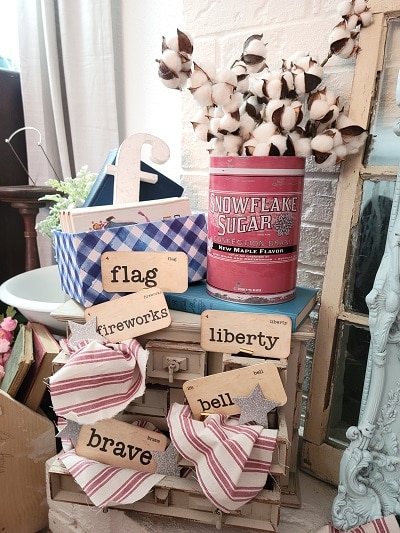 Speaking of outdoors, a Fourth of July party is an amazing way to get friends and family together during this time of year.
Set up a picnic table with all the fixings for a BBQ station (mine would be a vegan BBQ!).
Use antiques and thrifted pieces to create a centerpiece or to use as serving pieces.
Party favors filled with red, white and blue candies is an inexpensive way to say thank you to guests for coming!
To make sure everyone has a good time, set up a Fourth of July crafts table for the littles and a few games like cornhole for the bigs.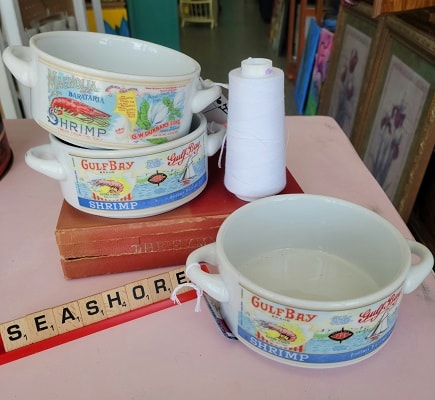 Ideas For Your Patriotic Décor – Number Five
Bottles, Bowls & pitchers
Shop your home for red, white and blue items that can be used as patriotic decor that can be used on tiered trays, tablescapes, mantels and vignettes.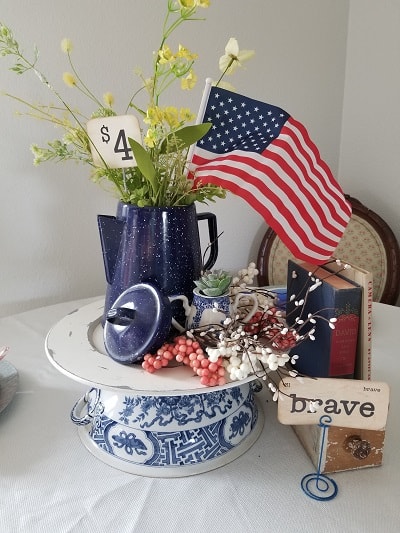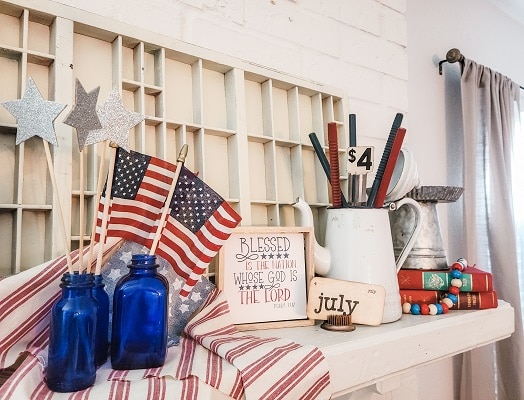 Ideas For Your Patriotic Décor – Number Six
red, white & blue books
I use books in all my decorating! Use in tiered trays, mantels, vignettes and centerpieces as risers, for color, and as accents. For summer decorating I like to use all of the red, white and blue books I have in my stash. Bonus points if those books are patriotic in theme and have great American titles or pictures!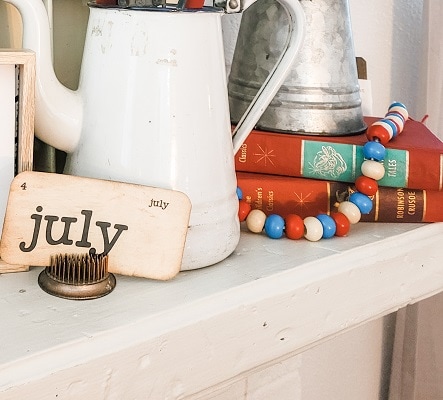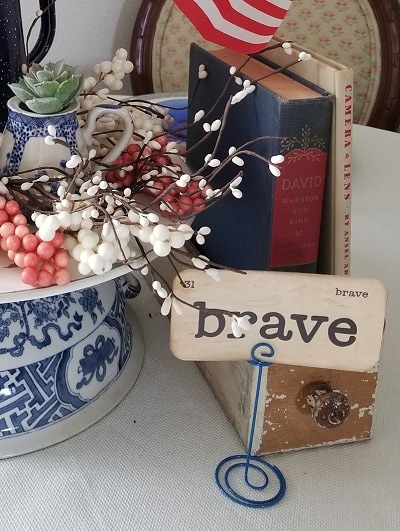 Ideas For Your Patriotic Décor – Number Seven
Flags
Flags of course! Purchase small flags and distress by soaking in coffee after washing to remove the starch. Use these in floral arrangements, pitchers, bottles and jars. Or DIY 4th of July decorations by making your own vintage flags by using fabric with red and white stripes, a star stencil, and wooden spindles as the flag holder.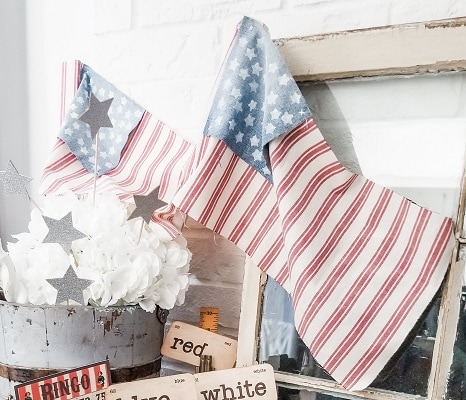 Ideas For Your Patriotic Décor – Number Eight
Stars
What would red, white and blue be without the stars? From old star cookie cutters to items printed with stars the possibilities are endless! DIY stars by placing star stickers on the end of lollipop sticks to create picks you can use in all of your arrangements!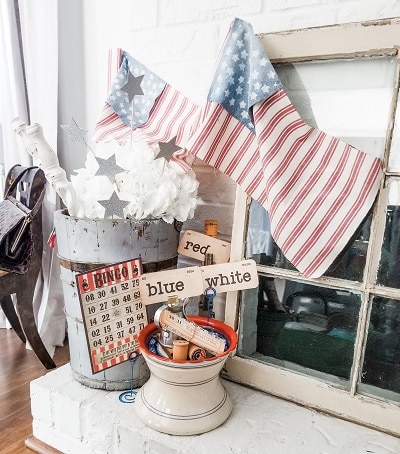 Ideas For Your Patriotic Décor – Number Nine
Vintage Music Scrolls
With amazing songs like The Star-Spangled Banner, My Country 'Tis of Thee", You're A Grand Old Flag, God Bless America, and This Land Is Your Land how can we not celebrate America with music? Use vintage music scrolls, sheet music and records or album covers to add a musical touch to your displays. I used vintage music scrolls in this vignette as a nod to these great patriotic songs.
And Last But Not Least – Number Ten Of The Ideas For Your Patriotic Décor
Red White & Blue Floral
Fill your tins, pitchers, mason jars and bottles with
White flowers and cotton stems
Blue Flowers
Red flowers and berries
In this red, white and blueberry tiered tray I used a combination of white flowers and sprigs of blueberries.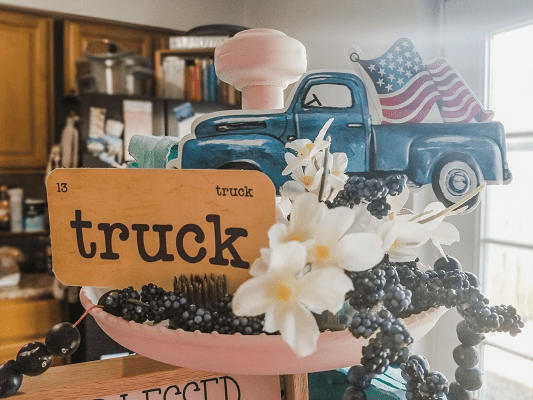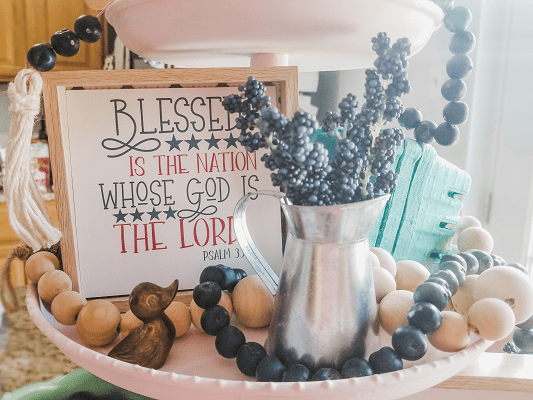 Before You Fly Away To Create Your Patriotic Displays For Summer
Pin this post to Pinterest to help you remember all of the patriotic decor ideas – hover over any picture or the image below to save it to your account. This makes it so easy to remember the DIY ideas and patriotic crafts!