Ten Vintage Ideas For Your Patriotic Décor
These ten vintage ideas for your patriotic décor will have you creating gorgeous red, white and blue vignettes for the Fourth, Memorial Day and Flag Day! Using commonly found items at thrift stores, antique shops, and estate sales these ideas will jump start your decorating to celebrate America!
Vintage Ideas For Your Patriotic Décor – Number One
Garland
Use garland to loop through tiered trays, vignettes and centerpieces, These wood bead garlands are easy to find in home décor stores, online or make your own with things found at the thrift store.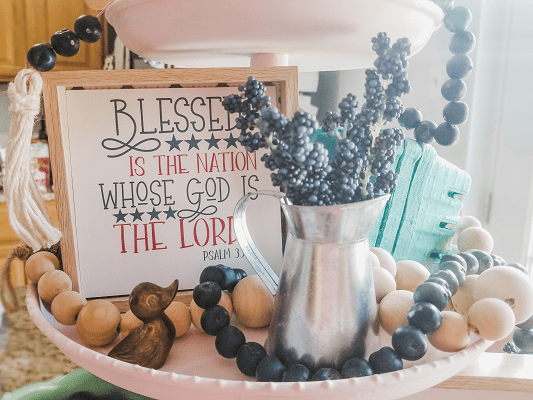 Wood bead garland and this DIY blueberry garland dress up a patriotic tiered tray. And a red, white, and blue wood bead garland add fun and a touch of whimsy. Make your own using this from a thrift store!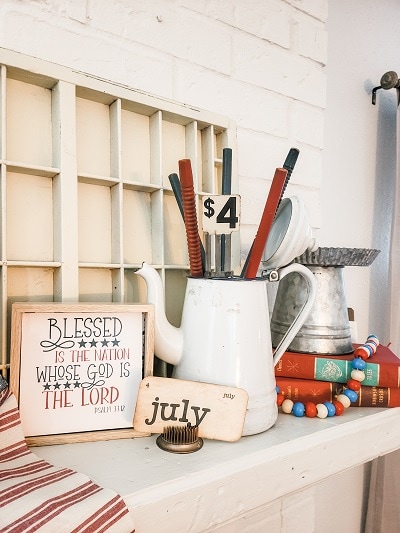 Vintage Ideas For Your Patriotic Décor – Number Two
Flash cards, Signs & Printables
Vintage flash cards is at the top of my ten vintage ideas for patriotic décor! You can combine sets for fun word combos, use them with cash register flags, and place them in vignettes to help with your theme!
Fun Combos –
In this vignette on my mantel I created an apple pie theme – nothing is more American than apple pie, right? Using a flash card combo, a printed recipe sign and a beaded garland I am all set for summer decorating!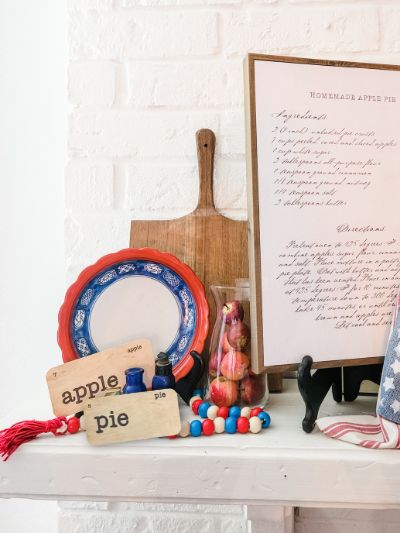 In this spot I used the red, white and blue flash cards plus a bingo card printable to create a farmhouse patriotic display.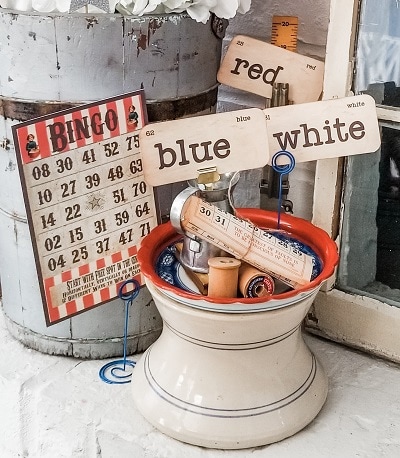 Vintage Ideas For Your Patriotic Décor – Number Three
Cash Register Flags
Add cash register flags to your patriotic displays. The number four is perfect to pair with the July flash card. Can't find any cash register flags and want to make them inexpensively? Make your own with this DIY!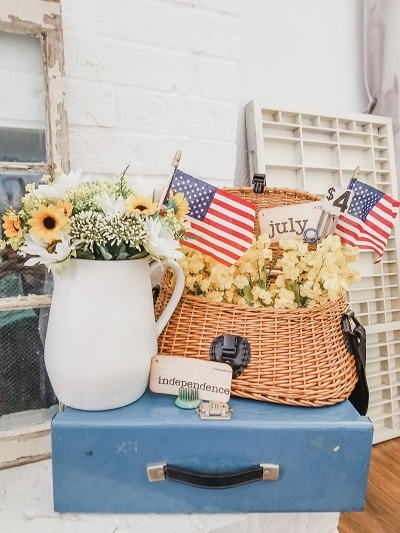 Vintage Ideas For Your Patriotic Décor – Number Four
Tins
This is an easy one to find in antique malls, thrift stores and resale shops. There are lard buckets, coffee cans, potato chip tins and more. Fill them with floral stems, flags and star picks.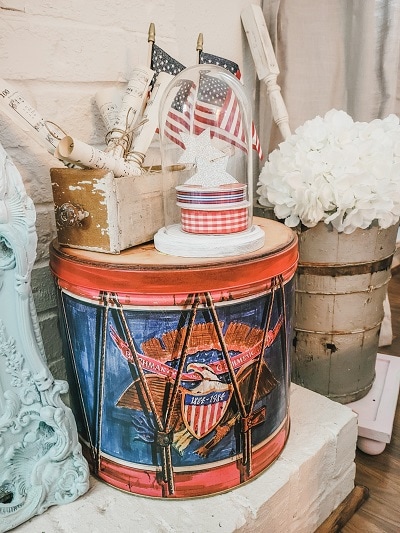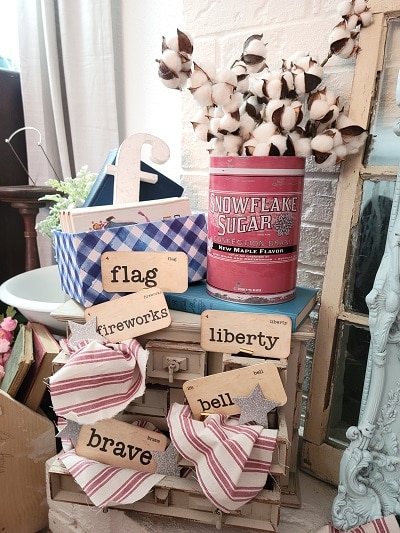 Vintage Ideas For Your Patriotic Décor – Number Five
Bottles, Bowls & pitchers
A blue enamel coffee pot, a white ironstone pitcher, blue bottles of all sizes and milk glass jars are all very patriotic in color. And they can be used in so many places – tiered trays, mantels and vignettes.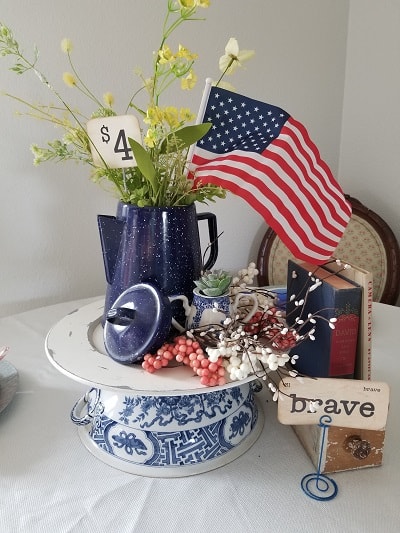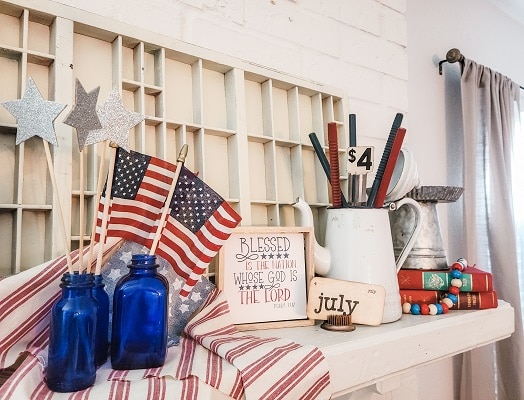 This vignette has stacks of gumbo bowls in a red, white and blue at the beach display! Love using this red hymnal, vintage sewing notions, and bowls to create a unique patriotic beach themed display.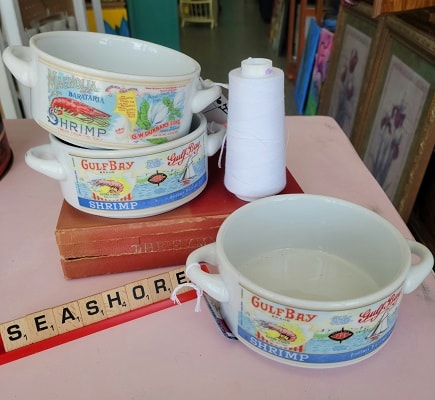 Vintage Ideas For Your Patriotic Décor – Number Six
red, white & blue books
I use books in all my decorating! Use in tiered trays, mantels, vignettes and centerpieces as risers, for color, and as accents. For summer decorating I like to use all of my red, white and blue books I have in my stash.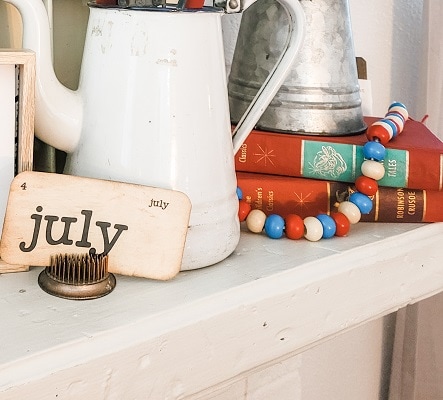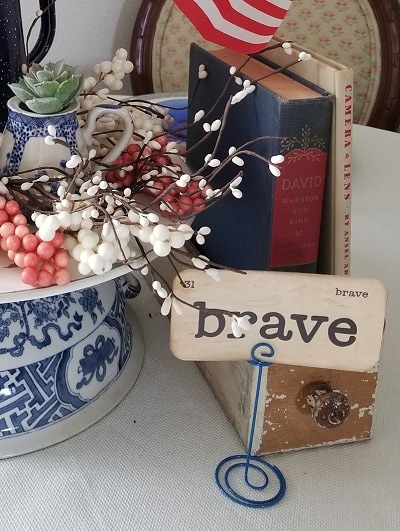 Vintage Ideas For Your Patriotic Décor – Number Seven
Flags
Flags of course! Purchase small flags and distress using coffee stain or washing in the washing machine to take the starch out. Use these in floral arrangements, pitchers, bottles and jars. Or make your own with this easy DIY project.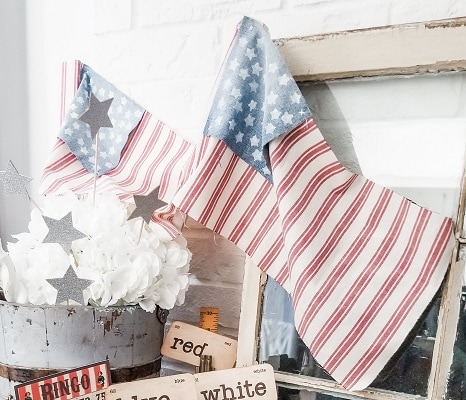 Vintage Ideas For Your Patriotic Décor – Number Eight
What would red, white and blue be without the stars? From old star cookie cutters to items printed with stars the possibilities are endless! Use stars on the end of lollipop sticks to create picks you can use in all of your arrangements!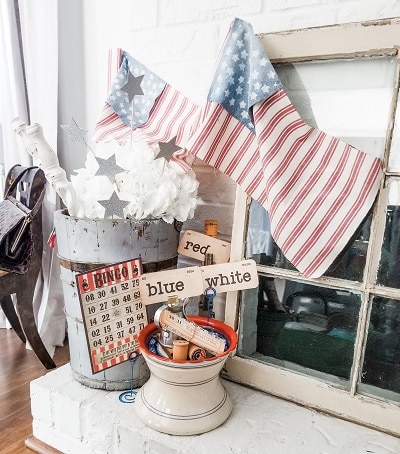 Vintage Ideas For Your Patriotic Décor – Number Nine
Vintage Music Scrolls
With amazing songs like The Star-Spangled Banner, My Country 'Tis of Thee", You're A Grand Old Flag, God Bless America, and This Land Is Your Land how can we not celebrate America with music? Use vintage music scrolls, sheet music and records or album covers to add a musical touch to your displays. I used vintage music scrolls in this vignette as a nod to these great patriotic songs.
And Last But Not Least – Number Ten
Red White & Blue Floral
Use flowers, cotton stems, berries and more to fill all of your tins, pitchers, and bottles and to tuck into your tiered trays. In this red, white and blueberry tiered tray I used a combination of white flowers and sprigs of blue berries.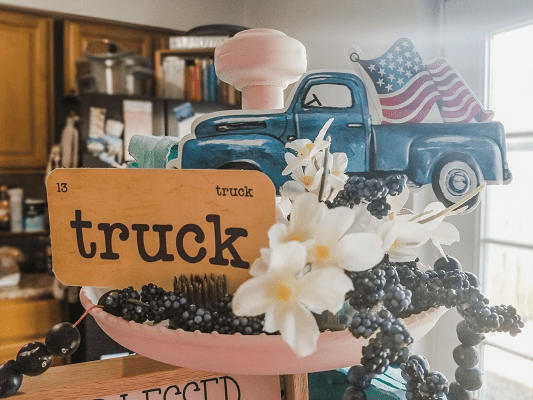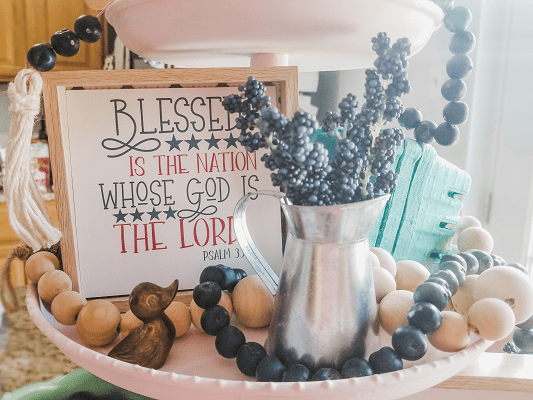 Before You Run Off To Create All Of Your Patriotic Displays For Summer
Pin this post to Pinterest to help you remember all of the ideas – hover over any picture or the image below to save it to your account. So easy! And to make it super easy to find all of these things while thrift shopping I created the Thrift Store Shopping Guide. It has lists of items to look for, more ideas how to use them, and printable lists to fill in and keep you organized and on track!