Create A Farmhouse Tablescape For Easter
Create a farmhouse tablescape for Easter with me! This table is set with pastel colors, rustic décor, sweet vintage pieces and vintage inspired flash cards from Twigs and Fluff. I can't wait to show you how easy it is to put together an Easter centerpiece and table settings that are adorable and perfect for the Spring! Let's get started!
What I Used On My Farmhouse Tablescape For Easter
I shop year round for all the holidays and if I see something for a Christmas in June or Easter in November I buy it. And then I store it in a vintage suitcase so I don't lose it! I have hunted Etsy, Ebay, Mercari and the googler (as my momma says) to find for you what I have found shopping in thrift stores, antique shops and Goodwill stores. Here are my finds – happy shopping from the couch!
The only thing I was unable to find were the small wooden chickens in the Fresh Eggs box. These chickens were given to me by my awesome aunt who understands my love of vintage and sends me treasures! But I think you can find some chicks easily or perhaps more eggs for each compartment.
Farmhouse Table- Pastel, Rustic and Vintage
Creating The Centerpiece For The Farmhouse Tablescape For Easter
I started by covering the table with a white tablecloth. I've listed my favorite links for tablecloths and other décor on this page! Using the 1-2-3 Formula to A Beautiful Table's centerpiece formula I started by placing and bunching up a lace tablecloth. On this I placed the farm fresh box. I filled each compartment with brown paper shreds to act as a "nest". A chicken is set on top of each of the five compartments. On the last compartment two vintage inspired flash cards from the Farmhouse Love set is displayed in a flower frog. The silver cabbage leaf bowl is filled with pastel Easter eggs, the rest of the eggs are set in egg cups throughout the centerpiece.
The color pink was carried throughout the centerpiece. It is in a few pieces – from the ranunculus in the vintage inspired French crock on the pink cake stand to the pink background of the bird block sign.
A sweet and petite lamb reminds us of the reason for the season. It is also just one of the many animals that appears on the table. Because when I think of Spring, I think of new beginnings and all of the new baby animals!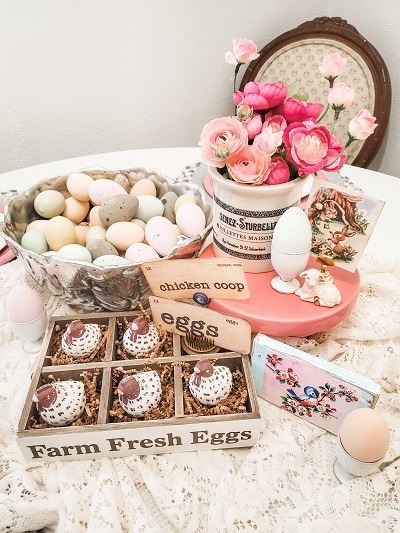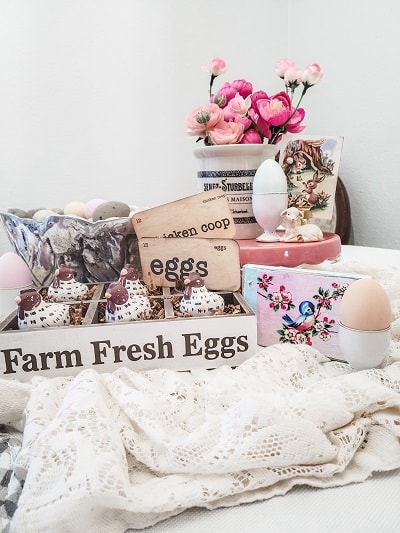 At Each Place Setting On The Farmhouse Easter Tablescape
Once again, I used the 1-2-3 Formula To A Beautiful Table, because it makes it so easy to put a table setting or centerpiece together!
Farmhouse Easter Place Setting – Pastel, Animals, and Rustic
On the bottom, or the first layer, of the place setting is a round grey and white gingham placemat. On top of this is a galvanized charger, a pink dinner plate and on top a goat plate. We purchased these goat plates on our trip to Pawhuska at the Pioneer Mercantile. Since we love all the goat things these plates were a must purchase and have made an appearance on other tablescapes like this one. Even the napkins are in napkin rings that look like animals!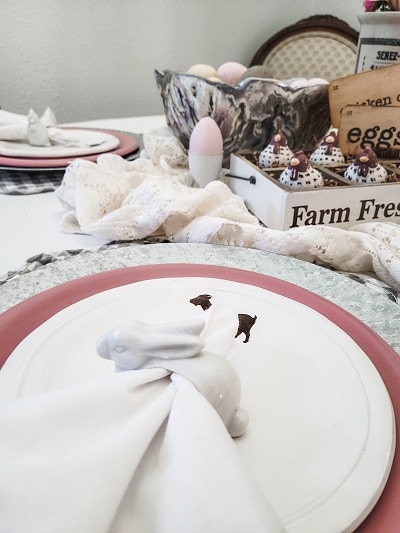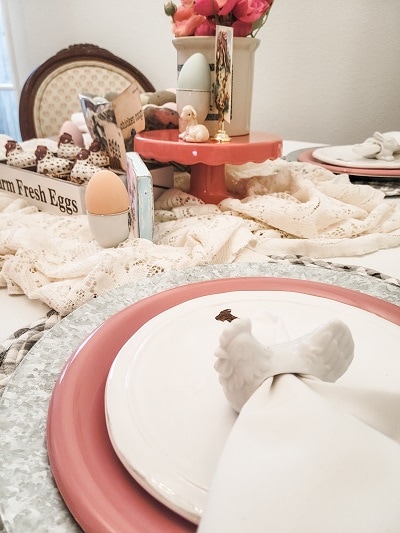 Before You Fly Away To Create A Farmhouse Tablescape For Easter
Pin any of the images to Pinterest so you can use these ideas to create your own Easter tablescape – hover over any picture to save the pin to your Pinterest account. So easy!