Easily Change Up A Wood Bead Garland For Each Season
Today I am going to share how to take one wood bead garland and make it holiday and season specific with just fabric! You can easily change up a wood bead garland for each season with fabric tassels with just scraps and twine and have a different look all year.
For the fabric I suggest using quilting cottons. I am lucky because my daughter is a quilter and she has a rule to never throw anything away unless it's smaller than your palm. And that means I have a ready supply of fabric scraps to make banners, fabric tassels, and more.
Grab your rag bag and let's get started!
The Supplies Needed To Change Up A Wood Bead Garland
The below links are affiliate links. This means I make a small commission at no cost to when you click on the link and purchase.
Create Tassels To Change Up A Wood Bead Garland
Cutting Fabric
Cut strips of fabric into half an inch wide and 24 inches long. For each tassel you will need 10 strips of fabric. Put on your favorite show and cutting your fabric into strips.
The Twine
Cut two pieces of twine, one at eight inches and one at twelve inches. Lay the twelve inch piece horizontal. Lay the eight inch piece vertically on top in the middle (you'll make a cross). Place 10 strips pattern side down on top of twine. Tie the twelve inch piece around the bundle and flip over.
Finish The Fabric Tassel
Fold the fabric in half and wrap the twelve inch twine around the top about half an inch from the fold. Knot this twice to secure. The eight inch piece is left loose at the top to tie to bead garland.
Tie The Fabric Tassel To The Bead Garland
Tie your fabric tassels on your bead garland evenly apart the length of it. Use the eight inch piece of twine to tie the tassel onto the bead garland.
A Finished Garland To Easily Change Up A Wood Bead Garland For Each Season
These fabric tassels allow me to have one wood bead garland and use it for every holiday, season or decor theme. You can purchase wood bead garland at craft and home decor stores, like Hobby Lobby. Here are a few wood bead garlands that I like.
Wood Bead Garlands – Click Pictures To Learn More
The above links are affiliate links. This means I make a small commission at no cost to when you click on the link and purchase.
Wood Bead Garland For Each Season
Patriotic fabric tassels for Memorial Day, Fourth of July and Flag Day. I added in a red and white yarn to the tassels.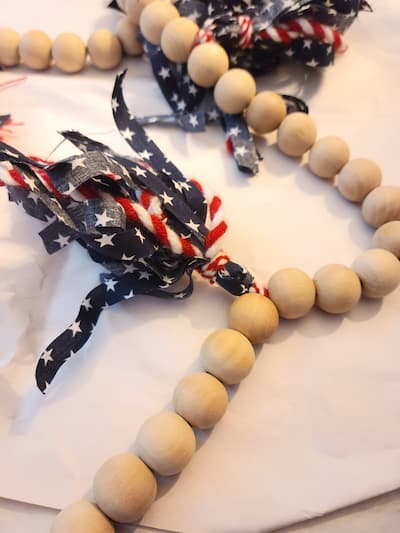 Summer and spring fabric tassels for a fun accent at Easter, for summer decorating and spring displays.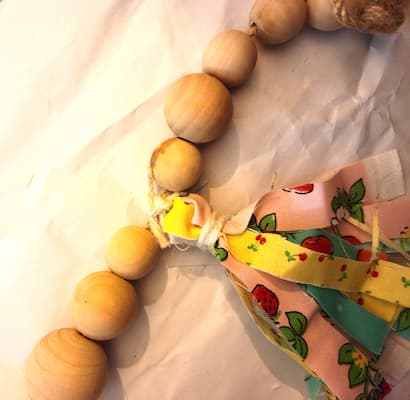 A Patriotic Tiered Tray Using The Wood Bead Garland We Changed Up
The Bottom Of the tiered Tray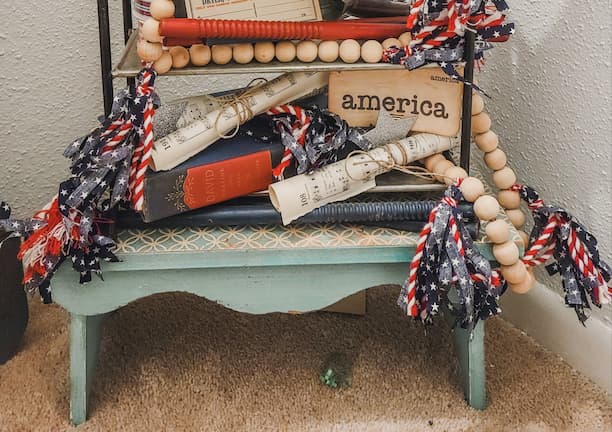 An old red and blue book (I use books all the time in my decorating)
Music scrolls
A vintage inspired flash card
Glittery stars
Blue Rhythm Sticks (or use spindles)
Wood bead garland
The Best Tiered Tray Guide is the best ever – 365 tiered tray themes, hundreds of filler ideas, and pictures to share placement techniques, DIYs and more.
The Freedom Rings Flash Card Set is a patriotic themed set of eleven flashcards that are perfect for vintage everyday and holiday Americana decorating include the words: America, red, white, blue, brave, fireworks flag, star, independence, July and liberty.
Vintage sheet music scrolls are a perfect décor piece for events, holidays and everyday decorating. All sheets of music are from hymnals dating from the 1930s – 1940s and no two are alike. These are tied with a hemp cord – no glue – so you can also use these unrolled and laid flat.
THE middle OF THE TIERED TRAY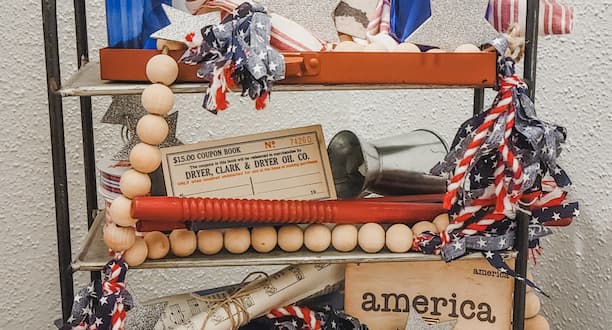 Red Rhythm Sticks (you can use spindles too)
Vintage Ephemera – Oil & Gas Coupon Book
Small Metal Pitcher
Stars stacked on a ribbon roll riser
Wood bead garland
THE top OF THE TIERED TRAY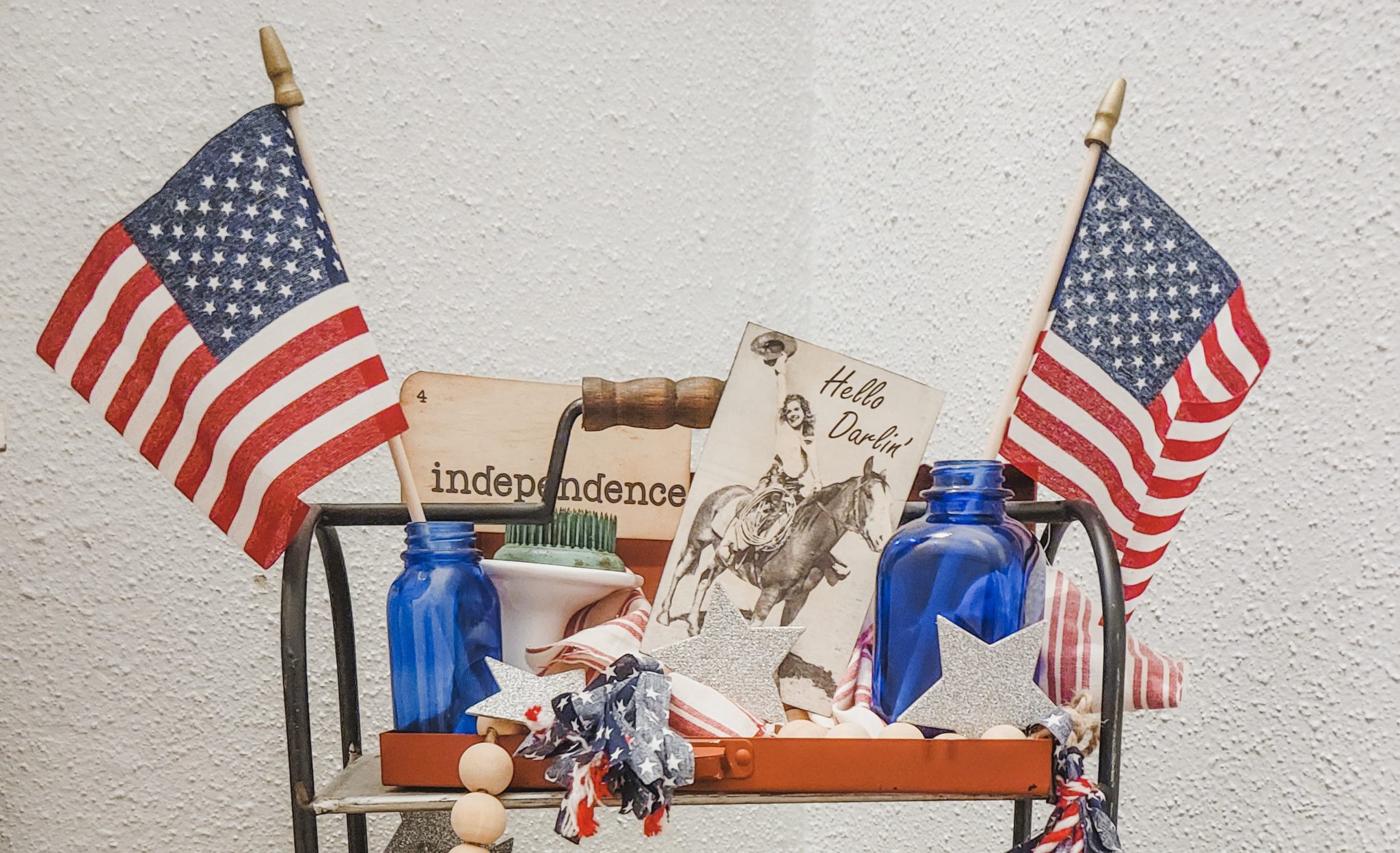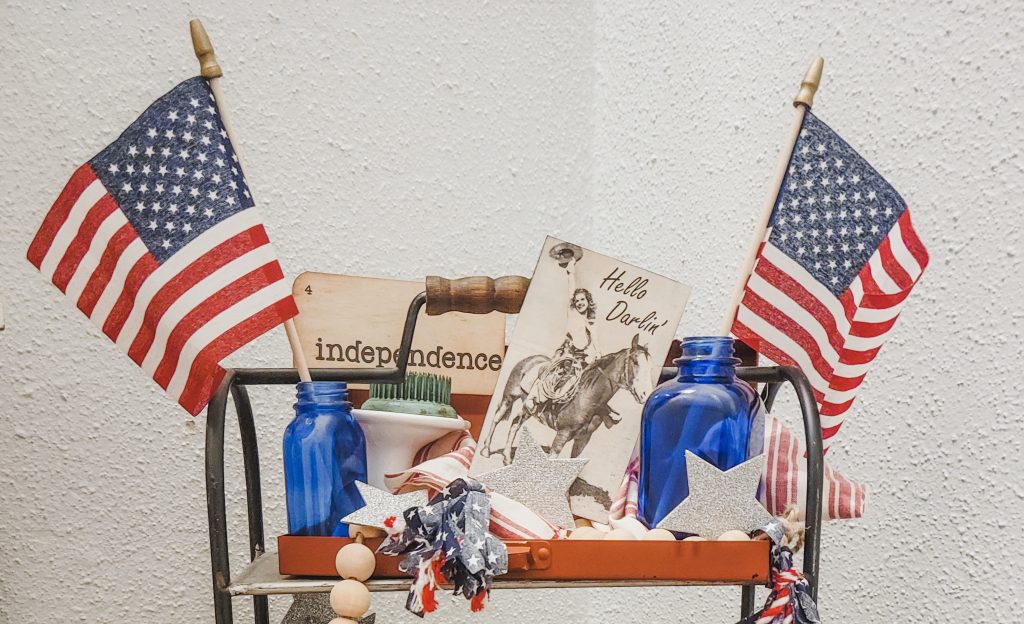 Small red metal toolbox
Glittery stars
Blue Glass Bottles with American flags
Ticking fabric
A vintage inspired flash card in a flower frog on a cupcake riser
Vintage postcard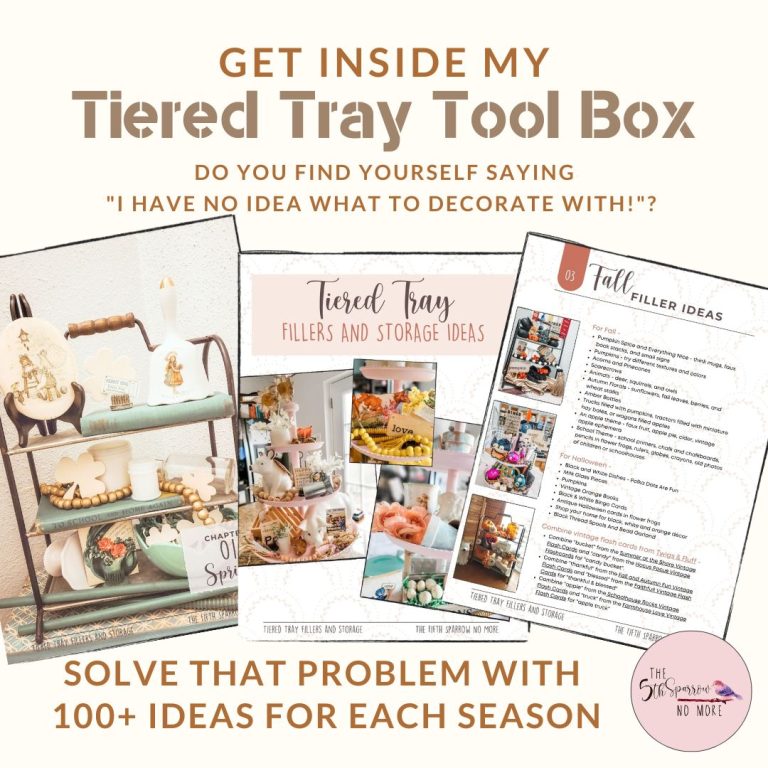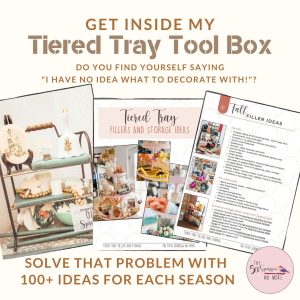 My IBC Friends And Their Projects
I have joined the International Bloggers Club (IBC)! The IBC is a group from all over the world who challenge each other every month to make something using a common theme. This month's theme is Don't Scrap It.
Well technically I did scrap it, I used scrap fabric to create tassels that makes it easy to use my wood bead garland from one season to the next. My IBC friends made some neat projects too with the theme!
Sara with Birdz of a Feather didn't scrap the pieces of an old sewing machine, she created something completely new.
Michelle with a Crafty Mix created a new piece of art from scraps.
Rachel with Tea and Forget Me Nots takes a scrap sideboard piece and makes it functional again with this project.
Before You Fly Away To Easily Change Up A Wood Bead Garland For Each Season
Pin any of the images to Pinterest so you can create fabric tassels to change up your wood bead garland – hover over any picture to save the pin to your Pinterest account. So easy!