Creating The Best Fall Tiered Tray in The Patch
Creating the best fall tiered tray in the patch is easy and fun with these ideas. Putting together the best fall tiered tray in the patch is a fun walk through a patch of perfect shapes, size and colors. These tips and tricks will help you make a tiered tray pleasing to the eye and fun to create.
A Tiered Tray Is Made Of Multiple Vignettes
A tiered tray usually has two or three levels that need to be decorated. They will be decorated separately but in relation to each other. Let's walk through that!
What's A Vignette?
A vignette (in the decorating world) is a small, carefully chosen display made up of a group of objects. That grouping is displayed on a shelf, a table, or elsewhere in the home. You may be creating vignettes in your home and not even realize it!
Make The Levels Of Your Tiered Tray Relate to Each Other
You can make your tiered tray pleasing to the eye by repeating colors, textures and objects throughout. Another way to do this is simply by the items you place in the trays. It can almost be like a treasure hunt to see what is tucked in and throughout your tiered tray levels.
The Best Tiered Tray is Made Of Repeating Colors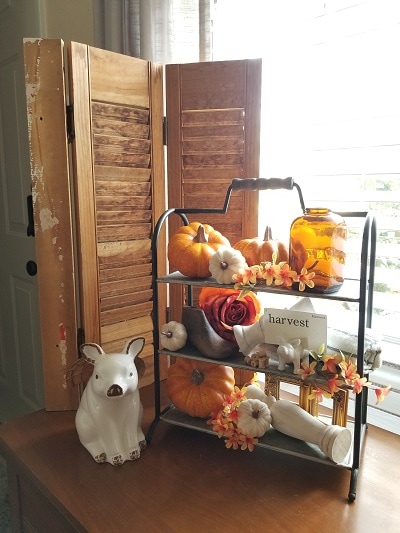 In this tiered tray the colors white, brown and orange are repeated through the levels in the different vignettes I created. I used small white pumpkins, candlesticks and a pig place card holder with a Fall and Autumn Fun Flashcard to continue and scatter the color white in a zig zag pattern through the tiered tray. Orange pumpkins and flowers and the color brown in the amber bottle as well as the shoe and mini frames also help the eye move throughout and make it pleasing to look at.
Fall & Autumn Flashcards
The Fall and Autumn Fun Vintage Inspired Flashcards is a set of eleven flash cards for decorating a mantel, setting a table, taking a tiered tray up to the next level, or filling a vignette! Includes the words: fall, pumpkin, pie, autumn, leaf, harvest, hayride, scarecrow, thankful, sunflower, and owl. Get them printed or print at home!
Choose A Theme and Color Scheme To Make the Best Tiered Tray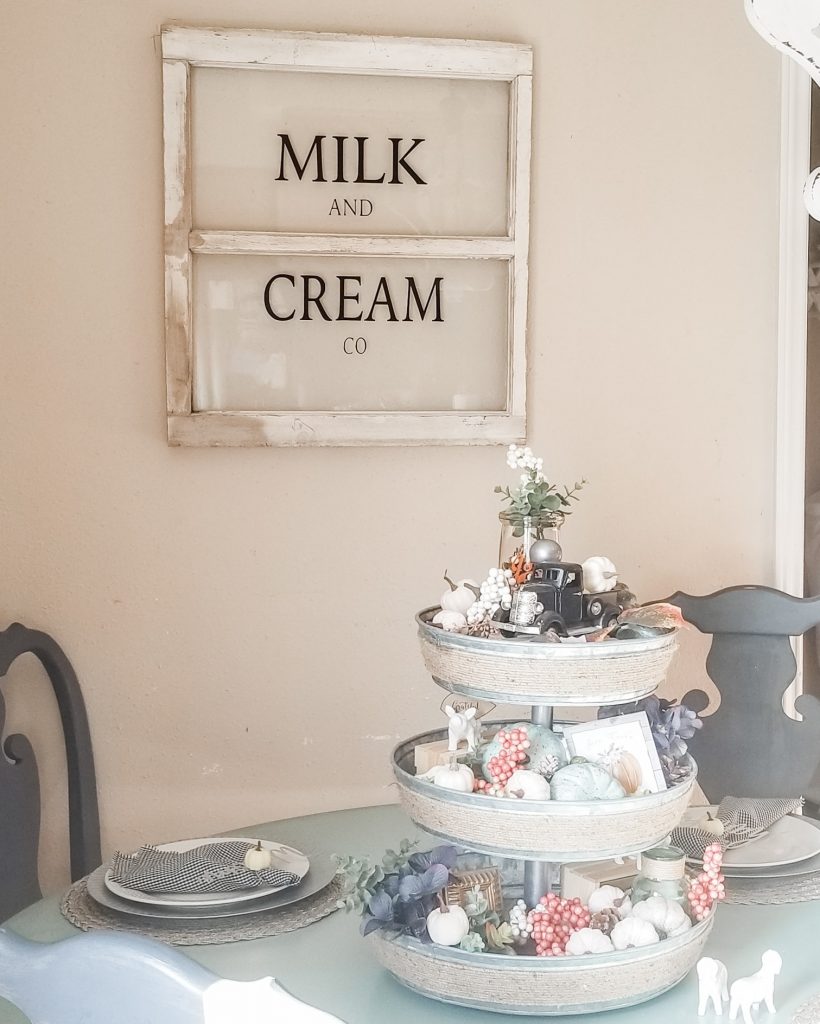 In this tiered tray pumpkins and pastels were the theme and color scheme. The small berry sprigs are scattered throughout which I bought on spring clearance and use year round. That's one of the reasons I shop year round for my holiday décor! Small wooden crates from the dollar store are used to lift items and create height. The green glass bottle helps to continue the color of the minty green pumpkins throughout. And the deep purple flowers are unexpected and continue the color of the vintage truck on the top tier.
Items To Look For To Make The Best Tiered Tray In The Patch
While thrifting, junking and shopping in my favorite stores I look for these items to keep on hand to style my tiered trays –
small signs – Hobby Lobby has a great selection of these and check out this post on how to make your own
cupcake stands – I have linked up some cute ones I like in Feather Your Nest
small floral sprays – Dollar Store is great for these
small objects that fit your home décor (I'm always on the lookout for birds, farm animals, and country décor)
small to medium jars, vases, pitchers and bottles
small boxes and books
Vintage Flashcards – the ones in Twigs & Fluff are perfect
Get Your Copy of The Thrift Store Shopping Guide – includes my go-to list for tiered trays.
How Do I Create The Best Tiered Tray in The Patch Without A Tiered Tray?
Stack cake stands to create a faux tiered tray! My favorite tiered trays (including ones where the base unscrews for easy storage – can I get a hallelujah from the back?!) are listed below as well as in Feather Your Nest.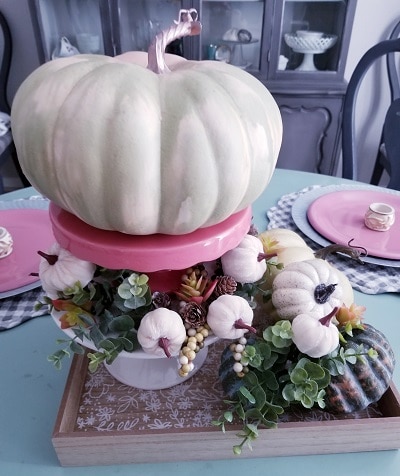 Sprigs, succulents and pinecones were the theme for this tiered tray. I used a large pumpkin on top and small vignettes of the greenery sprigs, succelents and pinecones on this fall centerpiece. Another idea for a fall centerpiece is can be found here and see how I am painting all my pumpkin stems here.
Click on pictures below to see more great ideas on decorating tiered trays!
How Will You Create The Best Tiered Tray In The Patch?
Pin any of the images to Pinterest so you can create the best fall tiered tray in the patch with the – hover over any picture to save the pin to your Pinterest account. So easy!