What To Buy Now For Your Fall Mantel
I'm going to let you in on a little secret …
Are you ready?
I am head first up to my toes in all the things but I want a pretty mantel. One pretty spot in my home that is not messy and chaotic (like my life). So I want to share what to buy now for your Fall mantel to spruce it up and make everyone "fall" in love with your decorated home!
Hint or tip (I'm not sure which) – only take pictures of said decorated mantel not the pile of laundry next to it and everyone will think your home is all decked out in the autumn feels! You are welcome!
Fall Mantel in Simple Brown and White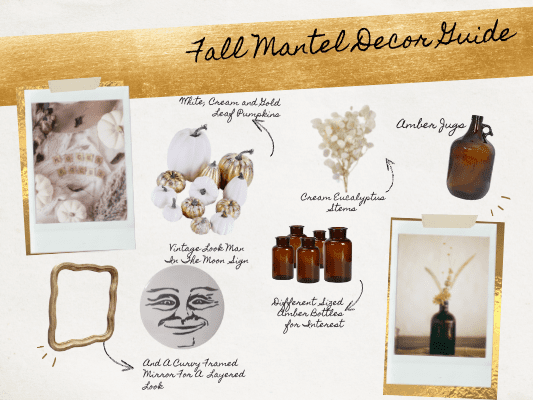 The Details To Buy Now For Your Fall Mantel
Layers on a mantel add interest. I added to your shopping guide a curvy framed mirror and this vintage looking man in the moon sign to layer together. Prop these two pieces up on your mantel stacked together like I did with these frames on this mantel or with this mantel below.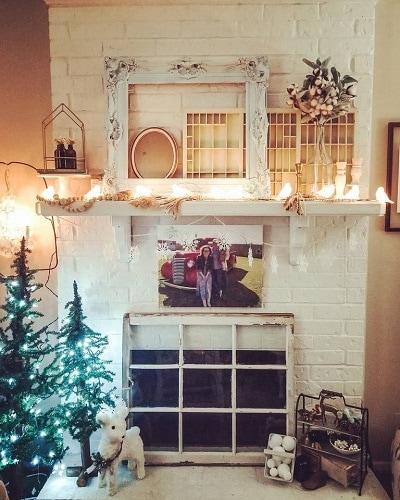 Amber bottles and jugs are a great addition to our mantle. They stay within the color scheme and add some reflection. Add height by placing them on books or cake stands on either end of your mantel. My favorite cake stands are listed in Feather Your Nest.
Split up and place your your cream eucalyptus in your amber bottles. Place your pumpkins in groups of three or five, odd amounts are always more pleasing to the eye! Put a grouping of pumpkins on either end with your amber bottles and in the middle with your layered frames.
Your Fall Mantel Is Done!
Shopping was easy …
You knew exactly what to buy now for your fall mantel and where to place it ….
If you would like help planning and shopping for the rest of your spaces for this crazy fall season I got you! Sign up to receive a free Fall holiday shopping planner here!
The Fifth Sparrow No More is a participant in the Amazon Services LLC Associates Program, an affiliate advertising program designed to provide a means for sites to earn advertising fees by advertising and linking to Amazon.com. Clicking on a link is no charge to you and helps The Fifth Sparrow No More to keep writing posts to help you find the beautiful in your home and yourself!