One Room Challenge Week Two – DIY Chandelier Project
This week I am sharing my DIY Chandelier Project for the One Room Challenge. My dad and I combined a thrifted chandelier and basket to replace an outdated fan.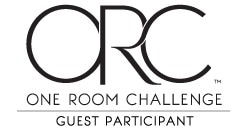 The Fan Had To Go To Make Way For My New Chandelier
Let's remember where we started …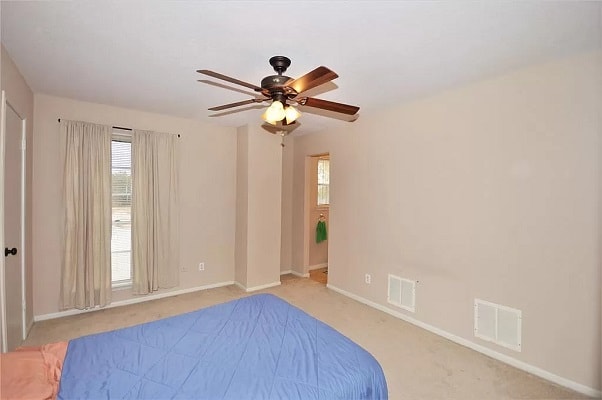 I hated that fan, I know those are strong words but I did. Reasons include –
It never worked as a fan – why? I have no idea.
The light was horrible. And I do not like being in the dark, it makes me sad.
And I did not like waking up to this huge brown fan over my head.
But I do like waking up to this …
Collective aaah!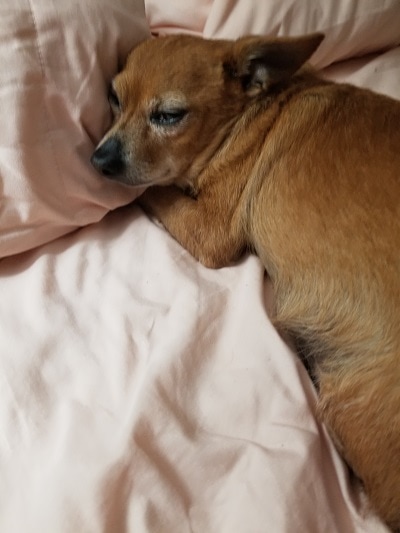 And so it was time to DIY a chandelier, yes I said DIY. Because budget!! And why purchase a ready made when you have things in thrift stores ready to be "fifth sparrow-d no more"!
DIY Chandelier Project Step by Step
Before I start I must say if you are not skilled or knowledgeable in electricity and installing light fixtures find a helper that is. I wrangled my dad into helping! And he was lot more helpful than my usual helper, see why here and here. My Dad helped me with my kitchen drawer project and at that time only his hands made the pictures. He started calling himself the Hillbilly hand model because the post was featured on Hometalk. Today you get to see all of my dad, he is looking to build a modeling portfolio. HAHAHA!
A Chandelier DIY – What Supplies You Need
You'll need a pair of pliers with wire strippers and a screwdriver plus these items –
Step One To New Lighting
Remove the glass from your chandelier. This was done simply by unscrewing the fittings at the top. Thank you to our Hillbilly hand model …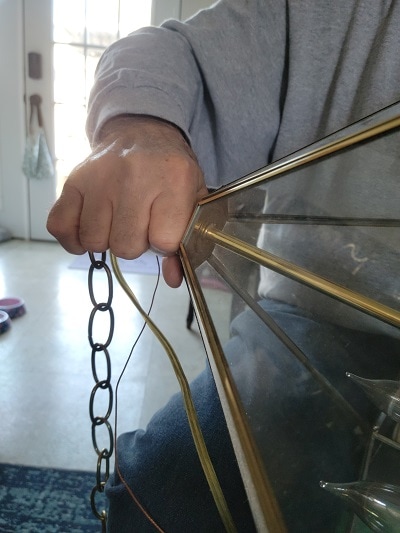 Step Two To DIY A Chandelier
Pull wiring up through the top of your chandelier. There was a lot of extra wire in this chandelier. This is how you connect the light to the ceiling and this wire will loop through the chain to hang from the ceiling. Depending on the length you need for your ceiling pull your wiring out.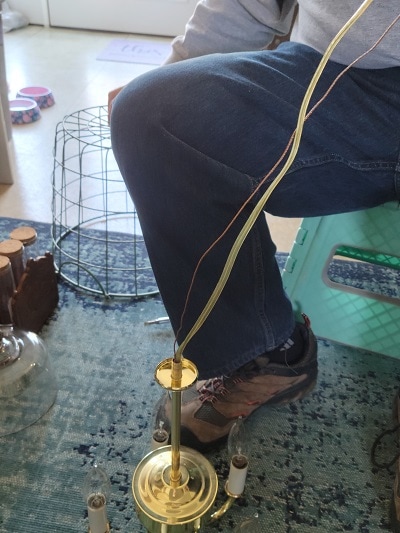 Step Three – Combining Basket and Chandelier
Feed your wire and top of chandelier into the hole in the middle of your basket. If your basket does not have a hole use a metal drill bit to create one. Using the locknuts and check rings secure your chandelier into the basket. Then feed your wire through the ceiling canopy (the large plate that fits onto your ceiling).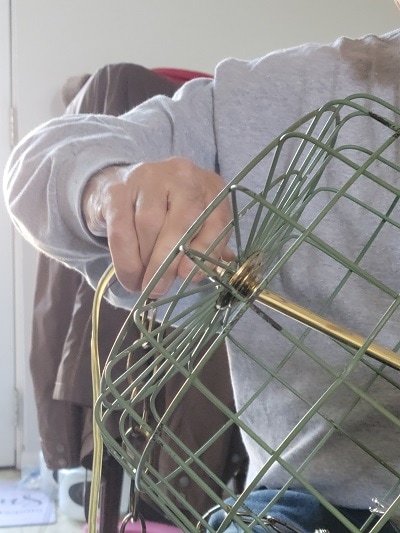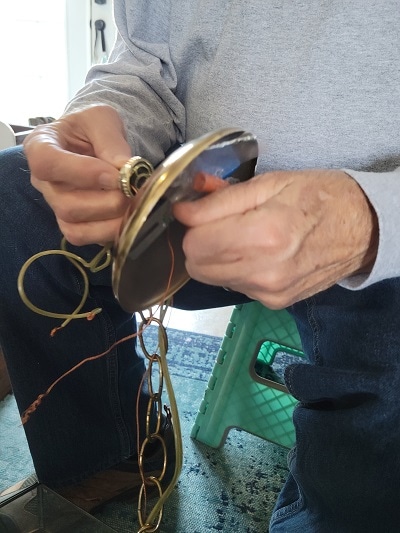 Step Four – You've DIY – ed A Chandelier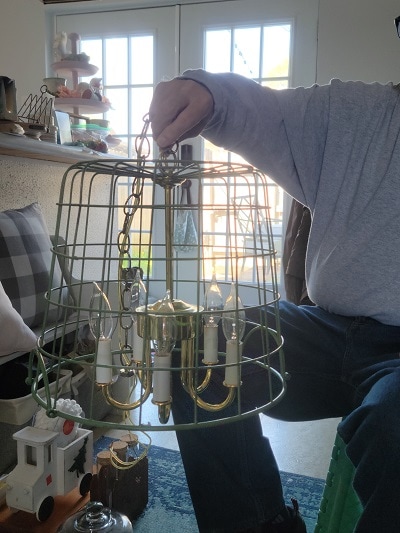 Time To Get That DIY Chandelier Project In The Room
Remove your old light fixture or ugly fan and attach wire and chain to the power source and ceiling bracket. I am not an expert in this – that is why I called an expert! My dad working hard on his model portfolio and working hard to take that ugly fan down.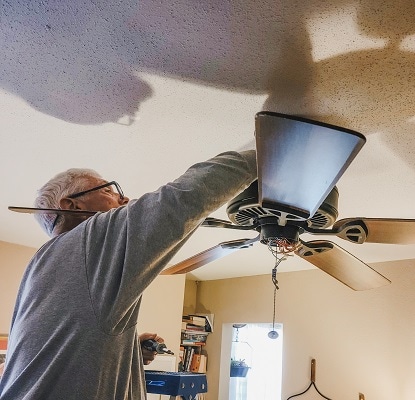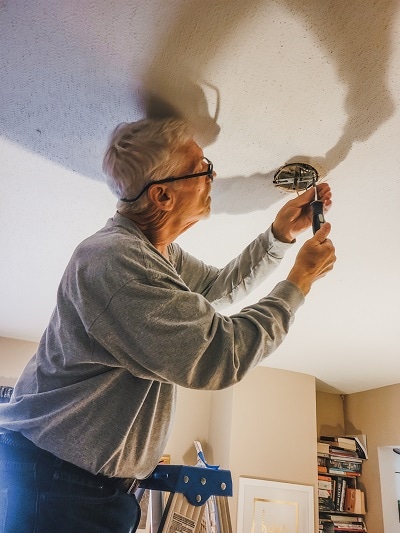 A Beautiful DIY Chandelier – My Finished Project For The One Room Challenge Week Two!
I am completely in love – it makes my bedroom so bright and happy! These light bulbs are amazing, have the vintage look and give off a bright white light. I have them in this chandelier in my half bath and this one in our dining nook.
"All right, Mr. DeMille, I'm ready for my close-up."
With the old lightbulbs that came with it.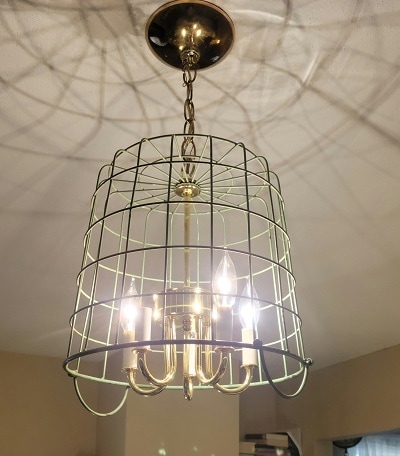 And A bit further away with new bright light bulbs…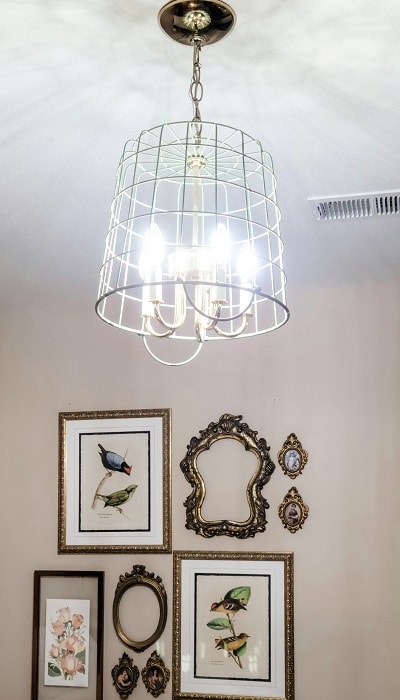 Before You Run Off To Create Your DIY Chandelier Project
There is so much inspiration from all the participants of the One Room Challenge – make sure and check out what they have done in Week Two. Pin this post to Pinterest – hover over any picture to save it to your account. So easy!
Want to See More Projects For This Bedroom/Office Makeover?
Eight Weeks of project ideas for bedroom, home office, and organization