An Easy DIY For Your Own Jewelry Hanger
This is an easy DIY for your own jewelry hanger created with scrap wood repurposed from another project, fun hooks and Dixie Belle paint.
I used the bottom of a bead toy I repurposed into bead garland. Here is where that piece of wood started –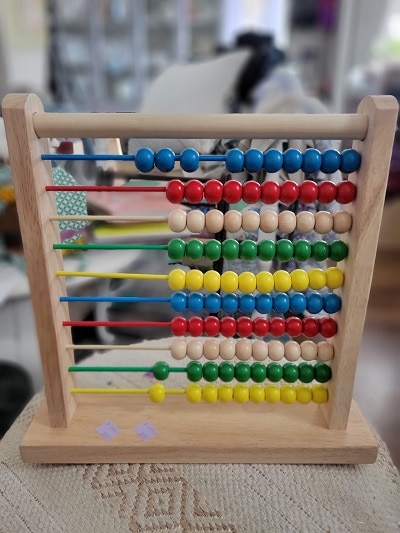 The bottom piece of that toy is now going to be the base for our hooks. We are "fifth sparrow-ing no more" all the things!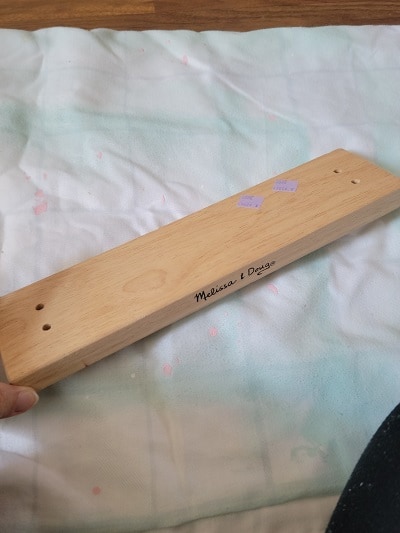 Your Own Jewelry Hanger – Step by Step
First Step – Fill Holes
Use Dixie Belle Mud or wood putty fill the holes in your piece.
Smush (a technical term) in your mud or wood putty into holes using a flat putty knife.
Sand in between coats – I repeated three times since my holes were so deep.
Step 2 – Paint
Apply a base coat – I used DB Silk Mineral Paint in Whitecap
Using a dry brush method (see that here)

Use DB's van dyke brown glaze first
Then add DB's moonshine metallics in Wedding Belle
Step 3 – Add Distressing
This isn't your regular distressing – I distressed with DB's gemstone mousse in Golden Gem

Apply the mousse in small sections with a fine brush
Spread into the piece with your finger
Step 4 – Add Hooks
Measure your piece of wood to evenly space your hooks
Place your hooks on the wood and mark where the holes are for the screws.
Remove hooks and drill pilot holes (learn more about pilots holes here and why they are important!)
Install hooks with screws (I used a screwdriver to be more gentle!)
Final Step – Hang Your DIY Jewelry Hanger
This hook rack can be used for so many things –
Towels
Coats
Hang it by your entry with baskets for a catch all
Hats
Scarves
Stockings at Christmas
If it can be hung, create this to hang all the things
But I used mine for a jewelry hanger in my new bedroom!
An Easy DIY for Jewelry Organization
I placed my jewelry hanger over my dresser in a gallery wall with more jewelry organization sitting on top of the dresser.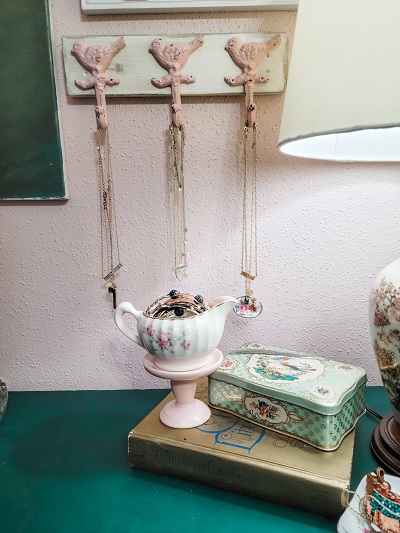 More ideas for jewelry organization that I use and love:
A crystal tiered tray with demitasse cups (French for "half cup.") This small coffee cup only holds about 2 to 3 fluid ounces! Not big enough for coffee in my opinion but is the perfect size for sorting bracelets by color, earrings by type and rings.
A gravy boat is great for cuff and bangle bracelets. They stand up straight and are easy to grab.
An old tin holds heirloom pieces and a few treasures like notes and drawings from my girls.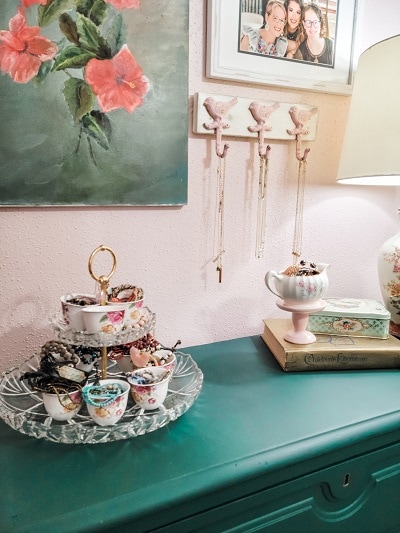 Before You Run Off To Make A Hanger and Organize Your Jewelry …
Pin this post to Pinterest to help you remember all of the steps to create our hanger and ideas to organize your jewelry – hover over any picture or the image below to save it to your account. So easy!