Create Wall Art With A Drop Cloth and Transfers
Create wall art with a drop cloth and Dixie Belle transfers and paint to upcycle a thrifted frame to freshen up your home's decor for Spring.
I wanted to freshen up our front door entry way with a touch of Spring. Spring, for me, means the color green, flowers, birds singing and fresh new beginnings. My main focal point started with a $1 frame from Paws For Resale, a favorite local thrift store of mine. And the Magnolia Garden Transfer was my inspiration.
Steel Magnolias is a favorite movie of mine. I can honestly say top three. The women in that movie are called steel magnolias because they have both traditional femininity as well as an uncommon fortitude. And fortitude is courage in pain or when there is difficulties. I chose this magnolia print not only because of its beauty but of its reminder that we are steel magnolias – ladies with courage,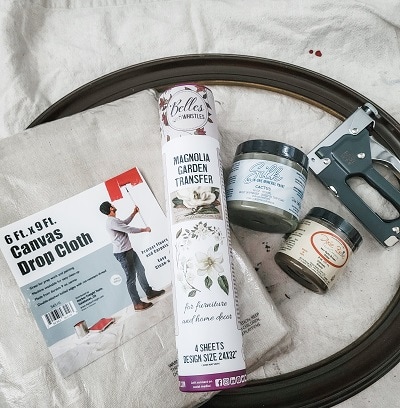 Gather Your Supplies For Your Floral Wall Art
Clean and Sand Your Frame
Sanding and cleaning! I used one of Dixie Belle's Rad Pads to scuff sand the frame. I then used Pristine Clean to thoroughly clean it. Mix 2 heaped tablespoons of the Pristine Clean granules in 1 gallon of hot water and mix until dissolved. Apply with a rag and then wipe off with a clean slightly damp rag. I use the mister bottle to slightly dampen my clean rag to wipe off the Pristine Clean – it works great! Don't let water puddle or sit! If your frame is especially grungy use this method to do a deep clean.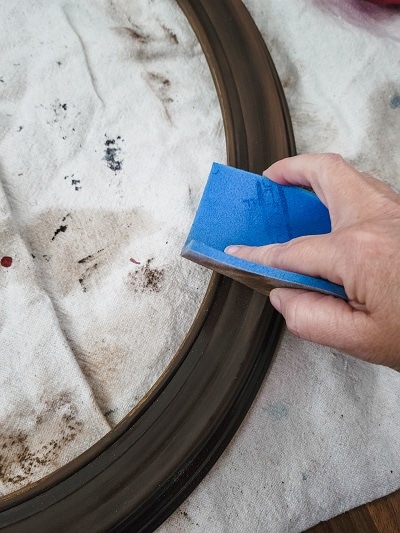 Painting Your Frame – The Process
Step One – Using your Silk Mineral Paint in Cactus apply one coat.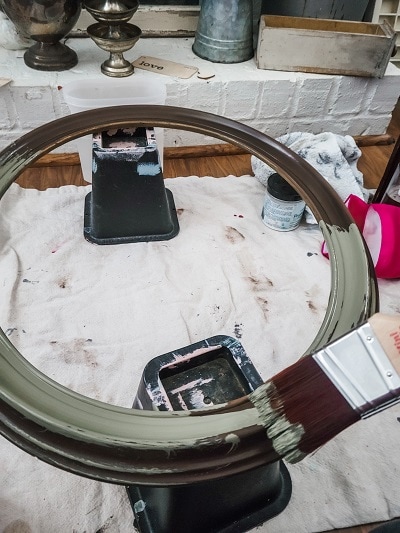 Step Two – Apply your Amber Gemstone Mousse in the places where you want highlighting on your frame. I chose a recessed area that ran completely around the frame.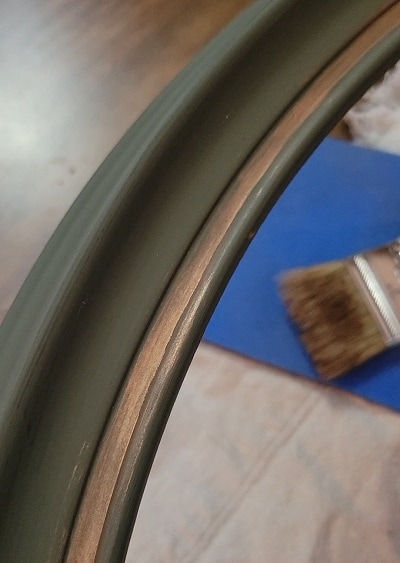 Step Three – Using the glaze, go over the spots with the amber gemstone mousse. I did not wait very long, just the amount of time to apply amber gemstone mousse to the entire piece. Wipe away excess with a towel.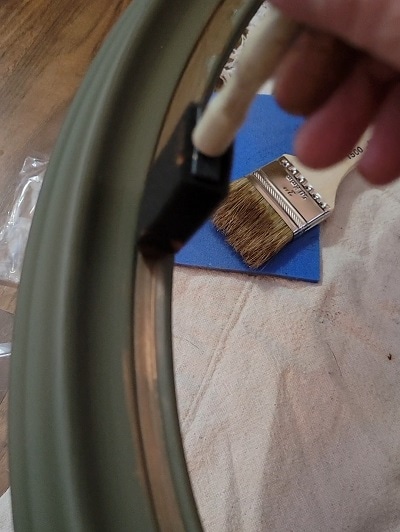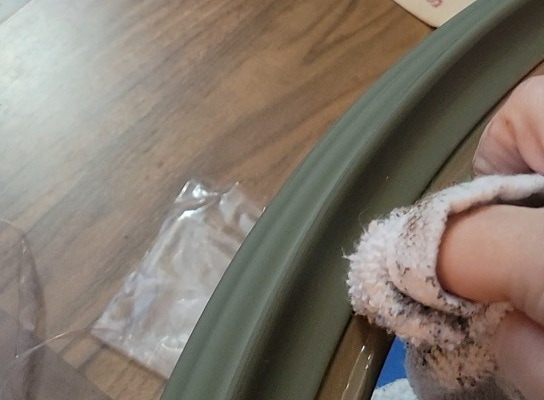 The Final Look – A beautiful lightly distressed frame for your magnolia wall art with just a hint of sparkle!
Creating The Wall Art On A Drop Cloth With Transfers
Start by tracing your frame onto your drop cloth. A helper to hold down the drop cloth is completely optional and really not helpful …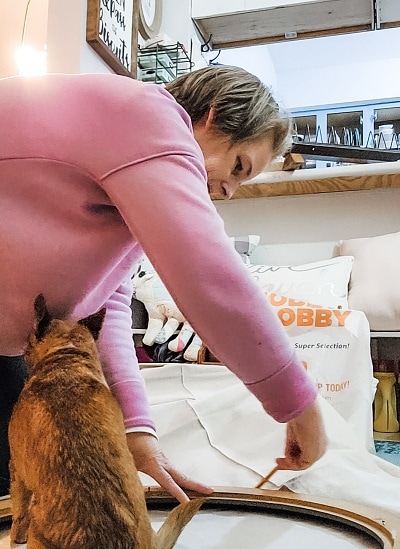 Staple the drop cloth to the back of your frame stretching it tight as you go – it helps to do the staples on opposite sides to each other. For example comparing my frame to a clock I would do a staple at 12 and 6, then 3 and 9, and fill in the rest. Trim off any excess drop cloth.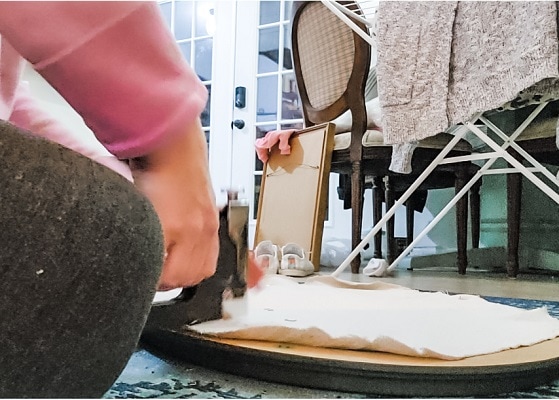 Applying The Transfer by Dixie Belle Paint
Cut around your image that you are using.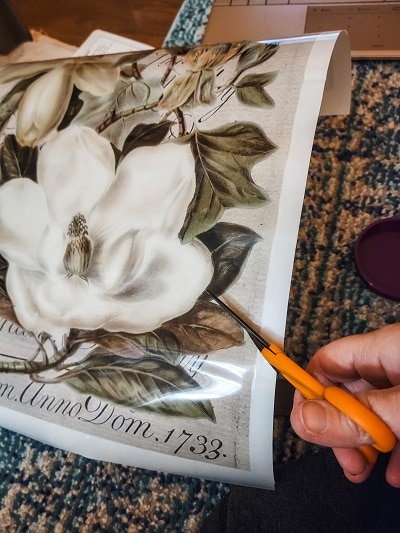 Position it on your frame, paying attention to where the middle of your drop cloth is in the middle of your frame.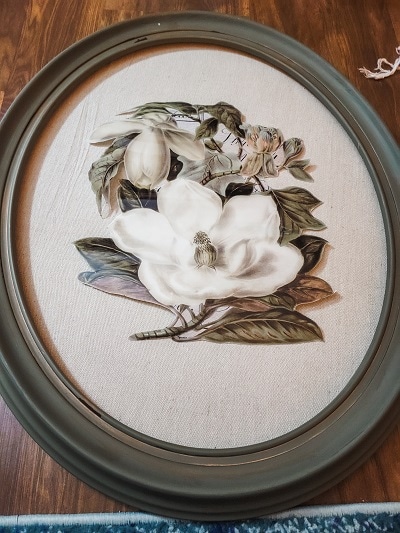 Peel off white backing and press down the transfer to the drop cloth. Rub the image onto the drop cloth using the enclosed stick. It does take a little longer than it does when transferring to wood so don't get discouraged! I also found that if you use the long edge of the stick and press down and away from you works really well too.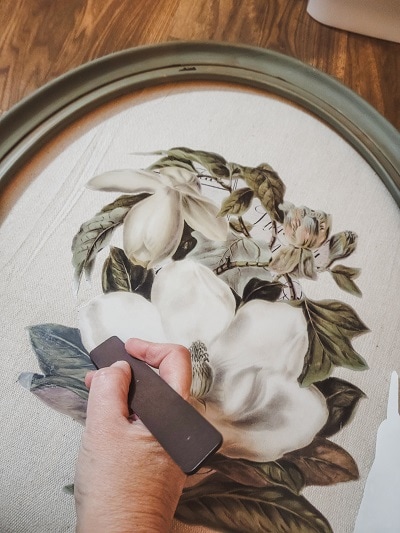 The Finished Wall Art Created With Transfers on A Drop Cloth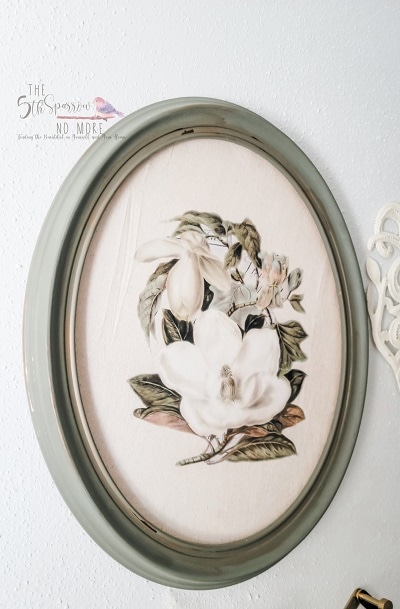 Using The Magnolia Wall Art in My Entry Way
Accessorize our homes in this case. I hung the magnolia wall art up in our entry way as a reminder that we are women of beauty and courage and if the movie tells us anything we have great senses of humor too!
This floral wall art would be beautiful on a spring mantel or in a gallery wall along with pictures of women who you know as steel magnolias.
Pin for later – use this project to freshen up your home decor for Spring!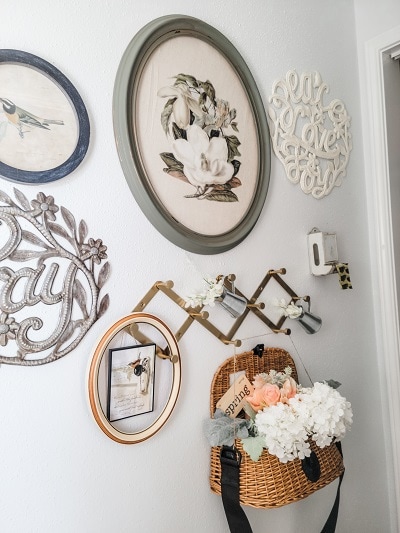 Find great spring products to feather your nest