The Chandelier That Was Just Right
This tiny wrench came with the JUST RIGHT chandelier that I found for our dining nook, it was to replace the ceiling fan that was there when we moved in (gross!). It gave my friend Caitlin and I serious giggles to be working with this tiny tool – it just seemed ridiculous.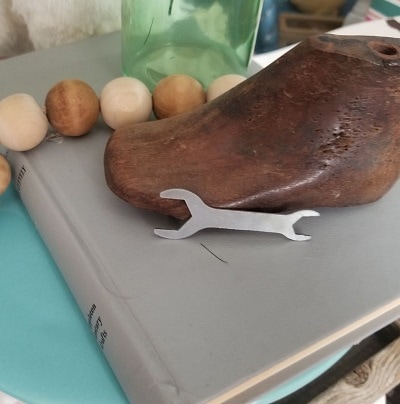 Are You Equipped For The Task?
How often does God call us to do a task and we feel unequipped, like a ridiculous tiny wrench trying to put together a big chandelier? In Hebrews 13:21 it says "He will equip you with everything good for doing His will, and may He work in us what is pleasing to Him, through Jesus Christ, to whom be glory for ever and ever. Amen."
God has asked me to take on tasks which I felt I was not prepared for, inadequate to fulfill. I knew without Him I would fail. I would ask Him for courage, strength, understanding, knowledge, an absence of fear to be able to do what He called me to do. But I realized in actuality I was going to complete the task on His strength, with the tools – courage, knowledge, no fear – He has given me.
God equipped Moses with Aaron (an unlikely tool) when Moses was not confident in his speech (Exodus 4:10). God gave Esther courage when she had to go before the king and speak for her people. Jesus gave his disciples a great amount of knowledge to be fishers of men.
Since starting over on my own I have taken on tasks that I have never done before, things I've never dealt with, and faced challenges that made me want to ask God to send an Aaron my way!
Finding The Chandelier That Is Just Right
One of those things was to buy and install a chandelier for over the dining table in our farmhouse cottage. Three factors came into play when making the decision to find the chandelier that would be just right.
It needed to match the ceiling fixtures (see those here and here) I bought to replace the dreaded and outdated "booby" lights. Those had to go not only because of their ugly factor but because one of them got a little hot, the wires fried and did not work.
The chandelier would also replace the ceiling fan that hung over the dining table. It grossed me out thinking of turning that on and all the dust and dirt (I'm not the best housekeeper, I'll admit it!) flying off into our food.
Last but not least our dining area is small – a combined kitchen and dining nook. The chandelier could not overwhelm the space or be too bright or too dim. I did not want to eat dinner under interrogation lights (HaHaHa) or the light be so dim that it would be impossible to do homework or anything else at the table.
The Search for The Just Right Farmhouse Chandelier
I tend to second guess my decisions and looking at chandeliers online was nerve-wracking! I felt like Goldilocks –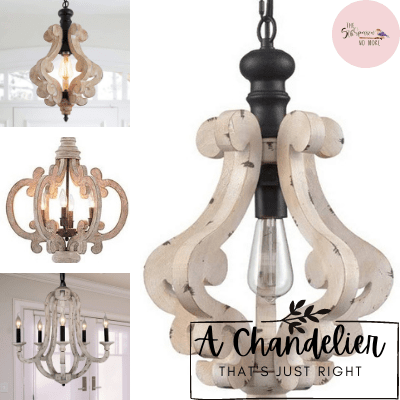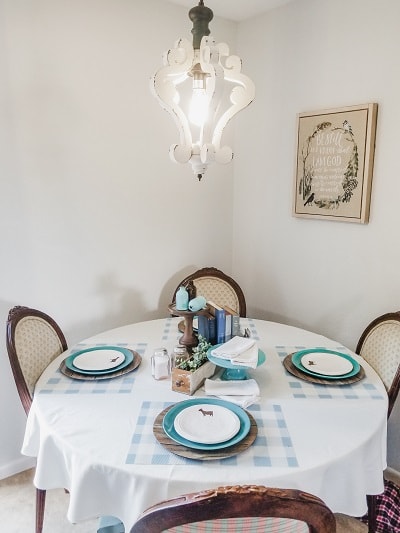 You are equipped to do the task!
In Philippians 2:13 Paul writes "for it is God who works in you to will and to act in order to fulfill His good purpose." Remember whatever task God has laid before you He will be with you in ALL THE THINGS to fulfill it. He will give you the tools, the courage, the people to surround you and help you – He will equip you to do the task, whether it's light fixtures or something else, He has laid out before you.
Don't Forget To Pin To Help You Find That Just Right Chandelier