Hugs Kisses and Hot Cocoa Bar for Valentines Day
What do you serve for a Valentine's party? A hugs, kisses and hot cocoa bar of course! Perfect for a Galentine's Gathering, winter themed bridal or baby shower, weddings, children's parties or birthday parties! And it is so easy to set up with the printable bundle that comes with food tags galore and two signs – one for hot cocoa and one for hot chocolate! You say hot chocolate, I say hot cocoa but we all want a cup with yummy toppings.
What Do I Need For A Hot Cocoa Bar?
Toppings To Add To Your Hot Chocolate | Hot Cocoa Bar
I will admit to being hungry when I sat down to making a list of toppings to customize this Valentines Day hot chocolate bar. That is why there are 48 food label tags in the printable Hugs Kisses & Hot Chocolate set plus blank labels in case I forgot a topping you love!
I included the basics such as whipped cream, sprinkles, and marshmallows to sprinkle on top. But then I got fancy …
Sea Salt – In pink of course for that salty/sweet thing.
Drizzles in every flavor – This is the my dressed up word for creamers in the hot chocolate bundle. When doing research for this post (that's what we are calling it – research) there were so many flavors of creamers! Even one called Fruity Pebbles! I can imagine this tastes like the milk after you get done eating a bowl of Fruity Pebbles.
Cookie Crumbles – umm yes please! Sprinkling hot cocoa with crumbled oreos or chocolate chip cookies is the yummiest. If you haven't tried it I insist you do. Remember it's research!
Candy – In every variety. Andes Mints, Reeses Pieces, broken or shaved chocolate bars in dark, milk or white chocolate.
Spices – Nutmeg and cinnamon are good to lightly dust on top and a cinnamon stick is fun to stick in your hot chocolate.
From Twigs & Fluff, Our Shop
What are your favorite toppings? What do you like to stir in to your hot cocoa?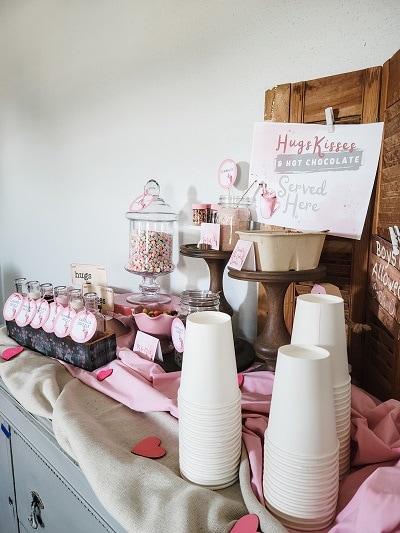 Containers For Your Hot Chocolate | Hot Cocoa Bar Toppings
Shop your home first for bowls, plates, glass jars, or anything else that you can dress up for Valentine's Day.
Mason jars are great for toppings when you are setting up your hot chocolate bar for the season in your dining room, kitchen or with your coffee station. They can be kept closed and toppings fresh in between visits.
Bowls are great for when you're setting up for a movie night or party. Include a cute scoop or spoon and It's easily available for everyone to grab and go.
I love these berry baskets – they come in all different colors. Easy for a party and no washing, put a small piece of wax paper in the bottom and fill with your topping.
Apothecary jars are great and can make a statement with fun colored marshmallows inside!
Sundae glasses can be a great topping container – the shapes on them are so pretty.
Small bottles and pitchers are great for drizzles and sauces.
I didn't have any small bottles that I could use for my drizzles so I headed to one my favorite thrift stores here locally called Farm Gals. There store is a non profit that funds the care of animals for vaccinations and spay/neuter procedures. They also have a food pantry and a toiletry and paper goods pantry as well. I love that my thrift store purchases are funding all of that!
For my different drizzle flavors I combined two finds from Farm Gals – a long wooden box and two sets of glass bottles.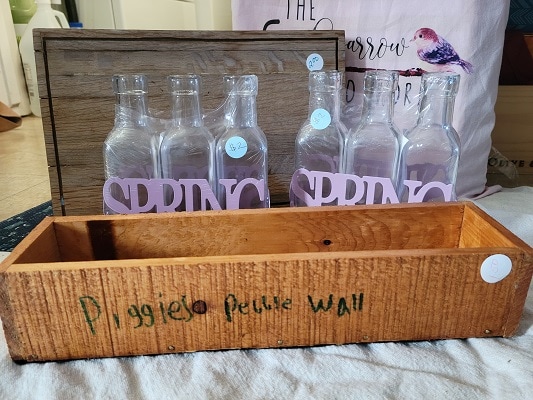 Supplies I Used
Thank you Dixie Belle Paint for sponsoring this post! All products can be bought through my affiliate link!
Creating A Container For The Hot Cocoa Bar
I painted a base coat of Umber and used a Qtip to remove the paint on the small gold nails holding the box together.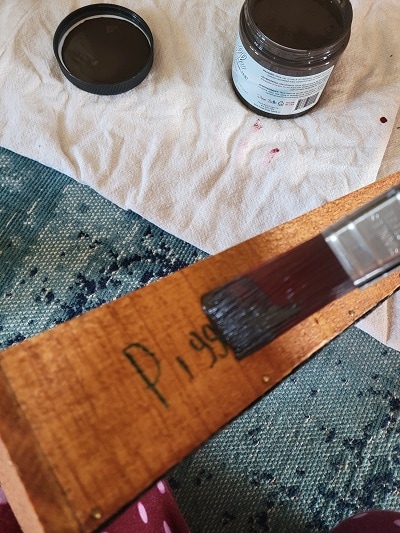 After letting that dry I used a chip brush to apply the white glaze all over the box. (I really look like I'm concentrating here …)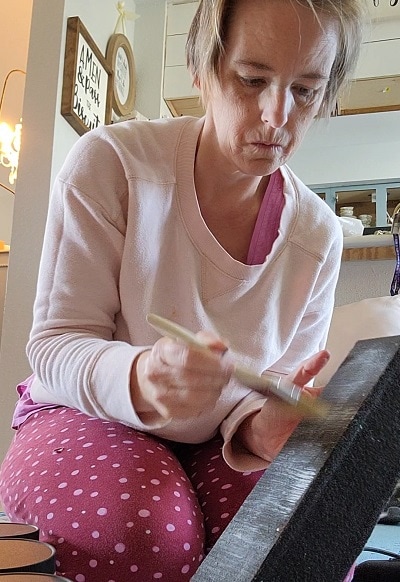 Stencil the box using the Nail Head Trim. Being completely honest, when I saw this stencil I got so excited because I saw hearts and a bumblebee trail. Just the way this brain thinks. So hearts it was for this project! I painted just the tops (sides) of the trim onto my box to look like a repeating pattern of hearts. First tape your stencil down with painter's tape and then using very little paint dab into the stencil.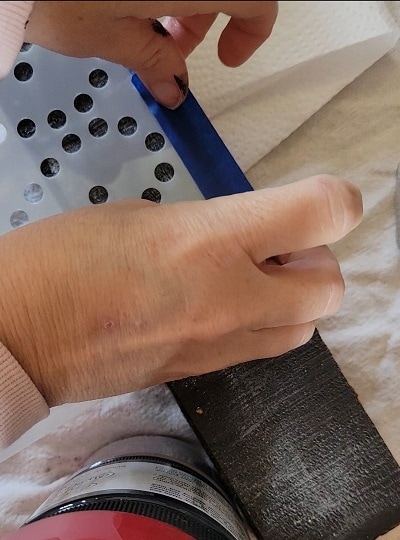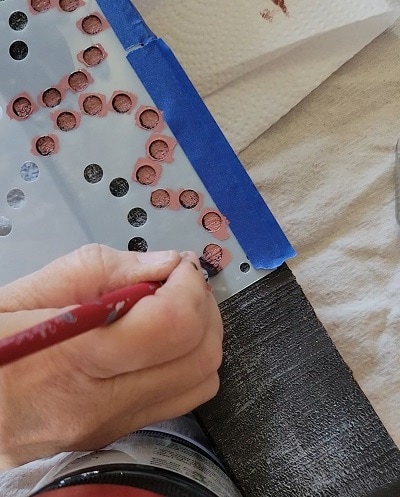 The Hugs Kisses and Hot Cocoa Bar
Get your printable bundle to create your hot chocolate bar for Valentine's Day. Complete the look with the Vintage Inspired Valentine Flash Cards!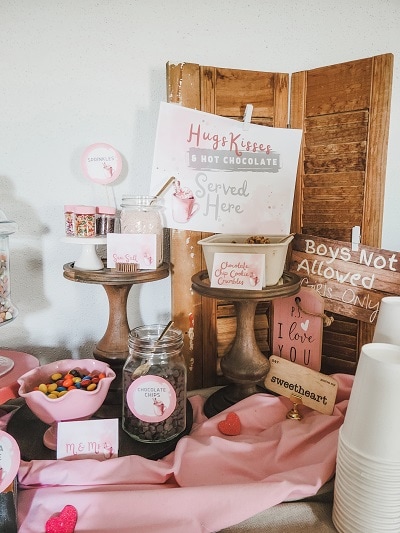 Before You Fly Away To Create Your Hugs Kisses and Hot Cocoa Bar
Pin any of the images to Pinterest so you can have the best hot chocolate bar for your friends and family – hover over any picture to save the pin to your Pinterest account. So easy!