One Room Challenge Week One: Primary Bedroom And Office
In this, the first week of the one room challenge I'll be sharing the before pictures of my primary bedroom and office. I'll also share an inspiration board to show you my vision! But since this is our first One Room Challenge on The Fifth Sparrow No More let me tell you a little about it!
What Is The One Room Challenge?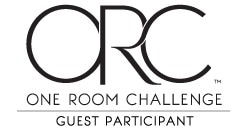 The One Room Challenge is a biannual design event where Featured Designers and Guest participants are tasked with making over a space in eight weeks.
The designers participating are making over everything from pantries to garages and everything in between in this One Room Challenge. I encourage you to head over – there is so much inspiration!
I will be making over my very brown, very not me bedroom. When we moved into our little cottage in the city everything was brown. I believe the previous homeowner went to the hardware store got all they had in shades of brown. So far we have banished the brown in the half bath downstairs and in the kitchen with paint and faux shiplap. Painting the common areas with Sherwin Williams Site White has gotten rid of the weird brown peach color. It has seriously brightened up our home. And now I'm ready to make my bedroom /office a reflection of me!
The Primary Bedroom And Office, Before
I saw potential in this house or I must have had rose colored glasses on when we toured! But seriously you know when you walk into a home after looking at quite a few and your shoulders relax and you just know? Well this was that house. I'm about to show you the before pictures that were taken by the realtor before we moved in. You'll wish for rose colored glasses!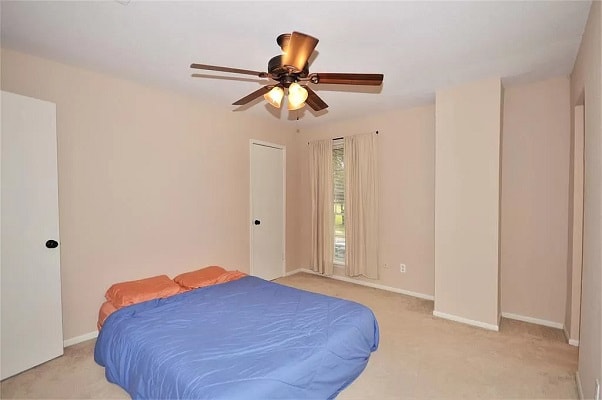 This view shows the closet door and the chimney that juts out into the room. In between these I plan to have my office nook which will take some creative organization!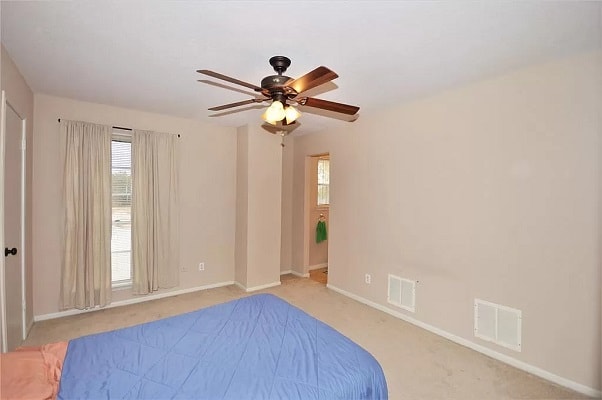 This is the other half that shows the opening into the bathroom. You can also see the two ugly air vents that I would love to hide or spruce up. And see the BROWN fan? It has never worked as a fan, for some reason it has no motor! And I do not like waking up to the big ugly fan so a new light fixture is in order! Speaking of new …
The One Room Challenge, What Are The Plans?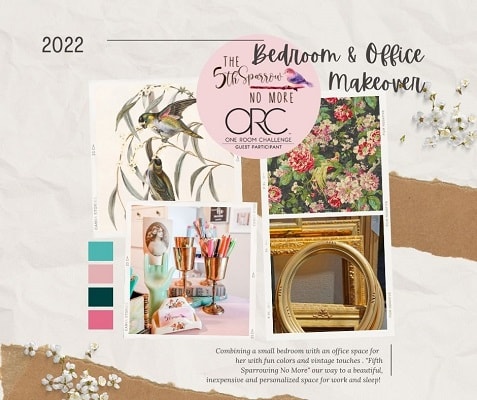 Week One – Make A Plan For Primary Bedroom and Office Space
Re -use my pink desk and create better organization in my office space.
"Fifth Sparrow No More" furniture that was bought inexpensively or given to me with paint and dressing up hardware to make it more cohesive.
DIY projects to create a new light fixture, curtains, and bedding.
Using bird prints, touches of gold, vintage pieces and bright colors make this room my room. Give it a personality that matches me!
The One Room Challenge, Let's Get Started!
I am so excited to spend the next eight weeks sharing projects with you. I hope to inspire you to "fifth sparrow no more" or make something that was headed for the curb beautiful again!
Want to See More Projects For This Bedroom/Office Makeover?
Eight Weeks of project ideas for bedroom, home office, and organization