One Room Challenge Week Three – Preparing, Planning and Prepping
In the One Room Challenge Week Three I am preparing, planning and prepping for the big projects coming up. Now that we have a beautiful new chandelier in my primary bedroom I can see to do all things I need to do for next steps!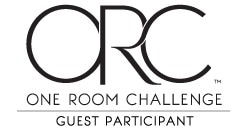 How Do I Start My Room Makeover?
The Preparing Part of Preparing Planning and Prepping
I am officially moved into the guest bedroom …
It's official – I do not work well downstairs. All the things to do are so distracting!
And the dog is officially confused. He wants to be in "his" room with his window, on his bed, and under my desk!
Since I've cleared clothes, myself and the dog out of the room I can
Pack up décor pieces that will stay in the room but need to be moved in order to paint.
Move clothes out of furniture that needs to painted.
Create a box or pile to give away to someone who can "fifth sparrow no more" the pieces for their home.
What Do I Need For A Room Makeover?
The Planning Part of Preparing Planning and Prepping
Measuring And Supplies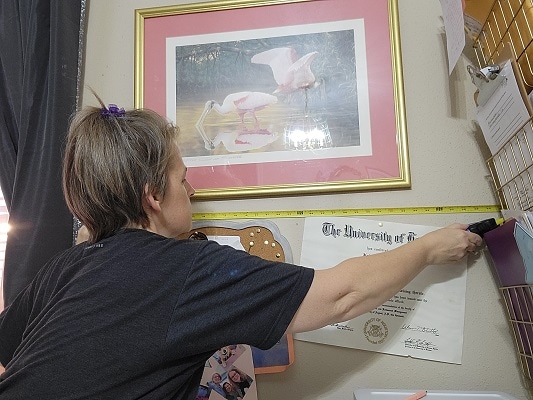 Measure Walls
Measure each wall
Make notations of door swing – this will remove some of your wall measurement
Add inches on either sides of window measurements to allow for curtains
Measure all places where a feature juts out in room. For example the chimney juts out in my primary bedroom and makes a small alcove by the bathroom.
Measure Furniture Using In Room
Measure width, depth and height of each piece
Write this down with your wall measurements
Make a note of any door or drawer openings. Be sure that you have enough room to stand comfortably in between furniture to fully open these.
Be aware of light switches and height of furniture. Is there enough clearance?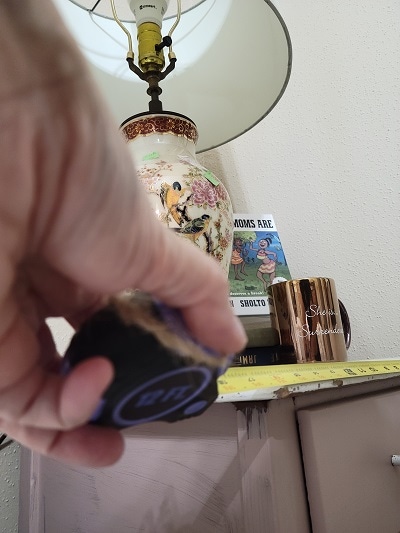 A Room Diagram With Measurements
Transfer your measurements to a diagram
Place furniture in room paying attention to door swing, light switches and height of furniture, and door/drawer openings
Check it – do you have space to comfortably walk through the room?
Does furniture placement make sense with the function it needs to serve? For example, the office space needs uninterrupted wall space for a project coming up and enough room for desk chair to slide in and out.
I transferred my measurements to this diagram (completely not to scale!) so I could see clearly where all the furniture is being placed.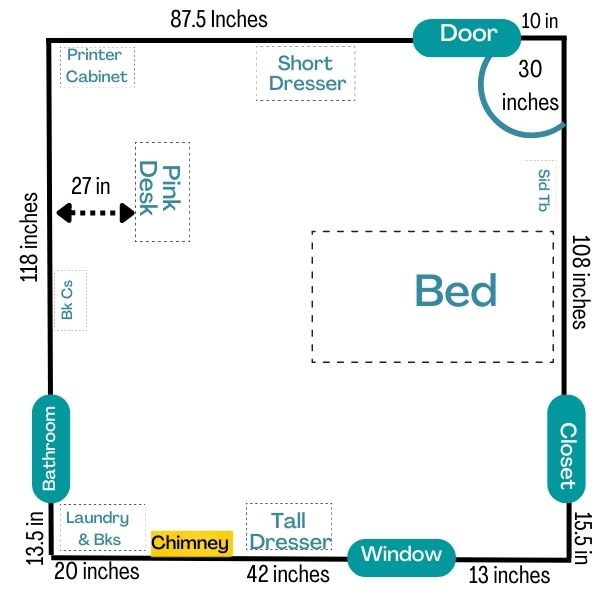 Supplies – Planning For What You'll Need For A Room Makeover
For each room this supply list will be different! Determine the functionality of the room. What will you need for each part of the room. Since my primary bedroom serves as my office too I'll need office organization and bedroom décor like bedding and dressers.
For this makeover I am changing the look of the room with paint and fabric. So I determined my color scheme and purchased paint for the walls, furniture, and organization pieces and fabric for windows and bedding.
This is a list of everything I've thought of that you need to redecorate your bedroom below.
Bed/ Mattress
Walls

Paint / Wallpaper
Feature Wall

Lighting

Wall Lighting
Floor Lamps
Table Lamps
Overhead Lighting / Fan

Flooring

Wood / Carpeted / Other
Rugs

Curtains / Blinds
Storage

Wardrobes
Dressers
Bedside Tables
Under Bed Drawers / Storage Boxes
Bookshelves

Decoration

Plants
Mirrors
Art
Decor For Creating Vignettes (Put personality in the room)
Photos / Frames

Linens

Pillows
Pillow Cases
Duvet / Comforter / Quilt
Duvet Cover
Bed Sheets
Valance / bed skirt
Quilt / Throws
This is a list of everything I've thought of that you need to redecorate your office area in a small space below.
Desk / Work Surface
Organization Pieces

Bookcases
Baskets / Crates
Pegboard / Wall Storage

Desk Chair
Lighting
Accessories / Décor Pieces (Add your personality without cluttering)
What Do I Do To Get Ready For A Room Makeover?
The Prepping Part of Preparing Planning and Prepping
I love to do good clean before I start! Wipe down walls and baseboards, clean or vacuum the flooring, and prep any furniture for paint.
Remove all nails, wall anchors, and screws from walls. Use spackle to fill these holes.
Move anything unnecessary out of the room so you're able to work easily and efficiently.
Before You Run Off To Prepare, Plan and Prep For Your Room Makeover
There is so much inspiration from all the participants of the One Room Challenge – make sure and check out what they have done in Week Three. Pin this post to Pinterest to help you makeover your room – hover over any picture to save it to your account. So easy!
Want to See More Projects For This Bedroom/Office Makeover?
Eight Weeks of project ideas for bedroom, home office, and organization