Farmhouse Centerpieces Made Easy
I'm so excited to share these farmhouse centerpieces made easy with my Easy 1-2-3 Formulas to a Beautiful Table Every Time, a free guide to help you create centerpieces simply and place settings with ease. I used these centerpieces at my daughter's FFA Banquet but they would be perfect for any country or rustic themed event.
Where Do I Get Pieces For Farmhouse Centerpieces?
Thrift stores are great options to find the pieces used in these centerpieces. I thrifted all the buckets, shutters, baskets and books. The super cute milk bottles stuffed with paper shreds were a gift but they are available at Michaels. You can get them here. One piece that I got from the thrift store needed a makeover to make it farmhouse.
This toolbox was the perfect size and perfect for our theme but the color and attachments were not farmhouse.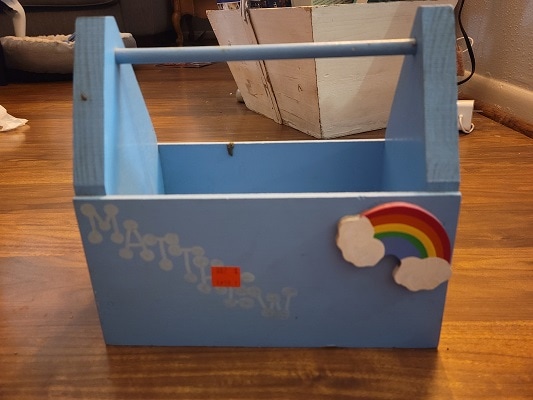 To bring this toolbox to he farmhouse side it needed the rainbow gone and a bright color. I chipped away at the rainbow which was holding on with all its might and super glue strength.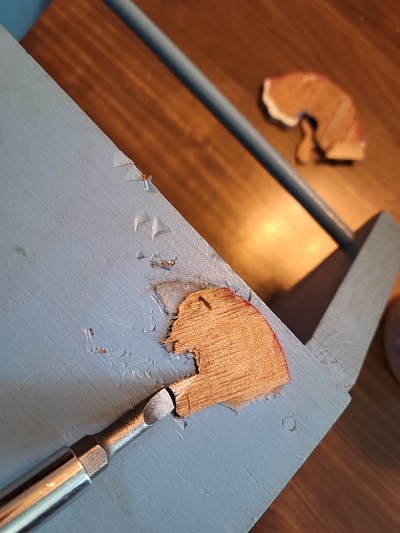 One the rainbow was gone the wood was scratched up and had a few dents. I could have sanded it down or embrace it! I chose to embrace and created a few more dings and dents with a screwdriver and a hammer so that one spot wouldn't be lonely.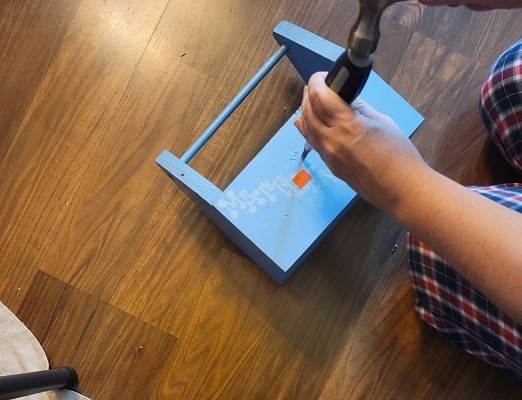 After this stress relieving session I painted the toolbox a bright cheery yellow!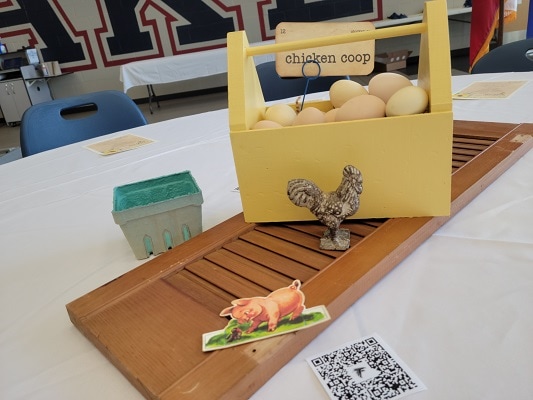 Now let's talk about making the farmhouse centerpieces simply with a 1-2-3 formula from my guide Easy 1-2-3 Formulas to a Beautiful Table Every Time.
A Formula For Easy Farmhouse Centerpieces
This formula has three easy steps to remember. They are Entertain, Contain and Train. Let's learn about each step in the formula!
Entertain
This is your your focal piece – the big wow! It is what fills your contain in the next step. I encourage you to think outside of the floral aisle for your centerpiece!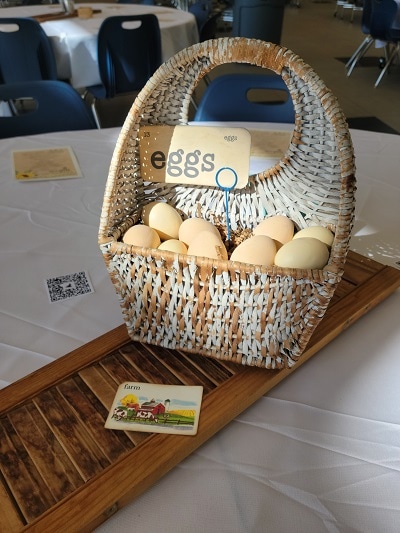 In this farmhouse centerpiece the entertain or focal piece was this basket (the CONTAIN) of eggs with a farmhouse vintage inspired flashcard.
Contain
How will you contain your ENTERTAIN, your focal piece? in these farmhouse centerpieces I used a toolbox, a basket and buckets. Lots of buckets. The FFA floral design program created the centerpieces in the buckets from yellow sunflowers, blue carnations and burlap roses. CONTAIN your ENTERTAIN in
Small suitcase, crate, or bucket
Contain Your Entertain – Buckets of Farmhouse Flowers
Farmhouse Centerpieces #1 & #2
Added a crate of eggs to entertain
Lentils were used in buckets to help with arranging flowers – you can use pebbles too!
Farmhouse Centerpieces #3 & #4
Farmhouse Centerpieces #5 & #6
Train
This is a runner and/or a piece to "train" out of your Entertain And Contain! Think outside the linen aisle for runners and use
wrapping or butcher paper
a lace valance
vintage teatowels or hankies placed in a row
Or shutters! I used shutters to train out from centerpieces to create more texture, give color and warmth, and add that rustic charm. You could also use a piece of fence board!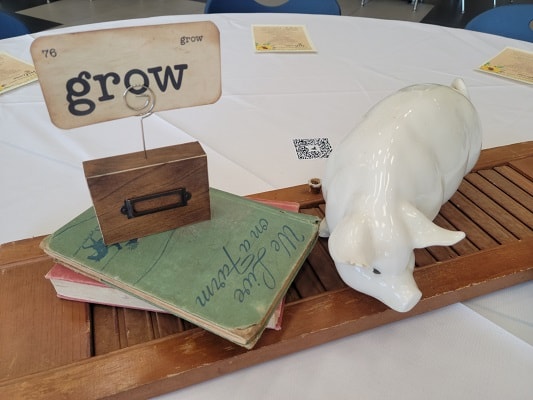 In this centerpiece vintage books (how appropriate is that farm book!), vintage inspired flashcards and an old ceramic pig create a scene to oink about! And most importantly see the shutter that TRAINS out – creates more interest than laying all of our pieces right down on the table.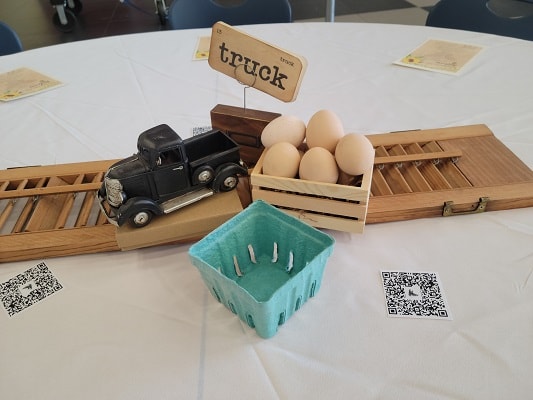 In this farmhouse centerpiece you can see the TRAIN part of this better. Look how that shutter is the perfect backdrop for an old metal toy truck, a crate of eggs and that farmhouse flashcard.
Farmhouse Centerpieces Made Simple With A Formula
Entertain, Contain and A Train – three easy pieces that will take your table from so to so to so fantastic for family, friends and guests! Make sure to get your copy of Easy 1-2-3 Formulas to a Beautiful Table Every Time, a free guide to help you create centerpieces simply and place settings with ease. Download your copy today to set your table with confidence, creativity and ease.