Thrifty and Thankful Table
The Fifth Sparrow No More is a participant in the Amazon Services LLC Associates Program, an affiliate advertising program designed to provide a means for sites to earn advertising fees by advertising and linking to Amazon.com.
Part Of The Fall Decor Ideas Blog Hop!
I had the opportunity to create a silent auction basket for Anchor Point's Celebrating Hope Gala. I chose to create a "Thrifty and Thankful Table" basket. Everything was included in the basket to create a beautiful fall or Thanksgiving table for eight not including silverware. I created the thrifty and thankful table in shades of sage green, cream, burgundy and pink. Shopping for this from discount stores and thrift stores – many that benefit great causes just like Anchor Point was the best part and I want to share some of my thrifty tips!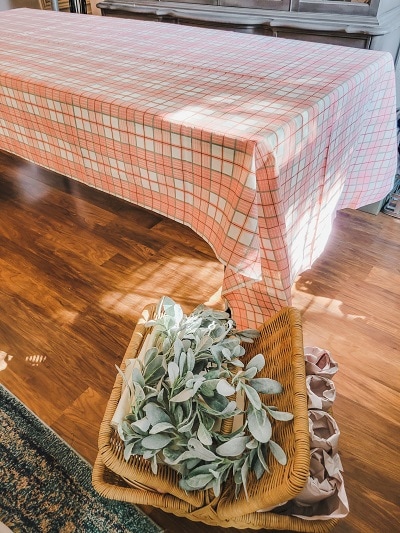 Thrifty and Thankful Place Setting
Often when shopping only a small quantity of matching plates are left from a set. Set your table in a boy-girl-boy-girl pattern!

For this table I needed to use this pattern on the small plate (bread, dessert, salad). I had to use a saucer-plate-saucer-plate pattern etc. around the table.

Wine glasses are the same – trying to find a matching set is like a needle in a haystack!

Having a different glass at each setting identifies which glass is theirs. They can even get up from the table with their glass and know whos is whos!
Having different goblets in colored glass are like the jewels on the table. It will help you set a unique and eclectic table.

Cloth napkins are just so fancy! Takes your table to a whole 'nother level. I find these at Goodwill for forty-nine cents regularly and they can be even cheaper on colored tag sale days!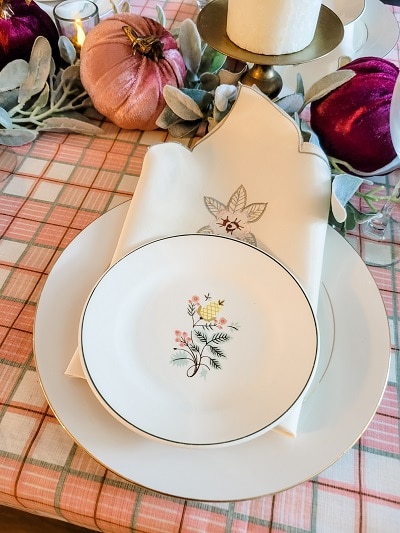 Thrifty Centerpiece Ideas
Florals can be your biggest expense. I shop from thrift stores, not the floral section, clearance bins all year and the Dollar Tree.

The garland on this table was from the wedding section of Hobby Lobby. It was less expensive then the floral section equivalent and 50% off!
The velvet pumpkins are a Dollar Tree must have every year! I paint the stems gold if they are not already gold and purchase in bulk. No shame in that game!
Check out this thrifty and thankful centerpiece I created using the floral tips above for more ideas!

Brass is trending right now and one chunky brass candlestick was picked up for this table. You can determine if it is real brass (and therefore can be shined) by a magnet. If a magnet sticks, it's brass!
Speaking of candlelight Dollar Tree carries battery operated tea lights and pillars.

I placed the tea lights in shot glasses found at the thrift store and poured in dried green lentils around the candle. You could also use split peas!
Look for dried lentils, peas or beans in your color scheme as fillers. They are inexpensive and God gave them pretty colors for us to enjoy!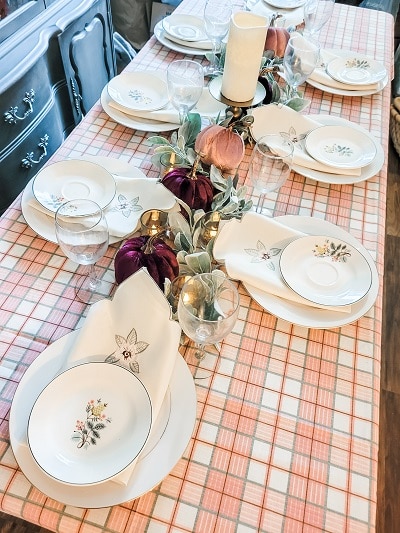 One Last Thrifty Tip You'll Be Thankful For!
See the beautiful pink plaid tablecloth? Not a tablecloth at all. Shop in thrift stores and the remnant bin for fabric to dress up your tables! These are things to remember when shopping for fabric for your table.
Most fabric has a width of 54 inches.
One yard of fabric is equal to 36 inches.
Rectangle and oval tables come in two standard widths. The most common is 36″ and the other is 40″ wide. You will need to know this measurement and measure the length of your table.
For a round table you will need to know the diameter. Measure the center of the table from one end to the other.
Square tables range from 30″ to 72″. You can determine the size of your table by measuring one side.
For example if your table is a rectangle shape and measures 72″ x 36″ then you will need at least two and half yards of fabric to allow for some tablecloth drop on either end. You will have 9 inches of drop on the long sides if you do not hem.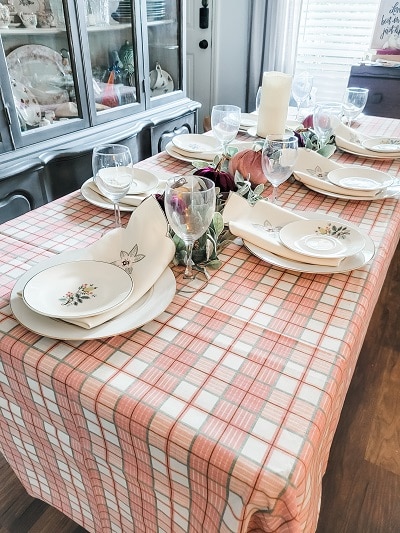 Visit My Friends on the Fall Decor Ideas Blog Hop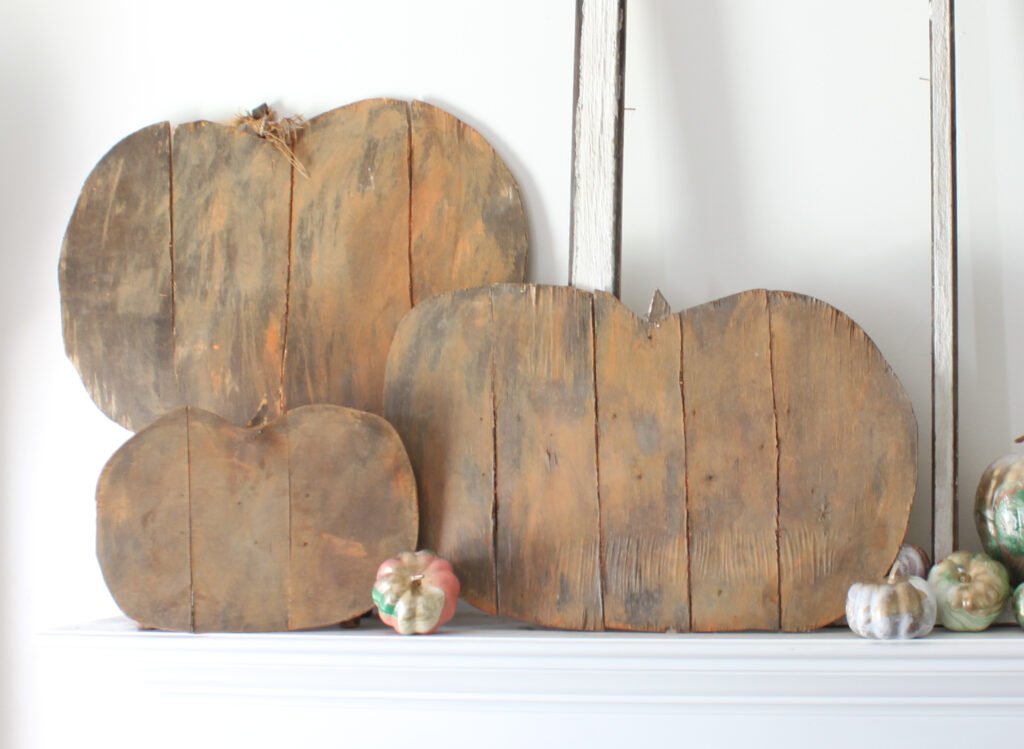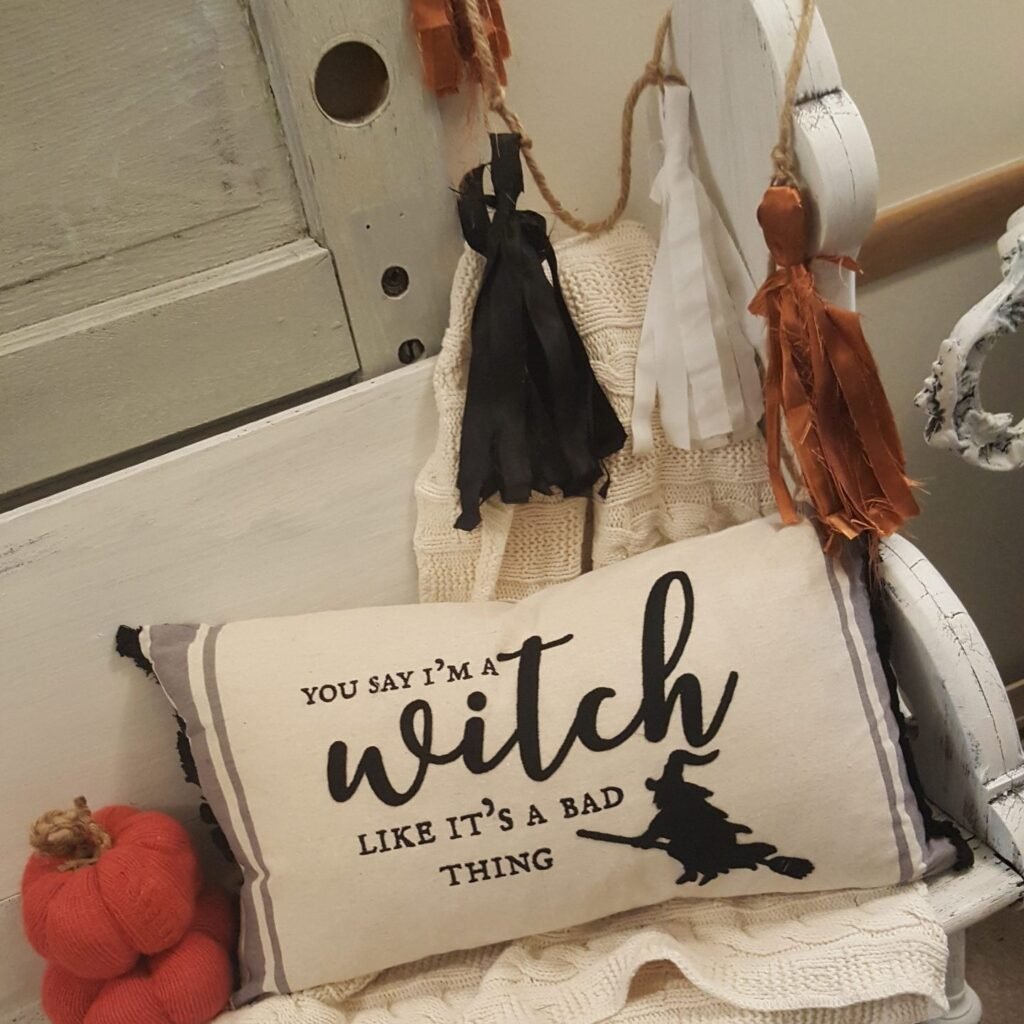 Fall Fabric Tassel Garland
by Juliet at A Loverly Life

Make sure to pin these thrifty and thankful tips, tricks and ideas for later to help you set a beautiful table this fall. My e-book Easy Formulas To A Beautiful Table Every Time has more information to help you set a a table that wows your family and friends that is effortless for you!