This Is How To Use Birds When Decorating Your Home
I have a great idea for you, use bird-themed decorations in your home. This post is a complete guide to 'this is how to use birds when decorating your home'. These ideas to add feathered friends to your home are for year round home décor in every room.
Use Birds When Decorating Your Home – For Every Season
Bird lovers unite – we can use birds and bird themed items throughout our home for every season.
In the winter I absolutely adore these vintage bird shaped Christmas lights I found while thrifting. I used them to perch on my mantel but they would be equally as cute perched in your Christmas tree.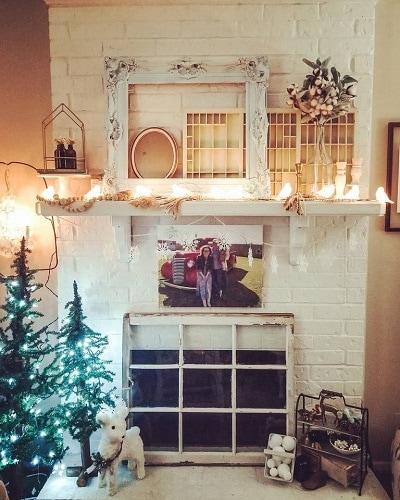 In the spring I use birds and bird theme items everywhere! In this tiered tray I used a small pastel bird figurine in a nest made from a button box and shredded paper.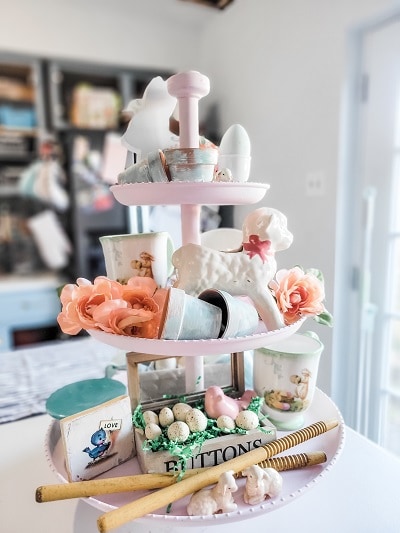 Or this Valentine's Day tiered tray golden swans were added to this pink, gold, and white colored tray celebrating love.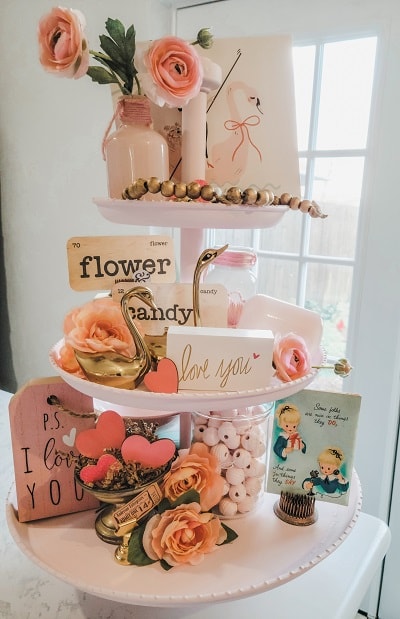 In this vignette for the fall an owl vintage flash card was added to the mushroom theme cloche and unique amber bottles.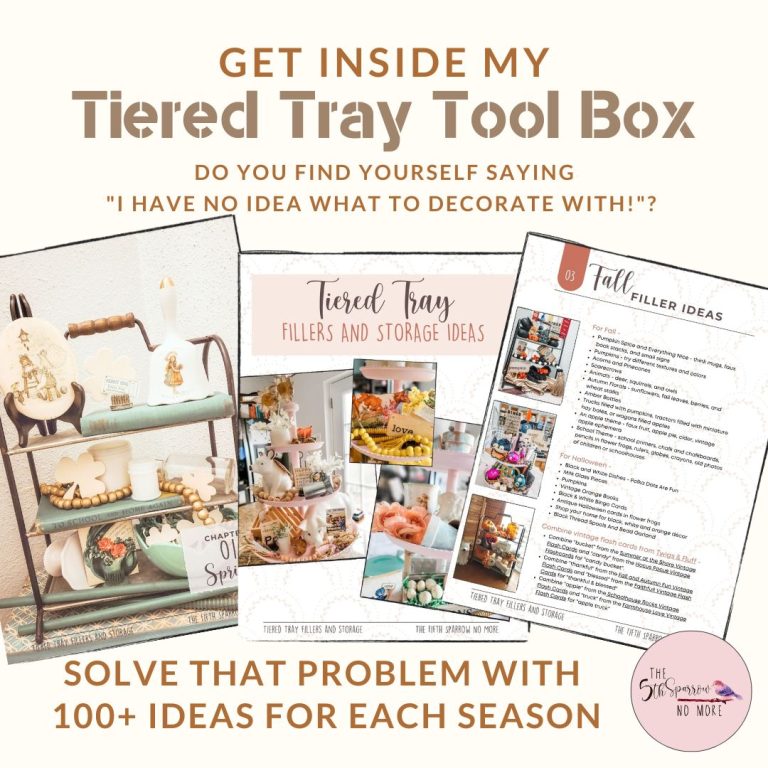 Grab my free Guide
Filler Ideas For Every Season
Use Birds When Decorating Your Home – Repurpose A Bird Cage
A repurposed bird cage is a great way to add a bird theme to any room.
Repurpose a bird cage to use in your home:
in a garden – add in a flower pot and plant succulents, moss and ivy, or hang them with battery operated candles inside.
as a cloche for every season, add flowers in spring, bottle brush trees in winter, pumpkins in the fall and patriotic or beach decor in the summer
as a centerpiece – place on a cake stand, place themed items from your table décor inside like vintage hymnal scrolls
at a party – use for cards on the gift table, place miniature cages down the middle of a long table as a centerpiece
Look at the color choices you find in your home and paint a bright color to match
repurpose as a light fixture like I did in my half bathroom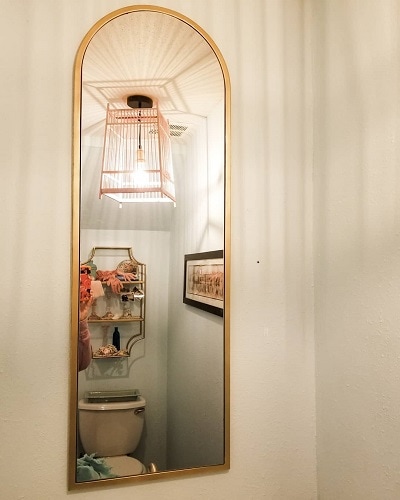 Use Birds When Decorating Your Home – In The Living Room
Your living room gives you the perfect spot to use items with bird motifs. Bird nests, faux or DIY, can be added to vignettes, in cloches, and centerpieces. Small eggs in neutral tones or pastels can be added to the bird's nest too.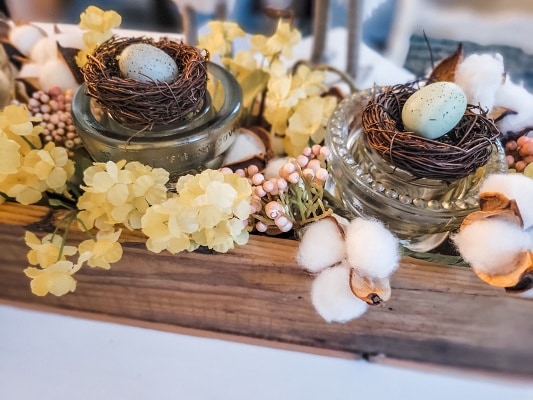 Add a bird print to a vintage gallery wall.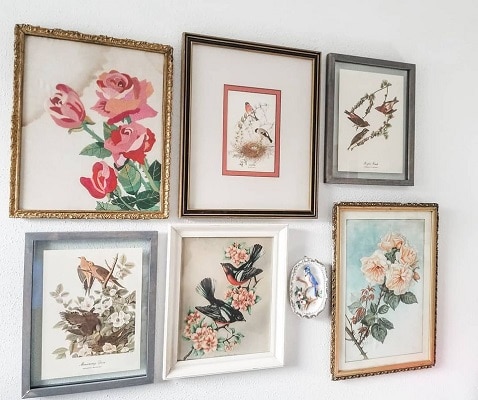 Create a gallery wall with this technique, using book pages and dollar store frames.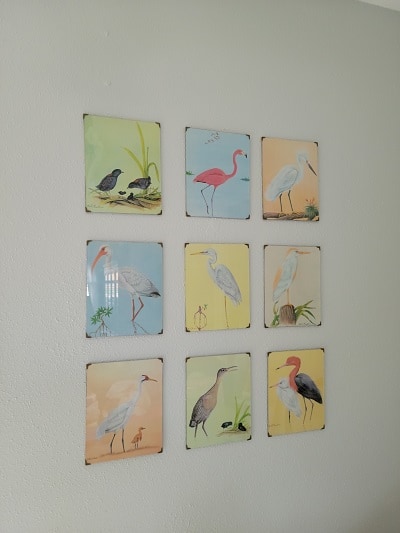 Add in a bird book to a vignette, a shelf, or a mantel.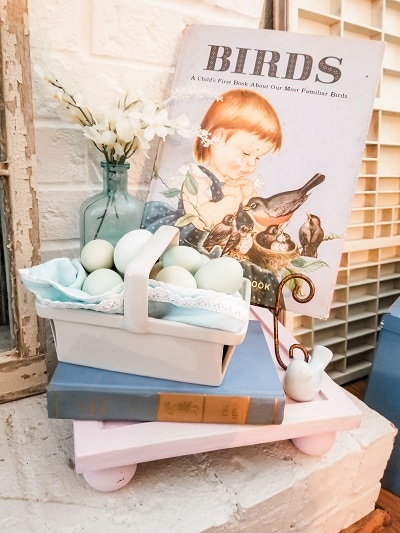 Small Decor Pieces I use in Vignettes, Tiered Trays, Centerpieces and more
Nests & Eggs, Bottles, Animals, And More – Click On Pictures To See More
The Fifth Sparrow No More is a participant in the Amazon Services LLC Associates Program, an affiliate advertising program designed to provide a means for sites to earn advertising fees by advertising and linking to Amazon.com.
Use Birds When Decorating Your Home – In The Kitchen
Stacks of plates can be added to a birdcage on your kitchen counters for unique storage or decoration. Bird images can be found on all types of kitchen necessities like plates, cups, serving dishes and jars.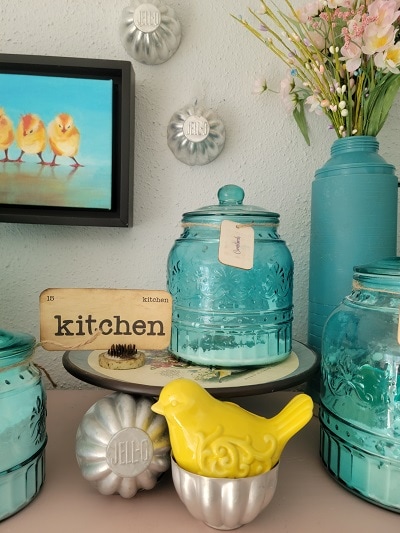 Visit Twigs And Fluff to find amazing eBooks, vintage inspired flash cards and more goodies to feather your nest with.
Use Birds When Decorating Your Home – Bird Figurines
One of the easiest ways to add a bird theme to your home decor is with birds, obviously! You can purchase colorful birds, pastel birds, white or black birds. The bird figurines can be ceramic, wood or glass. And it is so easy to add these to your displays. Since they are so small you can even add them to your bedside table or other small surface like a shelf.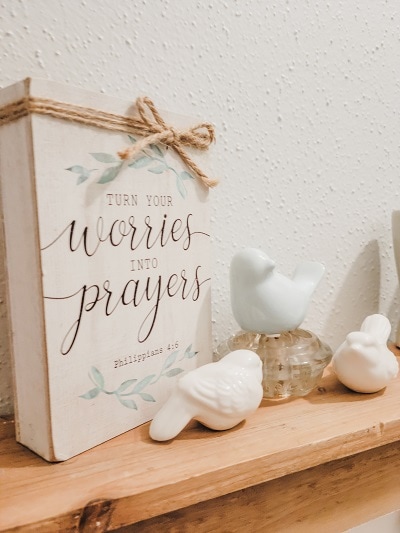 Use Birds When Decorating Your Home – For Functionality
Birds can be found on wallpaper, created as furniture knobs and fashioned as wall hooks.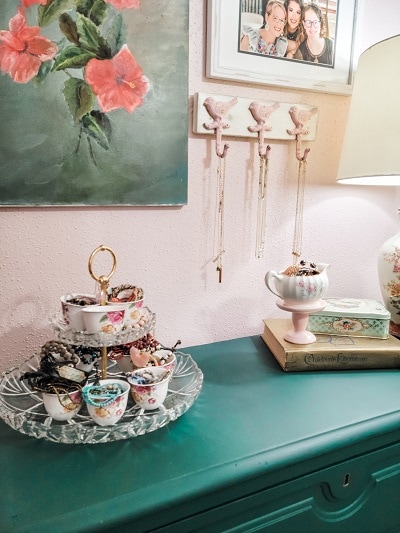 I created this hanger from a piece of wood from this project (no additional cost to me!) and bird hooks from the hobby lobby. I use it for my jewelry but wall hooks like these can be used in the kitchen for towels and potholders, in the entryway for jackets and purses, or for décor like this botanical print.
Befor You Fly Away To Add Birds To Your Home Decorating
Pin any of the images to Pinterest so you can save these ideas for using bird home decor in every room of your house – hover over any picture to save the pin to your Pinterest account. So easy!