A Creative Idea For Shoe Storage
Does your family leave shoes everywhere? My daughter did until I came up with a creative idea for shoe storage.
I had to create an entryway in a spot where there is no useable entryway because –
Our front door isn't our main entry so shoe storage couldn't go there because we would be in the same boat. She would never purposefully walk by to remove shoes!
The back door is a tight space with a kitchen peninsula and a dining table. Amory's shoe drop zone could not be located in the already crowded backdoor area.
So I located the "entryway" and shoe storage area in the stairwell landing area.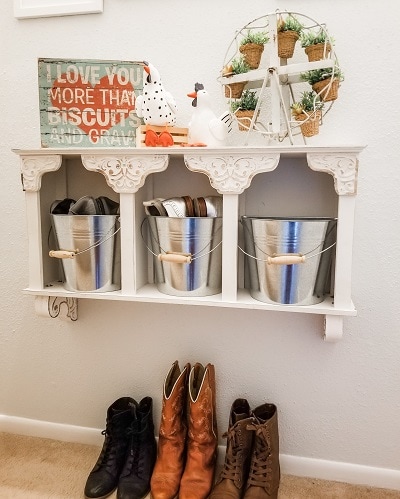 Creative Shoe Storage In A Small Space
Because I wanted to create the shoe storage on the stairwell landing I needed a narrow shelf or bookcase. Another must have was that I could tuck boots into a tall shelf on the book case or underneath the shelf. Amory wears boots a lot and they needed a home! This shelf from Decor Steals was perfect for creative shoe storage- narrow, chippy, and had architectural details to make it interesting. I added these half round galvanized buckets from Hobby Lobby to the shelves for flats and tennis shoes. Boots fit perfectly underneath.
Giving The Small Space Style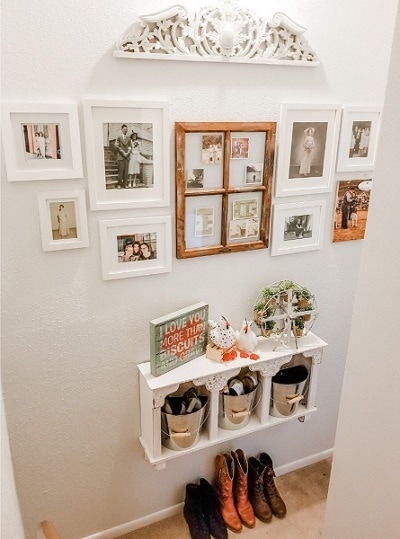 I dressed up the "entryway", the small shoe organization / stairwell landing area with
a gallery wall of pictures from generations past and present. You can see here how I plan out and hang my gallery walls.
a tiered tray tucked into the corner.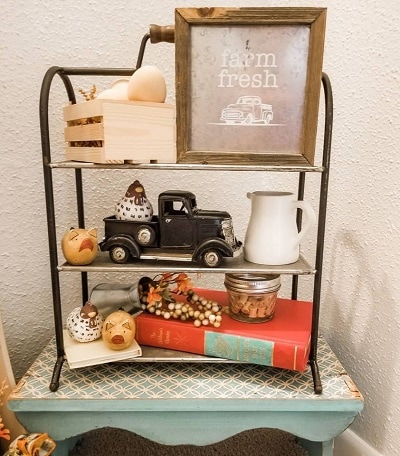 The other corner is left empty for her backpack. She never uses a hook so I saved myself a hole in the wall and stopped questioning her! On the floor her backpack goes!
See Outside The Entryway for Creative Shoe Storage
I hope this helps you see outside the normal areas for an entryway spot. Get creative with where you plan your shoe storage and drop zones for your families. Do what works best for your space!