A Spring Table Inspired By Botanical Prints
I created a Spring table inspired by botanical prints because I cannot seem to get enough of these vintage, scientific renderings of plants and flowers. The botanical projects I have done for my home are upcycled thrifted botanicals, decorated my Spring mantel with them, and now this Spring table full of vintage science décor, flowers, and items from nature. I guess you could say this is the Spring of the botanical!
What Is A Botanical Print or Illustration?
A botanical print is the art of depicting the form, color, and details of a plant species. They are scientifically accurate but often also have an artistic component. A botanical illustration, on the other hand, is for the purpose of showing all parts of a plant so that it can be identified. These, too, can have an artistic component.
Creating The Botanical Charger Plates For The Spring Table
The Fifth Sparrow No More is a participant in the Amazon Services LLC Associates Program, an affiliate advertising program designed to provide a means for sites to earn advertising fees by advertising and linking to Amazon.com. Thank you Dixie Belle Paint for sponsoring this post! Click on the products below to purchase.
Painting Your Botanical Charger Plates
I used Pristine Clean to thoroughly clean the charger plates. Mix 2 heaped tablespoons of the Pristine Clean granules in 1 gallon of hot water and mix until dissolved. Apply with a rag and then wipe off with a clean, slightly damp rag. I use the mister bottle to slightly dampen my clean rag to wipe off the Pristine Clean – it works great! Don't let water puddle or sit, the chargers are covered with paper I found out! Water that's left to sit is bad. Trust me on this one!!
The Slick Stick product allows you to paint shiny, slick, or slippery surfaces. I applied one coat just to the middle of the charger plates with a chip brush and let that dry overnight.
After letting the Slick Stick dry I applied two coats of the silk mineral paint in White Cap.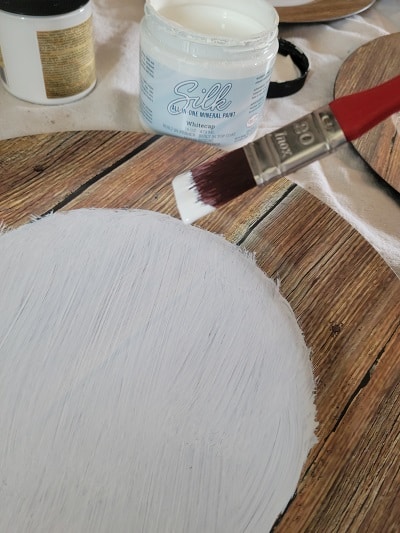 I wanted a "frame" for my botanical print on the center of the charger plate so I chose to use the basket weave stencil on the rim. I left the rim the natural wood color and used the basket weave stencil and umber paint on top.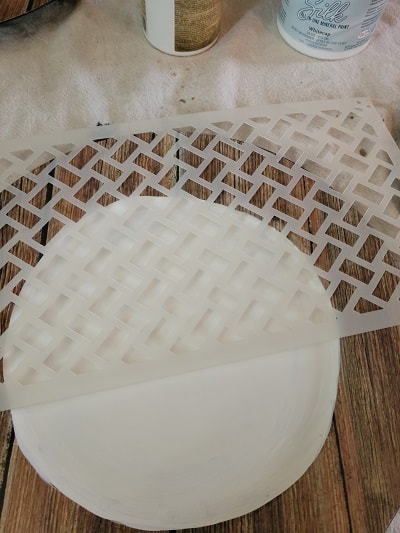 Basket Weave Stencil
The stencil will need to be used on half your plate and then moved to the other half.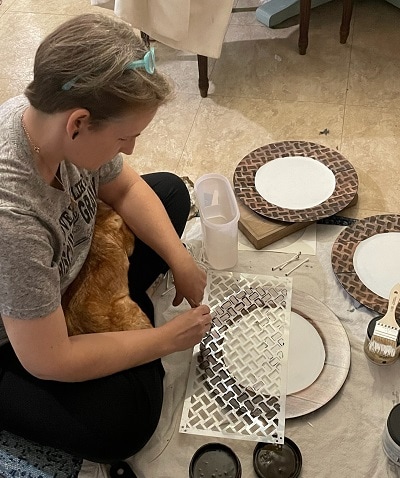 Tools To Use Basket Weave Stencil
I used a small paint brush to fill in the squares (rectangles) of the stencil. You can also use a round foam brush to dab the paint in the stencil.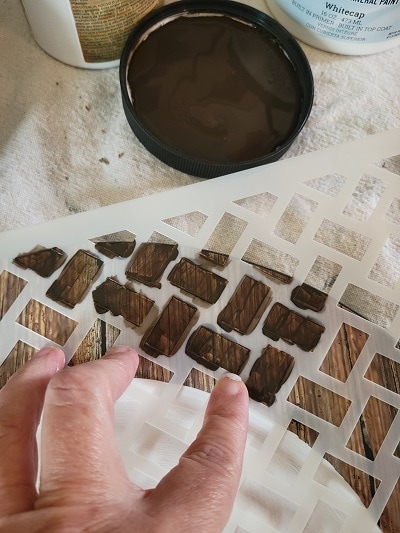 Fixing Mistakes When You Stencil
If your paint does bleed under the stencil or your dog walks across your project you can clean up excess paint while its wet easily. Use a cotton swab dipped in a little water to wipe away the mistake.
A Botanical Transfer For Your Charger
Now for the botanical part of the botanical Spring table!! I used Dixie Belle's Vintage Floral Transfer which has these lovely flowers with identification. It also has colorful flowers and a black and white set as well.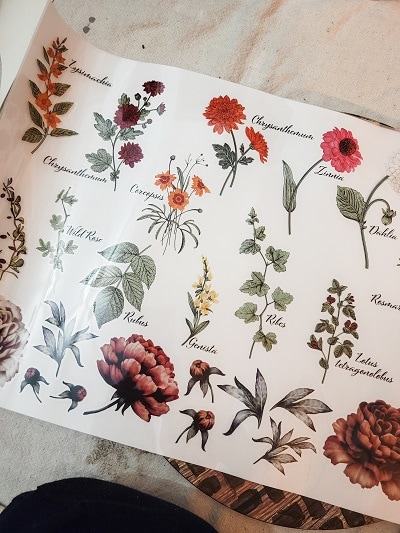 I cut out two of the flowers with identifying names for each charger. If you're doing this project and you're using two flowers per charger as well you can make seven chargers! I cut out the individual flowers, leaving the backing paper on (so they don't stick anywhere I don't want them too!).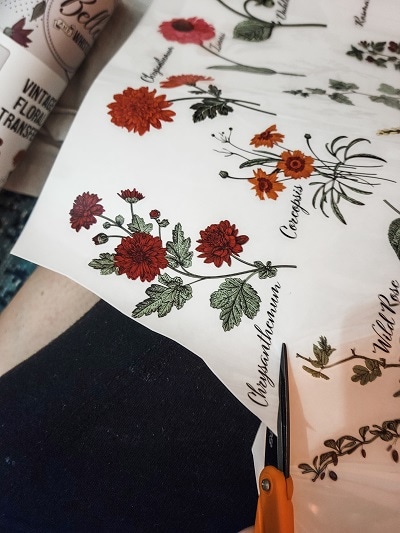 Remove the backing paper from your transfer and press on to your plate. Use the enclosed wooden stick to rub the flower onto the plate until it releases.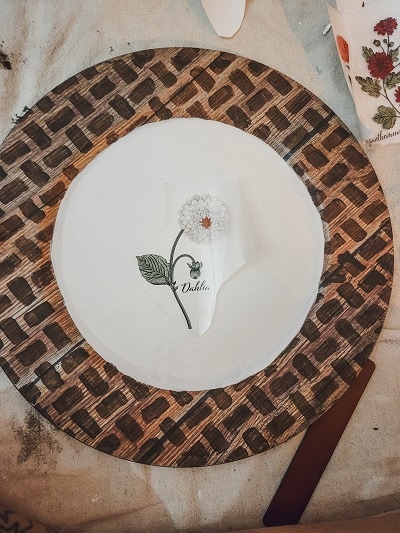 After finishing all of the transfers I gave the charger plates a coat of Stain Clear Coat to protect them.
A Spring Place Setting Inspired By Botanical Prints
Each place setting is different and this creates conversation! A vintage seed packet holds a specimen label that acts as a place card. What is your favorite flower, what are you planting this year, do you know your birth flower are all discussions started with a printable seed packet at each setting!
I placed clear glass plates from the Dollar Store (I guess now its dollar-twenty five store) on the chargers.
From Twigs & Fluff, Our Shop
A Spring Centerpiece Inspired by Botanicals
Vintage science décor, flowers, and items from nature came together to create this Spring centerpiece. I reused the bottles and box from the Hot Cocoa bar that I repurposed. Now the bottles hold greenery for this botanical table. I found two science beakers at the thrift store and added books, a nest and eggs, two old drawers and some moss rocks.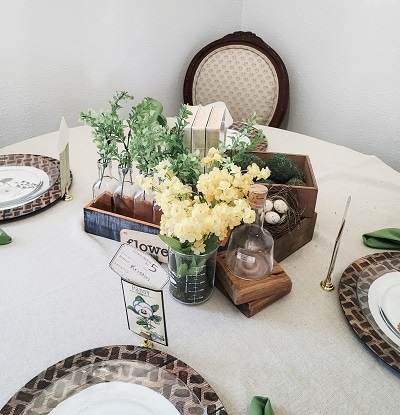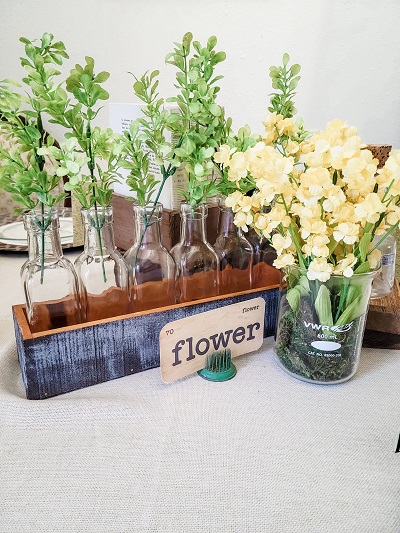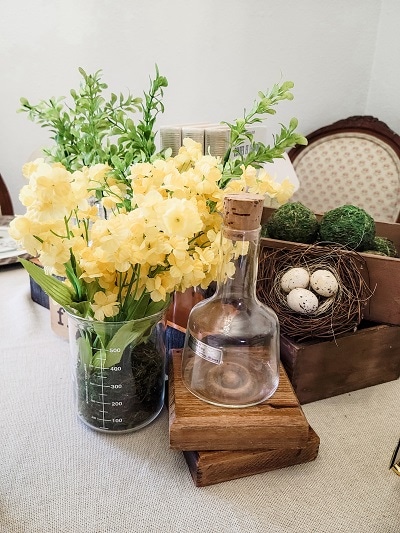 Before You Fly Away To Create A Botanical Spring Table
Pin any of the images to Pinterest because there is so much information in this post you don't want to lose! A Spring centerpiece, stenciling, dressing up charger plates with botanical transfers – hover over any picture to save the pin to your Pinterest account. So easy!